Last updated on May 22nd, 2022 at 12:36 am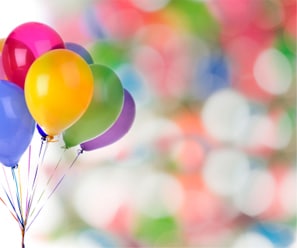 Creative party theme ideas will turn your ordinary birthday party into an envy-of-your-world celebration!
You don't want your party to be ordinary, do you?
We didn't think so.
As hostesses ourselves, we know y'all want people talking about your big event long after the day (or night) is over.
So with that in mind, we've pulled together some fun and creative party theme ideas based on parties we've thrown and parties we'd like to throw in the future.
This list of adult theme party ideas is gonna keep growing…so stay tuned!
Black and White Party Ideas
What can we offer that you haven't already seen? Lots! You can go elegant or hip with the black and white party ideas we've got for you. Look around for some creative black and white birthday cake and centerpiece ideas, and suggestions for fun favors and decorations.
A Winter Theme Party
Wondering how to celebrate a special someone's winter birthday? Invite everyone over for a winter wonderland party: hot chocolate (spiking optional but politely encouraged) , hearty food, and a big snowball birthday cake for the guest of honor.
Fall Party Ideas
A crisp autumn day, hot apple cider (spiked, of course), s'mores, a fire in the chiminea, and a big ol' pumpkin birthday cake too!
The Hawaiian Luau
If you're looking to throw a party outdoors, a luau is one of the most popular adult theme party ideas out there. You can get as elaborate as you want with the decor, thrill your guests with an exotic menu, and force, er…cajole them into a game of limbo after one too many Blue Hawaiians.
The 1920s Themed Party
Get out your pearls and dance the night away with your cigarette holder in one hand and a mint julep or Planter's Punch in the other. It just doesn't get any better than that.
The 80s Theme Party
What could be better than an evening of big hair, tight pants and as many Kamikaze shots as you can handle? An 80s theme party is all about wild and wacky excess…it's a totally awesome birthday party theme!
Summer Party Theme Ideas
If you're celebrating a summer birthday, get creative with these three summery adult theme party ideas: the Slushy Soiree, the Air-Conditioned Picnic Party, and the Mexican Fiesta bash.
Jamaican Theme Party Ideas
Everything's better in Jamaica, mon. Use our ideas to transport your guests to an island getaway. Surprise them with authentic dishes like jerk chicken and tempt them with rum punch and Red Stripe. Don't forget to wear your boldest and beachiest attire!
Asian Theme Party Ideas
Looking to incorporate touches of China, Japan or India into your Asian theme party? We've got lots of ideas for setting the mood. Beautiful lanterns, babbling tabletop fountains, billowing swaths of silken fabrics…your guests will feel transported, we promise!
The Wine Tasting Gala
For sophistication, nothing beats an evening of wine tasting. It's a great excuse to dress up, bring out your best stemware, and explore wines from all over. No worries if you don't know a thing about wine. Two of us don't, but one of us knows wine like a sommelier. And she's got lots of wine tips for you.
The Garden Party
A garden party is a great theme idea for warmer weather months, but we also have suggestions for hosting an indoor garden party if you feel the need for a bit of spring in the middle of winter. A garden birthday party can be elegant or casual, a day or evening event, and is a favorite choice of ours when we want to serve brunch.
The Beach Bash
We love the idea of a beach birthday bash. It's simple, casual and fool-proof. With sand and sea as your backdrop, you have built-in entertainment, and you won't need much in the way of decorations either. If you can't get to a beach, we've got ideas for how to bring the beach to you.
Hosting A Tea Party
This is a great theme if you want a get together that's girls only. Yes, you could invite men, but honestly, how many men do you know who'd look forward to an afternoon of tea sipping? A birthday tea party can be elegant or casual and, big bonus here, you can get away with serving finger food and you won't look cheap!
The Surprise Party
A surprise birthday party can be a real thrill and we've got a bunch of creative, 100% original, shock-inducing surprise party scenarios for you. There's the restaurant diversion, the bike ride to nowhere, and the timeline countdown, to name a few. But, please, be absolutely certain the guest of honor enjoys the unexpected!
The Movie Theme Birthday
If your guest of honor has a favorite movie, you can build a birthday party around it. Check out our movie theme ideas based on one of our favorite movies, The Big Chill.
The Nautical Theme Party
If the birthday guy or gal loves boats, this nautical theme party is perfect! Turn your home into a yacht club for the day with our easy ideas. Fancy seafood canapes on silver trays, refreshing vodka and tonics, the right boating attire, sea-worthy decorations and you're good to go!
The Spa Birthday Party
A spa birthday party is a wonderful treat for everyone (yes, you can even invite men), and it's easy to host it at home. Just make sure you have your camera handy. You're gonna want lots of photos, we guarantee!
Use our thoughts and suggestions as a springboard for your own creative party theme ideas too.
We think these are the 5 most important factors to consider when you're brainstorming your own adult theme party ideas:
What activities does the guest of honor enjoy?

Any special interests, hobbies or passions? Is she or he the laid-back, casual type, or one who loves to get glitzed up for a night on the town?
What activities does the guest of honor dislike?

Does he or she dread formal parties, shudder at the thought of anything cutesy or cliche, or run screaming from party games?
Does your guest of honor, or do other guests, have food or drink restrictions?


Try to be sensitive to food allergies, strong food preferences/dislikes, and other dietary restrictions when possible. Certain themes lend themselves to particular menus. It wouldn't do well to serve a roasted pig at your luau if your guest of honor is a vegetarian.
Where will you be hosting the party?

Are you limited to the inside of a house (and, if so, how much space will you have)? Do you have adequate yard space if you want to host the party outdoors? Will you be renting space somewhere?
What's your budget?

Some types of theme parties will cost a lot more than others.
Do you have creative party theme ideas that you'd like to brag about, er, share with us? We'd love to hear about them!
Send them in via our contact form and we'll share them with our readers.