Last updated on May 22nd, 2022 at 12:37 am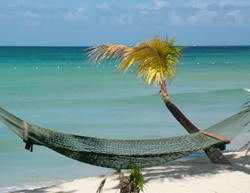 Can't get to the islands for your birthday bash? No problem, mon. Throw a Jamaican theme party instead!
First, get in the mood. Close your eyes; drift away to the islands. Feel the incredibly soft touch of the tropical breeze on your face. Smell the faint perfume of exotic flowers. Now open your eyes slowly and begin to make your delicious drifting a reality!
Turn Your Party Space into a Tropical Getaway
Tropical is all about warmth and color. Turquoise, fuchsia, sunshine yellow —conjure up the image of a fabulous piece of Jamaican fabric purchased at Saturday morning's market. If it's wintery cold outside where you are, be prepared to turn up the thermostat and the heating bill be damned for one glorious day!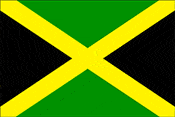 The colors of the Jamaican flag are green, and yellow. Think about adding those colors to your decorating scheme. Perhaps use a yellow or green fabric for your tablecloth.
And speaking of the table, don't forget the centerpiece. This could be as simple as golden pineapples, coconuts or other whole fresh fruit, or as elegant as you want to go.
Have plenty of colorful plastic cutlery and plates too.
Beg, borrow, or steal beach chairs and beach umbrellas in as many colors as you can find. Arrange them in conversational groupings with beach towels scattered about.
In the midst of each grouping, set a large colorful pail filled with sand. Guests can smoosh their drink glasses into the sand for a communal coaster.
Decorate some of the beach umbrellas with a skirting of dried grass to turn them into makeshift tiki huts. Just attach a bunch of Hawaiian skirts (you can buy them by the bagful at Oriental Trading Company) around the umbrellas —cheap, fast and easy).
Jamaica's a very lush and green country so you'll want to arrange lots of potted plants and flowers around your party space. A climbing hibiscus or bougainvillea would look great if you can get your hands on one or two, as would any brightly colored flowers local to your area. In fact, the last time I was in Jamaica I saw several flowers that reminded me of some in my own backyard —specifically petunias, phlox and impatiens. So pretty.
Lastly, a couple of potted palm trees are a must for a perfect Jamaican theme party setting. If no one has any on hand, see about renting some. If you can't find any, you can always fudge a bit with a couple of potted ficus plants from a neighbor's living room.
And if you have some extra sand laying around, sprinkle some around the base of the potted plants and the seating areas (unless your party's inside and you'd rather sand not be ground into your hardwood floors).
The Less You Wear the Better:
No matter the weather outside, flirty summer attire is the order of the day (or evening) at this Jamaican theme party: sundresses, straw hats, white pants, shorts, flip-flops, strappy sandals. For those with the confidence (or self-delusion) to pull it off, swimsuits and cover-ups are even better.
Be adventurous and wear a gorgeous flowing sarong. Or find a colorful long silk scarf and wrap it around your waist or even tie it creatively —and securely, around your chest in place of a bikini top! Add sunglasses for that "too hot to touch this" look.
Your Jamaican Theme Party Wouldn't be Complete
Without Bob Marley!
We all know that music sets the mood, so dig out all your old Bob Marley tunes and any other favorite reggae artists. Jimmy Cliff, Burning Spear, Peter Tosh, and Toots and the Maytals would be great additions to your party soundtrack.
Throw in some calypso while you're at it (yes, I know, not Jamaican, but we're gonna push the envelope a bit) —Mighty Sparrow's always good.
If this is a big bash with bucks to spare, go all the way and hire a steel drum band. That would keep me on the dance floor all night long!
Try These Jamaican Theme Party Activities
to Add Island Color
Consider hiring a hairdresser to cornrow women's hair, a popular tourist activity in the islands.
Set up a necklace-making station to take the place of island folk selling their wares on the beach. Have guests create their own fragrant party favors using seeds, cinnamon sticks broken into two-inch pieces, whole nutmegs, allspice and cloves strung on beading wire (find it at your local craft store in the jewelry-making aisle). I hung this over my car's rear-view mirror and enjoyed an intoxicating island reminder for weeks.
Transport Your Guests with an Array of Island Drinks
Can't be in Jamaica without a great piña colada and rum punch! And yes, the little drink umbrellas are mandatory. Throw in some cases of Red Stripe beer to round out the alcohol selection. For soft drinks, ginger beer's a must.
If you're having an evening party and want to serve coffee (a good thing after a few too many glasses of rum punch), brew a pot of Blue Mountain coffee. It's sooo good. After that, it's whatever strikes your fancy.
Serve Food with a Jamaican Flair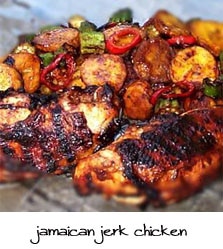 Add to the ambience of your Jamaican theme party with an assortment of authentic dishes for your guests to savor.
Here are our suggestions:
jerk chicken
grilled fish
rice and beans
fried plantains
fresh salad greens
loads of cut-up fresh fruit
(pineapples, mangos, papayas, passion fruit, cantaloupe, coconuts, tiny bananas –in St. Thomas they called them figs; I've never found that sweet slightly orangey taste in the U.S., but have seen itty-bitty bananas in supermarkets)
As for the birthday cake, you have a giggly array to choose from. How about one in the shape of a palm tree, your choice on the coconuts? Or for you secret Sponge Bob fans, a pineapple shape. Or there's always a surfboard, bottle of suntan lotion, conch shell, sailboat, flip-flop, novel with cool beach-worthy title, sunburned body (umm, just kidding on that last one).
Do you have ideas of your own for hosting a Jamaican theme party? Share them with us and we'll share them with our readers!