Last updated on May 22nd, 2022 at 12:38 am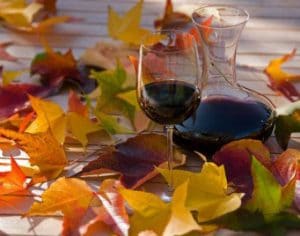 It's all about the color palette when you're planning a seasonal birthday party. Our fall party ideas are centered around rusts, olives and dark reds. When you're getting your decorating ideas together, take your inspiration from these colors.
First Things First…Fall Party Ideas to Set the Mood:
Now that summer's over bring in those large terra cotta pots you had outside (terra cotta's in our fall color palette) and fill them with gold, rust, maroon and orange pots of chrysanthemums. You can plant them outside when the party's over so they'll do double duty.
Tie each pot with a big olive green cloth ribbon.
Start a roaring fire in the fireplace (if you have one) and have a good stack of logs ready next to it. The logs are also part of your decorations – they totally tie in.
If you don't have a fireplace, consider setting up a fire pit or chimenea outside if it's a nice autumn day. In fact, this is a great thing to do even if you also have a fire going inside. They're relatively inexpensive and would really add to the party atmosphere.
Arrange seating around it and have sticks, marshmallows, graham crackers and chocolate bars at the ready for s'mores. Let your guests come and go from inside to outside, warming their hands on their cups of hot apple cider (spiked if you like), mulled wine or hot buttered rum. Just imagine all the incredible smells!
Table Setting Suggestions for a Fall Birthday Party: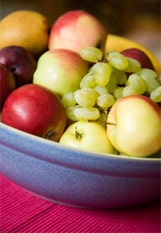 Remember the ribbons around your terra cotta planters? Pick up that olive green again with a table runner and add real fall leaves across it.
Place two 3″ x 3″ dark red, and two 3″ x 6″ rust colored tapers on either side of a large, shallow, terra cotta pot or ceramic bowl filled with red, yellow and/or green apples (either real or wooden will do) to complete the look.
Use cloth napkins in rust, coasters in the shape of leaves and maroon plates. Simple and elegant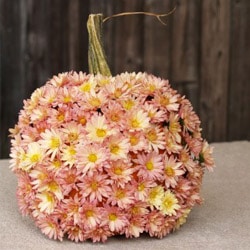 If you're looking for a more elaborate centerpiece, and a do-it-yourself fall party idea at that, find a medium to large, nicely shaped pumpkin and cover it with chrysanthemums (stay within the color palette…no purples or whites!).
I know it seems a shame to cut the heads off these lovely flowers but…we do what we must. So, just clip those heads right off and hot glue them all over the pumpkin until it's completely covered. Cool, huh? It's a guaranteed conversation starter.
Fall Party Menu Suggestions:
Yes, we have even more fall party ideas for you!
Following the color palette into the drinks, serve any or all of these warm-you-up beverages: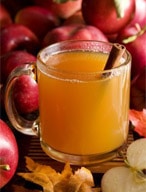 hot apple cider with cinnamon sticks (spiked with rum, whiskey, or plain)
mulled wine (our mulled wine recipe is on our blog)
hot buttered rum
pumpkin martinis
hot chocolate with whipped cream
Continue your autumn colors into the food. Here are some dishes we've served at our autumn parties:
creamy butternut squash (or pumpkin) soup
spinach salad with dried cranberries, diced apples and walnuts
penne pasta with pesto
beef shortribs braised in apple cider
roasted sweet potatoes
For dessert, pies are the order of the day, apple and pumpkin are trusty favorites. Bake them as cute tartlets and surround your birthday cake with them.
And speaking of the birthday cake, here's our ultimate fall party idea and your ultimate fall party decoration —a big pumpkin-shaped cake!
Using bundt cake pans will give you the ridges of the pumpkin. You'll need two 6-cup, and one 12-cup bundt pans.

You could make an autumn-y spice cake or a more traditional vanilla or chocolate. Tint your favorite icing recipe orange (you can check out our best buttercream frosting too) and frost the bottom of one large cake and place the other large cake on top of it. See the pumpkin taking shape?
Frost the entire pumpkin, and add a big brown stem to the middle and an oversized green leaf to the stem, both made out of marshmallow fondant or marzipan. Follow the same procedure with the smaller bundt pans, making two smaller pumpkins (so that's four 6-cup bundt cakes you'll need to make).
Voila! You have a gorgeous trio of pumpkins to wow the birthday guy or gal.
Don't Forget Birthday Party Favors in Keeping with your Autumn Theme:
Our fall party ideas wouldn't be complete without mentioning party favors. Think fall food flavors for your inspiration. Here are a few suggestions:
a small bottle of real maple syrup or flavored honey (lavender, mango, peach, raspberry and lemon are a some of the honey flavors we've seen)
a candied or caramel apple wrapped in cellophane and tied with ribbon
a pretty bag with a big homemade leaf cookie tucked inside (decorate it with the guest of honor's name and the date)
an apple, pear or pumpkin candle
a leaf or pumpkin shaped cookie cutter tied with a ribbon (write your favorite sugar cookie recipe on the gift tag you attach to the ribbon)
a small bottle of wine from a local vineyard with your recipe for mulled wine attached
a mini bottle of rum with your recipe for hot buttered rum attached (you could also place the bottle inside an artsy ceramic mug for a more extravagant favor)
a bar of pear, apple or pumpkin scented soap, placed inside a chiffon pouch and tied with a cloth ribbon
Do you have fall party ideas you'd like to share with us? Send us a note via our contact form and we'll be sure to share them with our readers!