Last updated on May 22nd, 2022 at 12:37 am
An Asian theme party offers tons of menu and decorating possibilities.
A good first step in the party planning process is to decide which part of Asia you want to pull your ideas from —China, Japan and India are some of the biggies. Having a particular country in mind will help you come up with a coherent party plan.
But you certainly don't have to center your Asian theme party around one particular country. Take inspiration from all over Asia if you like.
Asian Party Decorations: No Such Thing as Too Much Color!
Use vibrant colors for a dramatic backdrop to your Asian theme party.
Colors have deep significance in China, India and Japan. Here are a few examples of colors and their meanings. Let them inspire you as you plan your party's color palette:
China
Red: fire, celebration, luck, summer
Black: water, winter
Green: wood, spring
White: metal, autumn
Yellow: earth
Blue: immortality
India
Deep red: purity
Yellow: sanctity
Green: new beginnings, happiness
Blue: associated with Lord Krishna
Japan
Yellow: the sacred
Red: passion
Orange: knowledge
White: purity
Bring a Touch of the Chinese New Year to your Asian Theme Party
For a Chinese-themed birthday bash, my favorite way to decorate is with red. I love the idea of a fiery night, with lots of red with gold accents and small touches of black and white.
Setting the mood can be done inexpensively and quickly. Hang paper lanterns all over. You can buy a lot of them, in all different sizes and colors, and they're light as a feather so you can suspend them from anything.
You can also rig them with flameless tea lights if you like. Take a piece of heavy duty clear packing tape, attach the bottom of a flameless tea light to it and then stick it on the inside bottom of the lantern.
I like to add strands of white twinkle lights around the party space to get that Chinese New Year feel.
An Indian/Asian Theme Party Demands Lots of Striking Colorful Fabrics
If you want to focus on India, hang billowing swaths of vibrantly colored sheer fabric from the ceiling and onto the walls, reminiscent of saris. There's no need to use silk, but try to find similar textured fabric if you can. Even better if you can find some with strands of gold running through the weave. Hang large blow-ups of colorful mandalas on your walls too. Place bowls of deep orange marigolds —a very popular flower in India— on side tables
For a Japanese/Asian Theme Party, Think Zen and Set a Peaceful Tone
For a birthday celebration with Japanese flair, practice the art of ikebana and display beautiful flower and branch arrangements around your rooms. Chrysanthemums, daisies and, of course, sakura (cherry blossoms) are among the popular flowers in Japan.
Place a couple of tabletop water fountains in the room for peaceful background "music."
Use Your Tablescape to Set the Mood
As a centerpiece for your Asian theme party, a simple shallow bowl with floating flowers is just beautiful and an easy way to add a splash of color. Use smaller bowls of floating flowers on side tables and in the bathroom too. A simple bowl of red chilies (an especially popular spice in Indian cuisine) would be a nice tabletop decoration too.
Add a faux or real silk runner with elaborate patterns inspired by the patterns found on Chinese architecture.

Scatter some rice and gold coins around the centerpiece for good luck.
Print place cards with pictures of the Chinese Opera, calligraphy or even panda bears. Use a fat white, black or gold paint pen to write the names on them.
If you're going the Indian/Asian theme party route, make a runner out of a simple piece of silk (no need to stitch the edges —saris are pieces of unstitched material), and use glitzy gold-toned napkin rings or wrap lengths of beaded wire around your napkins.
Have chopsticks for each partygoer (you can even have them personalized for a party favor), tie them with raffia, and place them along with a place card on plain white dinner plates for maximum effect.
Take-out food, Chinese, Japanese or Indian, is widely available and makes for a super-convenient option if you're pressed for time or don't feel up to the challenge of cooking an authentic meal.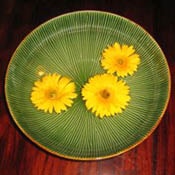 An Asian theme party wouldn't be complete without tea. Have several pretty pots of tea on hand for your guests.
Assam and Darjeeling for India, Oolong, Green and White for China (check out the gorgeous blossoming teas…what a cool centerpiece idea!), and Sencha for Japan.
You can usually find inexpensive tea cups (ceramic with no handles) at large stores like Target and Pier One Imports. (Incidentally, Pier One is a great source for inexpensive but really cute tableware with an Asian flair.)
A nice touch on the table is a bowl of fortune cookies you make yourself. Have no fear, we're not talking baking here. Try this tutorial on paper fortune cookie making and make cute fortune cookies out of origami paper. Slip fortunes inside on colorful ribbon.
The fortunes might be inspirational or funny quotes that somehow relate to the birthday boy or girl (funny quotes about aging for a 50th birthday party, for example). Or they could be as simple as the name of the honoree with the date of his or her birthday listed as the "lucky numbers."
Bangles, Lucky Coins and Chiyogami
What are we talking about? Asian theme party favors, of course. Gather any of the following for your birthday party farewell gifts:
beaded bangles (India)
lucky coins strung on gorgeous ribbon as necklaces (China)
pads of chiyogami or fancy rice papers (Japan)
personalized chopsticks (China and Japan)
a single teacup with a pouch of fancy Japanese, Chinese or Indian tea
a bag of chocolate-dipped fortune cookies tied with ribbon (China)
a string of origami cranes (Japan)
little Buddha statues (China and Japan)
little statues of Ganesh (India)
an assortment of little candies bought at your local Asian market
elaborate red-tasseled bookmarks (China)
If you're feeling energetic, you can make your own Chinese take-out boxes to hold your favors. They're very simple to make.
We point you to an easy and free template on our printable party favors page. I made the box on the left in less than 10 minutes.