Last updated on June 2nd, 2022 at 10:26 pm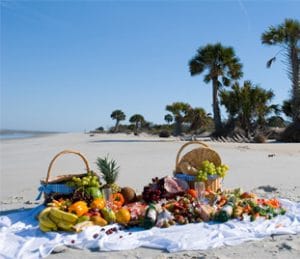 Throw yourself and your lucky guests headfirst into summer with our beach theme party ideas. A beach birthday party is one of the easiest theme parties to put together. Read on and you'll find out why.
The sun on your face, the sand beneath your feet, the sounds of the ocean … can you smell the salt water taffy yet?
If you don't live near the beach, no problem. We have beach theme party ideas that will help you bring all the good stuff right into your living room. Oh, we almost forgot. If by some chance you don't know what salt water taffy is, you don't know what you're missing! Scroll down and you'll find out where to find the best taffy on the planet.
What You'll Need For Your Beach Party:
If the weather's good and you and your guests can get to a beach, all you'll need are some beach umbrellas, blankets and/or beach chairs, extra towels (in case any guests forget theirs), music, and picnic baskets/coolers full of whatever food/drink you decide to serve. Make sure to have plenty of water on hand if the weather's hot.
You'll probably also want to send invitations that fit the beach theme. We have one of a kind (and free) beach-themed invitations you can download and print. Did we mention that they're free?
If you're planning an indoor party, or if you want to bring the beach to your backyard, grab a bunch of beach chairs, a beach umbrella or two (with stands) and several beach blankets and set them up inside or outside and voila! Instant beach! But you're
Decorations: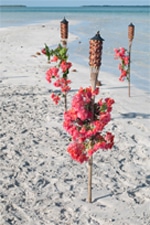 If you're actually at the beach, you won't need much in the way of decor. Could there be a more perfect backdrop than the ocean? But if you must, and generally, we must, bunches of balloons tied to the umbrellas and chairs will add a festive touch, and tiki torches placed here and there (they do look lovely decorated with flowers) will contribute to the party atmosphere. This is especially helpful if your party will extend into the evening hours. You can also hang a birthday banner or string battery-operated lights (a gorgeous look at night) between the torches for a special touch.
For an indoor party, try some of these beach theme party ideas.
Transform an old surfboard into a bar by placing it atop two sawhorses or other suitable base. Skimboards make perfect side table tops. Bring seaside flora inside with pots of ornamental grasses placed around the bases of the beach umbrellas.
Buy plastic beach buckets in as many shapes and colors as you can find, and use them as serving bowls. Use their shovels as serving spoons too. While you're at it, fill one of those buckets with a pound of salt water taffy. It's a beach staple where we live. One of us is addicted to the stuff and she swears that the best is made at Shriver's on the boardwalk in Ocean City, N.J. You don't even have to go to New Jersey to get it. It's available online!
Don't forget about decorating your table. Sprinkle seashells and sea glass around the buffet table. Use sand (you can buy clean sand at toy and craft stores) to fill small aluminum buckets (also found at craft stores). Put a small, white pillar candle inside each one, and place them around your table as well. Have a CD of the ocean playing in the bathroom for fun.
Attire:
Wear beach clothes of course! If you're inside, crank up the heat, grab your flip flops, and put on shorts and a t-shirt, a sleeveless dress, or a bathing suit. Just picture the old movie Beach Blanket Bingo. That's what they wore, right?
Food:
Nothing too fancy for a beach party, and whatever you serve has to be easy to eat. Here's a menu we served at one of our beach parties last summer.
Beach Theme Party Menu
Tuna Steak Sandwiches
Cook tuna steaks on the grill and slice thinly with a very sharp knife. Split baguettes and toast them on the grill too. Mix mayonnaise and Dijon mustard, spread on the baguettes, add some romaine lettuce and the tuna slices. Cut the sandwiches into 2-inch segments and arrange on a large serving platter.
Homemade Coleslaw
Mix green peppers, cabbage, cherry tomatoes, carrots, mayo, a splash of lemon juice and celery seed.
Fruit Salad
Add a large, fresh fruit salad served in a hollowed out watermelon. This is much easier to do than you'd think and always looks impressive.
For a finale, how about a sandcastle birthday cake? We have more beach theme party ideas for birthday cakes too
Drinks:
Keep drinks simple. Beer, wine coolers, sodas and water. Set some bottles up on your surfboard/bar and put more in large aluminum tubs or plastic coolers. If you want to get a tad fancier, we think a big pitcher of Sangria (complete with floating fruit) would be a fabulous addition to the bar menu.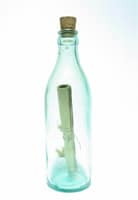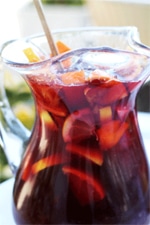 Favors:
Our final (for now, anyway) beach theme party idea? Send your guests home in style with this cheery memento. Buy small glass bottles that can be sealed with corks (from a Dollar Store or a craft store) and fill them with a little sand, a tiny shell or two (you can also find these at a craft store), and a rolled up "thank you for sharing this day with me/us" note. Seal the bottle with the cork. So cute.
Do you have beach theme party ideas of your own? We'd love it if you'd share them with us! Send us an email and we'll be sure to publish your ideas for our readers to enjoy.