Last updated on May 22nd, 2022 at 12:38 am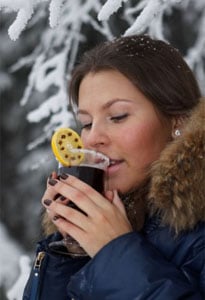 Looking for a great cold weather party theme?
Winter parties have lots of theme possibilites, and you can even use summery themes with just a few modifications. An indoor Hawaiian luau or beach party is a lot of fun when you're nice and toasty inside, wearing a sundress, holding a pina colada and watching it snow.
Depending on the month of your celebration, you could incorporate themes from the various winter holidays into your party planning:
winter solstice
Christmas, Hanukkah and Kwanzaa
Valentine's Day
the superbowl (ok, it's not a real holiday), and
St. Patrick's Day

It's also fun to design a birthday party around the guest of honor's favorite hobby or activity. In the colder months, this might include:
ice skating (especially outdoors on a frozen lake —how fun!)
skiing
bowling
scrapbooking (especially after the holidays)
knitting (you'd probably have to leave the men out of this one, unless, perhaps, you combined it with watching the superbowl)
But we confess that when it comes right down to it, in our minds, a winter theme party is all about being inside, cozy and warm —good food, good friends, and good times with lots of overstuffed pillows and warm quilts thrown in for good measure.
One of the best things about a cold weather party is the hot, hearty food.
Soups, stews, and chilis that you can keep warm in a crock pot all day (or evening) are best, not to mention easiest. Serve several varieties so your guests can choose. Crusty breads for dipping are a necessary accessory!
For drinks, we love white russians in the winter. Hot apple cider and mulled wine are wonderful cold weather staples. And let's not forget hot chocolate for the crowd (yes, you can keep it warming in a crock pot but do stir it from time to time, and keep the heat on low). If you like it spiked, keep a bottle of one (or heck, all) of these nearby: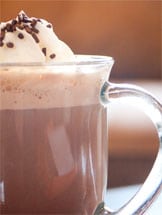 Frangelico (hazelnut liqueur)
Bailey's
brandy
vanilla vodka
Amaretto
Kahlua
and/or any other liquor you like. Almost any alcohol goes well with chocolate.
Have bowls of mini marshmallows, white and dark chocolate shavings, sprinkles, and whipped cream on hand for finishing touches.
Oh, one last thing. If you want to get fancy and have your guests oohing and ahhing over your extreme hostessing skillz, try your hand at making chocolate dipped spoons for stirring hot chocolate and coffee.
It's all about a warm and fuzzy feeling with the linens, too. An oversized tablecloth on the buffet or dining table as well as all of the side tables in different patterns and textures, if you can. Don't forget to stick to your color scheme of course. Bring a lot of texture and color into your party space —think sweater patterns! Add a variety of mismatched napkins, too.
Use rustic containers for trays, vases and ice buckets. In this case, chipped is fine! Fill your vases with greens, twigs and pinecones. If you have extra time and you're so inclined, spray paint some of the twigs white.
For a bit of contrast, place ice in a fireplace ash bucket, add twigs and cool an elegant bottle of champagne in it.
Candles create instant atmosphere and are an important source of lighting for winter parties. Big, fat candles work wonders for ambience; candleholders aren't necessary. Arrange them in groups all around your rooms. Wrap a few in twine or raffia for some texture. It's best to use unscented candles for burning; you don't want anything to compete with the wonderful smells coming from your kitchen!
Our idea for the cake? How about a big round snowball? The easiest way to make a snowball cake (and it really is easy) is to buy a spherical cake pan mold (one for a soccer ball or basketball would work just fine). Once you've baked the cake and frosted it, pat white sprinkles all over (or shredded coconut, depending on your preference), covering the icing as completely as possible (best to use white icing if you can).
On your serving plate or cakestand, surround the cake with real greens. Attach a mitten to the handle of your cake knife and you're all set. If you're feeling adventurous, try making three snowball cakes of different sizes, stack them and … instant snowman.
Decorate your snowman with nonpareils for the eyes (attach them backwards), a carrot nose, raisin teeth, a doll's felt hat and knitted scarf, and add buttons on its belly and sticks for arms with little mittens on the ends of each for hands. Arrange some greens around the bottom and your masterpiece is complete.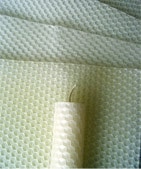 When the time comes for your guests to leave, send them home with a couple of hand rolled beeswax candles, tied together with ribbon or raffia.
They look so pretty, smell even better, and are incredibly easy to make (seriously, my six-year-old makes them often as teacher's gifts). Check out this tutorial and you'll see just how simple it is.
Another idea we like, and this one's even easier, is to give your guests a rustic bag of pinecones that turn colors when they're burned. These are a lot of fun to watch in the fireplace.