Last updated on June 2nd, 2022 at 10:24 pm
Theme Party Ideas
Ahoy!
It's time to take to the high seas for the best nautical theme party ever! And what better way than on a real boat. Not.
We've got better ideas and they're cheaper too. So if a real yacht's out of the picture, read on.
Yacht Club Here We Come
Use lots of navy, some touches of red, and gold roping to set the stage.
Another key nautical theme party decoration is fishing netting. Tack some up on a wall or drape netting over a hutch or other tall piece of furniture.
You can find large nets online for less than $10.00. Check out The Fish Net Co. for some ideas. Stick a few shells, starfish and large plastic fish in the netting too.
For a boating party centerpiece, check out a great idea submitted by one of our visitors. It's an elegant and simple centerpiece using candles, rope and shells.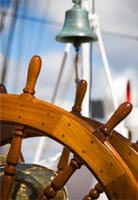 Create a name for your party, like a boat's name. And make sure the name you choose says something about the guest of honor. For example, "Gone Fission" for your favorite nuclear scientist/fishing enthusiast. Or how about "Crewsin' and Brewsin' " for a beer-loving boater? For your high maintenance girl friend, try "H.M.S. Princess ______".
Have a christening, complete with champagne, either as a way to start your party or as a prelude to bringing out the cake.
And speaking of the birthday cake, we like the idea of a cake in the shape of a life preserver. This is an easy cake to make yourself and it looks fantastic. Cut a circle out of the center of a big, round cake. Cover the cake with marshmallow fondant or a classic buttercream frosting. Using fondant will give the cake a more realistic look, and it's simple to do. Next, pipe the party name on the cake, use red icing or strips of fondant for a couple of stripes, and accent it with a bit of real rope around the base.
Come dressed for an outing at sea, and make sure your guests do the same. White pants, boat shoes (Docksiders), ascots tied jauntily around your neck, navy jacket with gold piping (sew or glue gold piping around the cuffs of an old jacket). Dressing the part makes this nautical theme party even more fun.
Present your guests with white or black skipper hats and demand, er, request ever so politely, that they wear them for the entire party. If one hat per guest is too costly, just give one to the guest of honor. I recently saw a pink skipper hat online —that would definitely be the one I'd want!
Keep your menu in the seafaring theme with a selection of seafood appetizers. Think hoity-toity canapes on silver trays. Perfect dahling! For drinks, nothing says "yacht club" like a vodka and tonic in a thick highball glass garnished with a wedge of lime.
The boat has docked and it is time for all good guests to go ashore.
Send them off in style with nautical party favors. Little ships in a bottle would be cute, or ship's whistles (make sure you give them on the way out –they're loud!), an ascot personalized with the party's "boat" name would be fun, too.