Last updated on May 22nd, 2022 at 12:37 am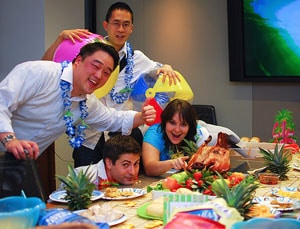 Ideas from an Almost Native Hawaiian
That's right, people. We didn't come up with these luau party ideas sitting on our sofas in Pennsylvania. Ok, we did, but it's true that one of us spends hours lolling on the beaches of Maui every year. She's been to her share of luaus and thrown a few too.
But you don't have to be in Hawaii to enjoy a luau, although we admit that would make it much better. We guarantee that our luau party ideas will get you as close as possible to the real deal.
A luau, by definition, is an elaborate Hawaiian feast featuring traditional foods and entertainment. By our definition, an adult luau party is a great way to try new things and have a blast at the same time.
If You Want to Throw an Authentic Luau, Make Sure You…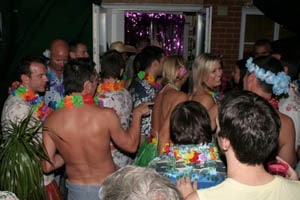 have access to adequate outdoor space (or indoor if the weather is uncooperative)
have a large table or two for your food display(s) because luau food is typically served buffet style
serve authentic Hawaiian luau food and drinks
provide some type of entertainment for your crowd (no, you don't need hula dancers and fire jugglers, just music and party activities with a Hawaiian flavor)
No Luau Would Be Complete Without
Mixed Tropical Drinks: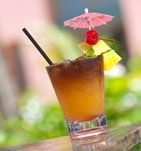 We're sure you'll want to have some tropical drinks on hand at your luau, alcoholic, non-alcoholic or both. We have a collection of luau drink recipes for all the classics —Mai Tais, Blue Hawaiians, Lava Flows and some others, along with tropical punch recipes and recipes for some not so well-known mixed tropical drinks too.
Cook Up Some Authentic Luau Food for Your Guests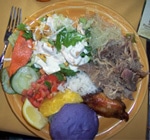 A full spread is an absolute must. Browse through these simple luau recipes and start getting your shopping list together. And while we're on the subject of food, don't forget the finishing touch. Dessert! These luau birthday cakes look amazing and would make a fabulous finale
Wondering What to Wear to Your Luau?

Your best Hawaiianna, of course! Ask your guests to do the same. Hawaiian shirts and jams for the guys, muu muus and cute Hawaiian print dresses for the women, and flip flops all around.
f you really want to be a local, wear just that, Locals. They're the brand of flip flops the locals wear in Hawaii. They come in lots of cool colors and patterns. We get ours at Long's Pharmacy on Maui for the whopping sum of $3.00. You can find Locals online too.
While you're planning your party, don't forget luau party favors (nothing too tacky, please) and luau-themed invitations. We have Hawaiian luau party invitations that are one of a kind —lucky for us, our almost native Hawaiian is also a graphic designer. They're downloadable and free! We think they're the cutest invitations you'll see anywhere…but of course we're a bit biased.

Check out our list of more Hawaiian luau party theme ideas.
---
Do you have luau party ideas of your own? We'd love it if you'd share them with us. Send us an email and we'll be sure to publish your ideas for our readers to enjoy.