Last updated on June 4th, 2022 at 11:14 pm
Creating homemade centerpieces for a party is a lot of fun and you can do it very inexpensively.
All you need is a little creativity.
Take this arrangement on the left, for example. It's simple and striking, and it cost just a few dollars to make.
It would be a perfect for a casual garden theme party, a BBQ party or picnic, or an Easter birthday celebration, don't you think?
Elegant (but Cheap!) Centerpiece Ideas
You can design your centerpiece to reflect the season if you like. Seasonal fruit piled high in a glass hurricane always makes a pretty display.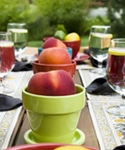 Create a casual design or a fancy arrangement, depending on the formality of your party. Using dried peas, lentils, stones, coffee beans, jelly beans or candy corn to anchor a candle in a bowl or vase provides style as well as stability.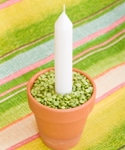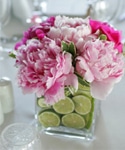 Arrange special objects on a pretty plate for an interesting look. You can incorporate your own collections into a centerpiece design too. We made one using a collection of feathers and sea shells inside a leather box once. It looked great and had a neat vintage air about it.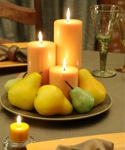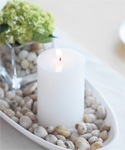 If you have a photo of a centerpiece you made, why not send it to us? We'll publish it right here in our slideshow!