Last updated on May 22nd, 2022 at 12:37 am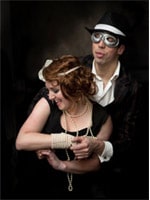 When you think of a 1920s themed party, do your thoughts go right to the booze? Ours did (can you say Mint Julep?).
It was a time of excess, and it's excess you'll have at your swanky 1920s bash.
Speakeasies and flappers were plentiful, and cocktails became popular. Fruit juices and other mixers were added to drinks to cover up the dreadful taste of homemade alcohol and to make the drinks look non-alcoholic.
Let's talk drinks first. Set up your bar with all of the fixings for cocktails, and have colorful swizzle sticks on hand too.
Find a metal tub (a nod to bathtub gin), fill it with ice and let your bottles chill in it.
Some of the popular cocktails in the 20s were:
the Mint Julep
the Old Fashioned
Champagne Punch
the Mojito
Planter's Punch (rum-running was in full force)
the Bronx
Update your beverage menu with current favorites such as Cosmopolitans and flavored Martinis (strawberry lemon drop martinis are amazing, by the way).
Create Your Own Speakeasy
Create a speakeasy atmoshpere with 1920s era posters, dimmed lights, candles, and music. Ask your guests for the secret password when they come to the door!
If you have the room for it, a dance floor would be a swell addition to your 1920s themed party. Roll up the carpet and hire a local dance instructor to teach everyone how to do the Charleston, Tango, Varsity Drag, Lindy Hop and the Peabody. Because this night is all about excess, dancing until you drop is mandatory.
If you don't have the space for a dance floor, you can still enjoy the music of the decade. If you're going to make your own CDs, be sure to add some of these artists to your mix:
Jelly Roll Morton
Louis Armstrong
Bessie Smith
Bix Beiderbecke, and of course
Billie Holiday
There's a radio service called The 1920s Radio Network that plays nothing but music from the 1920s through the 1940s, 24 hours a day. How fabulous is that? You can find it streaming on iTunes.
Get Your Sparkle On!
Ladies, get out your short(-ish) dresses with dropped waists, fancy headbands —the glitzier the better (rhinestone-studded or feathered are our suggestions), long strands of pearls (remember…excess! wear several strands of different lengths) and long gloves.
And let's not forget that this is the era of the boa. Every good flapper had one. You can search thrift stores for them, but you can also find brightly colored ones at craft stores.
As for the men, the 20s were pre-zoot suit, but men's pants were getting higher-waisted and baggier. A bold vertical striped jacket, white pants, two-toned shoes and a boater (a straw flat-topped hat with a ribbon around it) would make the perfect 1920s outfit for guys. If it's cold outside, drag out grandma's old raccoon coat.
Ukeleles, fake guns, and cigarettes in long ebony holders make perfect props for your 1920s themed party.
And for the Finale…
Send your guests home with one of these 1920s party favors:
a mini bottle of gin or vodka (with or without a martini glass)
a copy of your music mix CD
mini Baby Ruth candy bars (introduced in 1920) in a martini glass
mini Reese's Peanut Butter Cups (they debuted in 1923) in a martini glass
a feather boa
a pack of retro candy cigarettes and a cigarette holder
Have ideas of your own for a 1920s themed party? Share them with us and we'll share them with our readers!