Last updated on May 22nd, 2022 at 12:37 am
These summer party theme ideas will either succeed in cooling you off or they'll distract you enough that you won't notice (or care) how ridiculously hot you are. We should know. Nothing says Philly (where we live) like shirt-drenching humidity in the summertime.
We hope these summer party theme ideas will inspire you to get creative! And if it's classic summer party themes you're looking for, check out our Hawaiian luau party theme and our beach theme party ideas too.
The Grownup Slushy Party
Nothing beats the heat like a refreshing, grownup slushy! Dee-lish. As you might guess, this summer party theme relies on frozen blender drinks to cool off your guests during a heat wave. If you're anything like us, we're guessing you have a pile of old magazines stashed somewhere, waiting for the day when you finally have time to sort through them. Well, now is that time.
What to Do:
Go through your magazines and tear out every page that has a fabulous looking summer drink recipe on it —the more exotic the better (and don't limit yourself to frozen drinks if that sangria recipe looks too good to pass up)
Pick the top 3 or 4 drinks you think your guests would enjoy most (pick at least one that can also be made without alcohol) and make a list of the ingredients you'll need (count on one serving of each kind of drink per guest)
Consider asking each guest (but not the guest of honor) to bring something on your list of ingredients. As the host, you get to buy all the alcohol.
It's also a good idea to beg a couple of your guests to bring a blender with them. It's much nicer to be able to serve everyone at the same time.
Have some light fare on hand. The food could be as simple as a few hearty snacks, or as elegant as fancy appetizers and desserts. And in your drinking frenzy try not to forget the birthday cake!
The Air-Conditioned Picnic Party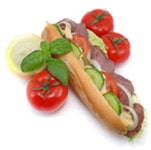 Bring a picnic into your (hopefully) air-conditioned living room (or basement, family room, anywhere you have space to spread out) and enjoy good food, good company, and no bugs! We're normally not fans of having the television on during a party, but of all our summer party theme ideas, this one naturally lends itself to watching a bigtime sports event (two of our summer faves… Wimbledon and the U.S. Open).
What to Do:
Spread blankets or quilts on the floor.
Arrange your serving dishes and plates, glasses and silverware as you would if you were having your picnic at a park. Plastic tableware works perfectly for this party (and so much less to clean up later).
Serve a traditional picnic menu (which can be anything from casual to ultra-gourmet), making sure that the foods are easy to eat and don't require any assembling by your guests. Save the tacos and meatball subs for another day.
As an alternative to a full course menu for this summer party theme idea, you could serve wine, baguettes, an assortment of fancy cheeses and pretty bowls of fresh fruit.
The Mexican Fiesta Party
Want a festive way to celebrate a summer birthday and missed the opportunity to celebrate Cinco de Mayo in the spring? Throw a Mexican Fiesta party. This theme works as well indoors as outdoors, day or evening and can be as casual or elaborate as you choose. Appetizers, desserts and drinks work just as well as a sit down meal
What to Do:
Ambience is key for this summer party theme idea, so go crazy and create a little corner of Mexico with colorful hanging paper lanterns, strings of lights (those chili pepper lights are adorable), and a few vintage Mexico travel posters (you can often find ones at clearance prices online).
Find some brightly colored fabric at your local fabric store, get out your pinking shears, trim it to size and you have an instant tablecloth! Do the same for napkins in a coordinating fabric. No need to sew a thing.
For an easy centerpiece, place a large, fat pillar candle inside an upside down sombrero. Line some terra cotta pots with pretty fabric (you can use whatever remnants you have around the house) and use them to hold chips, candies, etc. They'll look great on your table and placed around the room.
In Mexico, fiestas are usually decorated with tissue paper flowers. They're so easy to make and add lots of color. Use bunches to decorate chairs, fences, doorways; put large bouquets in vases, terra cotta pots and mason jars too.
Have a cd of mariachi and/or salsa music playing in the background and your fiesta atmosphere will be perfecto.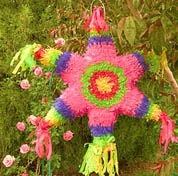 A pinata is a great addition to any Mexican fiesta party. For an unusual
and grownup twist, fill it with some of life's little necessities such as:
travel mugs
condoms (always good for a laugh)
$5 Starbucks giftcards
trial size packages of tissues,
tampons, aspirin, antacids
mini bottles of liquor (tequila!)
(be careful if you're hitting the pinata
over a hard surface)
$5 iTunes giftcards
samples of moisturizers, shampoos,
shaving cream, sunscreen
assorted disposable razors
lip balm
chocolate kisses or other
chocolate candy (outside on a hot day this could get messy)

If your guests are of the over 40 variety, add vintage candies to your pinata. Who wouldn't laugh at the sight of wax lips or smile at the thought of Razzles? You can find these candies online as well as candy buttons, candy cigarettes and bubblegum cigars, jawbreakers and even those weird wax bottles (remember them? What on earth were they filled with?)
The finishing touch to this summer party theme idea (aside from the birthday cake, of course)? Frosty pitchers of margaritas! If you're new to margaritas, here's a word of advice: stay away from recipes that call for sour mix. The simpler the recipe the better, and the tastiest recipes (in our opinion anyway) use fresh lime juice and Grand Marnier or Cointreau liqueur. If you want to serve frozen margaritas as well, and you're having a lot of guests, consider buying or renting a frozen drink-making machine (actually not as expensive as you might think). It's a great time saver.

We hope you've found a few summer party theme ideas you can use for your next summer birthday bash.