Last updated on May 22nd, 2022 at 12:37 am
Ahhh, the garden theme party.
A garden theme party can be casual (a notch or two spiffier than a picnic), ultra-elegant (think Masterpiece Theater with ladies in flowing dresses and fabulous hats), and anything inbetween.
It conjures up visions of picture-perfect lawns, masses of brightly colored flowers, and the scent of lavender on a warm breeze (or lilacs, roses, gardenias, insert your favorite fragrance here).
Okay, back to reality for a minute. The first step is to decide where you're going to have your garden theme party.
If you think you need an actual garden, you couldn't be more wrong!
Any space with enough room and comfy seating for your guests will do. A patio, deck, backyard, or rooftop all work.
Heck, you might even choose to have your garden party inside. It's a colorful way to warm up those dreary winter months.
Bring in some large potted plants, place fresh flowers here and there, and arrange some patio furniture inside. You'll give your guests spring fever even if it's snowing outside.
Your "garden" can be anywhere…it's all in how you decorate
A Garden Theme Party is a Feast for the Senses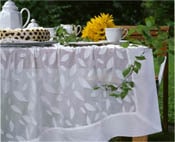 The flowers, the food, the decorations —everything should be designed for maximum visual impact!
You might go for a calm, monochromatic look, a colorful and cheery look, an upscale crystal and china kind of atmosphere or something related to your theme within the garden theme, if you have one (more on this below).
There are countless ways to decorate for a garden theme party, but one thing's for sure. Multitudes of fresh flowers, plants and other natural elements are key. Take cuttings from your yard and the yards of your extremely generous neighbors. Put them in all sorts of containers. Terra cotta pots, chipped dishware, old shoes, glass, crystal, interesting thrift store finds, and buckets.
A Special Theme within a Theme?
Having a special theme for your garden party can add to the fun, especially if you're celebrating a birthday. Here are a few ideas:
an English garden theme where everyone dresses the part (fancy hat and gloves for the ladies, bow ties and hats for the men)
a Great Gatsby garden soiree (over the top is the order of the day/evening)
an Alice in Wonderland garden luncheon
the guest of honor's favorite color(s)
the guest of honor's favorite flower (a garden party is perfect for celebrating a flower lover's birthday!)
the guest of honor's favorite bug (yes, some adults love butterflies and ladybugs)
the guest of honor's favorite outdoor sprite (yes, some adults love fairies)
Lighting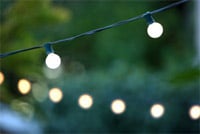 Not much of an issue if you're outside in daylight, although special lighting always lends a festive air. If you're outside in the evening, though, lighting isn't just a matter of decoration, it's a safety issue too. Consider these ideas:
torches (can also be useful keeping bugs away)
candles in mason jars (small jars can be hung from low tree branches)
lanterns (paper or tin)
pretty strings of tiny white lights
Moving on to the Table(s)
Centerpieces aren't just for the center of your table, by the way. For a garden theme party, let yourself go crazy and place them all over. We love these ideas: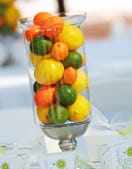 fresh herbs tied in bundles with raffia or ribbon
a tiered plate stand piled high with the best looking fresh fruit and/or vegetables you can find
a large vase filled halfway with water and lemons, limes, oranges (these can be sliced as well as whole) or smooth stones with a few tulips, gerbera daisies or other sturdy flowers in the center
a shallow bowl filled two-thirds with water with several floating candles inside (don't use scented candles near food though)
a large glass vase filled with a layer of smooth stones with a pillar candle nestled on top (let the stones encircle the base of the candle to keep it snug)
several empty (clear or colored) beer or wine bottles (labels removed) grouped together, each containing one dramatic flower (small sunflowers, gerbera daisies, orchids)
a single peony or open rose floating in a small bowl
tea lights and pillar candles on the buffet table and other surfaces are pretty touches for an evening garden party
Floral Favors
Keep the garden party theme going right up to the end. If you want a one-stop shopping option for garden party favors, Beau-coup.com has a bunch of really cute ones. One of my favorites is the white beeswax candle with the bee perched on top.


flower-shaped soap wrapped in a floral chintz or chiffon pouch
vintage seed packets (or pictures of them that you can find in old books or on the internet), cut out, matted on pretty scrapbook paper and framed
a large flower-shaped cookie cutter with a pretty thank you note or tag attached with a fabric ribbon
a handmade booklet of recipes that use edible flowers
a plantable seed card (these come ready-made but you can also order beautiful seed papers online and cut them into whatever shapes you like)
a sachet filled with lavender (or your favorite pot pourri)
a beautifully wrapped box of loose tea made from flowers (marigold, dandelion, jasmine, chrysanthemum, and hibiscus are a few); attach a tea infuser if you like
a little herb pr strawberry plant or a bunch of violets tucked into a mini terra cotta pot
a glass tea light holder with tea light, wrapped with a fabric ribbon
a hand-rolled beeswax candle tied with raffia (this is a fun and very easy DIY project, and beeswax smells amazing)
a flower-scented candle tied with a fabric ribbon