Last updated on June 3rd, 2022 at 11:21 pm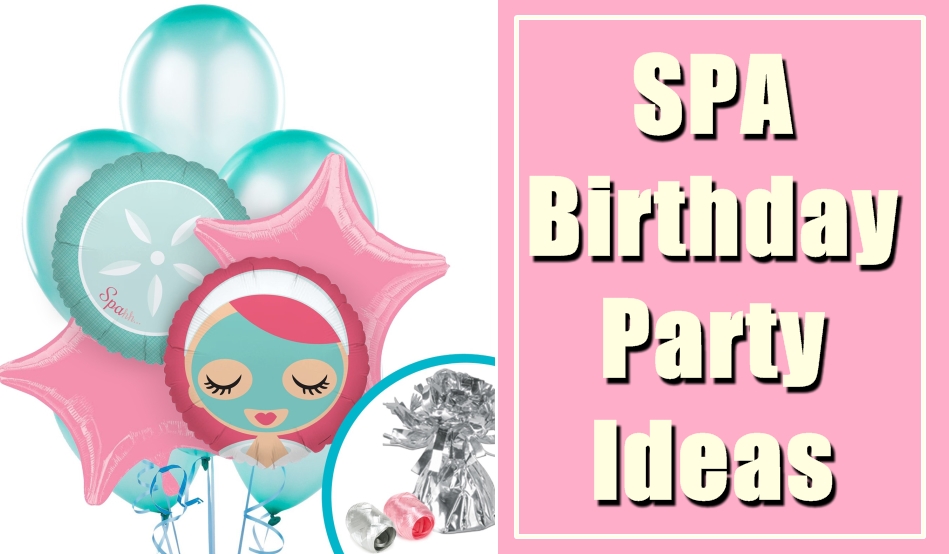 Birthday is one such day when each and every individual either a child or a grown up man wants to enjoy their day to the fullest. Birthday is an occasion when one feels special and wants him or her to be treated as the king or queen for the entire day.
If you have a child and you celebrate his or her birthday every year in an old traditional manner where the guests are invited at home, they enjoy, eat, drink and dance together and at the end leave the house by giving blessings to the birthday boy or girl, then why not go for something new?
This time you can plan something different on your child's birthday and surprise him/her with some awesome party idea! Nowadays, there are numerous party ideas which you can formulate at your house to turn the same birthday party into an exciting and most memorable party of the year.
In this context, personally my favorite birthday idea would be a super spa birthday party. It is in fashion these days a lot and parents are going for this theme as their child's birthday party in order to relax themselves as well as the guests arriving in their party can have a peaceful time. It will be a fantastic idea to celebrate your child's special day by opening spa at your resident and making it more aromatic with lotions, manicures, shampoos, masks and at the end with yummy delicacies.
In this way, parents will be able to chat and spend time with their friends and children will be busy in taking their spa session. This theme won't cost you much but the happiness gained on every child's as well as parents face will be precious.
Here, I will guide you with some mind-blowing spa birthday party ideas as to how to pamper your guests with different activities, games, decorations and many more.
1. Invite with unique Invitations
Invitation card is a must thing to have in any sort of party whether a theme party or birthday bash or any special occasion. It is the first thing that your guests receive and then they make assumptions about what the party would be like. It initiates curiosity among guests and help them get mentally prepare before the actual party day.
If you have decided to plan a birthday party considering the spa theme then your invitation card must also be somewhat matching your theme. You can have several options like you can attach your party information on a pair of sleepers and then you can ask your guests to wear the same and come in party.
You can also attach the information with venue and all on sleep masks, handy towels, shampoos, lotions, etc, and then you can ask them to bring it along with them in the party to take advantage of the services. This type of unique invitation will impress your guests and they will get eager to be present on that special occasion.
2. Wear unique costumes
Whenever you hear about a party the first thing that comes in your minds is what to wear. But have you ever imagined about going in a party wearing your bathrobe or your most comfortable sleep suit? I guess the answer would be no!
Hence, this can be made realistic when you are organizing a spa themed birthday party at your place. In such a party, you won't have to call your guests and kids inexpensive party dresses rather their costume would be very simple and that is to wear a bathrobe with flip-flops in feet, or night suit or simple t-shirt and pajama, so that they can take up the spa session with utmost relaxation and at ease. These costumes will help you all adjust in the spa environment very comfortably without any irritation or hesitation.
3. Embellish your house as spa room
A theme party basically involves each and everything to be decorated according to the theme. In this manner, if you have spa theme as your child's birthday party theme then you can create the complete awe of the salon in your house.
Place mirrors on every wall, turn your simple sofa into shampoo station chairs by placing a hair wash basin at its back, keep small bathtubs under every sofa and chair so that guest can take manicure as well as pedicure session while relaxing on them.
You can place scented candles in the house and decorate the room where guest will take the spa services with Chinese lanterns and colorful chandeliers. You can even stick artificial wall papers on your walls so as to give the perfect ambiance of a spa. You guest will definitely love this exotic session at your place.
4. Have a spectacular cake
When it comes to birthday party, cake is the most important appetizing thing that is must to have. Cake makes birthdays more delicious and that's why everyone crave to go in a party to have a marvelous cake. It's not that cake is not available in the market but the cake specially designed and ordered for birthday parties are more mouth-watering as compared to normal ones available in bakery.
For a spa themed birthday party, one's cake should also be in accordance with the theme which the guests will get amazed to see. You can go for a cake shaped as a bath tub, a cake can be made where your bathroom can be designed with all the necessary products on it, the birthday boy/girl face can be designed on the cake with a mask on his/her face.
These are very common ideas which you can opt, and for more detailed work you can even hire the best cake specialist and get the extraordinary cake designed by him/her to make your child's birthday party memorable for life.
5. Enjoy the activities in collaboration
As you all know that it will be a birthday party comprising of spa theme, so you can make it a bit exciting by interchanging each member's place one by one. You can appoint a professional employee to fulfill the services but it will be advisable that instead of hiring a professional person you all can apply the facilities to one another in order to make it more fun and in this way guests will also enjoy the most.
Suppose, you can do manicure of your child, your child can give a massage to his/her friend, your friend can apply mask on your face simultaneously and in this way every facility to each member can be given by one another. As it will be a party not a professional salon, hence this method would be healthier as well as cost effective for you as being the host.
Create different stations on every corner of your room and then you can ask your guests to rotate one by one after every 15 minutes. In this way every one would be able to seek every service being provided in the party.
6. Treat your kid special
Everyone knows that preteen kids that are generally between ages 6-10 are very naughty and never listen to their parents. Thus throwing a spa themed birthday party on their special day will help you sought out their many issues like they are always in hurry and never clean their hands and toes properly.
With the help of such a party, you will be able to control them and they will patiently listen to you and take advantage of every service on that day because it will be their birthday party.
They will feel special on that day and will thank you for such a lovely gift. In return you will see their excitement for spa and their participation will completely transform them and all their dead and dirty skin will also get wiped off.
7. Play fun-loving games
When it comes to a birthday party, everyone loves to have fun and entertainment. A party without games stands out to be dull and boring. Having a spa themed birthday party, you can involve a number of activities or games that will entertain your kids and will leave a memorable impression on them.
You can play variety of games in such birthday bash like musical chairs with spa stations, organize a makeup competition among kids, play foil fashion where children would be provided with aluminum foil and then they will be asked to make creative stylish outfits with it only.
The best outfit maker would be called as the winner. Then your children can also play nail polish spin where nail paint bottle will be made to spin and when it will stop, then on whosoever, the cap will point that person will have to put the same nail color on his/her nail and then he/she will spin it further. These are such games that will completely suit your party theme and make the atmosphere of the room wonderful.
8. Have fun with delicacies
Having a spa themed birthday party is quite an interesting idea and when it comes to party, food is a must to have. For such a themed party instead of having the regular boring traditional food you can go for delights that will be easy to make and fulfilling for every member.
You can have cupcakes shaped as nail paints, chocolate and coconut cookies as little bath tubs, edible sleep masks, you can even make edible cosmetic products with the help of fondant that your kids and his/her friends will love to eat.
To spice up the fun you can add veggie snacks with dips, finger sandwiches, drinks, cocktails as well as shakes in your menu which the guest as well as children can have while enjoying the spa session.
9. Satisfaction matters more
Spa themed party can never be counted among those typical parties where guests just come, sit, relax, enjoy, eat and finally leave. Spa party should be lasted till that moment when the last person who leaves the house is totally satisfied from the services.
It is not a time based party rather should be long lasting one where every kid and guest who leaves the house have reached to the ultimate point of relaxation and peacefulness of mind, body and soul. Seeing that it will be considered a successful party!
10. Make your guest feel special
At last when the time will come to see off the guest then you can surprise them with your thanks giving gesture by gifting them a manicure and pedicure set or a colorful makeup kit or a complete spa set. You can get anyone set packed in round basket with sweet ribbon on top.
Your guests will love your way of giving thanks to them and they will adore your spa birthday party for life. This personalized favor to every guest will definitely make them feel extremely special.
These are some fantastic ideas for a spa party for girls. If you follow the above-mentioned ideas for a spa themed birthday party, then I am damn sure your party would be a successful hit!