Last updated on June 2nd, 2022 at 10:25 pm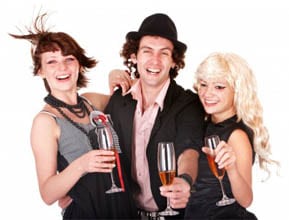 Searching for black and white party ideas? We've got a bunch for you.
Black and white is a classic combination —chic and timeless. It's a great theme for women and men of any age. And the best part is that it's so versatile. You can dress it up with formal attire or dress it down à la beatnik hip (black jeans or tights, turtleneck, a beret).
Whichever direction you go, invite your guests to dress completely in black or white.
Black and White Party Ideas for Decorations:
We love balloons, and having dozens of black and white balloons (helium!) is a no-brainer for this party. Put them everywhere, even the powder room.
You can also decorate with large black and white photo posters of the birthday guy or gal, their family and friends (which will probably include most of the guests at your party) from over the years. You can have your photos inexpensively converted to black and white and enlarged at Snapfish, Winkflash or other online photo services.
Display the posters by adhering them to the glass of all existing pictures/paintings (if possible), bare walls and doors, and/or on easels. This setup does three things: it eliminates a lot of excess color, it creates a great party atmosphere and it encourages mingling about with lots of oohing and ahhing).
Carry the Black and White Theme to Your Table
Of course we're going to suggest you use black and/or white fabric for the tablecloth and napkins and use serving pieces and dishware that are all black or white…but let's get more detailed than that.
For a chic and formal look, try a filigree, paisley, or pinstripe pattern.
For a more informal and hip look, go for bolder prints such as large flower silhouettes, polka dots, geometric shapes, or a zebra print. Zebra print party supplies have become very popular recently. I'm seeing them on many of the upscale party blogs and in stores.
Tie the backs of your chairs with a wide strip of fabric in a complimentary print. You can even add a third print as throws over your furniture. You'll block out even more color this way.
Black and White Party Ideas for Homemade Centerpieces:
For the table's centerpiece, one easy, creative and versatile option is to arrange large, medium and small clear glass vases filled with black and white objects, such as:
twigs spray-painted white
balls of fabric or ribbon (try completely wrapping small styrofoam balls with ribbon)
large beads or marbles
black licorice (in nugget shapes or the string variety)
hard boiled eggs
marshmallows
black and white jellybeans
black and white gumballs
black and white circus peanuts
chocolate non-pareils
black and white mini jawbreakers
You can find all of the candies on our list and lots of others too at bulkcandystore.com. They have a truly fabulous selection of goodies. You might find some to use as favors too.
Adding large white pillar candles arranged in small groups will bring some extra warmth to the table.
A fun and truly unique centerpiece option (which works particularly well for winter parties and do-it-yourself'ers) is to create your own snowballs and display them in a bowl. These snowballs have faces —eyes, nose, mouth, hair and anything else you can think of.
Trust us, they'll be the talk of the table. They're also great conversation starters. People can't help put pick them up and smile.
Have no fear, this is one of our easiest (and it's quite fun, by the way) black and white party ideas.
But briefly, you'll need styrofoam balls, Crayola's White Model Magic modeling clay (it's not messy we promise). Black beads are optional for eyes.
roll out the Model Magic so it's very thin
mold it over each styrofoam ball, covering the ball completely
add faces to each of the balls: eyelids, eyebrows, nose, mouth, ears, swirls for hair
insert black beads into the eye sockets for eyeballs
let them sit to harden
Yum…So Many Cake Options to Consider:
It's hard to settle on just one. Well, at least it is for us. Because we like dessert. A lot.
So here's our rather lengthy list of black and white party ideas for fabulous birthday cakes:
dark chocolate cake with fluffy white frosting
white cake (not yellow!) with dark chocolate frosting
any kind of cake covered and decorated with white or black fondant
cheesecake topped with a layer of dark chocolate
chocolate chip cheesecake
cheesecake with a layer of dark chocolate mousse
cookies and cream cheesecake with a chocolate sandwich cookie crust
a checkerboard cake made with white and chocolate cake batters (we think Wilton's checkerboard cake pan works best; you can find it on Amazon)
an arrangement of chocolate and vanilla cupcakes
cupcakes in black and white damask wrappers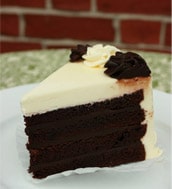 Try adding some of these decorations once your cake is frosted or covered in fondant:
black or white fondant cutouts in a pattern pulled from your table linens, or make flowers, paisley or bold geometric shapes
a wide black or white ribbon around the base of the cake
black or white M &Ms
dark or white chocolate shavings (just make these with a grater)
a stencil pattern (a doily works nicely) made with confectioner's sugar or cocoa
If you want to decorate with chocolate garnishes, white or dark, here's a fantastic resource to check out.
It's the best I've seen on the subject.
Black and White Birthday Party Favors: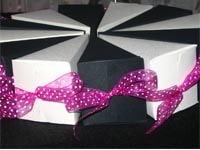 Our list ofp black and white party ideas for favors:
black and white fabric frames (with a thank you note, send them a black and white photo from the party that will fit the frame)
an old black and white film noir movie
a pot of white geraniums
black and white games or toys (dominoes, magic 8 balls, stuffed animals)
a pretty bag or box filled with an assortment of black and white candies (check out bulkcandystore.com for lots of ideas)
a large cookie in the shape of a cake iced in black and white, wrapped in cellophane and tied with a pretty ribbon
Do you have black and white party ideas you'd like to share with us? We'd love to hear them and we'll even share them with our readers!