Last updated on June 2nd, 2022 at 10:20 pm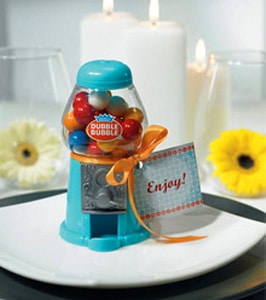 When you're choosing 50th birthday party favors (and there are so many choices), asking yourself these questions will help you narrow your options:
how much do I want to spend on favors?
will my party be formal, informal or somewhere inbetween?
does my party have a special theme? (is it a luau? a 1950's theme? a garden party?)
would funny favors be appropriate or appreciated?
would sentimental favors be appropriate or appreciated?
does the guest of honor have a hobby or passion that could be incorporated into the favors?

With some extra thought and imagination you can come up with favor ideas that incorporate the personality of the guest of honor in some way. Favors like that will always make a great impression on your guests.
50th Birthday Party Favors with a Retro Touch
If you want to play up the aging aspect, retro favors are a really fun choice. Take the gumball machine in the picture above, for example. Here are several other retro ideas we like for 50th birthday party favors:



vintage Pez Dispensers
an assortment of candy from the guest of honor's childhood days (who remembers packs of candy cigarettes, wax lips and El Bubble Gum cigars?)
an old fashioned toy from his/her childhood (silly putty, a balsa wood glider, a slinky, jacks, green army soldiers)
a Tweety Bird bobble head doll (or other favorite cartoon character)
a bendable Gumby or Pokey doll
For DIY'ers, and those of you who don't mind assembling your own favors, here are some more ideas:
cookies in the shape of something related to your theme and decorated with colorful icing
a photo of the guest of honor with each guest (could be a photo from long ago or from the recent past) in a mini photo frame (better have a small party planned for this one!)
a mini bottle of the honoree's favorite liquor with a personalized label attached
a sachet or decorative envelope containing 50 flower seeds along with a pair of pretty (or manly) gardening gloves
a bucket full of assorted reading glasses for the guests to choose from before they leave
a compilation of great quotes about middle age/aging (nothing depressing!) that you make into a pretty little book (this is easily done on a computer)