Last updated on June 10th, 2022 at 08:17 am
A 50th Birthday party invitation is the first thing that guests see and immediately sets the tone for your party.  An invitation has most often than not become a starting point or even an inspiration piece for most successful events today.  So whether you are looking for an invitation to celebrate a milestone birthday, a surprise party or a girls' night out party, picking out the right invitation can be time consuming and sometimes daunting.  So we have made this part of the party planning easy for you 
It's not easy to find 50th birthday invitation samples that aren't the typical "over the hill" sort.
That's why we decided that if we wanted
unique 50th birthday invitations, we'd better make our own.
And so we did. (Lucky that one of us is a graphic designer.)
Just click on each thumbnail below to see a larger version. If you'd like to download a pdf version, click on the text link below the thumbnail.
All of these invitations will print beautifully on 8 1/2 by 11-inch paper. Just fold the printed invitations in thirds, pop them in envelopes and they're good to go!
We've only just started putting these 50th birthday invitation ideas up on the site so you can expect more designs to pop up here very soon.
Party Invitation Wording Samples:
Sample 1:Join Us For A
Surprise Party
To Celebrate
John Kennedy's 50th Birthday!
Friday June 5th
7:00 p.m. Sharp!
1234 Main Street
RSVP to Catherine at 512-339-8745
Sample 2:Please join us for
Bill's 50th Birthday!
August 17th at 7 o'clock
The Velvet Lounge
Open Bar, Dinner & Dancing
Semi-Formal Attire
591 Main Street, Boulder, CO
RSVP 556-1459
Sample 3:It's Poker Time!
No Limit Texas Hold 'em
$75 buy-in
September 26, 2011
8:00 pm
2355 Oakdale Court,
Mountain View, CA
RSVP to Sarah Mitchell by Sept 18th
408-655-1214 or sarahm9@yahoo.com
1.Raspberry-Lime Striped Invitation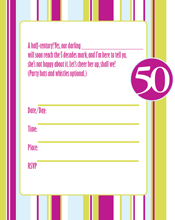 2.Blue-Silver-Circles Invitation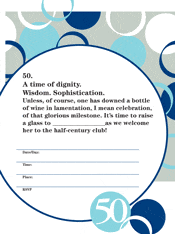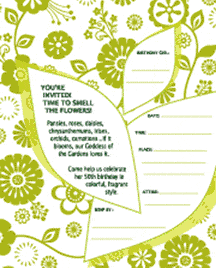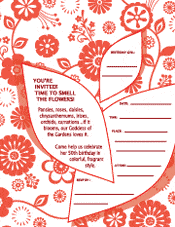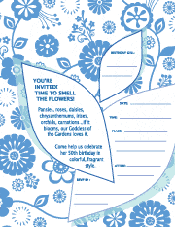 50th Birthday Party Invitation Time:
The best time for an adult birthday depends on the theme of the party (e.g. barbecue), the occasion (e.g. bachelor party), and the age of the guests who will be present. Generally, adult only parties are typically after 4 p.m. and parties where children will be present can be during the day or early evening.
50th Birthday Party Duration:
Keep the parties short, no more than 2 hours if children will be present. For adult only party, there is no time limit but remember, the longer you keep guests around, the more food and drinks (and entertainment) you will need to have on hand!
50th Birthday Party Guests:
So who to invite? Invite whoever is important to the Guest of Honor and who they would like to see present to celebrate their birthdays. If it is a surprise party, it may be trickier to narrow down the guest list but usually close friends and relatives will have an idea who to invite. For a formal or black tie event, keep number of kids to a minimum or hire an entertainer to keep large number of kids busy.
Browse below Articles related to 50th Birthday ideas's