Last updated on February 28th, 2022 at 07:37 am
Cute Princess Party Ideas
Most of the girls have the dream to dress as a princess and wander in a wonderland full of dreamy figures. Especially such party ideas are very common amongst young girls. Even though this party idea looks easy on the eye, it can be an intriguing affair to pull this party theme with sheer perfection.
Therefore, to ease your process of organizing a Princess party idea, we suggested few things you can do get the party going. Also, we included some tips that could make your daughter's Princess party prettier.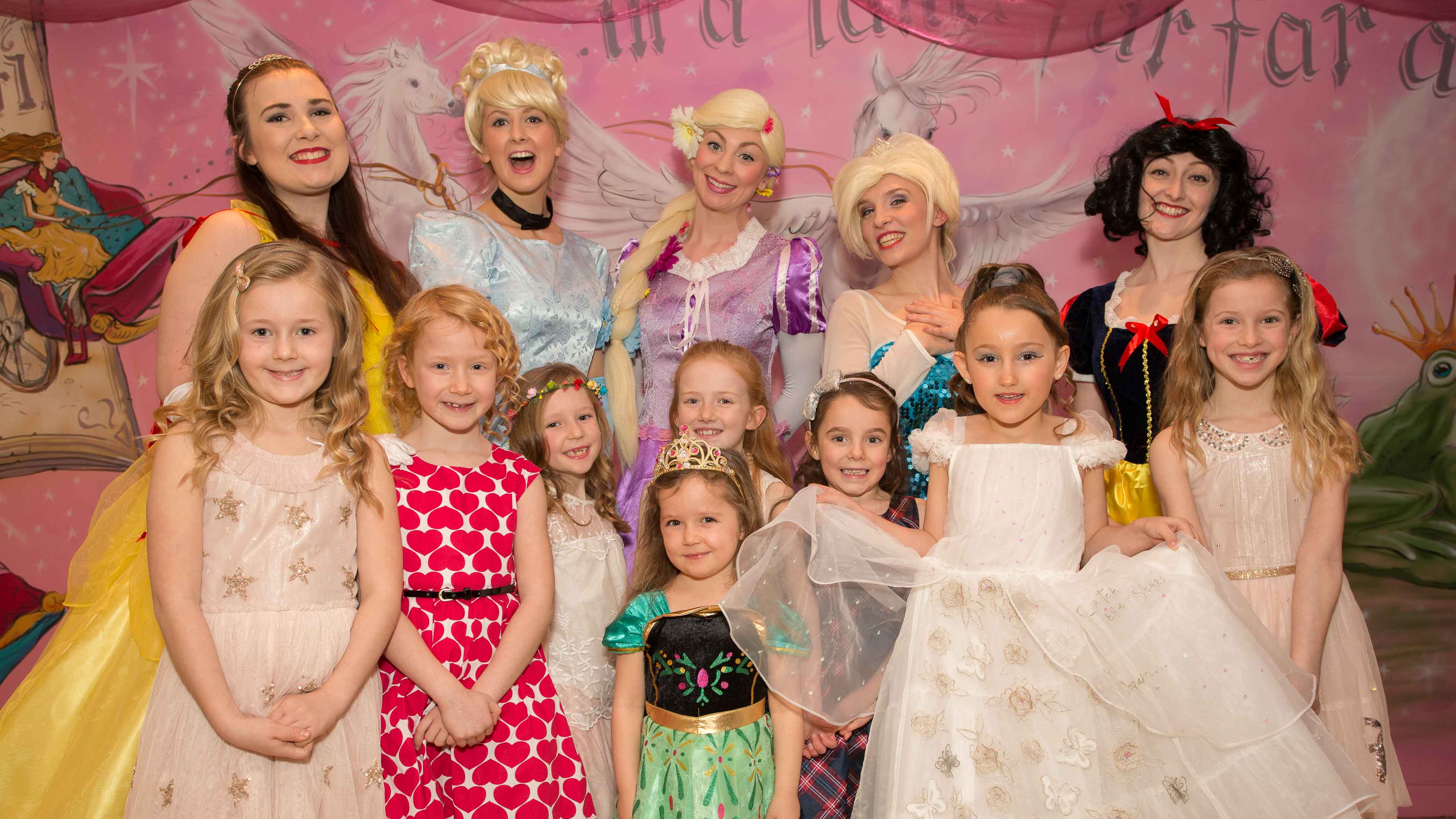 1. Decide on a Particular Princess's Theme
Before you could think about the party theme idea and decorate the house, you need to sort down a princess's name which will make the decorations easier.
Otherwise, there are high chances that you will create a mess while trying to recreate a wonderland of different princesses. You can choose a theme of your daughter's favorite princess and try to decorate the theme by keeping it in the mind.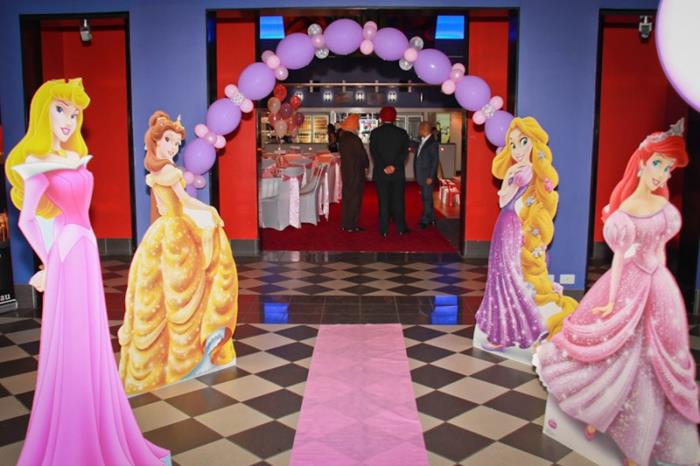 If you are completely unaware of the princesses and their related fairy-tale world, you can choose from Rapunzel's, Cinderella's, Snow White's, Aurora's, Tiana's, and Ariel's to be on the safer side. These fairy-tale figures are one of the most-loved figures by the girls and have been amongst the favorites for years now.
2. The Royal Invitations
Now that you have decided to organize a princess themed party, you can tick mark your preparations with invitations. You can build up the mood for the set-up by giving a fair idea to all the guests through the invitations. The invitations can be designed with a royal touch as well.
You can create invitations by going all pink with words minced like a letter from the highness's desk. Also, you can add a dash of golden to make it more majestic. With crazy prints and templates available on the web today, you have a plenty of options to choose from.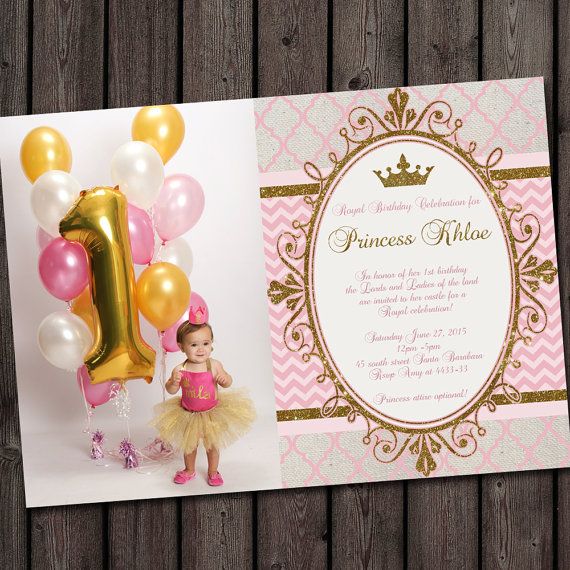 With invitations, you can also ask the guests to dress their children like majestic princesses and princes which will add to the Princess setup. If done so, your decorated home will look nothing less than a wonderland or a castle, depending on how you decide to decorate it.
3. The Baking Game
It can be anything from being completely pink to the size and shape of a crown. There is a large variety of cakes you can choose from the market. The cake is the center of attraction for any birthday.
Therefore, it needs to be given special attention while selecting a piece that will add to the theme. Also, most of the party pictures are going to be with the cake. So you have to make sure that it is beautiful and suits the theme perfectly.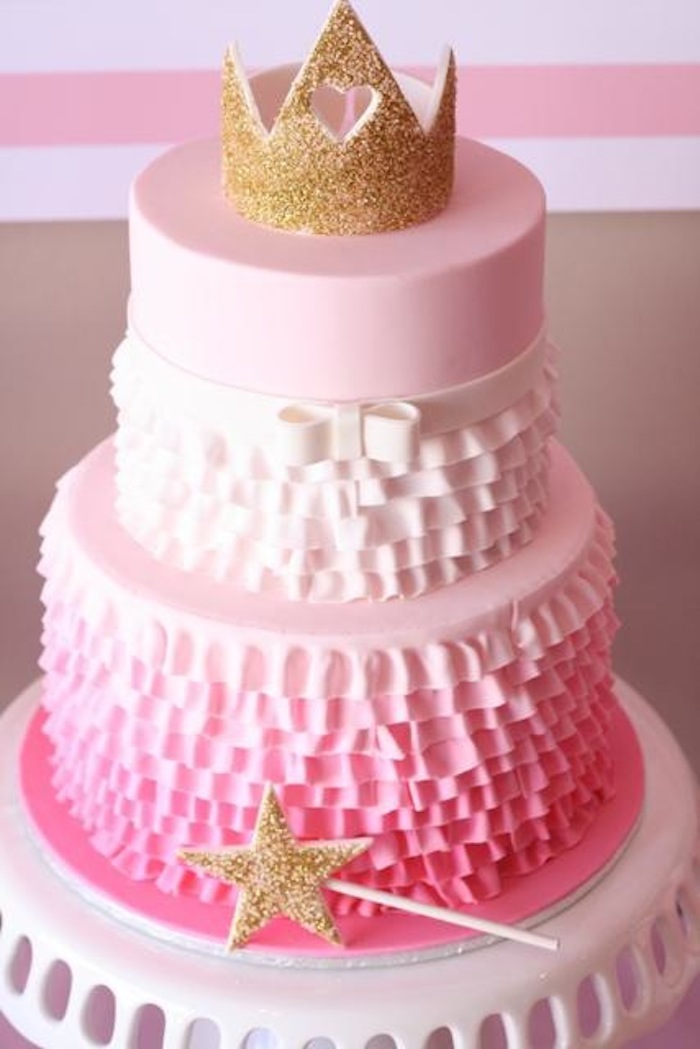 4. Tea Party of the Highnesses
Girls love to play with their toy-like utensils, and cooking role-play games make them feel like grown-ups. If such is the case, this type of party can be surely enjoyed by your little daughter.
All you have to do is dress her like a princess, give her toy grocery to feel as if she is hosting the party for her friends, and arrange a few cupcakes, colorful macarons, and some delectable delicacies. Also, you can ask your guests to get their stuffed toys along and dress like princesses too.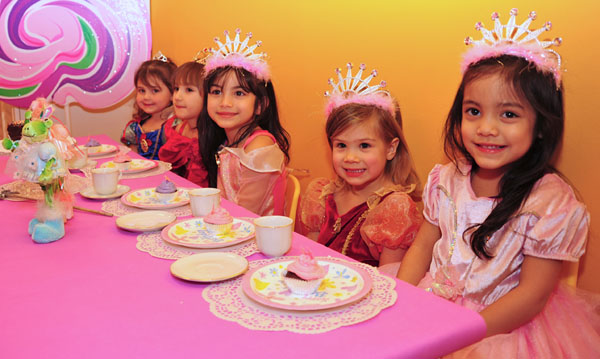 It would be a wonderful sight for to watch a bunch of little princesses enjoying their time in the backyard. The images of this party will be ones to cherish for years to come.
5. A Touch of Royal Gold
Whether you are planning to make your party room white or pink, it doesn't matter. A little sparkle of gold is going to add to their theme regardless of the basic color of the theme.
The color can be used to highlight accessories like wands, chandelier, tiaras, canopies, beads, garlands, unicorn horns, angel wings, etc.
Also, a dusting of gold on your cupcakes will add to the look of the entire food table. Jars can be filled with marshmallows and candies and can be topped with cute golden crowns.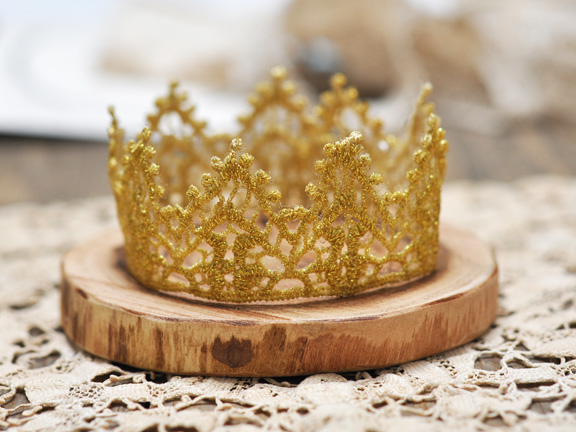 6. Low on a budget? No Problem!
Accumulating all the accessories like numerous crowns and wands can burn a huge hole in your pocket. Also, it becomes an intriguing task to pull such parties off with perfection.
In case, you want to be safe with your choice, and still, want to give your daughter the princess-like feeling, this idea is apt for you.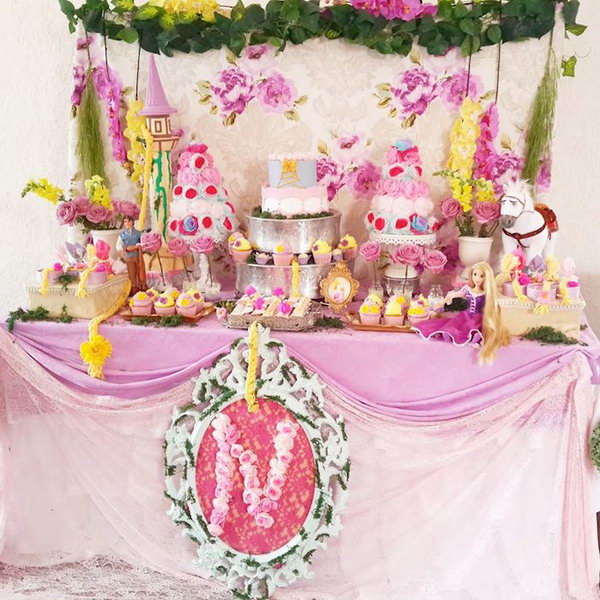 All it requires a few dried flowers, regular flowers, marshmallows, some brown paper, and more flowers. Flowers aren't expensive either. Therefore, it is easy to decorate your entire room with the help of these flowers and give your home the royal touch.
You can yourself make bouquets with the brown paper and place it on the entrance table. Tiaras can be handmade with wires covered with dried flowers. Last but surely not the least, colorful marshmallows on the food table can add that extra zeal to the table.
7. Stress on the decorations more than anything
If you really want to make your daughter feel like a princess, you have to emphasize on the decoration more than any other aspect of the event. The decoration plays an important part in setting up the mood of the party. Therefore, one needs to be on point with it.
Before you start with it, you have to consider your daughter's favorite color, princess, fairy-tale animals, favorite accessories, and lullabies.
Now that you are acquainted with them, you can proceed with decorating the party hall. We jotted down a few ideas that can be common with any type of decoration you'd like to create at your daughter's party.
8. Huge, Attractive, and Royal Centrepieces
Anyone who enters the room first basically has to the tendency to glare at the centerpieces. Hence, make them big, unique, and intricately beautiful addition to the ambiance of the party.
A castle-like structure, a unicorn, or a table topped with macarons, colorful candies, and marshmallows will add to the glimmer of the area.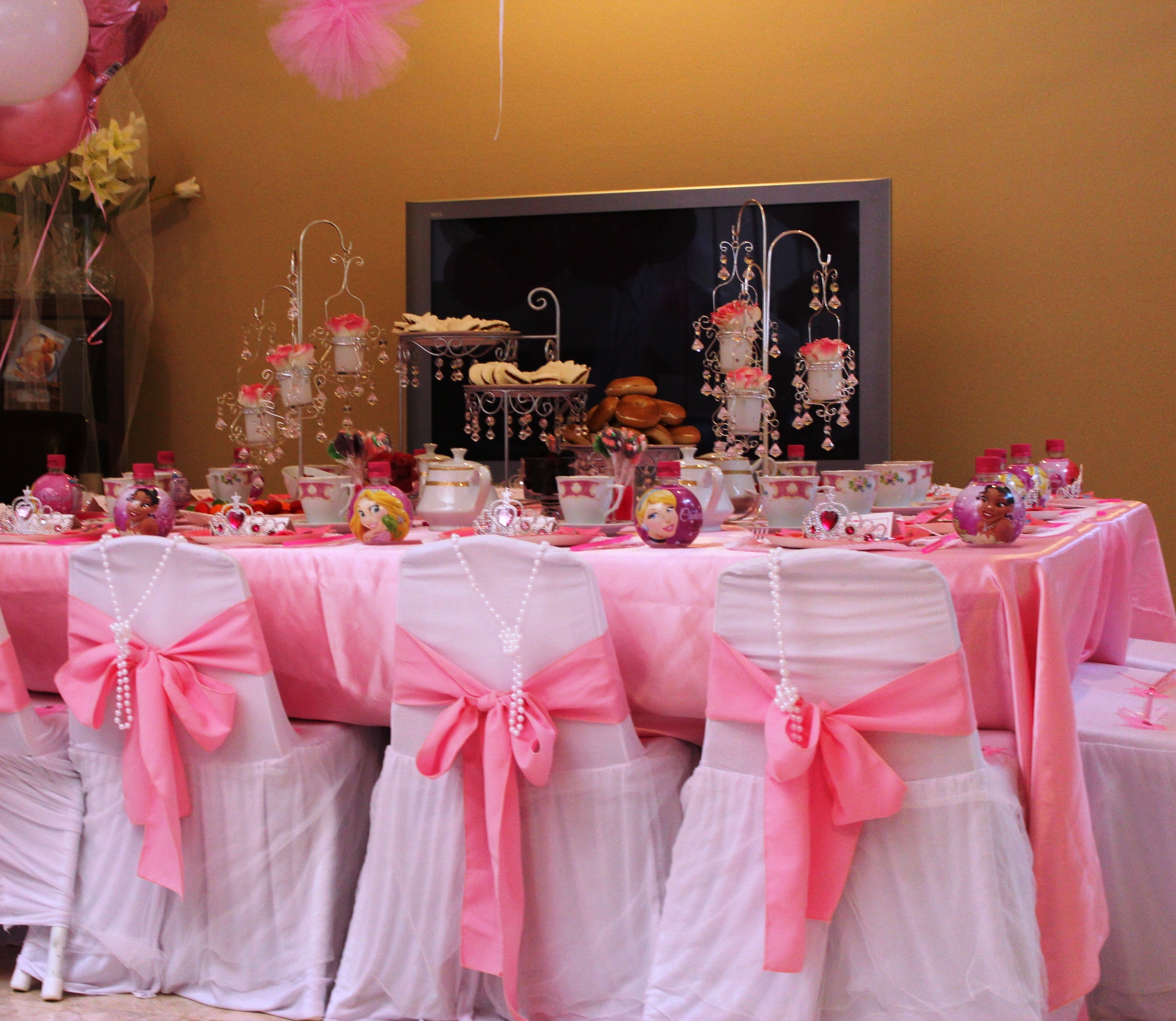 9. Piñatas filled with candies
Small children are always fascinated with piñatas. Therefore, giving them the center stage to break a piñata would be great fun. There are so many options available in the market with piñatas.
They come in various sizes and shapes of unicorns, dragons, castles, fairy-tale vamps, crowns, tiaras, etc. Also, filling them with chocolates and candies add to the zeal of the young toddlers.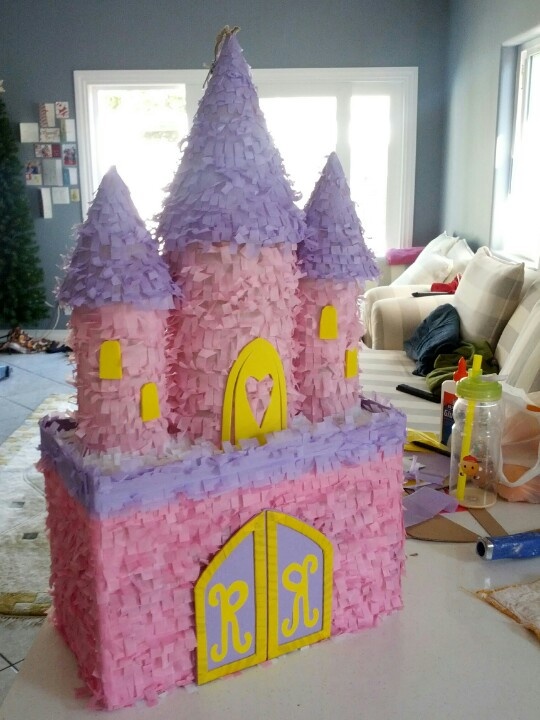 10. Mesmerizing Cake-Tables
Tables are of great importance in a themed event. A shady-looking unattractive table can dull the entire atmosphere you have created with crazy decorations. Therefore, the cake tables and food tables should be given equal attention.
These tables can be easily decorated using thermal sheets, golden sprays, netted cloth, confetti's, crowns, and stickers. Table skirts can be decorated using tulles.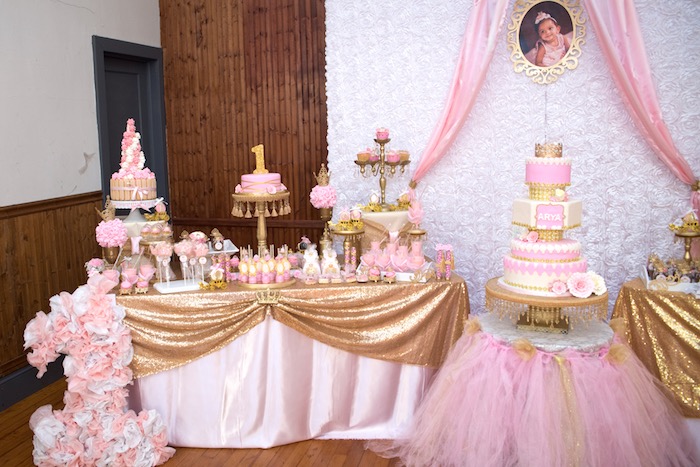 Relevant Articles
Recommended Birthday Party Themes for Girls
11. Majestic Settings
If you are able to create an excellent ambiance, you need not worry about how the party fares. The ambiance itself sets the mood of the party. Therefore, one needs to pay special attention to the ambiance more than anything else.
You can serve to the occasion by adding integral shapes and sizes to decorate the room. Stars, crowns, hearts, and unicorns can help you to create the perfect atmosphere.
Also, perfect fairy-tale music will set the mood for the incoming guests. Another thing which can entice the mood of the party is the lighting.
Now that you are stressing on the ambiance, go that extra yard to light up your party hall with lots and lots of lighting. After all, castles were always bright and beautiful, weren't they?
12. Pink is the color of food
Princesses love the color pink more than anyone else will in this entire world. Therefore, try to inculcate pink in the food as well. It will attract young toddlers towards it, and they won't stay hungry in a party and start cribbing in the middle of the party.
Science says it that colorful food attracts young children. Going by the science's saying try and include pink food in the main course.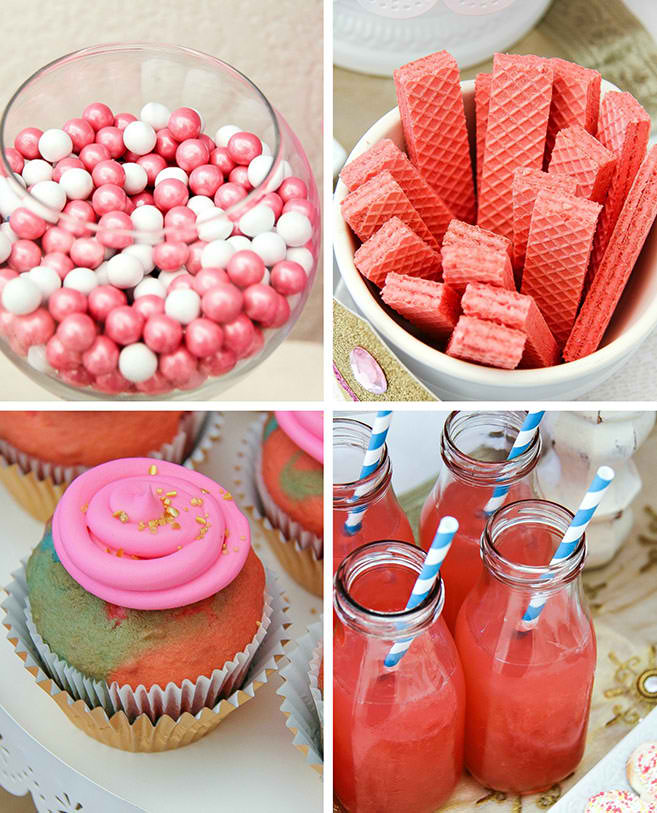 You can keep jellies, pink cold drinks, strawberry milkshakes, tomato sandwiches, and berry smoothies, colorful M&M's to attract the young toddlers towards the food table.
Another thing to keep in mind is the food has to be child-friendly. So whether it is a sandwich or a drink, you have to take special care about its taste and nutrition level.
Serving also becomes an integral part when you decide to organize a themed party. You can serve drinks in wine glasses, chocolate tarts in royal ones, and top the cupcakes with wands and crowns. Your decoration on the food also attracts the toddlers towards it.
13. Activities and Games
There are not many games that'd suit the theme, but there can be some activities and fun games  that can be hosted in a Princess themed party. One such interesting activity that will keep the guests entertained is decorating the tiaras or crowns.
Also, you can add a sense of competitiveness within the guests by announcing a winner for the ones who create the best crowns. It can be an interesting contest for everyone in the room who will try to be at their creative best while creating masterpieces for the party host.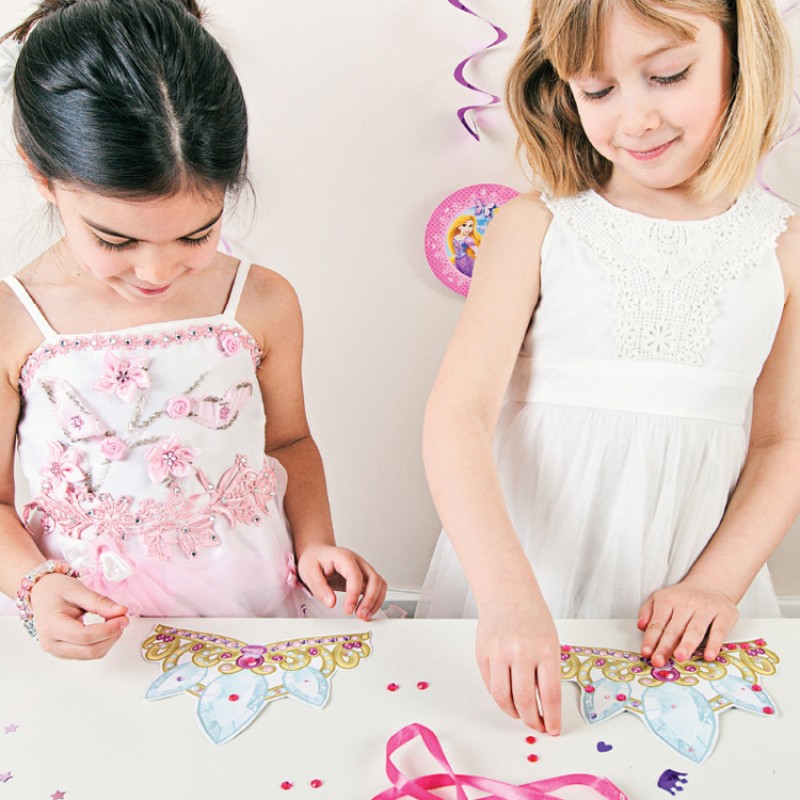 If your guests are older and might get bored by decorating the crowns for the princesses, you can set up a glamor table which can comprise of nail polishes and other beauty products for kids.
Girls can have their time at their glamor table by adding some new paints to their nails or putting make-up. It would be great fun to see the young princesses efforts to beautify themselves.
Adding a tail to the unicorn with a blindfold on can be a fun event to host at a princess themed party. A lucrative gift for the winner will add to the competitiveness of the game.
All you require is a cardboard shaped unicorn or a unicorn drawn on a drawing board without its tail. It would require the contestants to pin up the tail in the perfect position of the unicorn.
The closest ever win the contest. Another variation that can be included in the pin-it-up game is pinning the unicorn's horn instead of the tail.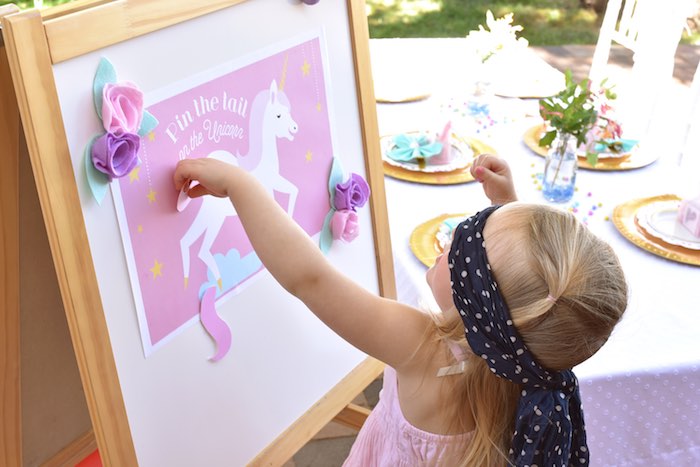 Also, other activities that you can add to the part are making lamps, headgears, Lego castles, and drawings. A drawing contest, however common, can be a great competition for the young toddlers. We need not tell you the theme for the drawing competition.
Make sure you have pretty gifts for the winners as children might try to give their best to be better than the rest.
A magician can add to the effect of the wonderland. A tiny puppet show or a magic show for children will fascinate them and make it even special for the birthday girl.
14. Say Thank You like the Royals
Let the friends of your little princess leave the party with a bundle of joy too. So that not only you and your daughter but everyone around remembers your princess's party.
Return gifts can be at its quirky best and give your party a finishing touch. Hence, make sure you don't leave the theme far while selecting the return gifts for your daughter's friends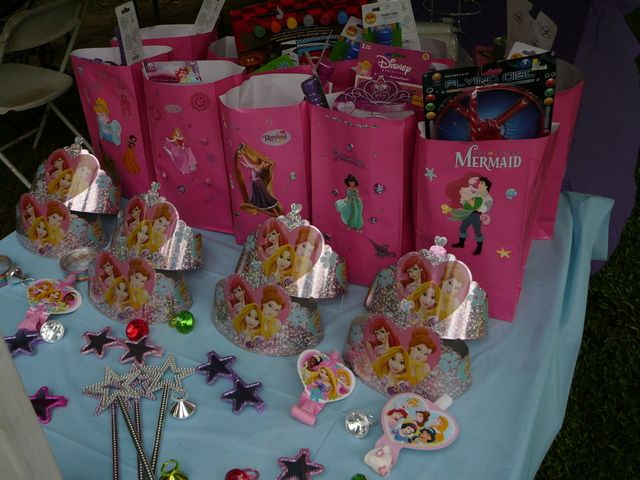 The gifts can include anything from toys related to the fairy world, dolls, princesses, wands, bubbles, stickers, milk mugs with Princess designs, nail polishes, lollipops, personalized pens, craft boxes, pencil boxes with decorative designs, etc.
These gifts can be wrapped in a beautiful lunch pails or gift boxes. Also, you can go that extra yard to use quirky buckets and treat bags to wrap beautiful gifts.
For boys attending the party, you have to think differently with the return gifts. It can include superhero toys or anything that can be used in school.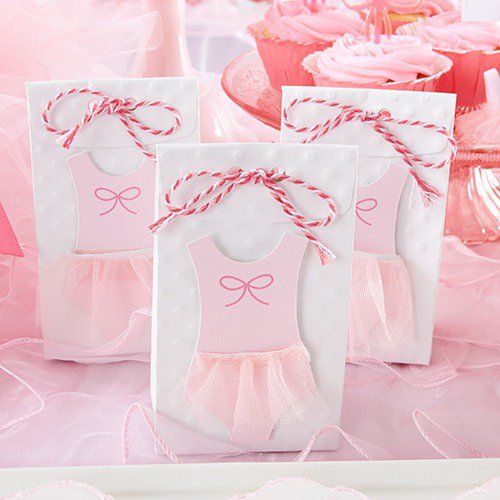 Now that we gave you a plenty of ideas regarding the Princess theme party, it is high time you get off your porch and start sorting down on things you will require to pull off this theme in style. Don't forget to Crown your little princess before cutting the cake.