Last updated on July 13th, 2022 at 07:10 am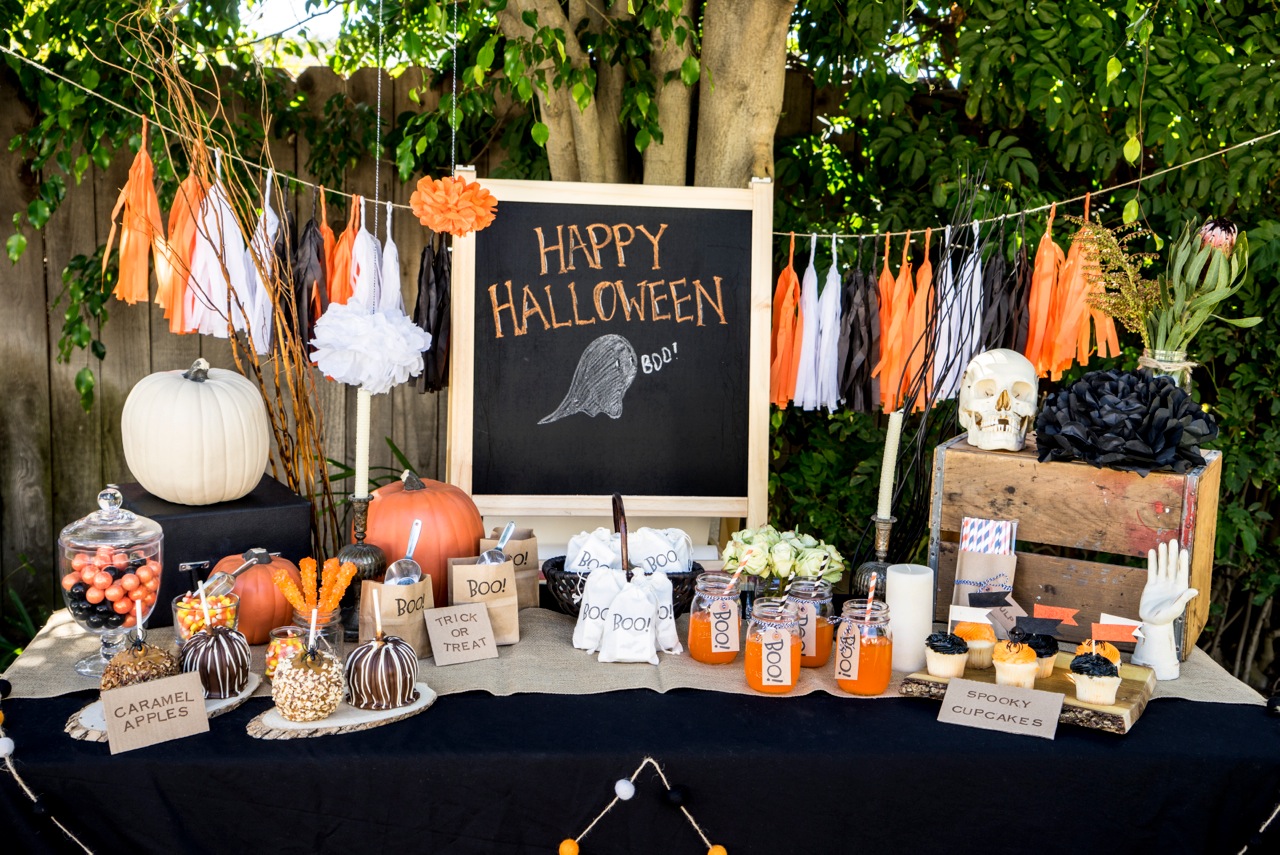 Last week one of my friend asked me for some nice Halloween birthday party ideas. Actually she was planning her birthday and decided for Halloween theme for it. So i gave her few good ideas and suggestions which really helped her in planning the party. So today i will be sharing with you some of those ideas as well as some more additional ideas that will make you at ease to plan an awesome Halloween themed birthday party.
Halloween is supposed to be a scary time, but for the kids, all the dressing up like monsters and running around asking for trick or treat has converted this scary festival, into fun time. In fact, these days kids wait more for Halloween than they wait for Christmas.
But, if you do not want your kid to wait to enjoy the fun of Halloween till October, you can actually plan a Halloween theme birthday party for him or her. In the recent times, this theme has managed to become one of the most popular birthday party themes. I, myself have attended 3 Halloween parties in the past one year.
Planning of a Halloween party is not as difficult as it may sound and to make things even more easy for you, I have compiled a list of some simple, yet amazing ideas, which will help you in planning a great and a fun Halloween birthday party.
From costumes to games and food, everything that you need to plan for your Halloween party has been discussed below. These ideas are surely going to make the task of planning this special party a lot simpler for you. Read our DIY Halloween Haunted House Garage in 7 Steps
1. Skull Invitations
It's a Halloween party and therefore, the invitations for this party have to be sent in a special manner.
Instead of using normal envelopes for placing the invitations in, you can actually use 3D skull cutouts, place the invite inside this skull and deliver this skull to the doorstep of every guest you want to invite to the party. If you have the budget, then instead of using paper cutouts of the skull, you can buy artificial skulls made from plastic and other materials, which look pretty real, and use them for delivering your party invite.
The invitation inside the skull would be enough to let every guest know, that you are throwing a Halloween theme party.
2. Write Invites On Bones Instead Of Paper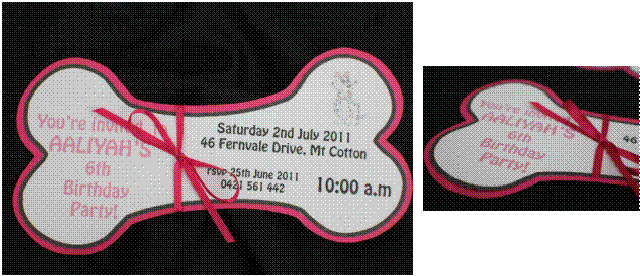 Just like you can use the skulls to replace the envelopes, similarly, you can also replace the paper invites with invitation written on bones.
Obviously, I am not suggesting that you arrange for real bones, but there are many artificial bones which are easily available in the market. You can buy these from any shop which keeps fancy party stuff or they are also available online. With a simple black or red marker, you then write the invite for the party across these bones, place them inside the skull and deliver it to your guests.
To give a more scary feel to your invite, you can drop red ink all over the bone, to give it the appearance of being drenched in blood.
3. Pick A Theme For The Party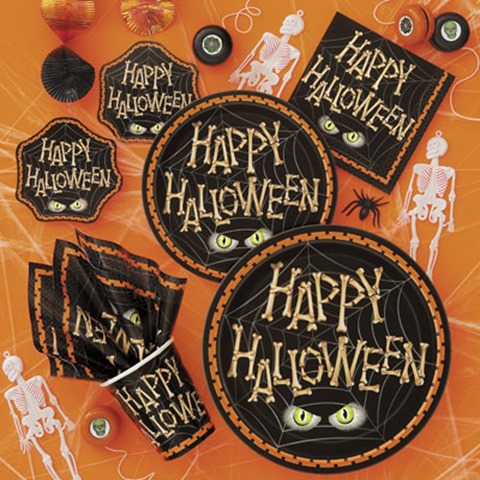 You must be thinking, I have gone crazy since the theme for the party has already been selected and it's a Halloween theme party. I know that, but even within this theme, you need to decide what sort of party you want to throw.
You can choose to go for a scary and dark theme for the party, or you can throw a funny Halloween party.
Based on this choice of your, all the other arrangements for the party, like its decoration, games, etc., will depend on.
4. Halloween Decorations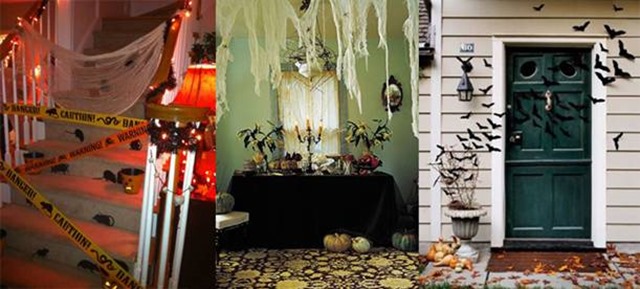 The Halloween theme gives you the freedom to really let your imagination run wild and do some very interesting things for this party. You can actually come up with an entire storyline for the party and accordingly do the party decorations.
For example, you can think that you are inviting everyone to a haunted house for a party or you can decorate your party hall into a haunted mental asylum.
If you are planning a fun Halloween party for kids, you would not want the decorations to be very dark and sinister, and therefore, you might want to use a lot of oranges, the color of pumpkin, purple, red, black, yellow and other bright versions of these colors for the making the decorations look in sync with the theme of the party and yet make the party venue appear cheerful.
5. Welcome With A Skeleton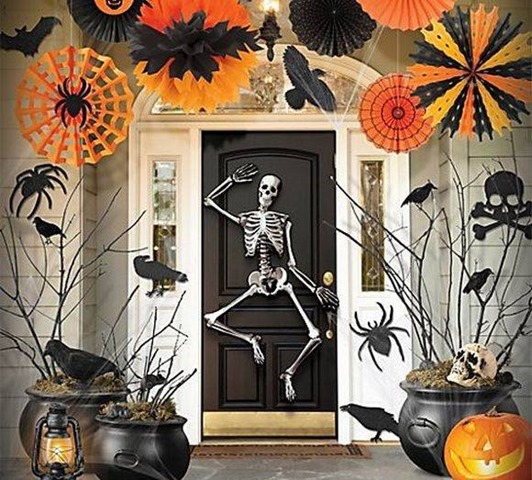 As the host of the party, it is important that each and every guest receives a warm welcome and start to get the feel of the party as soon as he or she enters the party venue.
Hence, you need to do something special at the entrance, which will make the guests know that they are entering no ordinary party, but one which is flocked by sinister forces. Hang a skeleton right above the door, so that every time the guests open the door, the skeleton falls on them.
The entry of each guest would be accompanied by their shriek and the laughter of all the other guests.
6. Give Out Wizard Caps And Capes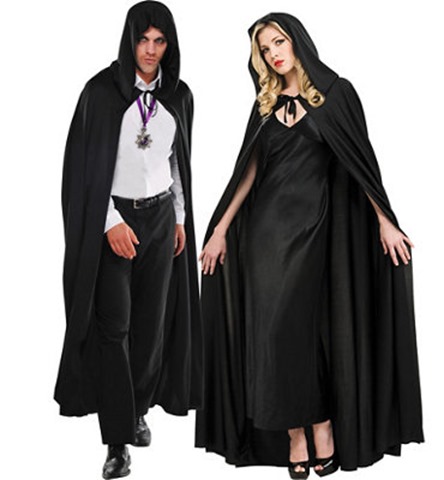 You can either write on the invitation and request all the guests to come appropriately dressed up as some character associated with the Halloween tradition, or you might have to make sure that the guests turn into evil forces once they enter the party.
Hand over each guest with a wizard cap and a black cape to wear over their dresses. This will not only help in making all the kids look suitably dressed up for the Halloween party, but it will also give your party a uniform look.
7. Makeup For Guests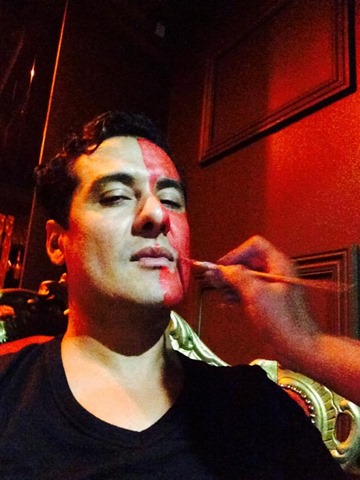 Another great way to give your party the ultimate Halloween feel is by arranging for a makeup artist to be present at the party venue.
This artist would help the guests in getting their faces decorated in various contorted forms, making all the guests appear like they have come from the world which far beyond this world in which we exist.
8. Haunted Photo Booths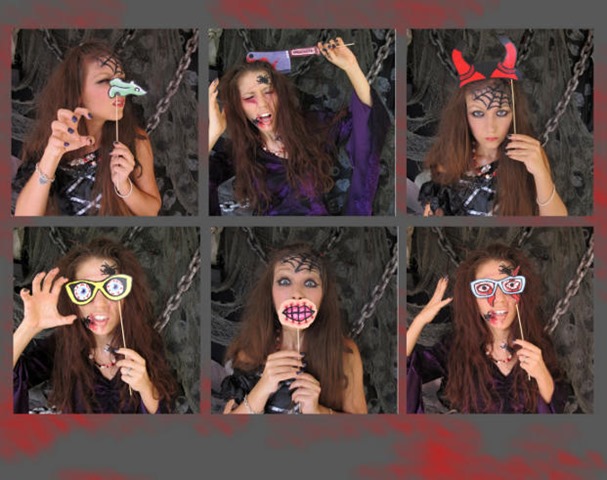 If you are throwing such a special party, putting in so much effort, then you surely would like to save the memories of this party for a very long time.
You, therefore, need to hire the services of a professional photographer who would click some amazing pictures of the party. You can also ask this photographer to set up a photo booth where the guests can get their pictures clicked in various poses against some really scary background and with some really evil accessories like red thorns, fangs, masks, etc.
This photo booth would surely be the biggest hit of your party and everyone would want to get their picture clicked here and take it back as a souvenir with them.
9. Halloween Games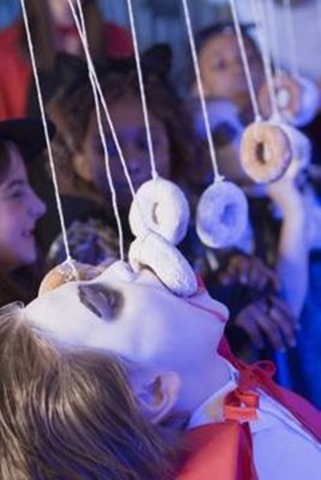 Alright, now that we have managed to set the mood of the party right, it is now time to actually begin the party fun. You need to arrange for some nice, interesting and fun games in this Halloween party.
There are many games which you can make your guests play, like donut eating game, where donuts are hung with a thread and the guests have to eat them without using their hands. To make this game more fun, put on a lot of red jam on these donuts, so that once the guests are done eating them, they would have this jam dripping from their mouths, just like blood! Or you can make the guests play the mummy wrap game, where one guest uses the toilet paper to wrap up another guest completely with this paper like a mummy.
There are many other games which involve the use of skeletons, like the one where a drawing of a skeleton in broken into pieces and the players have to put it back together. You can pick some of the best and the most fun games to be played at your Halloween birthday party.
10. Party Drinks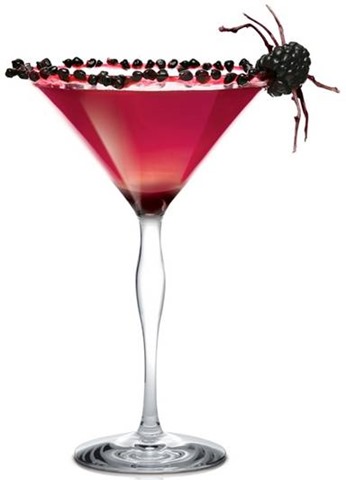 What would you expect the guests at a Halloween party to want to drink? Of course, everyone at this party would be thirsty for only one thing, blood!
Finding enough blood to serve to everyone may be a little difficult and expensive too (pun intended), therefore, you can instead serve drinks, which are red in color, and, therefore, appear to be blood. Besides the drinks being red in color, you can also use garnishes in the shape of bones or eyeballs, to make the drinks look even more interesting.
11. Halloween Food
Serving human flesh at the party is definitely not an option and therefore, you are left with no choice but to serve your regular tasty food, but with a twist.
For example, you can serve your hotdogs in such a way they appear to be wrapped up mummies, or you can place a spider made with the olive in the center of your snacks platter. Similarly, use your creative imagination and cooking skills for decorating your normal food in a such a way that it appears to be the food that the evil spirits love to eat.
12. Background Music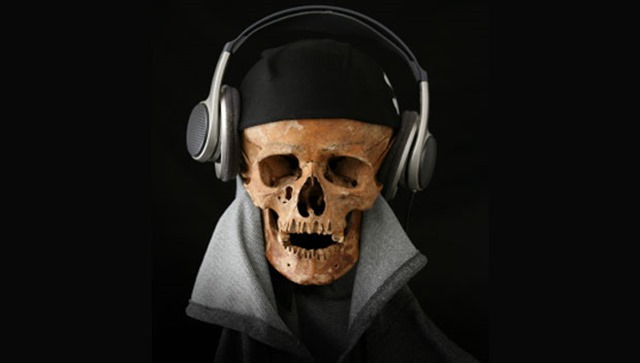 The best way to create a scary atmosphere is by playing the right music.
You can actually arrange for certain sounds, like evil laughter, crying child, shrill shrieks, ghostly whispers, etc. to be recorded and played at regular intervals during the party. these sudden noises will surely get the everyone curious and a few might even get scared as well.
Overall, these sounds will create the perfect atmosphere for your Halloween party.
13. Cake Cutting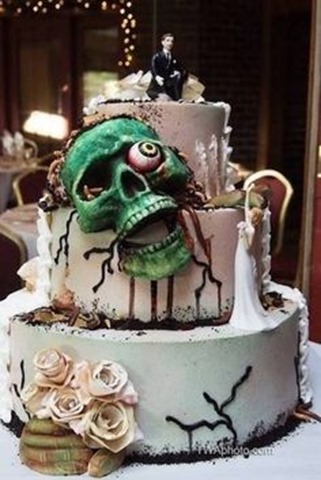 It is needless to say that the shape and design of the cake for this party will have to be as per the theme of the party, but what you might not have thought of is that while you are getting this cake cut, instead of using the normal happy birthday song, you can arrange for a spooky birthday song, sung in the voice of the ghosts.
It's a Halloween party and it is only fair that the spirits are allowed to be a part of the main event of the party,which happens to be the cake cutting ceremony.
14. Play A Horror Movie In The Background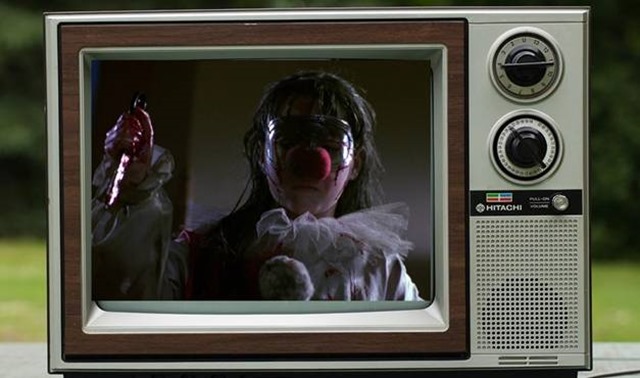 You can arrange for a big screen to be placed on one of the walls of the hall in which the party is being held.on this screen you play some horror movie, or even compile some of all time scariest horror scenes from various movies and play them all through the party.
With the evil spirits movie around in the background, they would add the perfect and the final touch required for making your Halloween party the best Halloween party.
15. Pumpkin Favors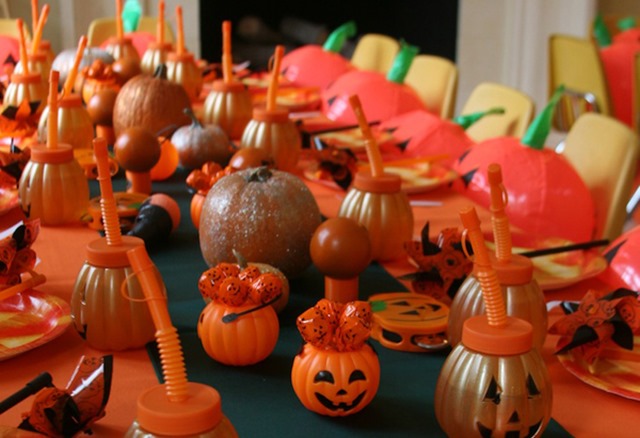 Pumpkins are very closely associated with Halloween and therefore, using them for favors would actually be a very good idea.
You can place candies and small Halloween trinkets inside a 3D pumpkin and hand them over to each and every guest as a party favor towards the end of the party.
16. Killing The Evil Spirits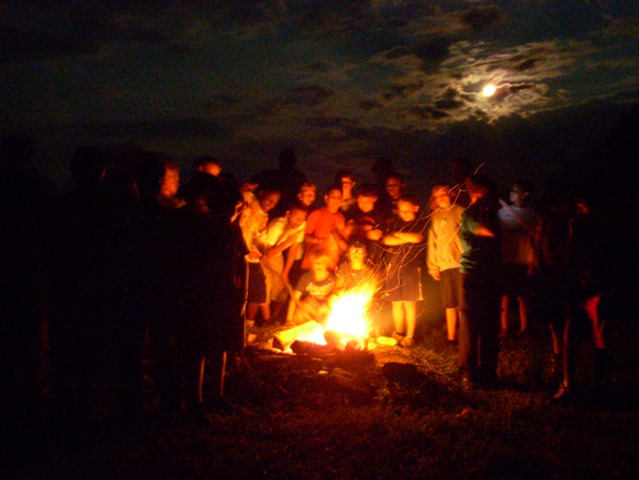 While everyone has fun at the party playing the role of evil spirits, it is also important to remember that at the end of the day, the evil always loses.
No, I am not getting into a philosophical and boring mood, the party mood is still very much alive. All I am saying is that maybe towards the end of the party, you can arrange for a small bonfire, where all the guests can gather around it, write one bad habit or trait of their own which they would like to change and burn that chit in the bonfire as a gesture of trying to get rid of the bad ad the evil inside us.
Trust me, burning these chits in the bonfire can be a lot of fun.
17. Invite Dracula And Witches To The Party
Wondering where you would get their contact information and how you would invite them to your party.
I'll tell you, it's actually quite simple. All you need to do is request someone in your family to wear the dress of a Dracula or a witch, hired by you from some fancy dress rental store, apply the appropriate makeup on them and there we go. You have the Dracula and witches attending your party and entertaining all your guests.
18. Organize Some Scary Tricks
You can actually plan on some scary tricks, like the light, suddenly going off and a white figure floating across the room, etc. These tricks might or might not be able to scare your guests, but they would definitely make your party extremely exciting and fun.
Hope you would like the above Halloween birthday party ideas and use at least a few of them when planning the next Halloween birthday party for yourself or your kid.