Last updated on March 10th, 2022 at 05:47 am
One of my favorite birthday party theme is "Superheros", I am sure it's yours too. Who don't love to live like their favorite hero at least for a day.
Superhero themes are so much fun and interesting to plan for birthday parties. I have attended two superhero themed parties and I am planning to have a superhero theme for my next birthday. So I thought if I have already decided to plan my coming birthday with the superhero theme then why not to write those ideas into this article.
These kinds of parties can be planned for any age group from kids to a mature person in late 30's. A superhero birthday party is interesting when you have perfect matching games, activities, costumes, decorations etc.. So here I will give some superhero party ideas that will help you plan a perfect superhero party for your birthday.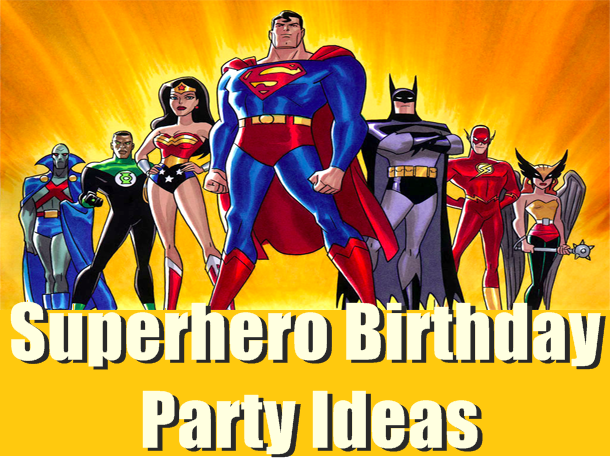 Superhero birthday party ideas
There are many things that involve in planning a party like theme, decorations, costumes, games and activities. Here i have tried my best to cover everything you need to know to plan a perfect superhero birthday party. So stay tuned and enjoy the ideas mentioned below:
1. Superhero themes
A superhero party is incomplete without centralizing it with a theme. So which theme is in your mind?
There are thousands of superhero characters you can pick to plan a theme. For this you can plan a theme based on your favorite character or you can put around your theme based on some very famous and most favorite characters mentioned below ( For guys as well as girls)
These were the few most common and loved cartoon characters based on which you can plan your themes. But if you want to go out of the box and want to do some different theme on some other characters then you can check out this list of 100 superhero characters.
2. Super-Duper Obstacle Training

Let them be trained first to become the superheroes. To become the superhero they need to polish their skills by overcoming many obstacles.
So for this, you have to let them pass over few challenges to get them trained to become a super hero.  By activities, I meant that you need to create few obstacle challenges for them. These activities can be performed using household stuff like pillows, ropes, wall, chairs, table, etc..
What kind of activities you can plan for this? Here are few options:
Jumping over pillows by increasing the level one by one.
Climb through two walls support.
Climb the ladder as fast as possible.
Use the printed bottle cans as a Villain target and let the superheroes hit the targets with balls.
Standing on one leg for maximum time.
You can use your creativity to put some more activities for some more fun. Think about few training activities that would be interesting.
3. Superhero treasure hunt
It is one of the games you can plan for your superhero party. I don't know if anybody have given this kind of game play idea on blogs or not as I didn't find anywhere.
I am sure you might have played a treasure hunt in your lifetime or maybe knowing this game. The treasure hunt is very simple as well as a tricky game that anyone would love to play. This game basically involves contestants to find some clues to reach the treasure box. That means one after the other they have to guess the clues and turn to the next one. So in this way you have to reach to the treasure box.
So I thought why not to give this game a new way of playing. The idea is to make this game into a superhero treasure hunt game. For this you can make clues on the superheros itself and in the treasure box you can have special superhero costumes and badges.
4. X-Ray Vision
It is a simple activity that kids would love to have in the party. As i said you need some activities to make them polish their skills, here is one perfect example.
This activity is to perform an X-Ray vision test for the all the kids. In this, there are certain bags filled with some simple objects and the kids have to judge what exactly is there in the bag just by touching not opening the bag. You can put anything in the bag like, bottles, hangers, remote control, etc..
5. Superheros decorations
There are many superhero themes as you can see from the list i have mentioned earlier but any theme is incomplete without the decorations.
The decoration should be matching with the theme itself. For example if you plan for a "batman theme", then every part of decorations should revolve around Batman character, i.e wallpapers, glass prints, table cloth print, etc..
If you are planning a general superhero theme whereby anyone can come up dressed as any super hero, then the decoration you can do in a general way not focused on any single superhero.
6. Superhero title playlist
If you are planning a superhero party, then you must have some special arrangement for dance and for music. If it is a superhero party then i think the perfect music that can justify the theme is the superheros title music, what say make sense?
So i think you should have a playlist ready of different superhero in a DVD, Pen drive or mobile for the party. I have already shared list of 100 superhero characters, you can see that list and can download all their title music for the party.
I hope this list of superhero party ideas list have helped you plan a bit for your birthday party. We all are grown watching superhero flicks and cartoons, its just the creative side of your brain you have to use to plan many more things. There is much more you can have in the party related to superheros, you just have to use your creative skills.