Last updated on June 3rd, 2022 at 10:32 pm
Toddlers require a great amount of care, nourishment, and attention to make sure they grow up and realize their amazing potential. In addition to this, it's also very important to make them feel special and feel the love you have for them.
And every time you do something special for them, you could very clearly see the twinkle in their eyes, filled with excitement and love. How nice would it be to have that stay throughout their growing phase? And a great way to do this would be to surprise them on their birthday with a gift that will get them happy and excited.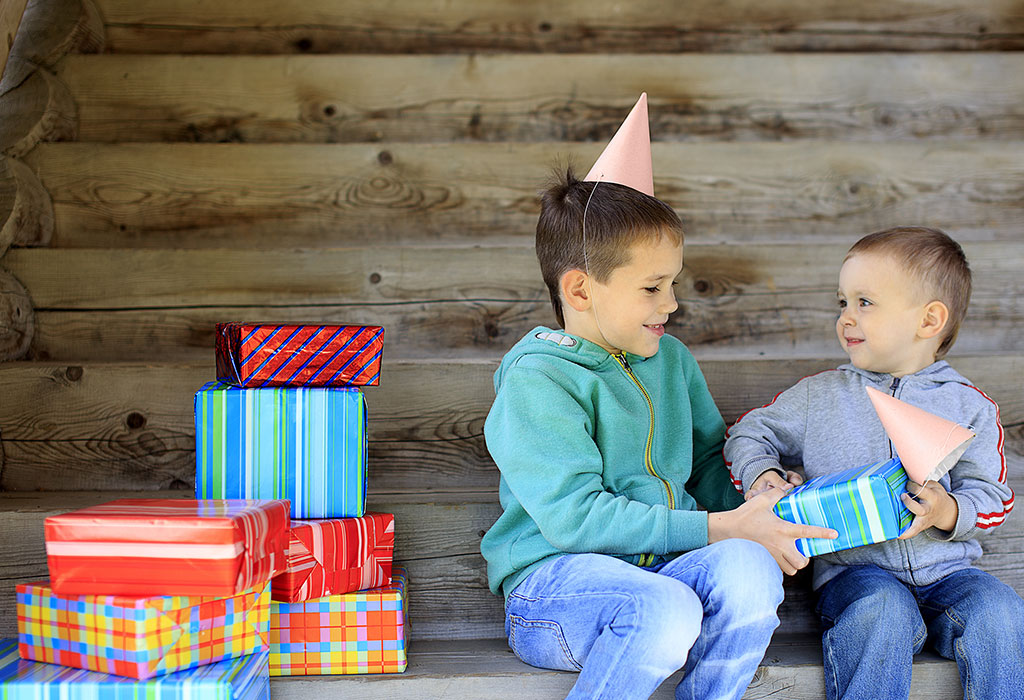 Toddler Gift Ideas
If you're looking for some toddler gift ideas, because let's face it, they are never easy to determine and choose, we have a list of some great gifts suitable for toddlers that are guaranteed to amazing them. Whether it's gift ideas for a boy or a girl, here's a list of 25 unique and creative gifts that will help bolster your kids' own creativity.
1. Rainbow blocks set
This set consists of wooden blocks of various shapes and colors. They can be used to build different kind of constructions based on how they are arranged. Your toddler will not only have good fun doing this but also gain some very useful real-life experience and practice.
There are plenty of possible ways to arrange this resulting in very interesting end products. This means your child will have a lot of creative freedom and headroom to play around, fail a few times and still be able to make something very good that both them and you can be proud of.

2. Inflatable jump 'n slide bounce house
Previously these were limited to children's play parks but now thanks to the modernization, you can get yourself a soft, bumpy bounce house that your kids can have fun in for hours at a stretch. If you think your toddler is in a bad mood or just refusing to eat, get them on this and they would be so drowned in happiness and straight fun that they really wouldn't mind doing anything you want them to.
Another good thing about this is that it's not limited to just one, their siblings and friends can also take a place at the same time allowing for a great time together.
3. Basket Ball hoop stand
Basketball is one of the most popular sports across the globe and it's very easy for children to get hooked to it and even inspired by the amazing plays that happen all the time. Why not feed their enthusiasm and give them their own chance to shine with this cute little basketball hoop that will create a fantastic miniature replica of the real stage giving your child a realistic feel of being in the game themselves.
This is a great way to help the child bond with their parents, friends or siblings as being a part of an exciting game will gel us together faster than most things.

4. Touch and learn sound book
Considering children grow up being attracted to many colorful and captivating activities, suddenly being exposed to normal books can be quite boring for them, not to mention tedious. This sound book could be a great way to introduce them to that learning atmosphere as it uses a lovable character to interact with them throughout the learning process.
Even when it comes to the lessons themselves, they're designed in a very fun and interactive way so that your child would look at it more like a game than actual reading. They will see it as nothing that different from their daily fun routine and you will have no problem getting them to learn some essential things before they start school.

5. Snail ride on
Children always have a special attraction to animals and perhaps even a special bond that usually is lost in adults. It could just be a special connection but you could bolster it even more with this adorable snail-like riding toy that will serve as your toddlers own personal vehicle.
It even has a small secret storage space right under the seat so that your child could even carry out their little toys around with them while travelling. This is not only great fun but also great help especially for those who just started walking or learning to.

6. Kids music set
Music has been one of the most defining aspects of human society for a very long time now. We have defined and refined so many forms of music and firmly established as one of the biggest and most popular forms of art. Introducing your child to this early on might be a great idea as it will give them ample time to develop their own taste in it.
This set consists of multiple types of instruments aimed at beginners letting them create their own form of music. It's also relatively easy to carry around in a pack and will stay relevant a few years after your child grows up as they can still use these while getting much better at using them.

7. Build it yourself toy set
Gifting your child a toy is probably the most straightforward way of making them happy. But what if you can not only give them more than one toy but also give them the ability to make all of them on their own, whenever they feel like it?
This is one of the most creative toys a child could ever have. It consists of small parts that can be fit together into a Rocket, a train or a helicopter. It helps train the child's cognitive skills and keeps them engaged much longer than any premade toy could.

8. Mega blocks math stack
Math is one of the most important building blocks of almost every modern aspect of our society and what better way to introduce them to it with these attractive blocks. Instead of simply writing numbers on a piece of paper, you could instead help your toddler build those by arranging these colorful blocks.
This is one of the most creative ways to teach someone a creative subject like math. You can use this even to teach them something more complex like equations. Considering how fun it would make math, your child's problem-solving skills will be through the roof for their age and they will have a very clear advantage when they finally go to school.

9. Radio Flyer Stroll 'N Trike
If you're looking to get a baby transport, why not get something with style? This Stroll 'N trike transport will not only let you take your baby out for a stroll but also let them pedal on their own if they're feeling the confidence.
It has adjustable settings that will support toddlers of different ages and abilities. You will not only have something to take your few months old baby for a stroll but also something that acts as a bicycle for your 4-year-old.

10. Talking Microscope
Science, if handled right could be one of the most interesting things to learn about for children. And it's also one of the most useful. This talking microscope is a great way to get them into it in a way that's impossible to ever get boring as this microscope can actually talk.
It comes with many colorful slides of images and great facts that will give them both the knowledge and the fuel needed for their curiosity. It also covers a wide array of subjects from outside plants to household items.

Relevant Articles
Toddler party ideas from real experience
11. Bead maze educational toy
Children love toys, children love well-made puzzles and here's something that gives both of them in one clean, high-quality package. This maze will leave your child with hours of fun to be had and a great improvement to their logic and cognitive abilities.
It also uses beads that are shaped after different fruits and colors, hence making a huge difference in their ability to distinguish and learn about the same. It's easy to carry, easy to learn with very little guidance necessary from the parent and overall will make for a great gift.

12. Do it yourself jewelry set
One of the most innovative toddler girl gift ideas, this set of sturdy plastic beads can be put together to make various kinds of very attractive jewelry. It comes with a massive 500-piece collection of various colors so there's plenty of material to work with.
Because of the different colors and so many ways they can be arranged, your child can keep coming up with different styles of jewelry that will pretty much never get boring. It's also a great way to let the child learn more about colors.

13. Boon jellies bath toys
Getting your toddler to take a bath has to be one of the hardest and most troublesome things as a parent. But like anything else with kids, you just have to distract them with something attractive and they won't really mind about anything else going on around them. And these boon jellies will definitely provide just that.
These stick around the tub or on your tiles so that your child will have a lot of fun rearranging them around while you go about your job. You won't have a lot of trouble convincing them to stay put because these little things will do that for you in a way more attractive way.

14. Toddler winter gloves
Winter can be very rough, especially to young children as their bodies are a lot more sensitive to the atmosphere and they tend to feel uncomfortable more often and more easily. These gloves made of wool polyester will keep their hands warm and comfortable while also boasting a very attractive design that they will never get bored of looking at.
Gloves like these can be very handy especially when going out for trips on a cold day and could even make for a very good addition to costumes during shows or Halloween. One of the best toddler girl gifts out there that will keep her happy and proud for a very long time.

15. Fisher-Price think and learn robot
It is usually agreed that a good teacher is always loved by the students. But a teacher that is loved by the students also often turns out to be pretty good. Here's a chance to give your child something they would be truly excited about but also something that can actually teach them a few useful tricks, a robot!
This model is capable of teaching toddlers the proper way to follow directions so it is extremely fun especially to those in the process of learning to walk. It could also do wonders for the child's critical thinking abilities with mini games that involves color and shapes. It even has a screen that could make many different faces based on the situation.

16. Design and drill workbench
A great way to introduce your child to real life essential work tools. This workbench comes with plastic bolts, nails and hammer and a drawer in the board itself to store them all making it extremely portable.
It will not only teach them about some of the most useful tools in real life and how to use them but also will make a considerable impact on their pattern recognition skills. It's also fun to put together nails and blots of different colors to make different forms.

17. Munchkin Fishin' Bath Toy
Fishing has always considered being one of the most calming yet exciting exercises someone could partake in. And this little toy will equip your toddler with a mini fishing rod and a few cute little creatures that can hide underwater while he/she tries to get them entrapped.
On top of being a very fun way to spend time in water instead of being scared, it will also make your job of taking your toddler for bath much easier. With this little toy, it will be more of a fishing trip than an actual bath.

18. Moonlight storybook projector
Storytimes are something that is not only fun but also essential for every toddler's growth. We all remember how our parents either read out or told stories of their own during bedtime. This storybook projector helps you take it to the next level by visually presenting the stories pretty much anywhere.
It's a simple mechanism where you can just choose and insert one of the many story disks provided, slide it in the projector and attach it to a smartphone. You have the ability to enjoy a proper story almost anywhere.

19. VTech Smart Wheels launch tower
Toy cars have always been a super fun way of passing time for kids. This smart wheel launch tower set comes with multiple cars that include police themed ones and also a multitude of race tracks that can be adjusted to form a relatively large tower, opening up multiple possibilities for playing around with the cars.
It also supports many other cars that can even play creative sounds that will make the play the play a lot more engaging. Learning to set up this track will also help greatly with the child's motor skills.

20. Kid beats Drum set
This drum set presents you with one of, if not the best way of introducing your child to one of the most popular forms of modern music, drumming! It has to be one of the most attractive ways of teaching creative music, especially for kids when they get to watch it and now they have a chance to make it on their own.
These drums offer a follow along mode with alphabetical and numerical representation making it easier for children to learn and create proper music. It helps greatly with visual memory and creativity at a very young age. Overall would be a great toddler boy gift to help him keep up with the latest trends.

21. Kids winter rabbit slippers
Rabbits are some of the cutest and slipperiest creatures we've known and kids love them for that more than anyone else. So, getting them some great quality slippers, which also happen to be rabbit themed seems to be a great way to encourage them to walk around more.
In addition to that, it also offers great insulation, keeping their feet warm and cozy throughout the winter and making sure they're also safe. These are available in quite a few sizes so you should be able to find these for your toddler of any age.

22. Spin and learn color flashlight
The best way to learn is where the method of teaching is interactive and actively involves your kid and at the same time keeps the lesson interesting enough to keep their attention. This flashlight provides all that in a very innovative way. Consisting of over 50 songs that your toddler can sing along with, phrases to learn from, different color lights that can be toggled between.
This might not be that great at fulfilling the role of an actual flash light but it's an amazing tool to have around to make learning a fun and engaging experience for your child. This would be one of the best presents for toddlers.

23. Kids art easel desk
Easel desks have been artists best friend since their invention. Not only are they especially comfortable to work on but also make it a lot easier to concentrate with the posture required to work on them. Have your child get used to this amazing tool early on, to bring out the full extent of their creativity.
This particular set comes with extra storage spaces for your child to store their tools and it even allows for two people to work on it at the same time. It will serve as a great addition to your furniture set in the middle of your room where your toddler can work on their own masterpieces and make all of you proud.

24. Lawn walker bubble machine
With so many new hand-held gadgets coming out, it's not unusual to have kids who refuse to go out to play. This is a great way to change their mind on that matter as this lawn mower, while not actually capable of mowing anything is still a very attractive partner to go out on a walk with for your toddler.
It's great for those who are fond of pretend-play but even if yours is not, this still has a bubble blower that generates bubbles as they keep moving it. It will be a fun time for your kids to play around not only with the machine but also the bubbles coming out of it.

25. Magnetic doodle board
This is one of the best things any toddler could ever ask for. It lets them paint or draw anything they want using different colors, erase it and do it all over again without having to go through the hassle of keeping multiple colored pencils or crayons around.
It helps your child learn through art as they can keep making mistakes and instantly correct them without having to waste anything or completely start over. It encourages them to get creative and try new things. And the best thing of all is that it's extremely easy to carry around in a small package.

We all want nothing short of the absolute best for our toddlers and it just feels like we need to take it a level above when it's their special day. Gifts for toddlers can be easy to choose but also extremely hard at the same time.
This list is made by keeping in mind the fact that the current generation of toddlers grows up really fast with all the technology and information readily available around them. These toddler presents are not only fun but can actually keep up with the pace at which they grow up and even help educate them along the way.