Last updated on June 3rd, 2022 at 10:15 pm
Life for a 3 year old boy is delightful and exciting. Everyone pampers and showers love on the kid. Kids love indoors as well as outdoor activities at this age. There are numerous occasions when you can give a creative, fun, learning, and educational gift to the kid that lets them have a good time learning and constructive activities. You can select one of these birthday gifts for 3 year old boy and make him feel special and loved.
Parents, relatives, and near and dear ones can choose from this gift list to give the best present to the little on who turns 3 on his birthday. There are a choice of fantastic games, toys, knick knacks, books, musical instruments, fashionable items, and more you can choose from to gift the kid on his birthday.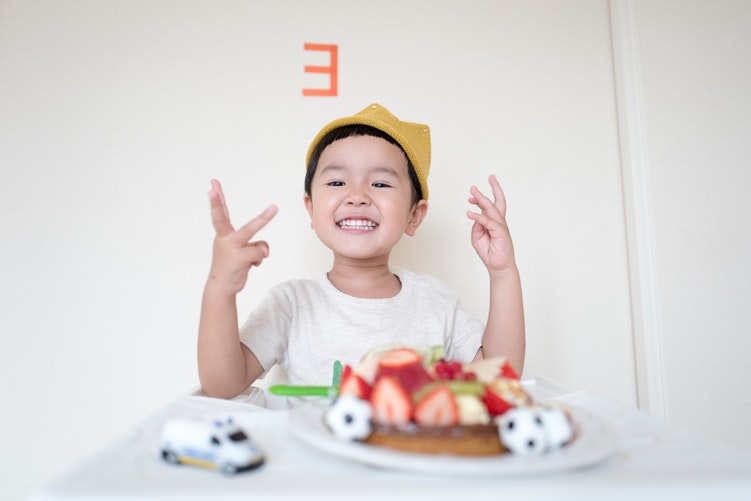 Recommended Birthday Gifts For A 3 Year Old Boy
1.
Remote Control Toy Cars
Kids absolutely adore playing with toys. This is best gifts for 3 year old boy on his birthday. It has flashing headlights and honking sounds of a real car. There is an option to remove the driver toy from the car and replace it with two other drivers.
With the remote control, kids will have fun changing the directions of the car. Kids can lie on the floor or the carpet and play with this toy for hours together. The kids can take the car all over the place as well as the staircase and have a lot of fun playing with it.
2. Apps Tablet For Kids
This is a tablet for kids that comes with a piano board, color changing screens, letters, and many levels of activities. Playing on this tablet develops many skills within the child. Their motor skills are fine tuned, and cognitive abilities are developed. Kids have a better gadget to play with instead of the smartphone.
There are many activities inside the gadget that the kids will love playing with. There are rhyme, musical, and spelling games inside the tablet that let the kid have fun learning.
3. Outdoor Camping And Exploring Kit
When you go on a trip with the kids in the outdoors, they will have a good time exploring the outdoors and nature with this kit. It contains binoculars, flashlight, magnifying glass, and a storage cover.
Kids can explore outdoors by watching birds and foliage at a closer distance with these binoculars. This is one of the cool gift ideas for 3 year old boy that you can give on his birthday.
4. Dinosaur Themed Birthday Kit
This is one of the perfect presents for 3 year old boy. It comes with an interesting story book, toys, party hats in the theme of a dinosaur, and a rhyming book. Kids will have a lot of fun reading the story and the rhyming book and also enjoy playing with the toys and wearing the hat.
You can take great photos where the kids look cute wearing the dinosaur hats and playing with the toys. This is a unique birthday gift with unique stories that the kids will simply love reading. The dinosaur stuffed toy is so huggable, your kid will simply love it. This is the kit that the kid will love to keep with him for years.
5. Fun And Thematic Paint Brushes For Kids
One of the best gifts for 3 year olds that boosts their creativity and imagination. The paint brushes in this set come with the theme of flowers, and sponge brushes in the shape of smileys, moon, stars, and also comes with a full sleeved waterproof apron.
Kids can have a lot of fun painting using these brush sets and creating designs and motifs without getting their clothes dirty. Adults too can have fun painting along with the kids with this brush set.
6. Bouncing Ball Toy For Kids
This is a bouncing ball that the kids will enjoy hopping and playing on. It comes with a pump and lets boys have hours of fun hippity-hopping on this ball. It is also a great exercise that strengthens their muscles and gives them a fitness routine.
It strengthens their arms, legs, and abdomen. This is a nice toy that keeps the kids active. Kids can learn to balance their bodies and stay fit playing with this toy.
7. Spider Adventure Pop-Up Book
Bedtime stories for kids that give them peaceful sleep are one of the best gifts for three year old boy. After a days play and learning, kids can read this pop-up book that boosts the imagination of the kids.
This is an interactive book that comes with buttons where the kids can listen to stories from the book that produce exciting sounds. It also helps develop focus and concentration in kids.
8. Animal Sound Book
Gift this animal sound book to the 3 year old boy on his birthday and let him learn about different animals and their sounds in a fun way. This is an amazing book that gives the boy an adventurous ride in the animal world through the sights and sounds.
This is one of the best presents for 3 year old boy that you can give that lets him learn and read in a fun way. Kids develop the habit of learning when the activity has a lot of fun learning.
9. A Baseball That Talks
Imagine a baseball interacting with you, giving you comments about how you are playing the sport? Isn't it fun to play with a baseball that talks to you? This is one of the awesome birthday present ideas for 3 year old boy that you can gift on his birthday.
Inside this baseball, there are intelligent sensors that recognize how you handle the ball. When kids play with this baseball, it gives back hilarious comments making the kids laugh. Kids can learn baseball with a lot of fun and laughter.
10. Finding Nemo Themed Sleeping Bag
This is a soft sleeping bag in the theme and design of a clown fish. Your kids can cuddle inside this sleeping bag and can be taken outdoors when you go camping.
They can have reading time or listening and watching their favorite show relaxing inside this sleeping bag. Take it along with you when you are traveling with the kid as it also serves as a blanket protecting them from cold.
11. Race Car Printed T-Shirt For Boys
The toddler will absolutely adore wearing this race car printed t-shirt. It comes in a comfortable and soft fabric that is easy on the sensitive skin of the toddler. It makes them donne the casual style.
This is a bright and vibrant t-shirt that makes the kids happy and puts a smile on their face. Kids are always excited to receive t-shirts with stickers on them and would want to wear them all the time.
12. Beanie Hat Set In Vibrant Colors
Gift the toddler this beanie hat set that comes in different colors. It comes in knits that keeps them warm during the cold seasons. A fashion accessory that makes the toddlers look cute along with layered clothing in winter.
Kids can wear these beanie hats with most of the outfits on any of the events and occasions. It makes the kids look cute and adorable.
13. Singing Puppy Toy
Kids love pets and especially, dogs and puppies. This is a singing toy that you can gift the toddler on their birthday. It comes with a chord that activates music and plays sounds.
Kids can walk and stroll along with this toy as the puppy toy makes movements of walking like a real dog and plays sounds. There are buttons on the toy that plays different sounds when pushed.
14. Hungry Caterpillar Board Game
This is a fun board game that has activities that counting, puzzles, and more. The kids have to put the butterfly puzzle together and move in any direction on the board. It enhances their decision making skills at an early stage.
This is a unique board game that you can gift the 3 year old on their birthday. Kids learn different skills playing this unique game that does not require reading.
15. Sneakers For Kids
Gift fashionable sneakers to kids on their birthday. They can walk, play, run, and jump around wearing these comfortable sneakers.
You can take your kid for a morning walk when they wear these sneakers and build up a fitness regime in them. They go perfectly well with the uniform and kids can wear them to school as well as the outdoors.
16. Chat And Count Smartphone For Kids
This is an interactive phone where the kids can talk to the animated puppy that is displayed inside the screen. There are many buttons with different functions that play music and sounds. It prevents the kids from using your smartphone and playing with this.
This is an awesome device that satisfies the toddlers about handling and using a phone and also provides a learning experience teaching them counting and other fun activities.
17. Bricks Building Set
This is a classic game that has been existing since ages and never gets old. Kids even in the age of smartphone will enjoy this activity of building bricks with this game set. The bricks come in different colors that make it interesting for the kids to have fun and play with it.
Kids can build different structures with these bricks and boost their imagination and creativity. It is an entertaining way of learning how to build structures and have fun playing this game.
18. Sunglasses For Kids
Gift these non-breakable polarized sunglasses to kids on their birthday and let them look stylish in any outfit wearing these sunglasses. It protects them from heat when you travel with kids and go outdoors in the sun.
This is a stylish gift that the toddlers would love on their birthdays. They will love wearing them whenever they go out and receive compliments for their style.
19. Glow In The Dark Sunglasses
These are glow in the dark sunglasses that the kids can wear them to parties. They come with on-off switches, a unique feature that most of the sunglasses do not have. These are fun and party shades that the kids will enjoy wearing.
They glow in the dark in different colors. You can wear them to camping trips, parties, and other events. Kids love such fun accessories and will be happy when you gift them.
20. Cowboy Costume For Boys
A nice cowboy costume is a good gift to give a toddler on his birthday. He will look adorable in the cowboy vest, hat, and chaps that are a part of the costume set. Encourage the kid to learn horse riding and other outdoor activities.
A great costume for photoshoots and costume parties. Kids will have fun and be happy getting compliments for looking adorable in this costume. Kids can ride their toy ponies wearing this costume.
21. Comic Action SuperHeroes Costume Set
Kids love and admire the superheroes from their favorite comics and movies. This is the superhero costume set that serves as the best gift that you can give a toddler on their birthday. They come with cap and other accessories that are a part of each costume.
Kids will love wearing the costumes along with the eye masks and gauntlets. Kids can role play for hours as their favorite superheroes and entertain themselves.
22. Harry Potter Novelty Kit
Kids can play the dress up games with the Happy Potter novelty kit that has magic wand, Harry Potter glasses, a scarf, tie, and a badge. Kids can use these accessories to dress up in the theme of Harry Potter and play the wizard.
These are great novelty items that kids can use during pretend plays and have a lot of fun wearing them and role playing. Attend any of the themed events with a costume and these novelty accessories and get a lot of compliments for donning the right thematic costume.
23. Adjustable Helmet With Elbow And Wrist Pads
Kids can wear this helmet and protective gear when they go bicycling or skateboarding. Kids can safely learn to ride the bicycle and also the games of skateboarding wearing the helmet and the protective gear that comes with this set.
It has adjustable straps that fits any kid. They will remain protected even when they trip over the bicycle or the skateboard. They also look cute wearing the helmet and the protective gears.
24. Squeaky And Musical Toys For the Stroller And Crib
Kids love toys. You can gift them these unique and musical toys that can be hanged on their crib as well as their strollers. Parents can play with their toddlers with these musical squeaky toys when they are outdoors, traveling, or at home.
It is easy to get the attention of the toddler when they are hung on the stroller or the crib. You can also attach them to the car seat when you travel and keep the toddler engaged.
25. Bow Tie Sets For Bo
y
s
These are a set of bow ties that come in vibrant colors and prints. They are adjustable and kids look dang adorable wearing them. Dress them up for formal occasions using these bow ties.
For Christmas, festival, events, or any formal occasion, your kids look the best wearing these bow ties. You can also dress them up for Sundays when visiting the Church. They add style to the cuteness of kids when they wear them.
26. Dinosaur Fun Masks For Kids
These are foam masks that come in a set of different designs and motifs. Kids can have fun wearing these masks. They are vibrant, colorful, and come with an elastic band that makes the size adjustable to wear.
Kids love to play wearing these masks. They are durable and can also be used as room decor for kids. Kids tiny faces look adorable and funny wearing them.
27. 3D Cartoon Printed Wrist Watch For Kids
This is a waterproof wrist watch for toddlers that has 3D cartoon characters on the strap of the wrist watch. Kids love these novelty wrist watches and it lets them read and tell time. It adds to their style and cuteness. They can wear them on most of the outfits.
They can use it for a few years till they grow out of it. They can learn about the time and hour of the day by reading the clear and visible numbers and dial on the wrist watch. A nice gift to give a toddler on his birthday.
28. Fashionable Scarf With Tassels For kids
Kids look absolutely adorable wearing this winter scarf and it also keeps them warm. They can pair them with layered clothing during the winters. Kids can wear them when they go outdoors or are traveling with you. A nice and trendy gift to give a toddler on his birthday.
They look super cute wearing the scarf along with the sunglasses. Wherever they go wearing this scarf, they will steal the show and grab a lot of attention.
29. Toddler Backpack With A Huggable Toy
This is a canvas backpack that comes in vibrant colors and attached to a huggable toy. The teddy is removable and can be used to play by toddlers. Kids can carry this backpack to school, when they travel, and carry their items, toys, and other stuff in this small and cute backpack.
It gives them a sense of style and also provides comfort with the teddy attached to the backpack. An interesting combination of the backpack and a toy that can soothe them when they feel jittery.
30. Remote Control Stunt Car
A superb toy that comes with rechargeable batteries. This is a stunt car rotates 360 degrees, has a rear and headlights, and climbs on the walls. This is a nice gift that the toddlers will enjoy playing with.
It moves in any direction like the real car and also performs stunts that the kids can watch and enjoy. It is easily maneuverable and can be charged on the laptop with the USB cable. Kids can play with this toy even when they grow into younger boys.
31. Xylophone For Kids
This is a multi colored Xylophone for kids that you can give as a gift. Kids can learn and experiment to play with their own music on this instrument. It comes with colorful and vibrant keys and a piano.
It also has a manual where the kids can learn to play a few songs. This is the gift that can develop musical talents in kids and keep them engaged in creative and constructive activities for hours together.
32. Beach Hat For Boys
Gift toddlers with this nice and pretty beach hat on their birthday. This is a simple gift that the kids will love wearing when they go to the beach or the outdoors. It protects them from sun rays and makes them look cute and adorable in them.
It comes with an adjustable strap that secures the hat on their head and prevents from flying off. This is a top quality hat that you can give as a gift which is easy on your pocket and the kids will also love receiving these kinds of gifts for their birthday.
33. Funny Party and Costume Sunglasses
These are a pack of sunglasses with vibrant frames that come in different colors and designs. Kids can choose from these set of sunglasses and wear them for costume parties, festivals, occasions, and any other event. They are a nice gift to give to a toddler.
They can experiment with different styles and wear them on various outfits and costumes. For family reunions and any other fun events these are the sunglasses kids can wear and look cute and adorable.
34. Riding Animal Toy For Kids
This is a fun toy and a riding animal that bounces and hops when the kid sits on them. Kids can have a lot of independent fun riding on these hop toys. It needs adult supervision to check if the kid would trip and fall from the toy.
This toy provides hours of fun for the kid and develops multiple skills in them and boosts their physical fitness. This is also a good exercise for kids to hop and bounce with the toy. A nice birthday gift for 3 year old boy to play by himself.