Last updated on May 22nd, 2022 at 12:12 am
Kids who love science love gifts that geeky. Pick from gadgets, science games, gag gifts, and more for kids on their birthday who love science. They love games or activities that involve logic and reasoning and are great in their analytical abilities and problem-solving skills. They love machines and their mechanics and would love any gift that involves building or construction activities. These are science gifts for kids to choose from that makes them happy and boosts their mental abilities and engineering skills.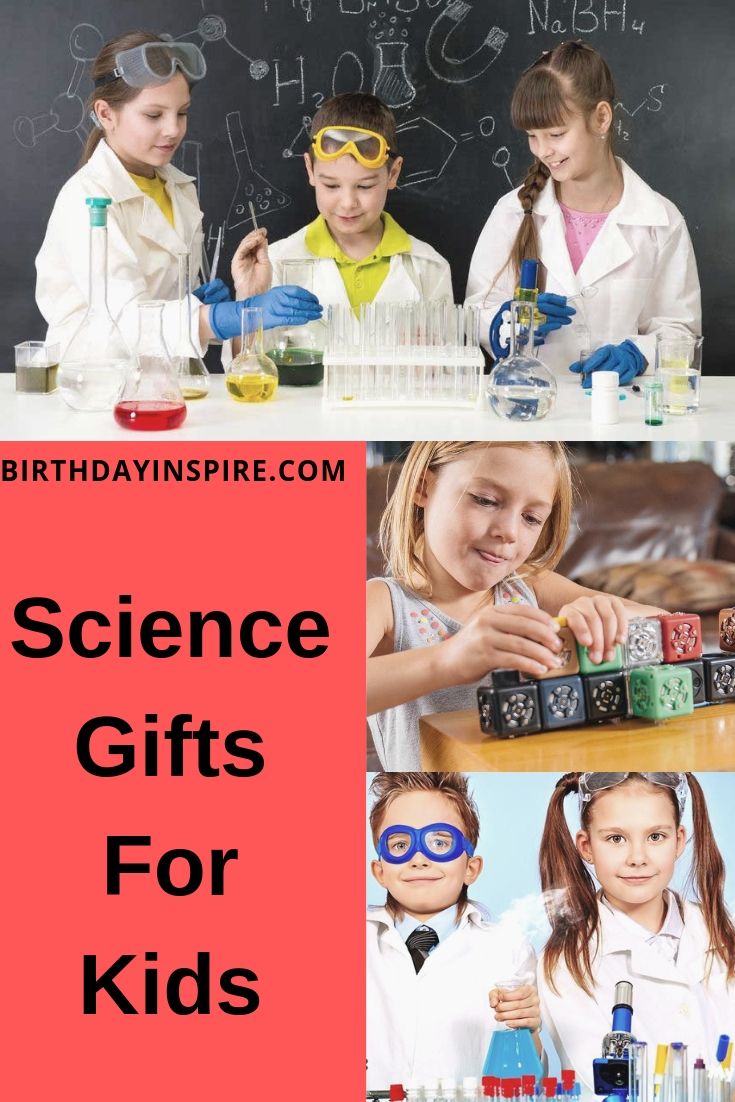 Cool science gifts for kids
A science student who loves biology will love this kit. It is a jar that has an LED light on the lid and lets you create a mini garden inside the jar. It lets the kids create a terrarium with their imagination and creativity. One of the cool gifts for science nerds that lets them explore the beauty of nature and create it.
Works as a desk decor for kids. You have to turn the switch on in the night after building the terrarium and watch its beauty. A nice gift for kids who love science that lets them appreciate the beauty of nature.
Kids who love science will love reading this educational and illustrated book about women who made notable contributions in the field of science. One of the nicest gifts for science nerds that provides information about people who made contributions in various fields of science and technology.
It has infographics and information about various fields of science that science nerds will enjoy reading. This book is an inspiration to girls about women who made it big in the field of science and technology.
A fun book for science nerds that has some quirky and fun experiments that the science kids will love. It also has interesting information about discoveries that the science kids will love to read about.
Science kids will enjoy reading this book and learn a lot of facts about how things work scientifically. This book contains interesting facts, tidbits, and tested experiments for kids to read and try. A great book for science kids who love physics and chemistry.
A great gift for a kid who has shown interest in science in their early stages of growth. It has a mock science lab set. Kids will enjoy playing the doctor or the lab assistant with this gift.
It comes with activity cards that let kids play the doctor or the researcher and have a fun time. Kids will enjoy their activity time doing experiments with this lab kit. It develops multiple skills in them and they will spend time in constructive activities.
A science kit that has animal and plants tissue microscopic slides that can be used to educate younger kids who want to start off in this field. They are a set of 25 slides enclosed inside a wooden box.
These are specimens from various plant and animal species. It also contains a specimen of human blood. You need to have a microscope to view the details of this slide. Kids will have a lot of fun viewing the details and learning about the various plant and animal tissues.
This is a game kit that has 32 magnets. An educational and a fun learning kit that lets your kids who love science experiment with magnetic fields.
If your kids are homeschooling, this is a great gift to give them and let them learn about science and experiment with different shapes of magnets. A good game kit that teaches the kids about how magnetic poles and magnetic fields work.
Kids who love science will love this gift. It has numerous science experiments that let the kids spend time learning and boosting their skills and abilities. This book comes with step-by-step instructions about conducting science experiments.
Adults and kids together can create science experiments and have fun teaching kids about various branches of science. Kids will learn science subjects with practical experiments.
A unique gift for kids who can learn about the creation of God as it has Psalms at the end of each topic. It explains the planetary system with scientific facts as well as how God created them.
Kids will get an insight into the spiritual side of creation as well as learn scientific facts about many things that are a natural creation of God. A book that develops their faith in God as well as science.
A kit that lets you build telegraph, generator, and a live radio real time. It has stepwise instructions that you can follow and build these tools with everyday items. Kids can use their imagination and learn to make use of common items to build scientific tools.
It boosts their creativity as well as enhances their scientific thinking. Kids can learn to invent new tools with the use of everyday items with this kit. Science gifts for boys, something that they enjoy experimenting with.
A set of 52 science experiments are given in this book that can be performed in the backyard or garden. It lets you have fun with the family while learning concepts of various branches of science, such as centrifugal force, physics laws, germination, etc.
A good gift to encourage them to go outside, have fun, and learn these concepts at the same time.
Princess dress girls who love science. It has prints of planets, stars, and asteroids printed on a blue fabric. It is made in lightweight stretchable material. Girls will love wearing it in all seasons. It can be worn for casual day events, school fairs, beaches, and all outdoor activities. A pretty gift for girls who love science.
Kids can learn about growing plants at a young age. It encourages kids to go outdoors and love nature. It has 52 gardening experiments that kids will love. They learn how about planting seeds, soil, topics in botany and ecology.
It creates awareness about the environment amongst kids. It also contains experiments about recycling that lets them understand the importance of conservation at an early stage.
A pack of stainless steel wire bars that used for brain teaser challenges is a unique gift that stimulates the mind of kids. They will enjoy the challenges and use their imagination to fulfill the challenges given in the set.
The challenge is to mold the shapes of the stainless steel bars to the designs given in the chart. Kids who can't stop fidgeting will enjoy playing around with different shapes.
A set of three robotic toys that can perform various actions, interact and change their voice. They come with touch sensors and perform entertaining actions every time you touch the robot.
These robots have various sound effects, can make various postures and effects. An entertaining gift for boys and girls who love science. They can entertain themselves interacting with robots wherever they go.
Kids will love this gift as it lets them use their imagination to create patterns with pennies. Using this kit teaches them theories about magnetism. This kit has 2 magnets, U.S and U.K pennies.
Inside the activity book that comes with this kit, kids can learn how to create different patterns with these pennies using magnets. Girls and boys will love this gift and love playing with it. A kit that fascinates the kids to create beautiful patterns given in the book.
A fantastic science gifts for girls that lets them make soaps in interesting designs and colors. It comes with an instruction book set. These are easy to make soaps in interesting designs. Girls will enjoy spending their time learning this activity.
The soaps look cute in different molds and girls can enjoy this group activity enhancing their skills. A safe soap making kit for kids that do not have a strong chemical base and does not cause injuries when making soap. Art and science projects that girls love experimenting with.
A science kit that encourages group activity, is a fun game for young kids. It has talcum powder, iron powder, and other items to extract fingerprints from various types of surfaces. It develops analytical, observational skills, and scientific skills in kids.
It can be used to extract fingerprints on household items. Boys and girls will have a lot of fun learning and playing the detective with this kit. They get an insight into forensic science at a younger age and perform small investigations.
Kids can enhance their abilities and knowledge solving these puzzles that are based on the theme of the Solar system. It has 48 pieces that you have to attach together and have fun with this theme.
It helps toddlers boost their shape recognition skills, problem-solving abilities, as well as interactive skills. It also develops their motor and coordination skills and boosts their creativity. A great learning game that the kids will have fun with.
Kids can learn about building circuits and assembling cars at a younger age. This is a great gift for kids to develop engineering skills at a younger age. This kit can be used until the teen years as it helps in building various abilities and is an adventure for kids who love to tinker with circuits and scientific things.
It comes with tools to build a car as well as circuits. Kids can build a basic model of a car using this kit. A fantastic science gifts for children up to 8 years of age.
Kids will enjoy drinking their cup of hot milk in this heat sensitive mug. When hot liquid is poured into this mug, the planets magically change to the night sky. Kids can have space magic while drinking their cup of warm milk.
A nice gift for kids to learn to drink milk and have their breakfast. It encourages them to have a better routine and not be fussy over drinking milk and having their breakfast. It is not dishwasher safe and must be hand washed only.
A nice a cute gift for kids to drink their juices and healthy drinks from. These cups are shaped in the design of lab utensils and have a colorful straw. They can be used for kids party as well as daily use as they are reusable.
They can be given as return gifts for kids who attend your kid's parties. A unique gift set that science kids will love receiving as party favors. It can be cleaned with a hand wash and is not dishwasher safe.
A handheld mini telescope comes in a wooden crafted box. It provides an excellent magnifying feature when you look through it. Kids will love playing with it.
It is also a decorative piece for the kid's room. They can carry it along with them when they travel or go outdoors and get a magnified view of objects they want to look at.
A cool science presents for kids is this Dino egg kit that kids can experiment with. It lets kids explore the Dinosaurs age and let them extract information about Dino species from the eggs in this kit.
They have to excavate the eggs and role play the paleontologist to know the history and other information about the Dino species from the egg. Kids have to match the card with the Dino that comes out of the egg and read information from the card.
Kids can have fun with these invisible markers sending secret messages to each other and having fun. The message appears only under the UV light. Kids can scratch any notes and experiment with it.
They can play a lot of words and guess games with this invisible pen set. Kids can send messages to their friends on a postcard who have moved to a different place or have fun in the classroom sending messages to each other.
Kids can have fun group activity with this kit. It is safe to play and a unique kit where the kids can dress up as scientists and have fun with this kit. A fantastic science gifts for kids, lets them collaborate and interact with each other.
The volcano comes out in colors and is fun to watch. The lava comes out in different colors and does not look like real lava. Kids can learn how to make the lava erupted with this kit and it is safe for children to play with.
A glow-in-the-dark bendable spaceship is a nice gift for kids who love space science. It looks good sitting on the desk and kids can have fun with it. There will be an alien coming out of this space ship.
A unique decor gift for kids who love reading about space science, astronauts, and the galaxy. If your son loves the flying saucers and loves to read about them, this is a perfect gift for him.
A fun balloon set that comes in the shape of a rocket is an enjoyable activity for kids of any age. It comes with a pump to fill the balloon with air and release it in the sky. The set of balloons come in bright colors and make for fantastic outdoor fun for kids.
A perfect birthday gift for kids who love science and outdoor fun. They can take it along with the beaches, picnics, and any outdoor area.
Fun glasses that let you change the lens in different colors and see the world in colorful lenses. Kids will have an adventure and outdoor fun with this gift.
It comes with a color mixing chart kids can follow and experiment with the visual colors and viewing the glasses. A science-themed gift for the creative kid who loves to explore and learn new things.
Kids will love this mug as it has funny wordings from their favorite subject, science. They will enjoy drinking warm beverages from this mug.
It is dishwasher and microwave safe mug. A gift that encourages kids to wake up in the morning and drink milk. Your kids will love this gift as the print is neat and cute.
An apt gift for nerdy kids who love science and technology. It has symbols of molecules, DNA, and other scientific things that make it a perfect gift for kids who love science. They will have fun doing their homework with this pen and be encouraged to fair well in exams.
This is a 3-in-1 pen that has a stylus, a ballpoint pen, and LED light. Kids can write in the dark with the LED feature. It gives neat handwriting without the ink bleeding on the fingertips.
A kit that lets kids create molecular models based on chemical formulae. Makes learning chemistry easy. Create simple and complex molecular structures with this model. Your kids will have a better understanding of organic chemistry if it is their favorite subject.
Kids can complete a lot of their science projects with this kit. The kit is easy to use and kids can learn a lot about molecular theory using this kit.
A fast-paced card game that comes with fossils. Kids can play this game with adults and have fun. A game for 2 to 5 players where they have to collect fossil information to perform various actions such as dig, sell, exhibit, or attack.
A unique and interesting game for science kids. It comes with easy instructions and is an enjoyable game for family fun.
A space theme board game set in the futuristic theme is an enjoyable game that kids can play in groups. It comes with many challenges and obstacles.
Kids have to team up and come up with a strategy to win this game. It boosts their analytical and cognitive thinking and lets them have a great time playing this game.
Gift these atom shaped earrings to your daughter who is a science nerd and loves to experiment. This is a cool earring that your daughter can wear on most of the outfits.
It shows her nerdy style and is elegant to wear. A nice gift that encourages her interest in science. You can gift it to your niece, sister, or daughter who is a science nerd.
An innovative kit that lets the kids create water rockets from soda bottles. Science kids will love experimenting with this kit to create water rockets. This kit comes with instructions and might need adult supervision.
It needs a bicycle pump to create a water rocket. Kids can learn about air compression, and many other subjects while learning to create water rockets.
An awesome science gifts for kids that help them learn about science laws using kitchen items and food. Kids can learn to create microbes inside the kitchen, demonstrate laws of motion, and learn about different subjects in science like electricity, solar energy, and more from the experiments given in this book. A science lab in the kitchen for family fun and kids learning.