Last updated on June 3rd, 2022 at 10:16 pm
Life at the age of 6 is full of curiosity, innocence, fun, and a lot of time for learning new things. Boys at this age are busy with their studies, outdoor fun with friends and family, watching their favorite program on television, learning skills, and being a part of many activities. Birthday gift for 6 year old boy can range from toys, games, gadgets, clothes, activity kits, and many other items.
Birthday is a special occasion for a boy. He loves to celebrate it with his friends and family. The excitement of being the special most person on his birthday, grabbing all the attention and love; a birthday is something every kid would look forward to. On the birthday of your kid, gift him from the list of the options given below and make him happy.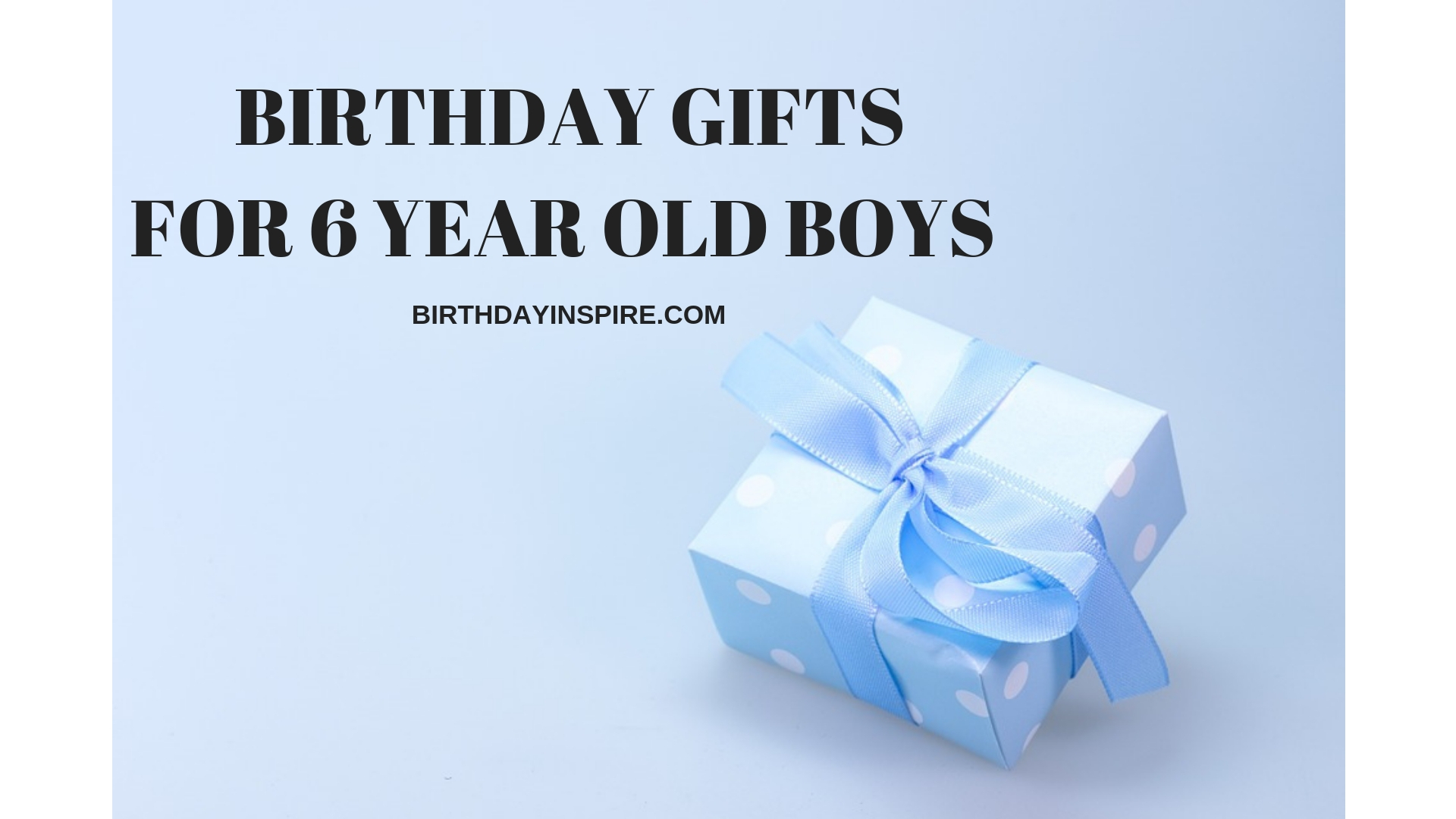 Awesome Birthday Gifts For 6 Year Old Boys
1.
Stylish Aviators For Boys
A lightweight and stylish aviator for boys age 6 is a cool gift you can give them on their birthday. It protects them from UV rays and lets them have a great time outdoors. Take them on hiking and camping trips and let them have a chance to stay stylish even when they are outdoors. A nice pair of shades that look awesome on kids when they go out for movies or travel with family on vacations.
2. Cool Sun Hat For Boys
A trendy summer hat that looks awesome on toddlers is a nice gift you can give them on their birthday. They can wear them outdoors when they go swimming, or for an ice cream eating errand, play in the park, or go vacationing with you. One of the trendy gift ideas for 6 year old boy on their birthday. A lightweight summer hat that looks cool on kids and protects them from sun rays and drys easily when they play in the water.
3. Swanky Denim Jacket For Toddlers
A swanky denim jacket that is made with a blend of denim and soft fleece fabric. This is a gift that would bring a big smile on the face of the kid and let them frolic around wearing this smart denim jacket. They can team it up with their pair of jeans or shorts and take a fashion walk on the runway of their backyard. A unique design for a denim jacket that the kid can wear for formal and casual occasions.
4. Soccer Themed Travel Bottles
Kids will simply love this soccer ball themed bottle. Gift them on their birthday and they will love to carry this unique gift with them to school and any of the outdoor activities. This is a leak proof bottle that comes with a straw lid that makes it easier for the kids to drink from the bottle. One of the nicest presents for 6 year old boy that you can gift him on his birthday. He will carry this unique gift with pride and take it with him everytime he goes outdoors. It encourages kids to carry water as well as milk or juice along with them keeping them healthy and fit.
5. Handheld Nintendo Video Games For Kids
Kids love playing pokemon, super mario, and other video games. Hours of fun when you gift them this gift on their birthday. They will love you forever as you will be gifting them their favourite handheld video games on their birthday. They might get started with playing the same day as soon as they unpack the gift. A nice way to patch up with the kids if they have been upset with you about something. Parents can bond with their kids when they give this gift to their kids.
6. The Secret Life Of Pets Movie
Kids love movies. This is one of the movies that any kids would love watching over and over again apart from their favorite superhero movies. Gift them this movie on their birthday and let them watch their favorite characters talking and having fun through the story. For boys who love their dogs and pets, this is the fun movie that brings laughter and good times. A family fun for watching over the weekends and holidays is one of the best presents for 6 year olds.
7. Designer Belt Sets For Boys
Cool and trendy belt sets for boys age 6 is a nice gift you can give them on their birthday. These are awesome 6 year old boy birthday gift ideas. They are expandable and come with an adjustable buckle. It makes the kids look stylish and gives them options to choose from these set of belts for various trousers. They look great on casuals, formal, and party dresses. Boys get a lot of choices picking their style with these collections of belts.
8. Rocking Motorbike Jacket in Faux Leather For Boys
Bring out the rock star in the little one by gifting this stylish jacket. Made in faux leather and zipper style, makes the kid look like he is ready to walk the ramp. This is swanky gifts for 6 yr old boy that he will absolutely be awestruck with. It adds a stylish element and a dash to his personality. It boosts his confidence and makes him look dashing with loads of attitude. For the little rockstar, this is the ideal gift to be given.
9. Pokemon Themes Tee For Boys
A sweet and a nice looking Pokemon tee for the kid on his birthday is the present he will adore. He will wear his favorite t-shirt as much as possible and feel joyful wearing it. It is made in cotton and is of durable quality. A simple and a nice gift to give a 6 year old boy on his birthday. The bright yellow color adds the fun element and makes the kid look happy and vibrant wearing this tee.
10. Cape Superhero Costumes For Boys
Boys love dressing like superheroes. Gift them these caps on their birthday and they will love playing the role of superheroes, and get on their rescue missions. Fun and activity times for boys with their caps on. A unique and nice gift to give them on their birthday. It gives them an option to play the role of a different superhero each day and amuse themselves and everyone else. A great pick that lets them choose the character for the dress up parties.
11. Comic Characters Printed Backpack
A nice gift to give a 6 year old boy is this backpack. They love anything with cartoon prints. This is the backpack they feel proud to carry it to their school. One of the best gifts that you can give your little kid. It is utility based and can be used for many years. Kids will love carrying their school books and stationery in this backpack. If your kids love Pokemon, they are going to love this backpack.
12. Bowling Play Set
Play bowling indoors with this play set with kids. They will love hitting the pins with this ball. They are lightweight and they don't have to wait their turns like they do in the slippery lanes of the bowling alley. When you give them this gift on their birthday, they can enjoy playing this game indoors for hours and have a good time. If you are wondering what to buy a 6 year old boy, this is a good choice to go with.
13. Kids Golf Set
Kids can now play and practice the golf sport in their backyard with this golf set. It comes with clubs, balls, and an entire golf system that is easy to carry with you. The balls are easily replaced with the foot operated machine that comes with this kit. A nice sport that the kids can learn and have a great time outdoors playing this sport. This kit is portable and can be carried easily anywhere when you travel outdoors or go hiking with your kids.
14. Colorful Building Sets
Kids will enjoy this group activity of building various models with this building set that comes with 200 pieces. It gives them the freedom and boosts their imagination and creativity to build models like buildings, castles, bicycles, creatures, many more objects and characters. These building sets are easy to assemble and provide an amusing time for kids. It helps building multiple skills in the kids and sharpens their engineering and analytical skills.
15. Boys Short Sleeve Tee
A nice and bright colored tee is something that you can gift the young boy on his birthday. Boys look sharp and smart in these tees. They can pair them with denims as well as cotton trousers. A cool gift to give your brother or friend on his birthday. A tee is a simple gift to give and puts a smile on the face of the birthday boy.
16. Family Movies Collection
A good gift to give on the birthday of a 6 year old is a collection of family and kids movies. Kids can have a good time bonding with their family and watching these collections of movies over the weekend or holidays. Enjoy the series of movies and bond with your kids. Kids will understand the importance of having a family with these awesome family movies.
17. Remote Control 3D Dancing Car
A stunt dancing car that rotates 360 degrees is a lot of fun for a 6 year old to spend his time with. An awesome toy that performs stunts and does the dancing performances is this stunt car. A wonderful gift that the kids will absolutely enjoy playing with is this stunt car. It turns in every direction and will bring a lot of joy to the child who is playing with it.
18. Musical Cube For Kids Playing Melodies
This is the magical cube that plays many musical melodies and instruments when a button is pushed. A nice, musical toy for the kids to have fun with. They will enjoy the harmony of tunes that comes with the mozart compositions. It introduces the kids to classic music and its symphonies. Kids develop good taste in music early on playing with this toy. This is also a toy that teaches the kids how the sounds are composed to create symphonies.
19. Hilarious Joke Book
Gift a joke book to the 6 year old and let them develop a sense of humor, always ready with jokes to make people laugh. It also develops a positive attitude in them because they are always in a good mood when they have this gift. It will not let them remain sad or have a bad moment when you give them this gift. It lets them create positive energy surrounding them and your kids will be popular always ready with a bag of jokes. A nice entertainment for the family reading hilarious jokes from this book.
20. Unique, Fabric Kite
Gift this 20 inches kite that comes with a nylon string and let kids have fun flying kites when they go outdoors. It comes with a bag that they can carry anywhere when they go outdoors. Take them along with you on the beach, when camping, and hiking and have fun flying kites in the nature and amidst beautiful surroundings. A fun and leisure activity for the kids to enjoy is kite flying in the outdoors. Even if it gets entangled in the tree, it is easy to pull it out as it does not break the string and you can enjoy kite playing.
21. Set of Foam Footballs
Boys will have good time playing football outdoors as well as indoors with these lightweight foam footballs. They are soft and boys can also play the catch and throw games with these balls. A nice set of footballs to play outdoors with friends and family and have a good time. Kids can get good fitness activity playing with these set of footballs. Play during beach parties, in the outdoors, in your backyard, or anywhere even if space is a constraint with these soft balls.
22. Glow In the Dark Car Racing Series
These are unique glow in the dark car racing toys that come with tracks. If there is a power cut at home and you do not know how to kill your time, these are the toys that keeps your mood up even during such times. They come with tracks and have backlights on the car. Kids will have fun racing cars in the night and pass their time in this fun activity. It keeps them entertained and gives you more time to take care of your own interests.
23. Funny Coffee Mug
Gift a coffee mug with a funny message to your friend on his birthday and make him smile. This is a ceramic mug that comes with a funny message printed on it. Gift it to your friend or brother on his birthday. He will remember you everyday when sipping his favorite drink. It also encourages the 6 year old to drink his cup of milk everyday. Drinking from this coffee mug adds a sense of humor to your life everyday.
24. Snack and Gourmet Food Gift Basket
Gift the 6 year old with this gift basket that comes with goodies and snacks that he will enjoy relishing on his special day. A nice and lovely gift to give a 6 year old. A reminder of the sweetness of life and all the good things in life is this gift of snacks and goodies. It has all the snacks and goodies that the kids can enjoy on their birthday that they are not allowed to eat on any other day. So snack on and have a hearty time relishing chocolates and snacks.
25. Stuffed Toy That Repeats After You
Gift this talking hamster to the 6 year old and he will love this company who will repeat after him. An easy way to learn different topics is to read them aloud in front of the hamster to hear it back and register in your mind. Kids can have a lot of fun playing with this talking hamster. It is a stuffed toy that looks adorable and something that kids would like to have in their rooms.
26. Ping Pong Pack
Everybody loves a game of ping pong. You can give this birthday gift for 6 year old boy and let him have a fun time playing ping pong in his leisure. A good activity that brings fitness routine to the lives of kids. They can regularly play this sport and stay fit. It keeps them active and energetic. They will build more enthusiasm towards their life and do everything with great gusto.
27. Lighted Flying Disk
Kids can play frisbee in the dark when you gift them LED flying disk that glows in the dark. They can have a lot of fun with their friends in the park playing the sport. It is portable and easy to carry around. It is fun to catch a glowing frisbee in the dark. Camping in the jungle with the campfire lit while you eat, drink, make merry, and let kids have fun with the glow in the night frisbee.
28. Interactive Book Of Optical Illusions
This is a unique and a cool gift to give a kid on his birthday. It comes with numerous eye tricks that the kids can read and view with the turn of each page. This is an interactive book that comes with tools that make viewing of optical illusions interesting and learning fun. This is a 3D book that the kids will enjoy reading. It comes with a lot of information and activities that help the kids learn about making 3D optical illusions.
29. Outdoor Cushioned Spinner Tree Swing
Kids will have a great time outdoors swinging and reading on this swing. It can be attached to any tree and more than one kid can sit on it. A good gift to give on birthday for kids who love outdoors. Carry it along with you when you go camping or hiking. You can as well tie it to the trees in your backyard. With this gift, your kids will enjoy spending more time in the outdoors soaking in the beauty of nature than get glued to the internet and television.
30. Castle Themed Playhouse
Every child loves a playhouse. This is an interesting gift to give a kid who has reached 6 years of age. Kids can enact numerous role playing games of kings and warriors with this playhouse. Hours of fun, entertainment, creativity, and imagination with this playhouse. Play indoors or outdoors and have all the fun. Your kids and their friends will enjoy many activities and keep themselves occupied with hours of fun playing inside the tent.
31. Archery Set For Kids
Playing with bow and arrow increases focus and concentration. This is an awesome gift set that is safe for children to play with. They can play it indoors or outdoors and add a new skill in their list. It comes with a dart board and light settings. This is not your regular bow and arrow set. It has many interesting features that makes it convenient to play it even in the night. Kids will learn shooting and boost their focus and learn to coordinate their eyes with hands playing this sport.
32. Boys Novelty Shirt
Gift this sweet looking t-shirt to your son or nephew on his birthday. It washes and dries really fast and boys can spend long hours outdoors wearing this t-shirt as it absorbs sweat. Boys can wear them for summer and holiday events. It comes in beautiful colors that makes the kids look wonderful wearing them. A t-shirt that gives a nice casual look to the boys and can be teamed up with cargos or pants. This is one of the sweet birthday gifts for six year old boy.
33. Soccer Shoes For Kids
Kids will enjoy playing soccer wearing these shoes. It protects their feet and lets them play the sport professionally providing them comfort and protection when they wear these shoes. These are durable shoes that come with padding. A nice birthday gift for 6 year old boy who loves soccer and playing outdoors. These are better options than regular sneakers and kids will absolutely adore this gift.