Last updated on June 3rd, 2022 at 11:20 pm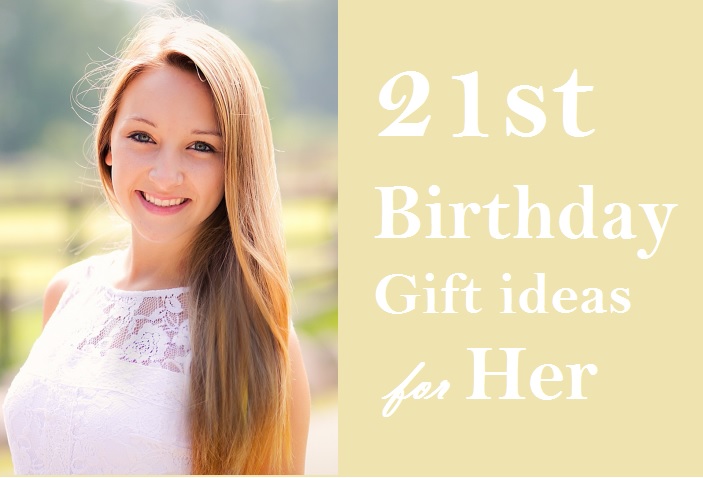 Finding 21st birthday gifts for her is quite easy if you know her likes and dislikes. But the problem is that you confused.
Today I am going to help out all those who are in search of those ideas. I am going to tell you what all gifts are perfect for a 21-year-old girl.
I will recommend you few perfect and suitable 21st birthday gifts for girls.
A girl at twenty-one is more of a young girl with full of excitement, zeal, and interest in exploring new things.
She is imaginative, she is independent and loves to live life on her own terms. So for a 21-year girl, the perfect gift should match her mind psychology.
So as a whole you need to know what kind of things she will like to have or will be more interested in.
I know you don't have any idea so to make it simple for you below I give you some suggestions, let's go through it.
Recommended 21st birthday gifts for her
I hope my above gift suggestions and other ideas justifies. Now I would like to present to you some of the perfect gifts you can get a girl who is turning 21.
These are common gifts that anyone can get any girl who is going to be 21 but most of the gift ideas are suitable for guys who are looking out for gifts for their girlfriend's 21st birthday.
Price: $19.99
Reviews: 3.6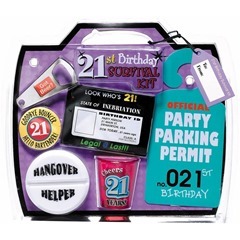 What about a survival kit? She is 21 and she will definitely love to get this dedicated survival kit for her. Wait a minute, it is not what actually it is looking.
It's a prank gift, like a GAG. I want to keep the secret for fun so go and get it for her and let her play the prank herself.

Price: $17.21
Reviews: 4.5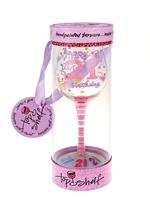 A 21-year-old girl will definitely love to get this one as it is really a cool stuff. I especially loved the print which says "Happy 21 years".
She will love to flaunt this cool wine glass in front of her friends at a birthday party. So I think for this much cost this glass is worth a deal.

Price: $24.99
Reviews: 4
This is a stylish tote bag with beautiful color and design is meant for her. Get her this amazing piece of beauty, she will go GAGA over it. Not only it looks stylish but it is useful too.
She can use it casually to carry her essential things. The carrying capacity is really good and comfortable too.

Price: $10.52
Reviews: 4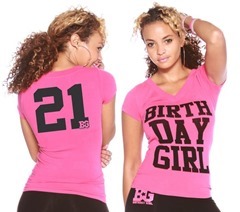 Get this cool T-shirt for her birthday. She will definitely love to get this cool T-shirt printed with "Birthday Girl" on the front side and "21" on the back. Almost like every girl's favorite color is pink. I think this will suit her color preference too.

Price: $55.49
Reviews: 4.2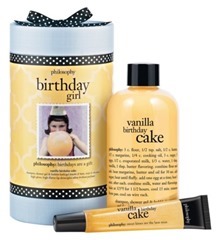 This is an awesome groom set for girls. The set contains lip gloss and shower gel. I personally know that girls really love lip gloss as my girlfriend keeps telling me every time she takes any gloss. So I think she will also love to get this one.

Reviews: 3.9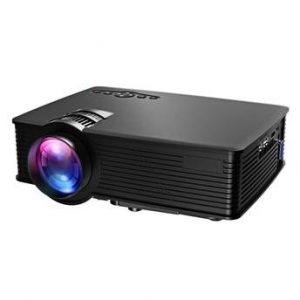 She will love to have the "Mini LCD Video projector" as a gift from you on her 21st birthday. The resolution of this Mini LCD video projector is high and superb, the picture brightness is also high and it transmits perfect, vivid and accurate images while seeing.
She can have multiple inputs connected to it such as from the VGA, USB, AV, SD Card and can connect it to your DVD player, computer, gaming console. 
You can also connect it to your android phone or tablet. She will love this projector for watching movies or playing games.

Price: $34.95
Reviews: 4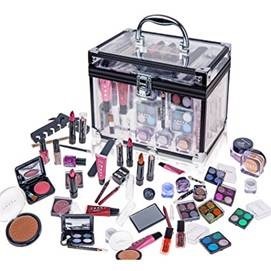 "The Professional Makeup Kit" will be an awesome gift to give her on 21st birthday which she will love to have it from you. She would be loving makeup and so this will be the perfect 21st birthday gift idea for her.
The set consists of nail polish, pencils, eye shadows, powders, blush, sharpener, brushes, and mirror. The makeup case is reusable and is made up of a solid aluminum case. She will appreciate your liking when you will gift this professional makeup kit to her.

Price: $7.99

It is really a cute and cool bracelet that I found the perfect gift idea for girls. It is a handmade product and each part of this bracelet is designed with beauty. I really loved the way it is crafted, I am sure any girl will fall for it.

Reviews: 3.4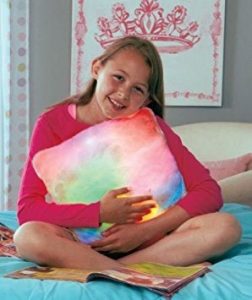 When you will gift the "Color changing pillow" on her 21st birthday she will be just happy to have this unique gift from you.
The color changing pillow is very relaxing and it changes too many colors such as blue, green, red, purple and yellow which will make her feel delighted and awesome. She will appreciate the gift and will also show it to others.

Price: $19.99
Reviews: 4.1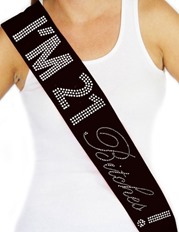 Let her feel like a miss Universe with this awesome sash printed with "I am 21 Bitches". It has got various shades, so pick her favorite color.
This is really a cool 21st birthday gift for her to be considered. A guy can get her girlfriend and it is definitely another stuff that she will love to flaunt in her party.

Price: $13.99
Reviews: 3.3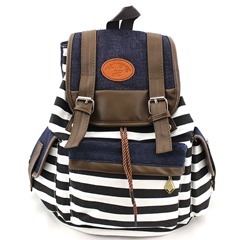 If she is a college-going girl or may be in higher studies, then this one is perfect and suitable stuff for her. It will be useful, she can carry this casual bag to her workplace. It is eye catchy and looks rich in colors.

Price: $6.5
Reviews: 3.6
Tiara is really a perfect gift to get your girlfriend. I have gifted a similar one to my girlfriend and she really loved it.
This tiara looks more appealing, then the one I bought as it got "21" birthday number as well, which is looking beautiful. She can use it for her birthday party.

Price: $35
Reviews: 4.7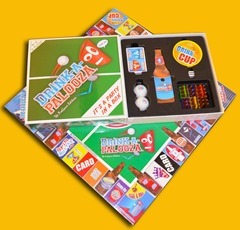 It is a very interesting and unique game that you would love gift on her 21st birthday. It's a drinking game which is awesome if planning a party. 
Any adult would love to play with war game of Drinks. Its reviews are good and people are liking it all over different places.

Price: $98.99
Reviews: 4.1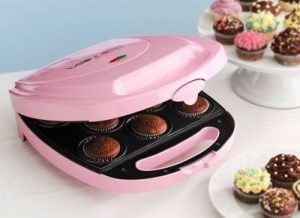 Ever wondered of giving her a cake maker in which she will love to prepare cakes and serve you, then you can give her the gift of "Mini CupCake maker" on her 21st birthday.
She can prepare mini cakes in the Babycakes Cup maker. It is non-stick cup-maker and you get decorating tools along with it. 
The cake maker also comes with a recipe book. It will be an awesome and wonderful gift for her because she will like to prepare cakes.

Price: $88.84
Reviews: 3.6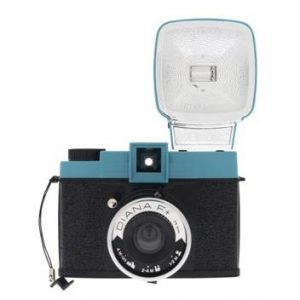 You would love to give her the "Diana F+ Camera with Flash" on her 21st birthday. She would like this gift from you since it has a color flash.
It has a shutter for daytime use and when needed for exposures. The camera has a unique design since it has a large flash screen to take perfect pictures.

Price: $10.98
Reviews: 4.3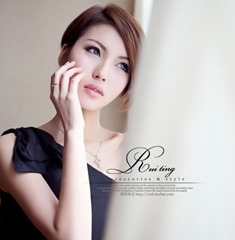 If she is your girlfriend then you should definitely gift this elegant piece of jewelry. It is a Necklace made with crystal drop pendant which looks beautiful.
I am pretty sure that this one will be one of the best gifts for her 21st birthday as I know girls fall for jewelry and this is the masterpiece.

Price: $33
Reviews: 4.7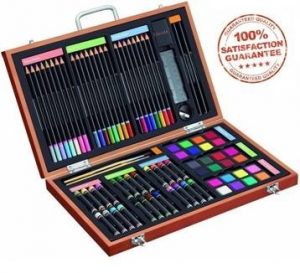 At her 21st birthday, she will love to have the "Gallery Studio set" from you which contains 24 watercolor cakes, oil pastels of 24 color shades, 24 pencil colors, 2 brushes for painting and 2 pencils for drawing with other accessories for drawing.
It is encased in an attractive wooden case and she would like to draw, color and paint by using a gallery studio set. She will appreciate you for giving her the gallery studio set on her 21st birthday.

Price: $4.31
Reviews: 3.5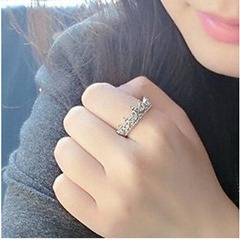 Guys can gift their girlfriend this beautiful looking ring in a shape of a crown. This looks really beautiful and I am sure it will look more good on her. If you are out of a budget, then you can go for this one as it is just almost like 2 $.

Price: $28.99
Reviews: 4.1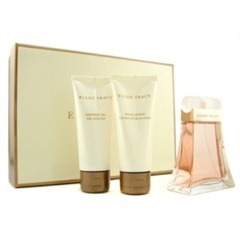 Women or girls love to smell good, so gifting a perfume set is one of a good option. It is Ellen Tracy brand perfume that is very well known in women.
Its fragrance is mainly oriental flowers. It last long for hours and that is what we expect in a perfume.

Price: $159.97
Reviews: 4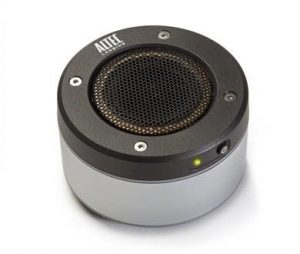 Most of the girls at this age love music and would like to have the "portable speaker" with them and would feel happy if you gift them on their 21st birthday.
It's easy to use carry anywhere portable speaker which has good sound clarity and awesome sound. She would just love to listen to music while on the move with this portable speaker.

Price: $16.99
Reviews: 4.7
I think this is really a stylish piece with a very crafty owl pendant on it in form of rusted metal. If she loves exploring new stuff, then she will definitely fall in love with this. She can wear it for any place, i.e casual, semi-formal, party, etc..

Price: $32.70
Reviews: 4.6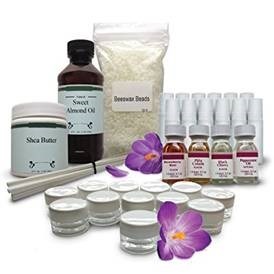 You must be thinking of gifting her some skin-care product on her 21st birthday then the "Natural Lip Balm Kit" will be the perfect product for her. This product is known for its skin-deep moisturizing and good skin conditioning properties.
It contains shea butter and beeswax which makes it bacteria resistant cosmetic for your skin. It contains nutrient-rich almond oil which nourishes your skin. It is available in blank labels of 12 jars and consists of 12 white tubes.
It is also available in many flavors such as peppermint, strawberry, black cherry and pina colada. She will love to use this product for protection of her lips and skin.

Reviews: 3.6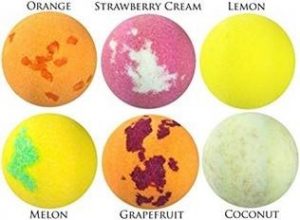 This is one of the unique products which she will surely like to have on her 21st birthday. You can surely gift the "Bath Bomb Fruit Fragrances" on her 21st birthday which will help to restore, soften and nourish her skin as it contains powerful anti-oxidants which are rich in Vitamin E. 
It makes the skin fresh by cleansing and removing the skin of unwanted substances and retains the beautiful healthy glowing look of your skin.

Price: $14.22
Reviews: 4.5
Any girl at 21 would be more inclined to things that make her beautiful and look good. I would like to introduce to you this Shany glamour make up kit. It is has got pretty much everything a girl looks in a makeup kit.

Price: $10.28
Reviews: 4.3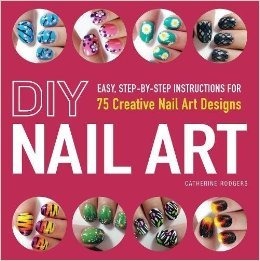 When you will gift her the "Nail Art" book which contains 75 creative nail art designs on her 21st birthday she will be very much happy on you because girls of her age like to decorate their nails with designs and this book is a perfect guide for them.
She will find easy to use instructions on how to creatively decorate the nails as is given in the Nail Art book and will like it to show to others of their nail designs.

Price: $3.30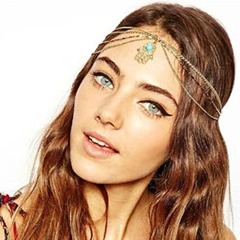 Fatima is a well-known brand for women ornaments. I have found many of their products to be elegant and this head chain is one of them.
Many girls love to wear a metal head chain for parties, this looks really amazing on girls. I have found out it the best amongst all.

Price: $26.99
Reviews: 3.5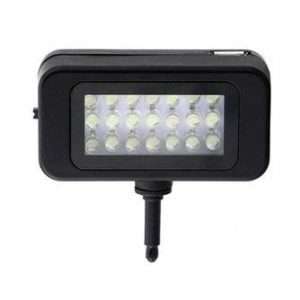 She will love to have the "Rechargeable Selfie Stick" from you on her 21st birthday. She can take her best selfie photographs with the help of an extendable selfie stick whose range is about 39 inches.
It has a built-in shutter and phone adapter which is adjustable. This rechargeable Selfie stick is compatible with all smartphones such as Samsung, Sony Xperia, and Android phones.
She will feel utmost happy while having photographs with the rechargeable selfie stick.

Price: $44
Reviews: 4.3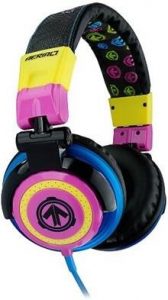 You must be thinking of what to gift on her 21st birthday then you can surely gift the "DJ Headphones with the microphone" which she will surely love as a gift from you. It is designed to give her the best quality experience of listening.
Its headband is soft and comfortable for good listening. It consists of 2 cables; one is for the music player and another thin cable for the microphone which is connected to your cell phone. She will really like the product and will like to show it to others.

---
FAQs
What to get a Girl for her 21st birthday?
At age 21, a girl is more open to things like fashion, cosmetics, fitness, trends, etc. So you can consider things in these segments. Down below you can find some general gift ideas for a 21st birthday female.
Consider some cool trendy gadgets
Gift her a skin care yearly subscription
Gift her a pair of Party wear shoes of her favorite brand
Gift her something related to fitness like fitness tracker band
You can always go for fashion accessories, girls always like it.
Book a mini trip for her 21st birthday
21st Birthday gifts for girlfriend?
Most of the gift options mentioned are perfect for any guy looking for birthday gift ideas for his girlfriend. So, I would recommend going through the list again.
21st birthday gift ideas for daughter
Birthday gift ideas for daughter turning 21 is quite a task if you don't know her likes and dislikes. I would like you to check these birthday gift ideas for your daughter.
---
General 21st birthday gift ideas for girls
Now I would like to share some categories that are perfect to find gifts for a 21-year-old girl. So here I will be sharing few categories where you can search gifts for her. These are suitable categories as per her age.
1. Gift something related to Fashion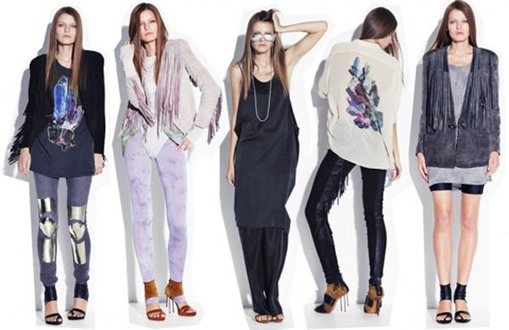 A girl at 21 is found to be more inclined towards fashion. It is an age where a girl loves to explore new things. Fashion is found common in girls after teenage and at age of 21, they are more inclined.
So I think if you can gift something related to fashion, then that would be a good choice as she will like it anyway.
Tote bag
Clutch
Apparel – Skirt, top,etc..
Shoes
High heels
2. Gift girlish stuff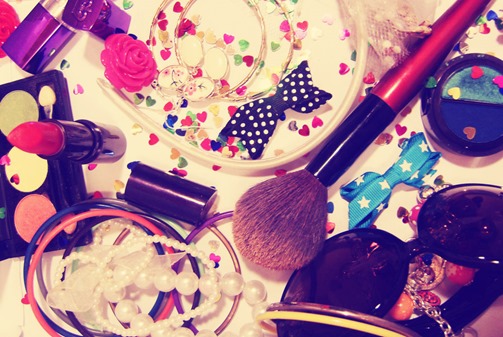 There are many things that we can guess on our own, like if you ask me what to gift a girl then I will definitely tell you that you should gift something that any girl would be interested into.
Here are few categories that you can think about:
Fashion
Cosmetics
Music
Personal Hygiene
3. Gift something related to cosmetics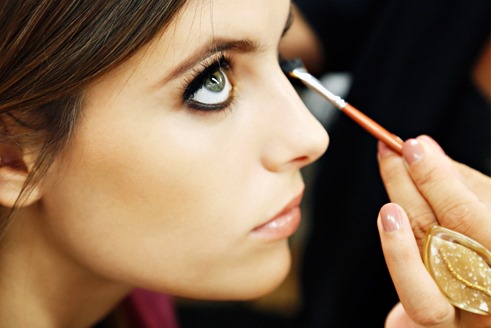 As I have mentioned above that there are close chances that any girl would be more interested in cosmetic products. So gifting anything related to cosmetic or in simple a cosmetic product is a good option. It's like a "bingo".
A few years back I have gifted my girlfriend a makeup kit and she gone mad over it and really loved it, and coincidence it was her 21st birthday.
4. Your Personal choice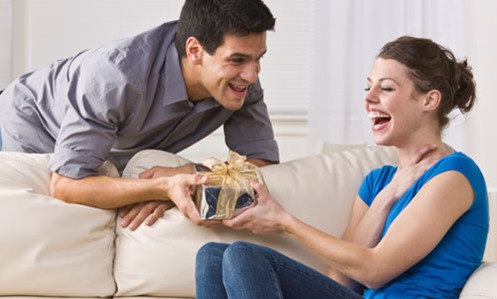 There are many things I can advise or suggest you as a gift expert but ultimately you have to decide which one you would like to get her.
So I would like to force you to think about things that you would like to gift her personally.
It could be anything that you think is useful, suitable and match for her. Give it some time to think what all things that are perfect for her. You can also think about things that are of her choice and that will make it really easy.
I hope these suggestions gave some ideas. Now I would like to recommend few gifts that you must get her.
21st birthday gift ideas for her – DIYs
I hope you enjoyed exploring all the stuff I have recommended to you.
Now I would like to give you some DIY ideas that mean I will give you some ideas for things you can make or do yourself.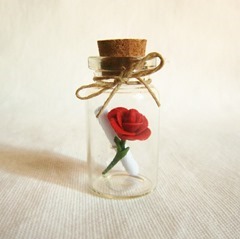 Guys who are looking out for some romantic ideas can go for this one. It is very simple to make. All you need to have is a beautiful shaped Jar, a written note, craft stuff, etc..
You can decorate the jar and put the wrapped note in it. It will look something like you can see in the image.
2. Coffee cup sleeves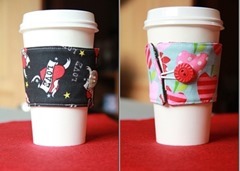 If she is a coffee lover, then she will definitely love this one. Coffee cup sleeves are nothing but a sleeve that wraps the cup and makes it more appealing. You can make it very easily, all you need is cloth, paper, Pin,etc..
I Hope I have provided you with some of the best 21st birthday gifts for girls. I have covered almost everything from general to specific ideas. I hope this list has helped you.