Last updated on June 2nd, 2022 at 10:08 pm
There are lots of easy to make Mothers birth Day gifts out there, and many of them don't require any special materials or creative, crafty abilities. It doesn't need to be beaded, painted or sung in a song… it just needs to be well thought out and sincere!
Some of my favorite homemade Mothers birth Day gift ideas are: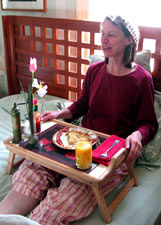 Homemade birthday gift ideas
Lazy Day for Mom
The first in the line of homemade mothers birth day gift ideas is simply letting Mom kick back and do nothing for the day. There is some truth to the old saying, "A mother's work is never done." Today, make sure all that usual work gets done by someone other than Mom!
Special Ideas for this Gift: You can start off this day with a hearty homemade breakfast in bed or a special Mothers birth Day brunch made with her favorite morning foods. Then hand her a warmed towel (from the dryer) so she can take a leisurely shower while you clean up the kitchen.
If she tries to help with anything today, shoo her away for a nice long walk and make it clear that this is her day OFF. And don't forget to give her a hug!
Hidden Messages for Mom
This homemade Mothers Birth Day gift idea is so simple, but so sweet! Somewhere around the house tuck a little home made card that says those things you don't often say.
Special Ideas for this Gift: Some good places to hide your messages? Next to her favorite chair is one good location, possibly with a new book to read as an accompaniment. Or put a note inside a new photo album that you've started to fill with memories for her.
Mom's Memory Box Gift
Another option for a homemade Mothers birth Day gift idea is assembling a box full of odds and ends from previous years that each have a memory.
Special Ideas for this Gift: In the weeks leading up to Mother's Day, go around your home and Mom's (or help your children search, if you're looking for an easy to make Mothers birth Day gift that the kids can put together for their mom) and collect photos, little notes, mementos, etc., that will mean something to Mom.
Send Mom off to brunch or a play or something special, or go for a walk together. When mom returns, everyone can pull out an item and share the story behind it (this can be really fun – or very sappy. Depends on your family! Either way, most moms will love the results!).
Decorate For Mom
I also love the idea turning a big gesture or a big display of your feelings into a homemade Mothers birth day gift idea. Send Mom out of the house for a wonderful morning at the spa or a game of golf or a massage. While mom's out of the house, get decorating!
Special Ideas for this Gift: Make a BIG splash by decorating the yard with Mothers birth Day yard signs! A bit of cardboard, paint and string or tape and by the time she returns the entire neighborhood will be able to read BEST MOM EVER on the lawn or the garage door! Decorate the inside, too, with flowers, balloons, and signs telling Mom how much you love and appreciate her.
"I Remember" Box Gift for Mom
An "I remember" box or jar is another easy to make idea on the list of simple homemade mothers birth day gift ideas.
Special Ideas for this Gift: Have everyone in the family write (or type) some of their fondest memories of Mom. Maybe she gave you great advice, or cooked a perfect roast. Try to come up with a couple. Fold these or roll them with little ribbons and tuck them in the jar or box. Then when Mom is having a bad day – she can pull out a memory to make her smile.
Trust in this one – it's a winner no matter your Mom's age… or yours.
Personalized Perfume for Mom
Another homemade Mothers birth Day gift idea that's a little crafty (but still and easy to make gift for Mother's Day) is making your mom her own perfume.
How to Make it: This project begins with almond oil and flower petals. If you can get fresh, aromatic flowers that works best, but store-bought flowers will work too.
Gently rinse the flowers in cool water. Remove just the petals and put them in a non-reactive pan on the stove. Pour in enough oil to just barely cover the flowers. Simmer over a very low heat (some flowers are sensitive to heat – so too hot and you'll have "old plant" smelling perfume instead!).
Continue warming until your petals turn translucent. Strain and pour into a pretty bottle complete with a note as to why you chose the flowers you did.
How about getting her a bunch of things you know she'll love? A birthday gift basket still holds mystery as you never really know what's in the basket until you've opened it and got everything out. Expect multiple awwws and wows as she unboxes this gift!
Special Ideas for this Gift: Gather 10 things she likes. It doesn't have to be expensive. It can be as simple as a scented candle or her favorite snack. You can also purchase a birthday gift basket online, but add in the most personal things she'll be excited about.
Finally, tuck in a sweet little note expressing how much she means to you. And that's probably the most homemade gift of all – as it's made from the heart.
"awws" and "wows" are italicized.