It isn't about putting in some high budget parties to make a birthday occasion special. In fact there are many ways you can make any birthday occasion special as well as memorable too, without any high budget plans. So today i will be giving you some of the perfect ideas to make a birthday party special without any big budget. I will tell you some of the cheap birthday party ideas that will help you manage an awesome party with minimum budget.
So let me start it with a simple calculation. For a birthday party, there are certainly different things on which you plan your event budget. Let me give you a quick points of things on which you must planning to invest your budget.
Venue
Decorations
Invitations
Costumes
Event planner
Food items
Guest list
There are many more things that involve in these 7 main aspects of a party but these are the main outpoint you can consider to save a lot of money. So it is quit obvious that if you want to save money, then you need to do the cost cutting in these main 7 kind of things. For this, check out what is more important to you and try to section it, then reduce or cut down the cost on things which are less required.
Now based on 7 points i will give some ideas that will help you reduce your cost on budget drastically. I will give you some free ways, low cost budget ideas that will be very helpful to you if you have low budget.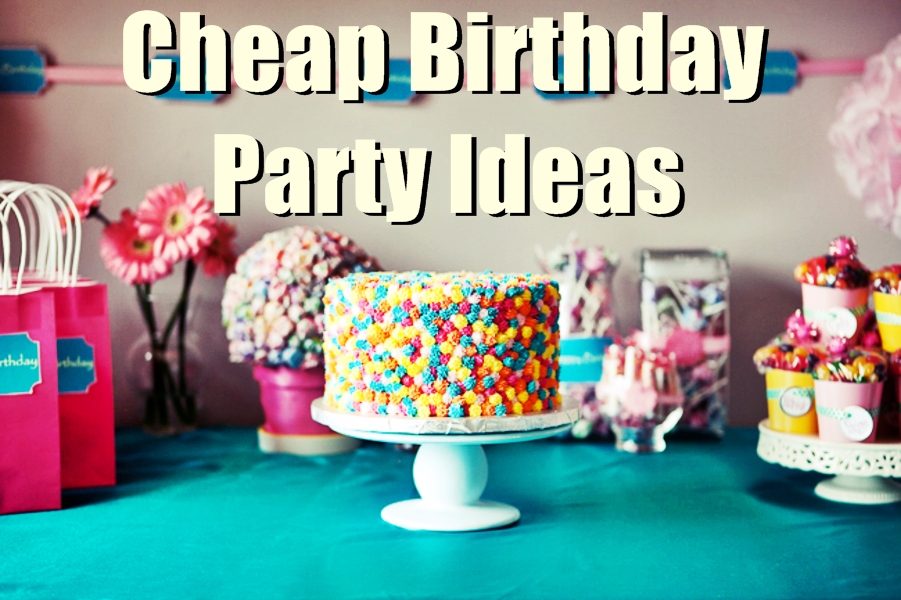 Low budget birthday party ideas
Down below you will find few ideas that will surely cut down a lot of cost from your budget. I have covered almost like everything related to those seven aspects. So stay tuned and read each idea from the list, i am sure you are going to have decent party in a very less budget with these ideas.
Free Venues
I think when you have low budget, then definitely you shouldn't go for a booking a venue. This is because the booking up a venue will cost you a lot, almost like more than any thing. So you can skip on this and go for some free venues. What do i mean by free venues? By free venues i meant the best places where you not spending your single dime. Here are few ideas.
Near nature – Here is on thing i am sure you haven't tried before and i am also sure that you going to love to go for it after reading this = idea. You might have partied in halls, lawn, house, etc. but have you ever thought of partying near nature life, river side camp party, in valleys, in desert, in beaches, etc..I am sure you have missed the fun. But yes you can surely plan this coming birthday on these kind of places that are near your residence. For this, you just need simple handy camp tents. So for very less money you can have the best birthday party with lots of experiences and memories.
Picnic – The best to save your huge money is to go for a picnic. For a change you can do this. No matter what is your age, you can definitely go for a picnic and spend good time with your friends and family. The only cost you need to invest is for the food, that's it. So for a change go for a picnic and make it a birthday party in a unique way.
House party- This is the best thing you can do  when you don't want to spend on booking a venue hall or place. I mean this is the best way to save money as you have got the house and you have got list of only few selected guests. There are many things you can do to make even your house party just awesome like games, activities, themes, music, food etc..
Short guest List
It is quit simple to understand that the more the no. of guest will be more the chances to have a huge budget from your pocket. So make it simple, invite only few selected people who are actually close to you not everyone. So if only few guest will be there, then you could save plenty of money in food and venue. As for less people if you are booking a venue place then it will require a very less space. Also, less the guest less the budget it will require for food.
Themes on low cost
Generally a party is planned based upon any theme you select. Things like, decorations, cake, costume, venue, etc. are finalized upon a theme. So If you are planning a house party or you have booked a venue hall for the party, then this is what you can do. Pick that theme only which requires less investment in decor and costumes. So shortlist few themes that are less on investment and then finalize the one that works best.
DIY
You can cut down a lot of money on many things, all you need is "DO IT YOURSELF". There are many things on which you can definitely save money just by making it yourself rather than buying it. Here are few most cost cutting ideas.
Decorations – For a birthday party decorations there are many things that you require from banners to the table cloths, etc.. So there are many things it will be required for decoration. Inspite of buying, you can make things at home and save a lot of money on decorations. Like you can make banners, ribbons, etc..
Food – Inspite of ordering for party food you can actually make things at home and this will also help in cost cutting a lot. These days you can find any recipes in the best way explained in videos. So you can see  many online videos and make few dishes for the guest.
Invitation cards – You can also save some money on invitation cards also, you will find thousand of tutorials online to make some of the best invitation cards.
Simple and sweet decor
You can save money on decor as i said earlier. Try to to do venue decoration in a most simple and sweet way. This way you can save money on many extra things and props.
Event planner
If you are planning to hire an event planner, then you can also save money on this as you can do it yourself, free of cost. There are many videos online you can watch on YouTube that can give you a whole lot of idea to plan a perfect birthday without any event planner. You can also contact me for this, i will plan a perfect party for you (free of cost).
Always remember its not necessary to have huge party to make any birthday occasion memorable or special. Its all about the moment and quality time you spend with your family members and friends, no matter whats your age is.  So i hope these are really turned out to be some cheap birthday party ideas for you, hope it works for you.