Last updated on June 3rd, 2022 at 11:27 pm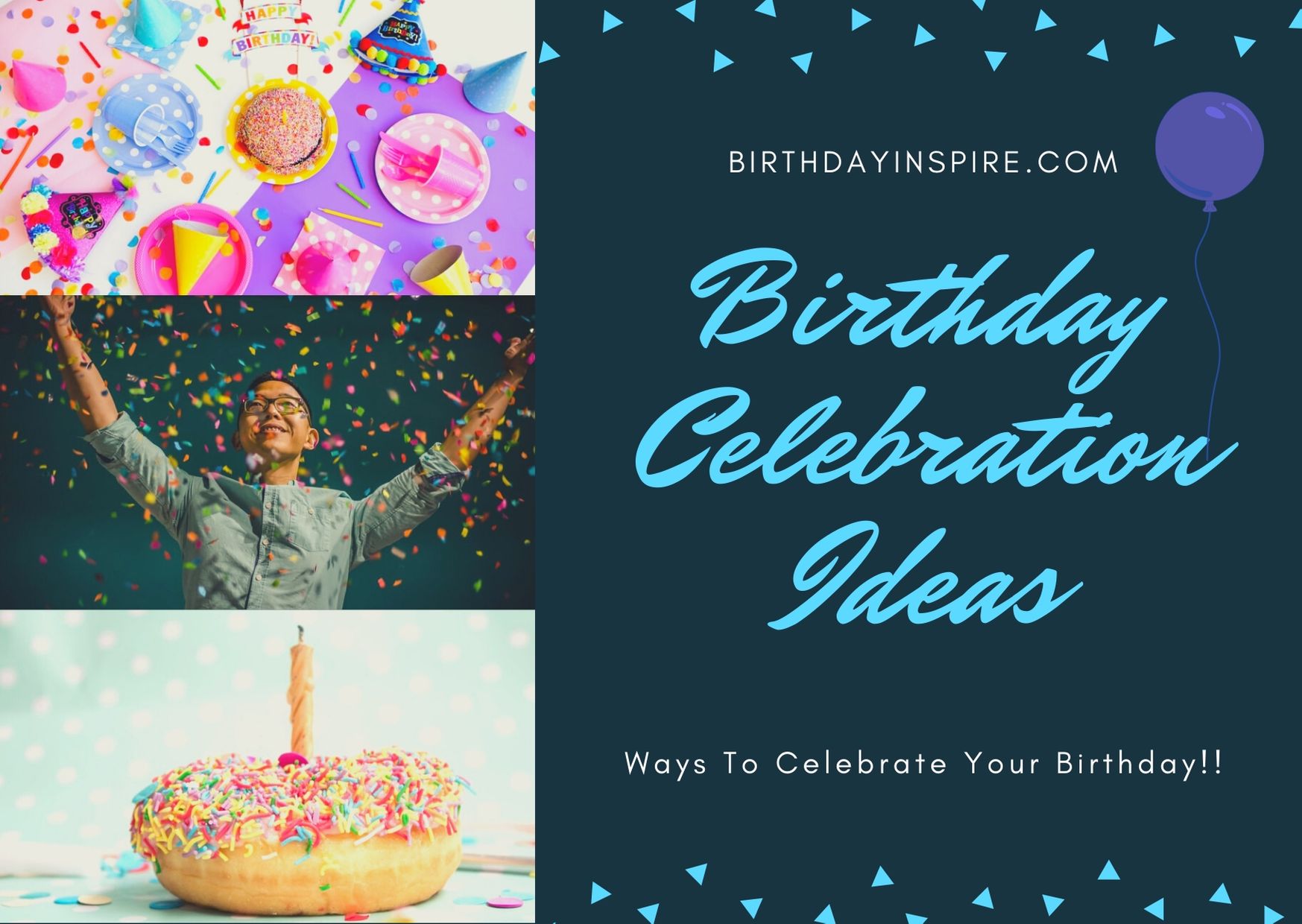 I am sure you want to make this birthday a special One. So to make this happen i came up with a wide range of unique birthday celebration ideas that will help you plan your birthday in a unique way. I am sure your coming birthday in 2021 will be more special.
It is often noticed that people spend quite a good deal of time in planning out their birthday days and months prior to the day of their birthday. I myself start anticipating my birthday so as to plan for the awaited day with a good piece of 'to-do' list with unique birthday celebration ideas.
No matter what your age is or from where you belong, you love celebrating your birthday. I know some of the ways that could be different and may land you in celebrating your birthday in a way that is unique but that ultimate feeling of enjoying remains the same for all. So today I am going to share some of the fun and awesome ways to celebrate your birthday.
I am really excited to reveal this list to all the people who want to know some bad-ass ways to celebrate their day. Some of the extraordinary ways of celebrating birthdays are being laid down as follows which would leave no one to go empty from here.
So what are you waiting for? Check it out.
Birthday Celebration Ideas
1. Set Out On A Solo Bike Ride
Who would not like to take a ride down the beautiful lane like that of Route 12 of California. Yes, this one has got to reunite with you and your beloved bike on this special occasion of your birthday. Yes it is only you and your bike. Don't miss it. Take out the wildest biker in you and roar.
2. Ring Up A Long Lost Friend
And do what? Go out on a dinner. Believe me or not it is not going to fail in exciting you in a way that you never expected. This is what I have done on my last birthday and it has indeed filled enough of positivity in me after sharing some old memories with my old friend from school. And the interesting part was that he has  not yet got to know that it was my birthday but I had got him to treat.
3. Learn Some Music In The Street
How is that possible? Make it possible on your coming birthday. Be a little humble and try to join a street singer who sings in the street for money. May sound a little weird but can indeed leave you with enough of peace of mind by taking a break off from your decorated life to go and sit with the simple man on the street whom you might have not noticed otherwise. Worth trying.
4. Go Check Out The Children's Park
Brooding over where to celebrate your birthday? Remember the swing or the see-saw? It has been a long I guess. Yes, no doubt that you would no longer be allowed to swing even for a second or to do some ups and downs in the see-saw but you can undoubtedly relish some moments of your childhood by spending some hours looking at the kids playing around.
5. Collect Some Fish
That can actually help you in collecting something on your own to feed the guests of the day on this special occasion. Contact a nearby fishing arena where you can do some fishing or you can yourself do it if you have a backyard fishery. Get yourself some instruments such as the fishery hooks, sinkers and have a great day by the fishery side. A unique birthday celebration idea to execute.
6. Get A Health Check Up Done
Too funny and irrelevant? Well, it indeed sounds too irrelevant to be done on a birthday but actually a smart and self-caring one. Birthday is yours and so why not give some time and care to yourself. I have done this on a few of my birthdays.
I went to my doctor and did a basic medical check up done just to check how fit I have been at this period of adulthood. It truly proves to be a unique way to celebrate birthday.
7. Visit A Cat/Dog Cafe
If you are one of those who does not possess a pet but want to do some cuddle with the furry creatures then this birthday set out on  a cafe or pet house that has a good amount of feline and canine creatures. Cuddle as much you want to the extreme and you can treat them too on the occasion of your birthday. These small creatures are truly going to leave you with loads of happiness.
8. Make Some Love
Have you not found enough to some good time orgasm for quite some time? Don't you know that orgasms add to the keeping of normal blood pressure and a healthy heart? This birthday ask your partner to cooperate with you in trying out the most seductive venture and help you get the best orgasm. This one would actually stay as part of your best wild memories.
9. A Warm Bath
It has always been a fascination for me to take a day off and lock myself in the bathroom that is decorated with candles and with some bottles of wine to drink or to read a book and keep taking pleasure in the warm water in the tub for hours.
It may be quite common among young adults but may not be a frequent one for the busy workaholics. A bathroom birthday celebration. Truly a self pleasuring birthday celebration idea.
10. Be The Guest
How long are you going to keep feeding guests on your birthday? Try this time to be a guest at one of your close acquaintances'  places. Don't worry, tell them it is your birthday and they are surely going to feed you. Lol!! Don't forget to carry some savories on your way since guests do that instead of simply crashing with empty hands. It can be for sure a good birthday celebration idea.
11. Bake Yourself The Birthday Cake
Why wait for someone to hop in and surprise with the birthday cake for you. Be the independent you and do some cake baking for yourself. Get the cake making ingredients and make the oven the friend of the day and prepare your own birthday cake. I have got this idea from my mother who has never missed baking the cake for herself on her birthday.
12. Get A Face Painting
Doesn't it sound a little funny and weird? But what is the painting type? You can get your face painted with some colors and sketches may be to make a character face. You can either ask some of your friends to paint their face and hop in your party to make it more funny.
For eg., if your recent favorite character is tuning to be Thor then what are you waiting for. Get the masks and the paints and brushes and make yourself the Thor of the day.
13. Get Into The Treehouse
Sounds cozy? How to get one? Get some ideas on ways to build the treehouse. If you have a backyard that has enough trees you can take the help of someone to provide you with the materials and then find the largest tree to start building it.
It would take some days to build and therefore you have to plan it days prior to your birthday so that you can finally be successful in spending your birthday night in your treehouse.
14. Around Some Books
well, this idea may not suit everyone's temperament. But those who are fond of books can execute this idea to celebrate birthdays. You can either visit a general library nearby or buy yourself some books suiting your interest. Have been searching for ways to boost yourself with some extraordinary knowledge? Throw yourself in a library and earn as much knowledge you want to. A productive thing to do to celebrate birthday.
15. Out On A Date With A Stranger
Sounds too attractive? Yes, it is indeed.  But scratching your heads on how to fetch a stranger? There are a lot of online dating sites to throw your profile into and meet new people. Just drop in the proposal asking a random person over the site to see you at one of your favorite lounge in the town. Don't forget to pay the bill, c'mon it is your birthday.
16. Be Out Of Reach
On your birthday one of the weirdest things that can be tried is to be out of reach of anyone who is known. This is one such birthday celebration idea that can prove to be weird and shocking to the ones who would like to wish you. Yes, you will be switching off your phone and vanish out from your place itself.
But where will you go? Get on your wheels and set to a place that is less frequented. Or you can lock yourself inside the room and celebrate your birthday with some good dose of sleep.
17. Be The Kid From Your Childhood
Have you been going nostalgic for quite a while over your lost childhood days? This birthday it is time to live those childhood days again with the similar charm of those gone days.
The event of a birthday can actually help you bring back the childhood way of celebrating your birthday. Throw yourself in some childish clothes and ask your friends too to wear the best look from childhood and cut the cake together with some childish birthday caps on the heads. Don't forget the theme: Childhood!
18. One Drink-Type Bar
Can't exactly grasp the idea? This is the idea to throw a low key party and set a bar providing only one variety of drinks. Sounds to be poor. But keep the drink of your preference and see how many like minded drinking fellows you have to share a similar taste of drinks. It is going to save you some grands too. Lol! A mischievous idea to celebrate birthday.
19. Be The Hunting Master
If you are one of the Apollo types to be excellent in archery or any other hunting arts then plan out your birthday with some hunting essentials. You can go deep into a forest in search of some wild bird or can simply hunt those annoying birds at the backyard eating out your food.
20. Be The Bar Tenderer
Why not serve some drinks by yourself to the guests invited to the party. Yes, throw a party on your birthday and fix your place at the bar and start showing your skills at making the best drinks ever.
21. A Poetry Competition
Not many have tried this form of art that expresses true feelings of the heart. well, on your birthday take out some time to organize a poetry session where you can invite your friends and ask them to use their creativity to create poetry. To make it more interesting you can keep the theme of 'yourself' or the 'birthday boy/girl' for them to narrate you applying their creativity.
22. An Office Celebration
Neither you nor your colleagues been out for quite some time. This birthday you can take your colleagues out or can even celebrate in the cafeteria of the office by treating them with all your heart's content. This can add a bit of fun too on your birthday if you can't take the day off.
23. Camping Out
When it is the thought of doing something outdoors it often strikes to be something of the camping sort. It is noticed that the idea of camping has been growing popular and so this birthday you are going out on a location where you can set up your tent and enjoy an experience amidst the outdoor air.
24. Pay A Visit To The University/College Of Your Dreams
This idea may not suit all since dreaming of studies is not everyone's cup of tea. But those who are fond of pursuing higher studies or those who had once dreamt of going to a college or a university but could not do so can do that now on his/her birthday, if not to study at least spend some couple of hours around it sitting at the cafe standing just in opposite, gazing at the college building while sipping some coffee.
25. Get A Bonfire Lit
It is time that you sit beside a bonfire and enjoy some food and fun and frolicking either with a group of friends or alone. Get this birthday a warm one with the warmth of the lit bonfire and keep gazing up to the stars in the sky and asking for blessings.
26. Set On Your Caravan Or Trailer
This birthday set out on your caravan or RV to get into the thrill of enjoying a day out on your trailer and carry make a house inside it to enjoy the experience of living on a mobile house where you can decorate it according to your own wish and have some fun out.
27. Attend A Fest
This may not be possible for everyone since fests are not some daily events that can be attended. But if there is one going on in and around your place during your birthday you can definitely pay a visit and enjoy anything you would like from music and comedy to shopping and fooding.  An interesting way to celebrate your birthday.
28. Gifting The Needy
As they say that giving has an extraordinary flood of happiness unlike taking. Therefore on this birthday take some time to gift, not yourself but some needy ones. Gift the needy children or adults and just check on the intensity of peace and happiness that will be there in your hearts forever. Truly one of the best ways to celebrate birthday.
29. Joining A Sport
Sports have been known to have a healthy impact upon the ones who perform it. So don't wait longer and get set to be a healthy you from your next birthday. This birthday take a resolution to start on a routine to create a healthy schedule of maintaining a sport that would keep you healthy. Join the nearest club or prepare your own backyard to carry out some fun sports. To add more to the birthday aura you can invite some of your friends to join you.
30. Planting
Planting is something that is liked by most of us and it is a productive and useful art. Yes, on this birthday you can take a break to plant some trees either at your backyard or in tubs inside the house. This would add to the beauty of the backyard or even to the interiors. If you have a party ahead in the evening the interior plants will not fail to add to the party decor.
31. A Family Home Theatre
Well, for some nothing can be as beautiful as celebrating their birthday with their family members right at their home. Watching a movie on the common TV accompanied by some good starters and savories can be an excellent birthday celebration idea.
32. Arrange A Competition
This takes a good deal of effort to carry out but if you are a social butterfly you would not miss on this exciting way of celebrating your birthday. You can contact the local stadium and book the ground for your tournament where you will be hosting a full fledged competition inviting players from all around to participate. So don't wait and start making arrangements from now to lead on to initiate a unique way to celebrate birthday.
33. A Day With The Roller Coaster Rides
The roller coaster rides in the amusement parks had been one of the wildest fantasies for all of us during our childhood. On my last birthday I had taken the ride out to throw myself into the amusement park to roll up and down on the roller coasters and into the waters which truly took me to my days of childhood. You can try this one too to celebrate birthdays.
34. A Walking Trip
If you have been struggling to think about how to celebrate your birthday then a walk may help you. No, you are not going to pop with some ideas after taking a walk. But to organize a walking trip on the day of your birthday can be an exciting way to celebrate your birthday. Yes, it may prove to be quite a tiring one but would not fail to give you thrills. Don't forget to pack your bag with basic requirements such as lots of water or energy drinks.
35. Cook To Compete
Are you the one to give in your expert hands in cooking out the best of the tasty dishes to savor. Well, it is your birthday and you are still on the thinking mode to land into the best birthday celebration idea. Wake up. It is time for you to showcase the best of cooking talent of yours. Invite some of your friends and relatives and organize a cooking competition. Yes, organize the masterchef hunt right at your own house. LoL!
36. Keep A Backyard Concert
Music has never failed to attract souls from different corners and can create an aura that makes people jovial. Therefore on this birthday you can initiate a step to be happy with some melody. Get a local band hired or otherwise if you have hands on any musical instrument organize a small backyard concert, inviting your close ones to take part in the melodious night.
37. Ghost Hunt
Too creepy? Try once making your birthday a creepy one. Set out with some of your friends (ones free from any kind of heart weakness) to a haunted location and try to spend the birthday night out there and wait for the ghost o wish you 'happy birthday'. Lol! Well, it may not sound appealing but can indeed prove to be adventurous enough. It is a whole new different birthday celebration idea to try out.
38. Organize A Fruit Crashing Event
Have you heard of Tomatina festival? Well, this is one of the most celebrated festivals in Spain where a lot of tomatoes are used to crash and play with it. Well, it will get a little difficult and expensive for you to organize a Tomatina fest but you can definitely create a fruit/veggie crashing event, one like that of Tomatina with a few friends of yours.
Just get any fruit or vegetable that can be easily crashed. Invite some friends and dive into some juicy fun moments at the backyard with the fruity smell. Try this on your next birthday.
39. Fetch The Chocolate
Well, this is an interesting game where one has to participate in a game. On your next birthday, you too can organize a competition where all your friends can participate. Buy some cartons of chocolates and keep them hanging at the top of some bars especially made for the purpose. There will be a limited time for the participants to bring down all the chocolates. Whoever collects the highest wins. It indeed sounds to be a fun-filled birthday celebration idea.
40. Blind Fold Party
This is what I had got to experience at one of my friends' birthday. We all were blind folded right at the entrance and were guided towards the party hall. Then we were being given dance partners and made to dance. Not so easy but we all looked quite funny.
Well on your arriving birthday you can organize such a party and can do the same to your guests. Not everyone is going to appreciate but it can truly bring some laughter to the house. An entertaining idea for birthday celebration.
41. A Session Of Photography
Are you someone who loves to do with the gadget called a camera? And are you also interested in taking snapshots of nature, landscape and people and lifestyle? If yes then don't look for any other venture to carry out on your coming birthday. Give yourself some time to set out on your favorite location to take some impressive snaps. This can truly be satisfying as a birthday celebration idea.
42. Feeding Some Creatures
This would be an excellent idea if you are an animal lover. On your birthday head to a pet shelter which especially deals in looking after the homeless domestic creatures such as dogs. On your birthday you can head on to enjoy your special day by feeding those creatures with some good eatables. This can in no way fail to make you happy on your special day. It is one such special thing to do to celebrate birthday.
43. Rooftop Fireplace Gossip
An open terrace may not be that appealing in the winters to keep gossiping. But on this birthday you can make one. If you have a terrace get it prepared for the most happening birthday gossip. Construct a temporary fireplace on your terrace where you and your small group of friends can have the warmth of the fire along with the weirdest gossips.
44. Magic Show As Part of Birthday Celebration
Magic show in birthday bash, quite unique isn't it?
If you planning for a birthday party then i am sure you would like to have a small magic show in between.
This is going to be a cherry on the top for your birthday party celebrations. I am sure all your guests will be amazed to see those exciting, thrilling and mind boggling magic acts.
45. No work Day
This is for all those people who want to celebrate their birthday alone.
the idea is simple, you need to take this day as no work day that means the day is for peace and relaxation.
This is for all those who are very busy working continuously from past few years, and not able to give time for themselves.
So just relax give it a time for yourself as if a new life has come to you in form of your birthday. Do the things for your self, give yourself time, relax and be with yourself.
46. A NGO Day Birthday Celebration
Last year I went to an orphanage with help of an NGO working for orphans, known as "One life". I can't express how good I felt meeting those happy souls.
During my visit we celebrated birthday of one of the orphanage. I was inspired by it and i decided that i will be celebrating my birthday with them next year, which i eventually did.
Trust me it was the most amazing feeling the world.
I would recommend you all to celebrate your coming birthday in a NGO. This will be one of your life time memories that will cherish for years.
47. Go Unplanned & Spontaneous
Planned celebrations are exciting but sometimes boring. What about an unplanned and spontaneous celebrations?
I am sure the thought of it gave you excitement, isn't it?
Gather your friends or some of your favourite people on a venue. Get them on the board on the date of your birthday and decide with them on the spot how you want to celebrate your birthday.
It can be anything, going for camp fire, concert, standup shows, some adventures, etc..
48. Your unfulfilled wish
At times we are so busy in our life that we neglect most important things too. We all do have such kind of wish things in our mind. For instance, take my example, I love the watch and from ages, I am not able to buy a branded one. So this happens to everyone.
I assume that you also must be having some pending wish which is just staying in your mind. Why don't you do it anyway?
It can be anything, thanking all those people who are always there by your side, It can be buying something, etc.. what occasion could be better than your birthday for this.
49. Go for Skydiving
If you really want to make this day memorable for years, then this is what you have got to do for sure. I know you are scared just by the word itself. Believe me, it is the best feeling in this world that can never be expressed in words.
I have done skydiving and believe me these are those few moments where you are surrounded by nothing no people, no world, no thoughts, no Sorrows, no disappointment. It's just a feeling of bliss.
Going for a skydiving on your birthday will make this occasion memorable till your lifetime. It is really amazing.
50. Childhood way
Why don't you celebrate your day in a childhood way? Remember how you use to celebrate your birthday when you were a kid. You used to be so much excited about planning, decorating the house with balloons, ribbons, etc..
My idea is simple, plan out your birthday celebration at your home calling up your friends. Decorate the house like an eventful place with ribbons, balloons, wallpapers etc..
Organize and play games that we use to play in our childhood. So if i summarise i would say bring back your old school days and revive that excitement.
51. Celebrations out of the Main City
I don't know if you like to be around valleys, mountain, riverside, forests, etc.. Places where one feel calm and relaxed. If so then what you are waiting for?
You might be celebrating your birthday in hotels, restaurants, or other conventional places over these years. How about celebrating in a jungle area with special people in your life?
You can go for camping with camp fire plans. I am sure this will give you quite good memories to remember all over your life.
52. Trekking bash
If you are more of an adventurous person then you might enjoy treks and all at regular times. You can plan one on your birthday so that you can spend your entire day with a thrilling chill under your spine. You can go alone or gather some of your friends and plan an all-nighter or day trek. If it is a trek to the top of a mountain then it will end on a beautiful scenic note.
53. Drive a Long way
When was the last time you have gone for a long drive to the outskirt? If it was quite a long time and through out these years you were quite busy in your work or other commitments then its time to take a break.
If you are a person who like to be with yourself then you can go for the drive alone listening good music and enjoying the locations or else you can gather few of your favourite people and make this journey even more colourful.
I know you were quite bored with all old conventional birthday celebration ideas. So I tried my level best to give you all some of the unique ways you can celebrate your birthday. I hope these ideas to celebrate birthday in a unique way made you reconsider your birthday celebration plans.