Last updated on June 2nd, 2022 at 10:21 pm
Hosting A Tea Party? Success is in the Setup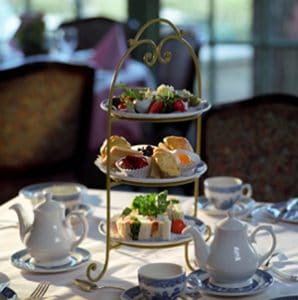 Hosting a tea party does not have to be a stressful affair!
It's actually a relaxing way to spend an afternoon and a lovely way to celebrate a special birthday.
A tea party is also a great choice when you want to serve food but you don't want to go through the preparations for serving a full lunch or dinner. You'll even save a bit of money in the process and, shhh … no one ever has to know.
So, hang on to your wide-brimmed hats ladies, and peruse our ideas for hosting a successful tea party of your very own.
Tea Party Ideas (Including All the Basics)
If you've wanted to try your hand at hosting a tea party but were daunted by the thought of stepping into the unknown, fear not! We're going to break it all down for you in simple steps. Yes, a tea party can be formal, but it can also be a casual gathering of friends for a special celebration. It's all up to you.
Are you feeling empowered yet? Good. Now you're ready for those easy step
Tea Party Decorations and Supplies

Tea party decorations are truly a feast for the senses. Delicate china, a heady mix of fabrics, textures, colors and patterns, fresh flowers and candles…delicious! Gather some ideas for the perfect tea party decorations.

The table setting (including the way you display your food) is the center of attention at a tea party. Use our table setting suggestions as starting points and then let your own style take over.

Most traditional tea party menus have several things in common. Tea, of course, tasty finger sandwiches, scones, and a few decadent desserts, to name but a few. Check out our tea party menus to get your menu planning off to a good start.
Do you have ideas of your own for hosting a tea party? We'd love it if you'd share them with us! Send us an email and we'll be sure to publish your ideas for our readers to enjoy.