Last updated on June 2nd, 2022 at 10:21 pm
When we think of tea party menus we usually think of serving light fare. This is what you'll find most often served in England. If you find yourself invited to a high tea, though, expect a hearty, full-course meal.
Your tea party, however, can be whatever you want it to be.
Opt for traditional English tea foods or create a menu with an ethnic flair. Let your own tastes and your party theme, if you have one, be your guides.
4 Must-Haves for Traditional Tea Party Menus
tea sandwiches
scones or tea bread served with clotted cream (also called Devonshire cream) and jam
desserts
tea
Running Out of Tea Sandwiches is a Big Faux Pas!
For planning purposes, count on each guest having six tea sandwiches (each tea sandwich is one quarter of a full-size sandwich), one scone and five small dessert servings. Plan on four cups of tea per guest.
Do's for Tea Party Menu Choices
Do use all sorts of different sandwich fillings. We have traditional tea sandwiches in our menu below.
Do serve plain scones if you want to follow tradition. This means no dried cranberries inside, no chocolate chips, nuts or icing of any kind. We often choose not to follow tradition here. The varieties of scones are just too wonderful to pass up (plus I love baking my own and tossing in a bit of this and a bit of that).
Do offer strawberry jam (the traditional choice), although we hear that raspberry is a popular alternative. Some folks like to put lemon curd on their scones. This is definitely not a traditional way to eat them. But what doesn't taste fabulous with a little lemon curd? Our advice? Go crazy and put all three choices on the tea table.
Do have a couple of bowls of clotted cream for your guests. If you don't know what clotted cream is, you don't know what you're missing! It's somewhat like a cross between unsweetened whipped cream and butter, and it is heavenly. It's available in some specialty food stores and online. Yes, it's expensive but definitely worth the price.
Do serve at least two varieties of tea. Depending on your guests, you may also want to have decaffeinated tea on hand.
Do put out a pretty dish of sugar cubes for tea (very English!). Have you seen the absolutely adorable decorated sugar cubes yet? They're a great touch for the table.
Our Sample Menu for Traditional English Tea Party Fare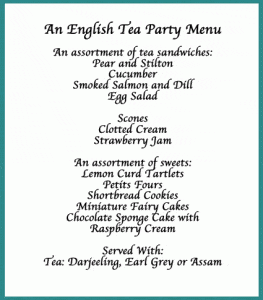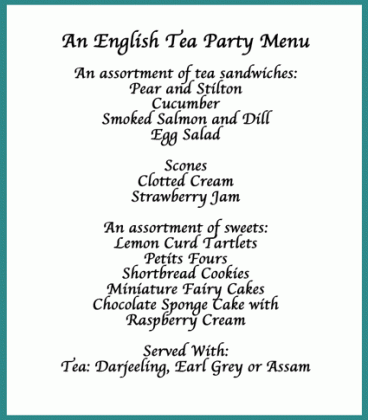 Tea Party Themes
If you're planning a theme for your tea party, be creative in designing your menu to reflect it. Keep that theme in mind as you choose your invitations too. If you can't decide on a theme perhaps one of these tea party menus will inspire you:
a Victorian tea party menu
a Russian-inspired menu
a Spring menu
a Summer menu
a Fall menu
a Winter Holiday menu