Last updated on June 2nd, 2022 at 10:21 pm
An inviting and visually interesting tea party table setting is key to hosting a successful tea party. You'll want to make sure it looks as fabulous as possible.
This doesn't mean the table has to look traditional. Not at all.
It can be English chintz and fine china if you want, but it can also be loud colors, vintage (meaning get yourself to a thrift store) with mismatched tea cups and plates, or anything else you can think of.
6 Things Your Tea Party Table Setting Must Have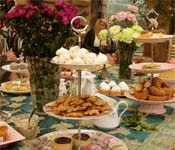 Dishware (any kind you like, however you must use china tea cups! Tea tastes so much better in the real thing.)
Linens (tablecloths and napkins)
Centerpiece(s) (a three-tiered stand is a nice serving piece to have and can double as your centerpiece)
Food (usually light fare and dessert)
Tea (several varieties and a selection of other beverages)
and the ever-important Miscellaneous Decorative Touches (this is the part where you really get to show off your creative flair)
"I Have All That Stuff. Now Where Do I Put It?"
Presentation is everything!
Whatever your tea party style will be, you absolutely must make your table (and your party area too) visually interesting. The tea party table setting is a huge part of your tea party atmosphere. Go over the top and make your table setting a grand show!
The Place Setting Basics
To save some much needed space, use dessert or salad plates instead of dinner plates (unless you're serving high tea, which is a full meal). Arrange the place settings the way you would for any formal meal, with one exception. So…
Knives on the right (blade pointing toward the plate) and spoon next to the knives
Forks on the left
Napkins (small fabric ones if you can find some. No paper!) placed on the left under the fork or decoratively on top of the plate
Water glasses on the right, above the knife
And, (here's the exception), the teacups are placed to the right of the place setting with their handles turned out to the right
Pretty simple.
Now for the Rest of the Tea Party Table Setting Necessities
If you have a three-tiered dessert stand, use it!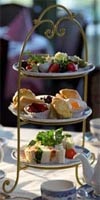 If you create a beautiful arrangement of tea sandwiches or desserts on it let it do double duty and make it your centerpiece as well.
To pretty up your table even more, add garnishes to your stand and serving plates:
fresh flowers (for a fun option, use edible flowers)
sugar-dusted champagne grapes (just gorgeous and so easy to make)
bunches of grapes
cherry tomatoes
sprigs of lavender, thyme, or rosemary
Bits and Bobs for Tea
These should also find their way onto your table:
a pretty bowl of sliced lemons
a pretty bowl of sugar
a small pitcher or two of milk (never cream for tea)
several small spreading knives to go with the jams and Devonshire cream
Table Linens
A tablecloth is a must for a traditional tea party table setting (not that we think you have to be traditional, mind you). It's also an easy way to add color and/or texture to your table. If you don't have one that will do, go to your local fabric store and browse around. If you find the perfect material, buy several yards and trim to size with pinking shears.
If you don't own cloth napkins, buy some coordinating fabric and make your own. Cut the fabric to napkin size (luncheon napkins are usually 9″ squares) and trim with pinking shears. No sewing necessary and easy as can be.
Three Rules For Centerpieces
never use highly scented flowers or candles on a table with food
be aware of the placement of a tall centerpiece (to avoid blocking anyone's view)
only have one big centerpiece on your table (complement it with smaller ones
if you like), or just have several small ones
Those Must-Do Miscellaneous Decorative Touches
This is where you really get to have fun. Go crazy and embellish your table, buffet table if you'll be using one, and your room with lots of pretty things. Some examples:
mini terra cotta pots planted with a single Gerbera daisy
candles or tea lights (unscented so the smell doesn't mingle with the food)
decorative napkin rings or pretty fabric or sheer ribbon tied in a bow around each napkin
elegant or artsy placecards tucked into unique placecard holders
the tea party menu framed in an antique picture frame (check thrift stores for these)
mirrors in ornate frames from the thrift store
mason jars of all sizes and colors holding sprigs of herbs
old china tea pots filled with flowers or planted with herbs
use your party favors as part of your decorating scheme
Experiment, be creative and have fun!