Last updated on June 3rd, 2022 at 01:20 am
Gardening is one of the hobbies that many take interest in. Decorating homes and offices with plants keep the air fresh and make the place look beautiful and alive. Gardening is meditative and encourages to create beauty in the surroundings. From flowers, plants, and gardening decor, there are many gifts for garden lovers that you can give that adds to the decor. Planting flowers and other types of indoor or outdoor plants and taking care of them takes a lot of efforts on the part of those who love gardening.
Landscaping even a small space enhances the beauty of the place. It takes aesthetics and passion to keep the garden no matter what the size of the space, intact. A beautiful garden also tracts butterflies and gives your home that feel-good vibe and happy feelings.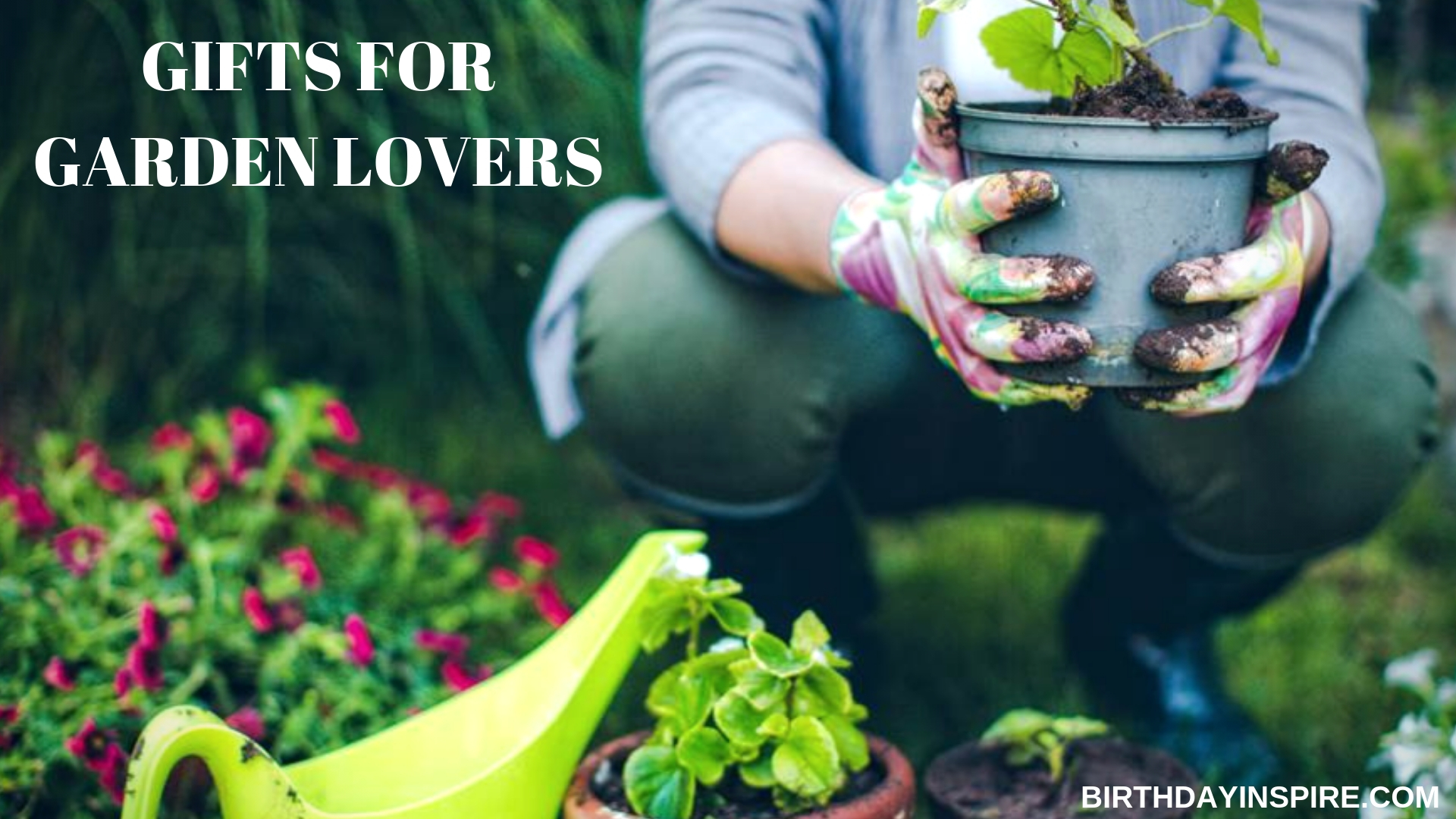 Gifts For Garden Lovers
1. Colorful and decorative garden lights
Gift this beautiful decorative light to someone who loves gardening. They can place it in the garden and create magnificent effects in their garden. It is made up of colorful glass and is waterproof. It can throw colorful lights even during the rainy season keeping the look of the garden beautiful in all seasons. You can use it as a table and indoor lamp as well if you do not have a garden and a backyard.
One of the beautiful gardening gifts for those who love nature and flowers. This is the light that comes in various modes of soft and intense lighting that changes colors. It needs solar charging and you can charge it in the full sun.
2. Pristine white indoor plant hanger pack of 4
A pristine and a decorative that you can give a garden lover is this pure white indoor plant hanger. They can plant any of the indoor plants and make their place look beautiful and vibrant with greenery settled in a white planter. It comes with a decorative cotton rope that is strong enough to hold the planter.
This is one of the elegant gardening gifts for her. The design of this planter is so versatile that it fits into the decor of any room. Choose from a variety of potted plants and flowers to plant inside this beautiful gift.
3. Gardening Apron for collecting harvest
Those who have an organic vegetable garden will love this gift. It is an apron that has a large pocket that lets them collect grown vegetables from their organic produce. For those who live and eat healthy, this is a simple and beautiful gift to give. It comes in adorable prints and is washable.
It has room to collect fresh produce. Grow tomatoes, herbs, aubergine, or any vegetable and collect them in this apron. It makes your life easy organic gardening and collecting produce with this lovely gift.
4. Garden decor and key hider
A lovely and unique gift for the gardeners and those who have a beautiful garden. A turtle-shaped garden decor that comes with a facility to store the key. Keep the spare key of your home safely inside this turtle-shaped key hider and let it sit like a decorative piece inside your garden.
It is made in cast iron and looks authentic and rustic for the earthy theme of the garden. A cute decor item that can hold many keys.
5. Cherub with a dog statue for the garden
Decorate your garden with a statue of a cherub holding a dog. It adds to the charm and earthy decor of the garden. A rustic statue made in cement and resin is what you can look to add to the beauty of your garden and give it that fairytale effect.
A beautiful garden accessory for a balcony garden or the backyard that has beautiful trees, plants, flower beds, and swings. A nifty gardening gift ideas to give someone who is a passionate gardener.
6. Miniature tree house with fairy figurines
A pretty decor item for the garden is a gift you can give to someone who loves gardening and fairytales. You can use this gift as a decor piece indoors as well as outdoors.
This is one of the pretty gardening presents that you can give someone who enjoys gardening, nature, and beauty. It can be used in the backyard, frontyard, or terrace garden. You can use it as a decor item in the interior of the home as well.
7. Owl themed ceramic pot planter set
Owl themed potted planters are a cute gift for those who have plants and love gardening. These potted planters look good in the balcony or any corner of the garden and add to the beauty of the garden.
A wonderful gift to give a gardening lover on any occasion. They are made in ceramic and are ideal for potting succulent plants. Keep the interior and the exterior space of a home or office clean and green plating in these cute looking potted plants.
8. Welcome sign for garden with bird statues
This is a cheerful gift for a garden lover who can place it in their garden and make it look pretty. It has pretty bird statues with a welcome written on it. It looks rusty and earthy that spruces up the decor and beauty of the garden.
They are made in crushed stone and look authentic and beautiful for a large or small garden. You can use it as a decor item in the balcony garden. Place it at the entrance of your home if you have an earthy looking decor.
9. Handbook on rock art painting
Decorate your garden learning techniques of a rock painting from this book. A nice gift you can give anyone you know who loves to decorate their garden. It has stepwise tutorials on rock art using a variety of media like chalk, art pens, glitter, and other art and paint items.
It comes with many techniques of painting like dot painting, using embellishments, and other techniques. You can get your craft supplies and create beautiful rock art with the techniques given in this book. Transform any stone in the garden in an artwork using the techniques given in this book.
10. Picnic table with squirrel feeder
A nice gift to give someone with a huge garden is this picnic table that comes with a feeder. Those who have children will love this gift. It adds as a decor piece and also a place where you can spend time with children, feed birds and squirrels. Kids will love spending time at this picnic table.
You will have a reason to let the kids play outdoors and bond with them. For nature lovers who love all the greenery and birds chirping, this is a beautiful gift for them.
11. Set of colorful artificial mini plants
A beautiful decor piece for garden lovers. If you do not have a lot of space for real plants, this gift adds to the beauty of having colorful plants in the interior or exterior of home or office.
Place them in your kitchen, office, or balcony and let it decorate the space beautifully. These are artificial topiaries that bring life to any room and make it look vibrant.
12. Dog shaped potter for succulent plants
A pug-shaped planter made in ceramic is one of the nicest gifts for garden lovers who also have pets. For someone who loves pets and gardening, this is a cute and a perfect gift to give on any occasion.
It can be planted with small, indoor plants and looks like a unique decor piece for home or office. Gift it to your family or friends who love gardening and decorating their homes or offices with greenery.
13. Exotic vegetable grow kit
Having a mini vegetable garden is what every garden lover would experiment with. This is one of the wonderful gardening gifts for men who love growing vegetables and having fresh produce. You can start your own home garden with this gift kit that has seeds of exotic vegetables.
Enjoy continental cuisine from the fresh produce of your exotic vegetable garden with this kit. Grow purple colored carrots, rainbow-colored swiss chard, and many other exotic vegetables that make your vegetable garden look unique and colorful. All of the components in this kit are free of chemicals.
14. Hummingbird swing
All kinds of birds invite themselves where there is a party of greenery and flowers happening all the time. Gift this beautiful hummingbird swing to someone who has a lovely garden and loves gardening.
A simple wooden swing that lets the birds enjoy their errands in your garden and be happy swinging rejoicing themselves. You can also place a bird feeder closer to the swing for the birds to make merry feeding and swinging in your garden. Watching colorful birds in the garden is a true joy.
15. Kneeling pad for gardeners
Don't hurt yourself gardening and getting all earthy pruning roses and cleaning dried leaves. This is a thoughtful gift to give someone who loves gardening. A kneeling pad protects your knees while you are kneeling down and taking care of your plants.
You can use it anywhere, where you have to kneel down and do some work, such as, giving your baby a bath, or any other cleaning work. It eliminates the pain in the knees when you have to kneel down and do some work for a longer time.
16. Book on gardening in a small space
Grow all that you have to grow in a small space reading this book. A wonderful gift to give someone who loves gardening. It lets them create a better garden and grow more plants in a smaller space. Greenery is always happiness and uplifts the mood.
A beautiful gift for the keeps that your family member or friend will look into for instructions anytime they want to grow a newer variety of plants. Get information about soil mixes, making plant and flower beds, and create a better looking landscape in a small space with this gift.
17. Gardening gloves for digging and planting
A funky and a nice gift to give the gardening lovers. With these colorful and useful gloves that are designed for planting flowers and digging, you can protect your hand and prevent soil from getting in your nails.
You can plant flower, shrubs, or indoor plants with these gloves without soiling your hands. A nice pair of colorful gloves that have sharp ends for digging soil, suitable for men and women. Plant any type of flower or shrub easily using these gloves. You do not need hand tools when you use these gloves.
18. Garden decor angel with dove
A beautiful decor gift for gardeners. Your garden will look picturesque like the fairytale with this gift. It has a glowing light that is held by the doves and looks lovely when turned on in the evening times. A beautiful gift for anyone to decorate their indoor or outdoor gardens.
You can also place them in the balcony if you have decorated it with plants and flowers. The light charges with sun rays and you do not need wires to turn it on. It is lit till 8 hours and makes your garden look lovely when it is lit.
19. Decorative glass bird feeder
Give this gift to someone who wants to beautify their garden. An elegant and decorative glass bird feeder makes the garden look splendid. Adds an aesthetic taste to the garden decor. You will have many colorful birds visiting you with this feeder.
This is a hummingbird feeder that you can fill with sugary nectar and the birds will love relishing on the sweet liquid and get their treats during all the seasons.
20. Hide spare keys in camouflage rock
A rustic and a useful gift for the gardeners who can hide their spare keys inside this garden rock. It looks like real stone and can be used as a decorative item inside the garden. You can place it amongst plants and shrubs.
You do not have the chance of being locked out when you have spare keys stored in this rock. This is a weatherproof rock that is made with a plastic base and looks like a real rock. A fun gift for the garden lovers that is useful to hide their keys.
21. Never too old to play in dirt t-shirt
Gift this t-shirt to a female who loves gardening. It is a cute and funny t-shirt that a female gardener will love. A beautiful t-shirt that she can wear when gardening and have fun.
A graphic t-shirt with a funny print is something that a woman who loves gardening will love. She can wear with denim and pyjamas. It is made in cotton and it does not shrink.
22. Handmade soap for gardeners in essential oils
A handmade and organic soap bar that is made with essential oils, shea butter, rosemary extracts, and other natural ingredients. It smells great and is good on all types of skin.
It moisturizes your skin after hours of hard work in the soil. You can keep your skin nurtured with this natural, handmade soap that pampers your skin and keeps the dirt away.
23. Decorative planter with wheels
One of the coolest presents for garden lovers is this decorative planter that can be placed indoors or in the backyard. It gives a unique look to the garden and makes it look rustic.
A gift that any gardener will love and decorate their space with. Create flower beds and showcase your landscaping skills getting creating with this gift. Come up with an idea to decorate the space with colorful flowers and plants.
24. Hand Cream for cracked hands
A thoughtful gift to give someone who is busy soiling their hands in the earth creating a beautiful garden. It moisturizes and softens all the cracks and repairs dry skin.
Your gardening friend and family member no more has to worry about having cracked skin after hours of gardening with this wonderful gift. Within a few days your hands are soft and free from dryness when you use this hand cream.
25. Two-tiered garden cart planter
Decorate your garden with this metallic garden cart planter that makes your garden look pretty. You can keep it in your garden in all the seasons as it is rust-resistant. Decorate the cart with colorful flowers and plants and beautify your garden with this decor item.
A perfect gift for those who love decorating their garden with beautiful garden decor pieces. Your family or friend who loves gardening will absolutely love this decor piece.
26. Miniature birdbath
A lovely gift to give a garden lover is this miniature bird bath. They can place it in the indoor garden or in their backyard. Birds can visit your garden to drink water and soak in the beauty of your garden with this gift. Expect a visit from colorful and pretty birds who grace your garden.
It makes your garden lively and brings life to it. This is a tiny bird bath that fits perfectly in any place. You can make it a part of the decorative pack for beautifying your garden. One of the prettiest gifts for garden lovers is this miniature bird bath with a red cardinal figurine.