Last updated on July 13th, 2022 at 10:45 am
Is Frozen Birthday themed party in your mind? Are you planning it for your kids, yourself or someone special then you are at the right place. Because here i will give you some of the best frozen birthday party ideas that you would love to plan
---
Birthday parties are always a great joy for everybody especially for the kids who love celebration and get together along with friends which occur once a year. They get yummy snacks and food to enjoy and plenty of fun. The best part of it is that on their birthday they are looked upon as an angel and usually no one scolds or yells at the birthday angel.
Frozen birthday parties are even more entertaining like a step further because they get yummy cakes and beautiful new dresses. The theme itself is very interesting and based upon ice and frozen items to have which in it is quite thrilling and also tasty. Parents themselves prepare those yummy cakes at home since they have to serve frozen and that's the way it is enjoyed.
Frozen birthday party can be of several varieties of themes such as with frozen themed birthday greetings and invitation cards be it a copy of e-copy. They can also be enjoyed base on frozen themed birthday outfits or dresses which look more amusing than the same old and boring cakes. A frozen birthday party sounds very cool as everything is here to melt in the mouth and theme looks chill and cozy.
The guests are expected to come in attire as though they might enter into a snow cave or a ice house where everything is frozen and chilled. Everything will melt in a moment and that's how the cakes and snacks are prepared in a very special way so to make this party remarkable.
Frozen Birthday party ideas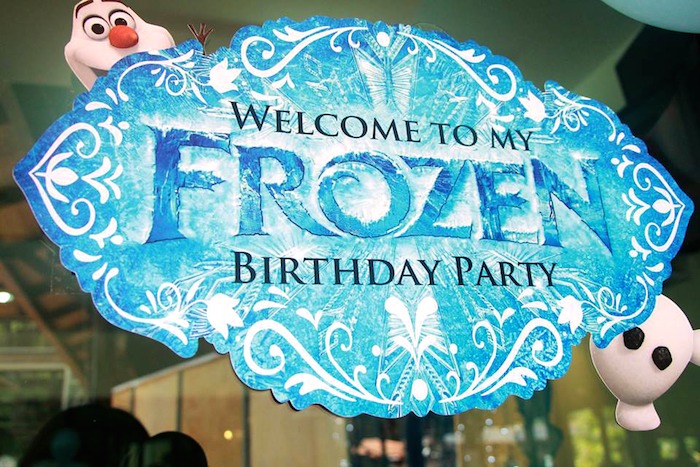 1. 'Do It Yourself' Snowflake Winter Frozen Cakes, Cupcakes and a Wand
It's all about frozen cup cakes, cakes and the very special theme called snowflake princess wands in this theme called the 'snowflake frozen cakes' for your kids birthday. You can comfortably draw amazing birthday themed designs on the cake with the usual candy melts that your cakes will look awesome this way just by the unique design on it.
This way your cake looks like an embellishment of envy and you don't even add tons of cream or sweetener and any kind of frosting that will screw-up everything about this cake and it becomes a piece of calories for your guests.
2. Marshmallow Snowflake Pops
These are one of the most amazing marshmallows in the world and the perfect theme for your kids frozen birthday party. If you have decided to prepare snowflake marshmallow pops and frozen hot chocolate at home then you can promise yourself that you are in for some great fun and entertainment. Just preparing these items at home gives the thrills since its method of preparation is very interesting.
It's very interesting and simple to prepare snowflake marshmallow crunchy pops and the best part of it is that the sweetener can be personalized by adding your choice color to sugar. All you need to do is use colored sugar and you have your kid's or your favorite color, now this is what I call 'tailor made'.
3. Snowman Olaf Cookies Snack
It's time to celebrate the frozen birthday themed party with the Snowman Snack with focus on Olaf character from the Disney fame. This character is such lovable by all that it is sure to melt in your heart to melt under your tongue we have the marshmallow snack treat in the pack.
The good news is that it is simple to prepare and is not at all time consuming, keep these handy before you begin preparing. Slices of orange candy, graham crackers, black licorice, blue candy frostings, half inch candy eye, marshmallows of various sizes, candy melts black.
Now, we are good to begin preparation of the most yummy snack for a perfect frost themed birthday party the snowman Olaf snack and all you need to do is to frost these ingredients.
4. Jello Frozen Disney Ice Cube
These pictures of awesome Jello Ice Cubes are actually an underestimation of the actual feast it has to offer because it has much more than what can be shown on picture.
They come in two different colors – clear and blue and in case you plan to warm your food from the bottom to up then this color theme has to be kept in mind so that you will not forget to add some luke warm water before spreading it on a plate.
This is not all and there is much more to on Disney's great birthday ideas party posts which you can access for free and also download it for nothing.
5. Olaf Cup Cakes
My little angel kid had her birthday last fortnight and I probably was the happiest mom to arrange everything from the scratch and I enjoyed doing it. The attraction of Olaf is just unexplainable and that's what is happening with my lovely kid and she has Olaf in her mind all the time and views him as her hero.
This snowman continues to mesmerize even elders and preparing a frozen Olaf theme cup O Cakes especially in summer could be quite challenging but, with your crafting skills this task should not seem that difficult and you can easily sculpt a Olaf snowman.
6. Mini Ombre Cakes
The best idea for a frozen birthday party would be to prepare yummy cup O cakes and a cream cake on winter frozen theme.
If you wish to strike something different and surprise everyone at home as well as your guests then the Ombre Mini Cakes is just what you might thinking of and Pinterest might be of great help to you in teaching/guiding you on perfect preparation. One of the best things about Ombre frozen mini cakes is that they look awesome and set the party mood right.
7. Ombre Petal Cakes
It looks exactly as you see it on this picture and is an incredible frozen birthday party ideas to prepare the Ombre Petal Yummy cakes even though many feel that it is quite a bit labor intensive job as well as time consuming preparing one.
First you need to frost the cake and then you have a gorgeous frozen birthday cake that is going to be the center of attraction for your birthday guests. To prepare this cake all you need is two packs of cake mix, Olive oil, plain water and eggs.
8. Ombre Krispie Rice Treats
If you are planning for a Birthday party desert on frozen theme in your dining table then it is a good idea to consider the Rice Krispie Pie treat. These Frozen Kripie Rice Cake treat fits a lot into a Frozen Birthday themed party such that they look awesome and are delicious to taste with attractive colors as shown in the picture.
It very simple to prepare this Rice Pie treat, you need the following; Rice Cereals of Kellogg's Cereal, Cream Butter sweet and salted, marshmallows preferably little ones, Americolor light blue for coloring.
9. Frozen Pretzel Snowflake Bites
Whenever you are strained for an idea about your kid's birthday party based on Frozen Birthday Theme just rely upon your senses because they will guide you right. The Olaf Frozen Theme Pretzel bites is the perfect choice that will make a gala birthday party for your kid and is sure add to the fun of the birthday dessert table.
Preparing this cake though is not in any way any kind of cakewalk in fact, its going to take a lot of labor and efforts. But, all that stuff is actually worth it and it makes sense to give it a try.
10. Disney Snowflake Frozen Cookies
If there is anything that you feel that is missing or seems to fall short in your son's Frozen themed birthday party it could be none other than this frozen snowflake cookies. Outer appearance might give an idea that is a Christmas theme cake but this sugary frosted cookies will make a perfect snack for your frozen themed birthday and your guests will love this snack a lot.
Its very simple to make and for that you will need, a circular designing tip, Americolor blue color, a sugar cookie recipe, cream butter frosting, snowflake cutter for cookies.
11. Tutorial for Elsa Dress
Its one of a kind dress designing tutorial and has all the dress/fashion designing guides for a frozen birthday party for summer. Its called the Elsa fashion dress and this dress theme fits perfectly into this themed birthday party which is a neat knit dress with a strapless gown and circular skirt with fixed cape.
This tutorial will guide even a layman in stitching and dress designing to stitch a perfect Elsa gown that is sure to rock the birthday girls evening with friends and neighbors in this frozen themed birthday party.
12. Frozen Party Necklaces Favor
You cannot fall in more of a deeper love than this frozen birthday party specific favor necklace which can be made by you with 'Do It Yourself' tutorials. This makes for an Anthropological birthday party theme as it me made up of various beautiful animals themes by Melissa and Bev at Polkadot chair and Flamingo Toes.
You can be one with little efforts by collecting attractive Artic Animals box full of these and this should make for a perfect frozen birthday party themed gift. When you are making this necklace all by yourself with the help of DIY guide and little guidance from elsewhere, you need to bear in mind that its more of a creative job rather than a labor intensive task.
If it's a necklace then it has to be sparkling and glittering and plenty of them hence, you need to choose your raw material on those lines like metal pipe cleaners, tulle, silver, ribbons, stickles etc.
13. Birthday Ice Skating Cakes
Just in case a very strange idea struck into your mind like having your kid's birthday party at a ice skating ring then there is no question about the theme of such birthday parties. It would obviously be a frozen birthday themed party and your cute little daughter that you love so much is going to ask for something that you hardly ever expected.
It's probably a challenging task for you to find any idea at all to decorate a place like an Ice Skating Ring for a Frozen Themed Birthday Party for your daughter. But, it comes just once a year and you sure are going to have to satisfy her with her desires perhaps, squeeze out a way to search out an idea to create a superb décor on the planned theme.
One of the simplest and best fitting ideas would be cup O cakes along with birthday party bags beautifully decorated with a pile of snowflakes which you probably could cut from one of the silver cardstock with your Cricut.
14. Birthday Party Inspired By Frozen
This is going to be one the cutest birthday party ideas so far that is inspired by frozen birthday party themes with an amusing floating Olaf doll on the top in a Jello. It looks so attractive and lovely and is packed with plenty fun birthday party fun ideas to enjoy and entertain throughout the birthday party.
You can look forward to many birthday party events in this frozen birthday party kit like; white table tree décor, yummy Anna cookies, dark brown tulip chocolates, Olaf Jello Salads, Olaf doughnuts etc. This frozen themed birthday party has become a sensation in the United States and everyone is loving this décor and arrangement.
A better thought would be replace the traditional candles on the cake with something more healthy and creative such as something that everyone will enjoy and not be hazardous.
15. Frozen Birthday Party Snack Mix
If you are in search for some simple and easy frozen birthday party theme snacks and meals then you are in the right place. Don't have to look any further because the perfect birthday party snack mix is her and it's called Sven's Mix Snack which will make the birthday party a grand one and you can promise yourself that.
This idea is perfect for more than one reason because it is easy and simple to prepare, at the same time is sure to create a great impression for guests all through the party. The taste is simply yummy and you will everything gone by the end of party for its spicy and sweet flavor and for the kids it would be a good idea to pour in fancy paper cups because that's how they love to have.
Now, you are all geared-up to prepare the world's best frozen party snack and here's how; just mix all the ingredients of the pack and shake well, now your snack is ready and should be good for about 20 kids if served in fancy cups.
16. Frozen Birthday Ice Castle Cake Ideas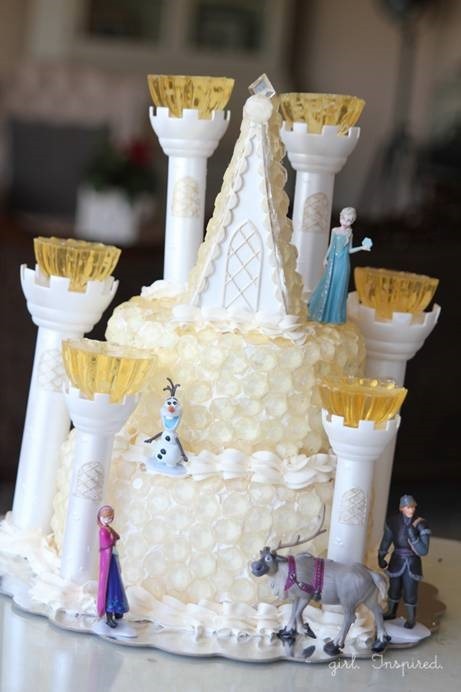 A frozen birthday party cake for an occasion like summer frozen is more of an art kind of a task rather than labor intensive and it's all going to be quite impressive. The idea is so fancy and creative that it can't be conceived at one and will be built one step at a time like an 'Ice Castle'.
You can comfortably use a Wilton Castle Kit and one of the Styrofoam base for the huge cake. The cake is going to be somewhere over 7" in height and hence, you would need one 2-layer at least seven inches lemon cream cake for a castle this size. The cake should be dearly decorated and hence we need some jewels of hard candy that should be prepared one after the other batch.
Making a hard candy is one of the simplest and quick tasks in this process, by heating a cup of sugar granules in a quarter cup of plain water, mix 2 table spoons of corn syrup. Once this is in place add mild heat till the temperature rises as high as 300 degrees.
17. Frozen Birthday Snowflake Inspired Cake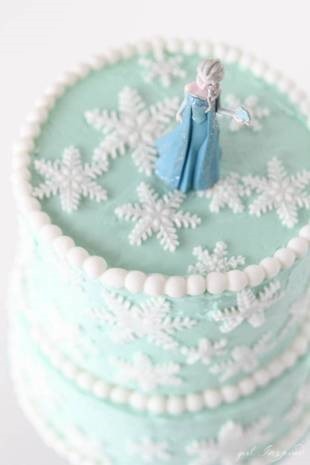 I once upon a time tried preparing a snowflake pastel aqua blue cream frozen cake for my little daughter's themed birthday party. I brilliantly used a Fondant Wilton decorator which found very easily from Jo-Ann and found it just fun having to do because of the ease of doing this job.
All I would do is to clean the work surface with some cornstarch and lavishly spread out a 1/8 inches thick sheet of Fondant. To make sure that the snowflakes don't stick to it we also dust them off again with Cornstarch as the patches are made of plastic they are unable to slice-off shape as a metal-cutter would.
However I fairly enough managed to get a clean punch by wiggling it to and from in the Fondant which did the trick. This way things worked much effectively and I was able to press the punch on the counter at a clean place by lifting snowflakes up from its place. I smartly enough discovered that we can get the snowflakes pushed out of the cutter by pressing the lever over the punch very easily. Normally there are various sizes out of which 3 are popular and we were successful in producing plenty sizes and varieties.
We can always use the snowflakes when they are not yet dried-up and are soft but, snowflakes usually dry fast on a parchment paper or solid wax. And hence, we can make a piece of frozen themed inspired snowflake party cake, of course.
18. Jello with Olaf Floating
What a wonderful themed birthday party was it with Olaf floating on Jello and many more fun themes and party ideas to make this party an incredible amusement and hit.
This is not just a birthday party theme but also consists of watching your favorite movies and also includes some yummy such as; tulip darling chocolates, Anna cute cookies, white table tree décor, Olaf fun Jello Salads, cute little doughnuts of Olaf etc.
19. A Frozen Themed Birthday Party!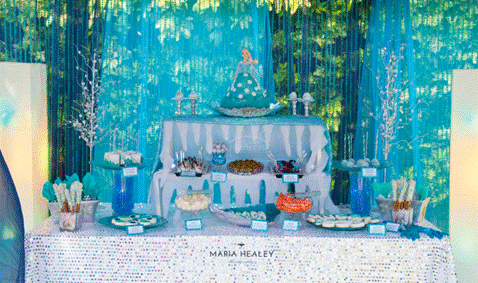 This hamper pack of Frozen Birthday Party Ideas is packed with sheer thrill and amusements that one could only imagine or think of. It has everything from storytelling to melody music like 'Let it Go' which sings at regular intervals to make the party more fun and amusing.
To add-up there are videos for small kids like singing that popular numbers all over the internet. Even the most talented singer and lyricist on earth Kylie Minogue had to choose this number for her angel daughter's frozen party birthday theme song.
20. Frozen Themed Birthday Party by Adriana Somma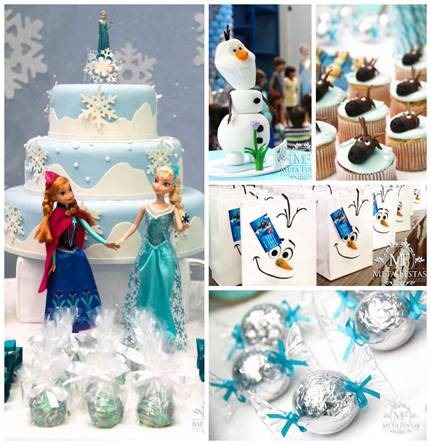 What a lovely birthday part it is! The wonderful blue and white themed frozen birthday cake steals the show for the evening which is completely covered with snowflakes.
It sheer fun and amusement all the way and the kids are having a gala time because the atmosphere is vibrant with the perfect birthday theme for frozen party. This birthday party is loaded with tons of frozen birthday party ideas to thrill one and all right from infants to seniors.