Last updated on June 3rd, 2022 at 11:49 pm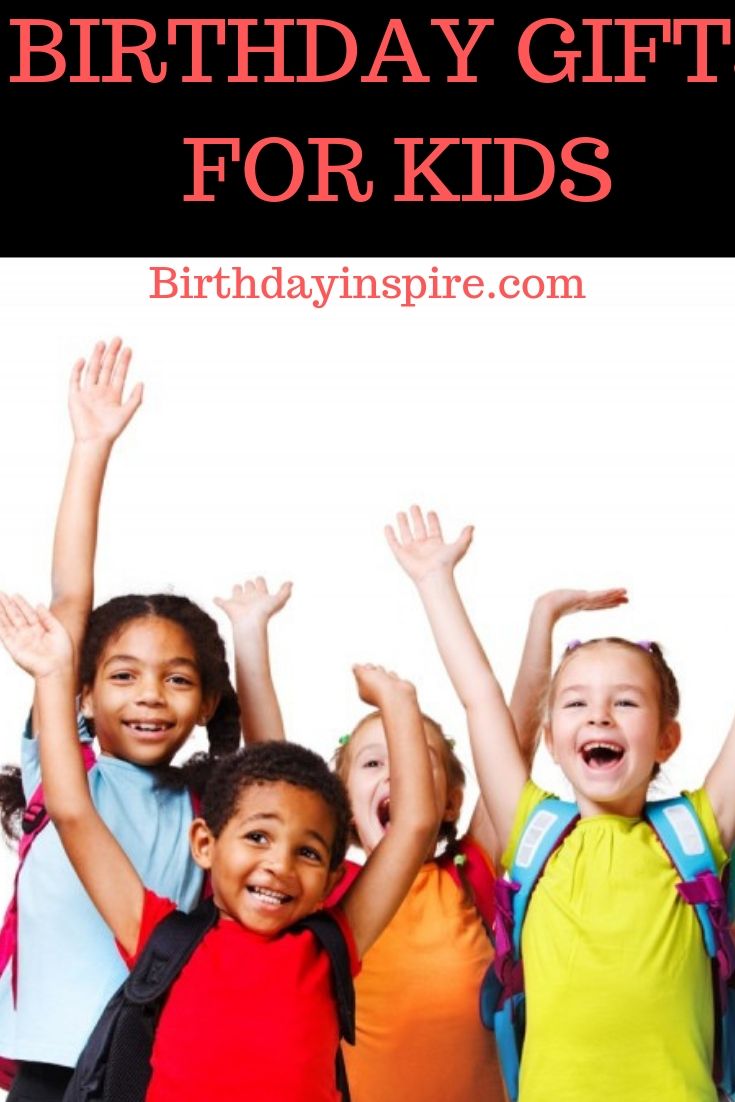 ---
Well, there is the world full of possibilities to choose an appropriate gift for a young toddler. With multi-million options available in the market, at times it can be an intriguing affair to opt for the best ones for the delight of the young children.
The gifts can vary a long time from toys to accessories that can be carried to school, or in that case even new clothes and sports equipment that might inspire to take up some sport. So it is best to know the child's interest before coming down on a solution.
To ease your process of selection, we gathered gifts from a wide variety of options that could suit every choice and taste of young and growing toddlers.
33 Wonderful Birthday Gifts for Kids
Kids love gifts and you should be smart enough to pick right birthday gift for kids. You may be planning a birthday party for your kid but gifts make it more memorable for a longer period of time. Today I am going to share with you some of the best kids birthday gift ideas, I am sure you will love these gift options.
The Jenga Wood Block Game is a perfect toy to improve concentration, built dexterity skills and hone your child's problem-solving skills. Not only that, but it is a fun game which can build a good rapport between you and your child.
It can be enjoyed from the edge of the seat without much physical activity. We recommend this gift because it encourages your child to build his skills and concentration level in a fun way. Entertainment that can sharpen intellect should always be welcomed.
Star Wars have been the most loved super-fictional series right from its inceptions. From its radium sword like sticks to the masks, every toy has become a phenomenon in the toy stores.
In case you and your child is a Star Wars fan, we cannot find a single reason why he wouldn't like an official accessory from the franchise.
He would love to flaunt his mask amongst his friends, and as time passes by, it can take a corner of your cupboard as a memorabilia.
The growing technology, access to the internet, and the overuse of the idiot box, television has deprived top-notch fitness of the young toddlers of today's generation.
Also, their attraction towards junk food has brought down the immunity level from the children. Therefore, to inspire our children to sweat out in the backyard, a stylish bike can do the trick. With its quirky design, hope that your child leaves the couch and gets fitter by cycling his way out. This could be one of the best birthday gifts for kids.
Uno has been the all-time favorite game for people of almost all ages. Children love it the most as it is very easy to learn and brings in a great sense of entertainment and excitement.
Up the action by gifting your child an Uno wild jackpot game which has a roller wheel to add to the vintage game of Uno. There are also some rewritable cards available in the set which allows you to write new rules. It is a fun game, and children enjoy it to the fullest.
The Pictionary Game has established its place in quite a few parties since its inception. It is utter quirky, and children love it to the core. Add a sense of laughter and excitement by gifting him the Pictionary set which includes drawing boards, markers, and a few hints.
Let your child express his feelings in drawings, and see your child and his/her friends have fun while they guess the character they draw. It is a wonderful game to get the party started.
This is an extreme fun game which is more enjoyed by the people around the age of 9-10. It is a simple game of comparisons which is inspired by a popular party game. It can hone your children's vocabulary and help him become competitive at the wittier level.
Children won't be bored of the game even after a week or two of continuous playing as it comprises of 576 different cards. It adds to the thinking skills of the young toddlers.
Inherit the love for music within your children y gifting him/her a guitar. Nurturing a hobby that requires you to do something productive can be fruitful your children's future.
Not only that, the guitar classes might develop a deep love for music which he can inevitably use to carve a career out in the stream. Both guys and girls, who have a little bit interest towards music will appreciate the gift.
Yet another board game in the list. This indoor game has been the best seller in the toys department for decades now. It is a fun game to play with your family and friends.
It can hone observation skills in your children and also make them smarter and cunning with the daily small businesses. It also helps the children with the basic math and carving game plans. It makes a perfect gift for toddlers around the age of 8 to 15.
Well, it can be a tricky gift for a toddler who gets bored without a reason. Anyway, our main reason to mention it in the list is due to its efficient brain challenging techniques and to identify colors.
The game requires basic math to solve, and once mastered, you child might want to flaunt it amongst the family and friends. This one is strictly meant for the geeky kids who love such challenges.
Basketball is much-loved by the children and people all around the United States. A portable basketball for children will inspire them to indulge in some sort of physical activity while they try to make baskets.
The fact that is portable and lightweight, it can be carried away wherever you want. Whether it is your backyard or a picnic, its lightweight makes it feasible to carry the loop. Your child might not want to stop shooting once you gift him the basketball hoop.
Scooters have come a long way from the day of its inception. From the manual ones to the newly introduced automatic ones, the thrill has ascended a long way from the basic versions.
It is one of the exceptional gifts for kids that will help them commute with minimal risk. It is equipped with advanced technology that allows kids to accelerate and balance at greater speeds. You can glide on the roads with the help of this automated scooter.
Caster Boards, the inspiration totally derived from the skateboards is the new fad. The caster board is unlike any other regular skateboard but just offers a better balance.
It is quite a popular toy in the United States to commute, and your boy or girl is just going to fall in love with it.
Also, it encourages physical activity from your child and also helps them explore the dynamics of the body balance. Children love innovation, and this one is certainly up for grabs.
Present day children are very much attracted towards the technology. And this highly rated toy should be probably on their wish-list. They'd be pretty much excited to receive a drone as a gift. The remote controlled drone is an exciting toy to fool around with.
I have seen grownups go crazy about it. So it is needless to say how children feel about this advanced piece of technology. Watch your child fly the drone and enjoy his playing time to the fullest. It would be one of the best kids birthday gift ideas.
It is simple a game of scrabble just packed in a pouch with the shape of a banana. Unlike the ordinary dull board, the pieces of scrabble come in a quirky banana-shaped pouch that can attract the young toddlers.
Also, the scrabble can be an interesting game for the children to improve their vocabulary and polish their intellect. Although boring for few, it can be an interesting gift for someone who loves reading.
Binoculars can be an exciting accessory to hand to the younger ones. This gives them the freedom to explore the dynamics of glasses and physics at a very young age. The fact that it is shockproof and has rubber ends makes it extremely safe for toddlers.
So while you are out on a picnic or just loitering in the backyard, your child would want to notice the nature and the birds every time. Binocular is a good gift for children if you want them to inherit bird watching skills from a very young age.
Walkie-Talkies are fun to play with. And children who love to fidget with technology cannot ask for a better gift than this one. It is a fun device to play with amongst your siblings and friends.
This walkie-talkie has the ability to communicate over the 3km range in open areas. Your children would love to have this in their toy section. A worthy collectible, it can prove helpful for your children to play detective games.
What better sight than to watch your toddler jump and hop in the backyard instead of being glued at the front of the television screens or video games. This toy encourages your child to indulge in some sort of physical activity instead of him/her being a couch potato.
It can take a lot of weight on it and makes a funny sound allowing you to count the number of hops. It is one of the strong, safe, and a perfect birthday presents for kids of any age.
For some reasons or the other, children love tents after all the stuff they see on the television. They not only hide their toys inside it but at times also make it their special place.
Therefore, by gifting one such gift, you allow your child to explore all the possibilities with the camp. Also, it can be helpful when you and your family decide to go in the woods for a short trip.
It is a wonderful game that can help your kid build on his reasoning and planning skills. Also, the game helps your child to know the dynamics about gravity.
It comprises of a game grid, 60 challenge cards, and one target piece, and three marbles. It requires you to plan and build structures to complete the maze and hit the target with the marbles.
Introduce your child to the world of electronics by gifting him/her this wonderful kit. The kit is complacent enough to educate your child about the subtleties of electricity in an extremely fun way.
By gifting this to your child, you give your kid the opportunity to learn about transistors, resistors, capacitors, electric current, and much more.
It comprises of 50 different electronic projects which help your kid to learn while he fiddles with it. This set is a great solution to keep your child busy and hone his intellectual capability.
It is a fascinating toy that can amaze your kids to the core. The blast pad missile launcher requires your kid to jump on the Launchpad to watch his missile sail in the air at 90 feet per second.
This gives your kids some sort of physical activity as well alongside some thrill and enticement. The heavier your jump, the higher flight your missile will take. However, this toy is recommended for children above 10 years old.
Kan Jam Illuminate Glow Game is your regular Frisbee game but with an extra dash of light on it. These discs are visible in the darkest hour of the night due to the radium presence. Glittery things are most loved by the children. And we are sure he'd love this too.
While there is a party in your house, your child and his/her friends might have a quality time playing with this illuminated Frisbees in the backyard.
Hoverboards have been the new trendsetters in recent times. For a kid around the age of 8-14, hoverboards are exciting for all they are electronically operated and maintains good balance, unlike skateboards. They can smoothen your kid's commutes.
The hoverboard is inherited with a no fall technology and allows its users to speed up to 12MPH. This gift would be loved by any young toddler as it would make them feel cooler amongst their friends.
Aiming at a target with little or much competitiveness has been an amusing practice from the inception of mankind. People of all ages, big or small, love playing darts. However, the regular darts can be unsafe for the young toddlers due to its sharp tips.
Therefore, Doinkit produces darts that are specially made for children. With magnetic blunt tips and an easy to hang dartboard makes it a spectacular gift for kids. It also helps to develop children's hand-eye coordination.
Children find amusement and laughter while they bump things or even themselves. These sumo bumper boppers let the children seek their happiness. It is a soft thing to wear around and dash the other counterpart with it.
Young toddlers have fun while they bump and hop on to each other in the backyard. This gift would be me much appreciated by the young children, and as parents, you'll be happy to see your child indulge in some physical activity.
If you are looking for birthday gifts idea specifically for girls then here is the best birthday gift options for girls.
Trampolines are much-adored by the children across the globe since their inception. Backyards are full of them in the summers, and toddlers love jumping and hopping on them.
They'd appreciate a trampoline being set up in the backyard so that they can have some jumping and hopping time whenever they feel like.
Also, it is better to have your kid jumping in the open and sweating it out then to see him hurt his eyes with television screens.
Slap Bands are quirky, and kids love quirky things to the core. It is an appropriate gift for both boys and girls, especially for the ones who are involved in some sort of sports. It is lightweight, glows in the dark, and can be worn in heavy rain too.
Also, it doesn't burn even the tiniest of a hole in the pocket as it is available on the market at extremely cheap rates. Along with its water and sweat resistant features, it is portable, built with soft materials, and therefore, user-friendly.
Well, it wouldn't provide entertainment to kids like many other toys, but this accessory will surely keep him engaged for a lot of time.
He can wear it is a watch in the school, during his play-time, and while he is out, and in the end, he can go through all the statistical data that accumulates in the fitness tracker.
Growing kids are at the peak of their curiosity, and this gift would surely get their curious minds constantly wandering about the data recorded. This is one of the suitable presents for kids.
Many children have the habit of making a corner of the house their favorite place. This child pod swing can add to his much-loved place in the house. He/ She can spend his/her time in the swing while studying, playing video games, or remote controlled devices.
Your child would appreciate the gift. If not, it can always serve him/her as a laundry basket. So it is a safer option for you to buy this as a gift for your children.
Gift your child something that he can engage with for a very long time. Hookey Ring Toss Game is just that. Your child will be entertained to the fullest while he tries to put the rings on the hooks. It would take a very long time for him or her to master the game.
Therefore, you need not to worry about the time spent on it by your child. At times, even you can join him for a game or two to get the competitiveness out of your child. This is one of the best gifts for kids.
Soccer is the most loved game on the planet, and this soccer set nurtures your child's passion towards the game. The soccer cost comprises of two portable netted goals and a size 4 football which allows your children to have a game of football right in the backyard.
Also, it inspires your children to stay fit and sweat it out in the sun instead of being a couch potato. It is a most preferred gift for boys, but many girls love it too. Hope Solo can be a good example for them.
A bag would be the safest gift of the lot to present to a kid. It can be helpful to the toddler in every way possible. From going to school, tuitions, and other classes to attending any sports practices, this bag can be handy at all times.
Also, toddlers can carry it with them to picnics, camps, and other outings. These bags are available in several color options at the market. Therefore, it wouldn't be a problem to buy a bag according to your kid's choices.
33. Hairy Glasses Lightning Bolt T-shirt for Kids
Harry Potter ruled for entire two decades with one after the other outstanding movie releases. Ever since the time, Potter has been most children's favorite on-screen character.
A t-shirt with quirky Harry Potter graphic on it would be an awesome birthday gifts idea for boys as well as girls. The fad that Potter generated is unmatchable. Therefore, it would be a perfect gift for young toddlers to present them on their birthdays.
The concept of the T- shirt is exceptional, and at very affordable price, it makes a likable gift for the giver as well as the receiver.
Now that you have so many options in front of you, it would be easier for you to select a gift for the children. You just have to consider your child's choices and taste and select a gift according to their requirements.
From quirky toys to toys that boast intellect, we tried to mention gifts that would be loved by the children and also hone their basic skills. Thank us later, but for now, think about what you are going to gift to your child on his upcoming birthday.