Last updated on February 21st, 2022 at 07:18 pm
Here you will find some of the best 40th birthday gift ideas for her that you are looking for.
Flirty at forty! Naughty at forty! These are the common associations with a forty year old. Turning forty is an interesting phase in the life of a woman. It is the decade in which she can totally look after herself and dedicate all her time to her own self, her interests and her career.
Twenties and thirties in most cases demand a lot of time from her life, as she goes through various changes in her life. Career, marriage, kids and toddlers occupy most of her these two decades.
So, forties is the time when she can let herself loose and enjoy.. tick off some items on her bucket list, pursue some of her interests and hobbies, and strengthen her bond with her kids who are no longer attention seeking toddlers.
If you are looking for an appropriate birthday gift for that gorgeous woman in your life who is turning forty, then think through all of the above factors, so that the gift you choose for her is totally appropriate.
For working women, this is the time when her career will really kick off. She would be in the reckoning for higher positions in her organization, and would have seasoned into a super confident professional. This is the decade when she will really shine through before she hits her fifties and becomes a veteran at work.
If twenties and thirties were tumultuous on the home front, forties will be the same at the work front. So, whether you are a man or a woman looking for gifting solutions for that special woman in your life, go through these ideas that will help you in choosing the perfect gift.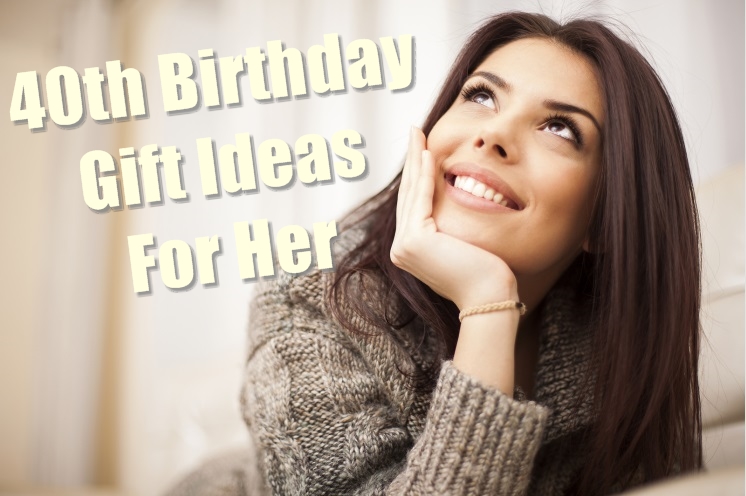 25 Recommended 40th birthday gifts for her
Here are some mixed gift items that you would definitely like to explore. I have tried to give you different options i hope this list will help you plan a perfect gift for her.
40 the age when she would be starting her second phase of life, so why not make it more special by gifting her the silicone baking mats. This comes in a set of 3 and can be used for baking small bakes like biscuits and cookies.
They have the non-sticking qualities so she would not need any greasing on them and can directly use them in the oven, without any food being stuck or wasted.

She is 40, so actually, her new age 20's have started, so give her something fresh and youthful. The 10-ounce birthday flask is the perfect gift for her as she is can keep any of her drinks or beverages on it. I
It comes with two shot glasses made of granulated grade A class stainless steel. It is light and can be carried easily anywhere with the drinks in it. So now she would be able to have her own party and have the privilege of carrying her own drink with her.

Make her morning more floral with the TIANG flower mug which is the best gift for her when she is starting her second phase of life. It is designed with the lovely chrysanthemum flower on it as the handle and the subtle touch of nature makes it more luring.
Made of clear glass and durable this makes the gup more fascinating and beautiful. So just put that extra smile on her face and then see how she rejoices with the smile.

Jewelry has always been the best friend for women so just add a new friend to her list this tear by gifting her the Hypoallergenic purple drop earrings. The smart and classy solution to all her stylish looks in future.
These would surely make her look like a diva and also help her balance smartly the professional and personal scenario with confidence and poise. Jewelry do add confidence in ladies so just give her that extra confidence in her second phase of life.

Photographs are the memory holders and when you can gift a beautiful and classy leather covered album with a scrapbook to pen down those photo memories then nothing like it.
There are total 60 pages in the album an more than 100 pictures can be added in it. The scrapbook comes with a special surprise gift in it, a metal pen to write down her experiences and the memories she is saving through the photographs.

Finger rings a classy way to show confidence and beauty, so now with the silver genuine ruby and opal woman's band ring, you can gift her that love and beauty which she deserves for her strength and poise.
It is made of real sterling silver the precious metal from England and makes every second of wearing worthwhile. So just bring that extra sparkle in her life and make her smile with everything around.

Gift her some good health when she is starting her 40's, with the original bamboo tumbler with tea infuser and strainer. Made out of 100% organic bamboo this would be ideal for good health, and the tea infuser and strainer will make her morning fresh tea much better.
So now with nature on board and the organic 17 oz tumbler, her life would be fit and sturdy with full of energy to go with.

Scarfs add-on to a new age fashion which can be styled with any form of wear so now with the new women's plaid infinity scarf she would be able to enhance her fashion a little bit more to hype it up.
Made out of 100% polyester and breather soft textile this scarf would be making her feel at ease and comfort, especially in the summer season. It comes in various different colors and this also gives you the opportunity to select her favorite color.

It is said that at 40 life starts in a new way and it is the second phase of life on the go, so why not make her second phase with some  guidance book of quotations, the Guide to Life for Those Just Starting Out…and Those Already on Their Way is one choice which would full her days with some inspiring quotes and would surely help her to focus on life in a new and enriched way. It is the perfect way to see towards a new happy life for sure.

Sometimes we fail to express our emotions to the one whom we love the most, so then words are the best way to express those emotions. The personalized print gift would do it for her.
On her 40th birthday express your love and feelings through words imprinted on this paper print, with additional photographs and some memories of their past to refresh her happy times once more.

Necklaces are always the best to adorn her beautiful neck, so the blue topaz 4 rings necklace would surely redefine her beauty. The rings are entangled within each other and can make that effect.
Made out of pure sterling silver this necklace is the best one for the loved one. The simple yet pure topaz would bring out all the emotions hidden in her heart and make her second phase of life full of sparkle and smiles.

Wine is to escalate the memory and the photo frame to save the memory, so in a way, this package is a full perfect unique gift. The crystal clear glass with the writing of being 40 and the silver frame for protecting the picture is a duo to be celebrated.
Just order it and this package would surely be her favorite and with some wine, she can go back to her memories seeing the perfect picture of her happy life in the frame.

She must be spending most of her day in the kitchen as cooking is one of the passion and duty for women be it working or housewife. So now make her cooking sessions more colorful and fun with the new Cosmos kitchen knife set in gift box.
It comes with 6 different sizes of cutting and chopping knives and the colorful prints on them would surely be making her food addon with some extra taste and love.it is safe and the sharpness would not harm her delicate finger while helping in the chopping faster.

Messages are believed to be the best way to say things which sometimes loses words when you want to in front of her. So on her 40th birthday gift her this beautiful message in a bottle gift which would hold a lovely message in a 12-inch ling crystal clear bottle sealed with the love message in red, and comes with a parchment paper roll bound with red ribbon.
The parchment paper in printed with personalise message which you would be wanting her to cherish for eternity making her second phase of life more exciting and happy.

This kitchen gift is going to make her love you more, as cutting vegetables is sometimes a tough job so now with this personalized wooden cutting board she would have her imprint and east hassle-free cutting. Making her kitchen time full of joy and smiles with tasty food to come along.

16. The Year You Were Born Trivia Print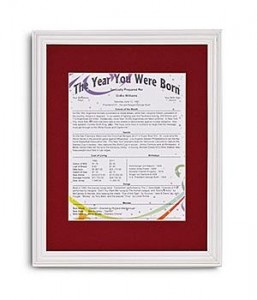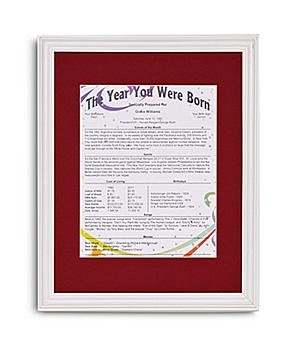 This personalized frame consists of all the important happenings of the year that you were born. It is done in newspaper print style so as to appear the major highlights of the year of your birth.
There will also be a brief description about the headlines on the leading papers on the day you were born which makes it even more special and meaningful.
17. Anthon Berg Dark Chocolate Liqueurs With Original Spirits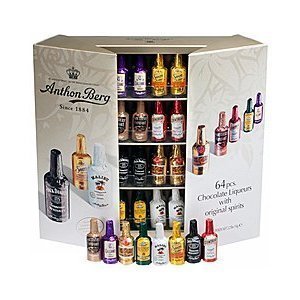 If the birthday girl is a connoisseur of chocolate or liqueur or both, then this becomes a delightful gift for her. The box contains 64 pieces of chocolate with original spirits.
Each time she would relish the chocolate, he would thank you for being so thoughtful in your choice of the gift.
18. Birthstone Silver Bangle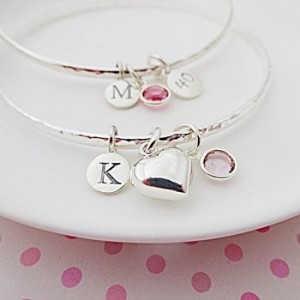 This bangle in sterling silver is unique for two reasons. First, it contains an initial disc, and second it has your birthstone. Both of these are in the form of hanging discs, and as per the choice of the lady, you could also add a heart shaped charm or any other shape with these two. This is a perfect bracelet and can be worn daily also as sterling silver stands the test of time.
19. Initial Tile Box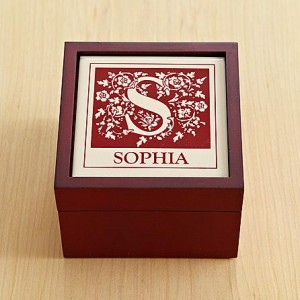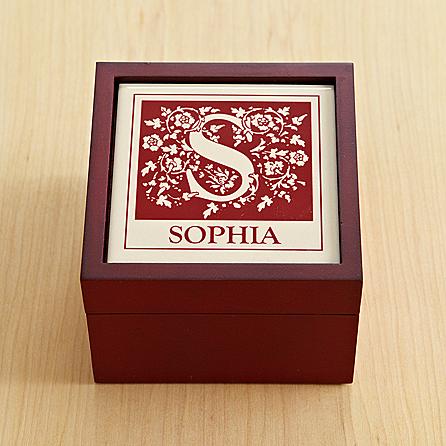 This tile box is a simple 4″X 4″ tile inset box with felt lining and a protective felt bottom. This box comes with a hinged cover and can be personalized with the initial of the person and his name on it.
This is the safest gift for someone you know is very choosy and would not like something in apparel or jewelery. This box can be used as a utility box or can be just for decorative purposes.
20. Personalized Adult Erotic Novel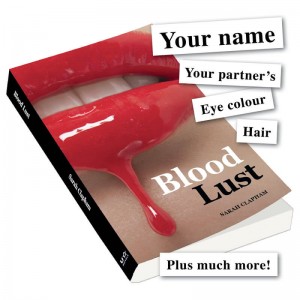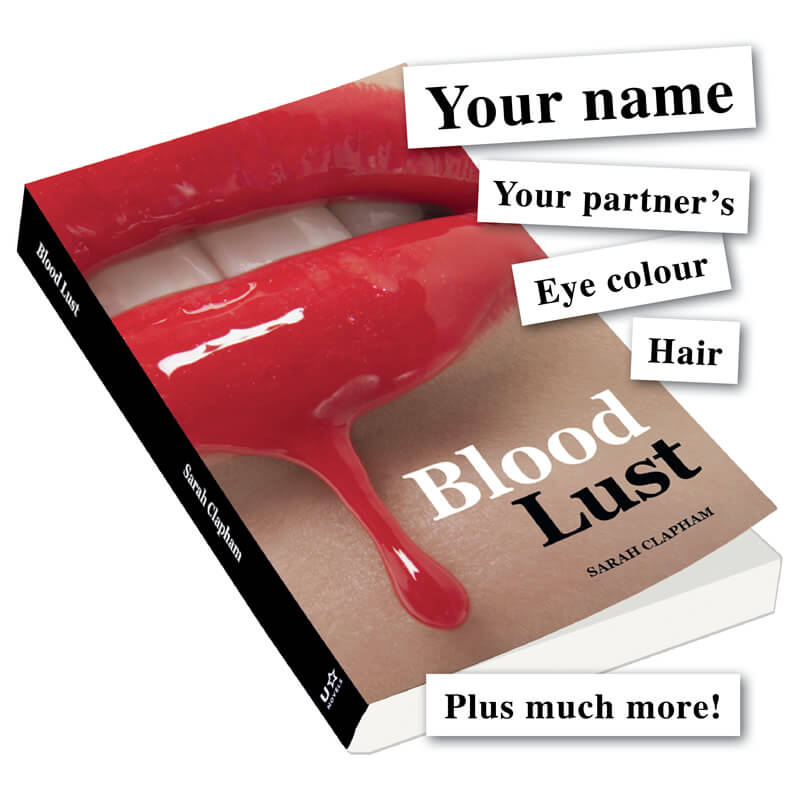 This unique novel from U Star Novels is a naughty and an innovative gift. So, if you are looking for a gift for a book lover, then what better than making her the star of the book.
This is a personalized novel where you can send in her name, her partner's name, colour of the hair, colour of the eyes and other details needed for the story, and the book comes to you with all this information incorporated in the story. Isn't this cool?
21. 40th Birthday Memories Keepsake Book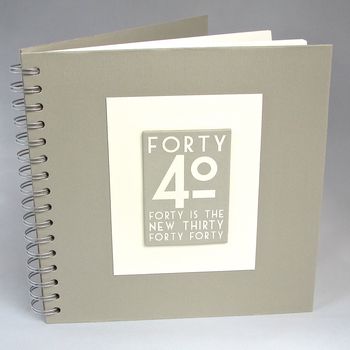 This 'Forty is the New Thirty' album comes with 15 thick pages for you to write about your memorable 40th birthday. You get a freehand to write whatever you wish to in this book, memories, incidences or you could even stick photographs of your birthday bash. Use it to create a record of your memorable landmark!
22. Silver Gold Neckpiece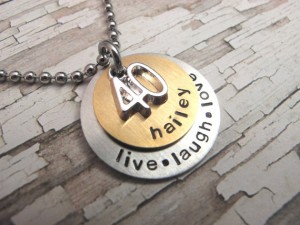 This is a beautiful neckpiece that contains a silver beaded chain and a pendant. The pendant can be personalized with the name of your loved one.
The message of 'love, laugh, live' remains the same. A truly simple philosophy applicable for everyone, and therefore making the neckpiece common and unique at the same time.
23. Art Of Appreciation Gift Basket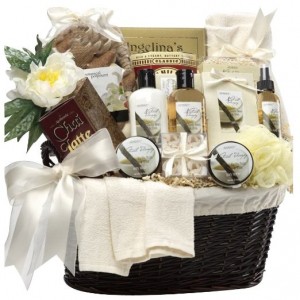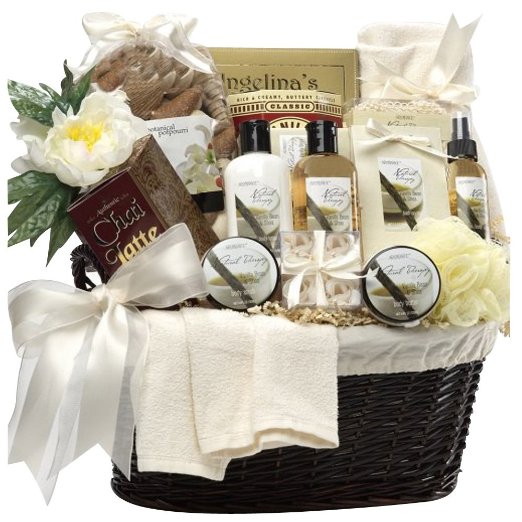 A handcrafted gift which contains a basket full of luxurious spa collection. This ensemble includes vanilla spa products, sweet butter cookies, handmade caramels and café latte kept together with ribbons. A personalized gift message just makes it even more desirable.
24. Grow It – Bonsai Tree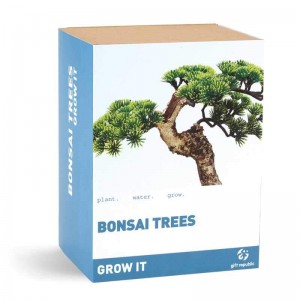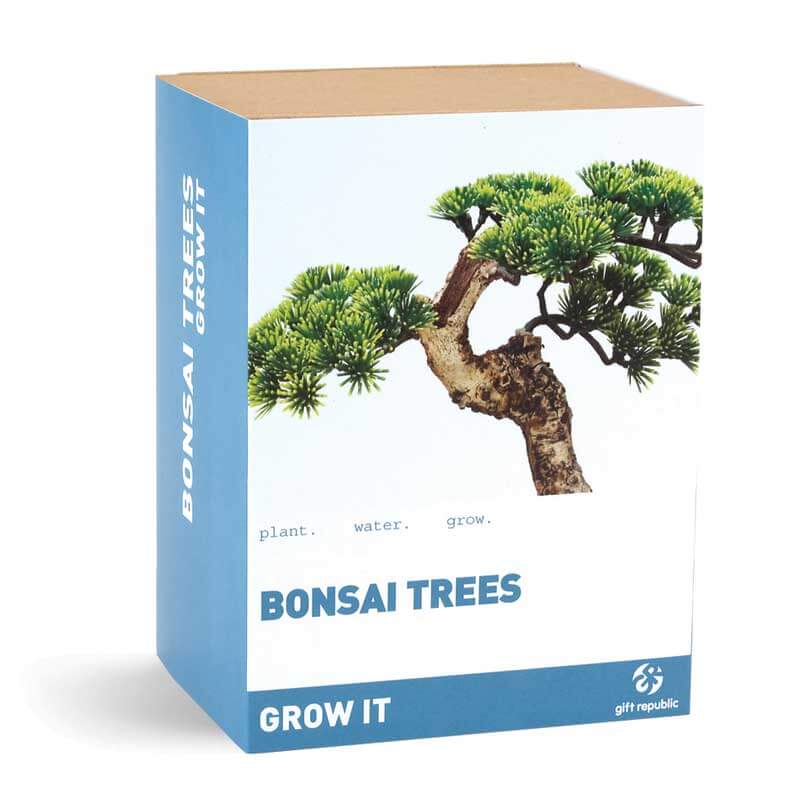 A unique gift that contains the entire kit for growing bonsai trees. If you are looking for a gift for a person who loves to grow plants, then this is the perfect gift!
The art of growing bonsai trees is different than regular plants, and so this gift becomes unique in its own way. It will be one of the best favourable 40th birthday memory idea for her.
25. Mulco Stainless Steel And Light Watch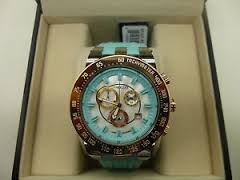 Watches are always in vogue and with a watch as stylish as this one, she is surely going to get impressed. The watch is made of stainless steel in hues of rose gold and ocean blue, giving it a very soft look.
The reflective dial and the analog display give it a chic and a modern look, and so makes it perfect to match with all outfits.
26. Colorful Margarita Glass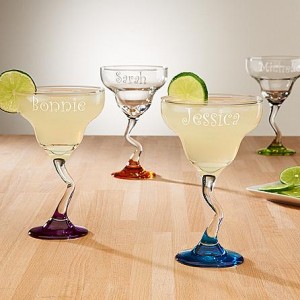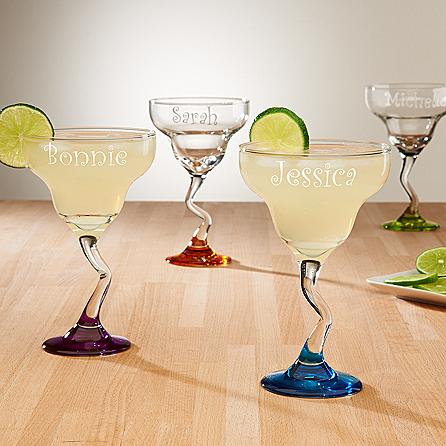 These set of 4 margarita glasses are made of clear glass with a curvy stem and a colorful base. These can also be personalized with your name or the name of your family members – one on each glass. The design of the glasses will absolutely floor you and you will instantly buy it, if not as a gift, for your personal use.
27. Days Old Mugs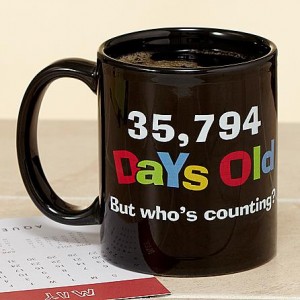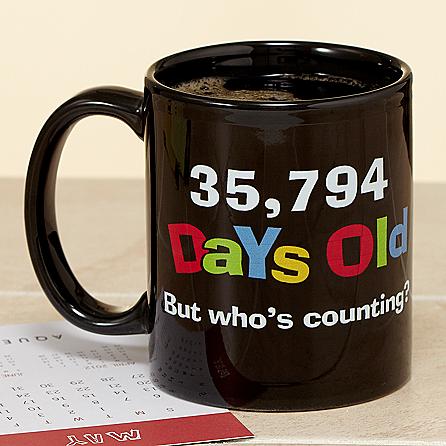 A steaming cup of coffee is enjoyed best in a personalized mug. Gift your loved one a mug that mentions the number of days that she has spent in this world. Looking at the number, one would surely feel that 'age is just a number'!
28. Penny Coin Beaded Bracelet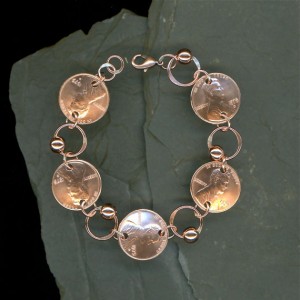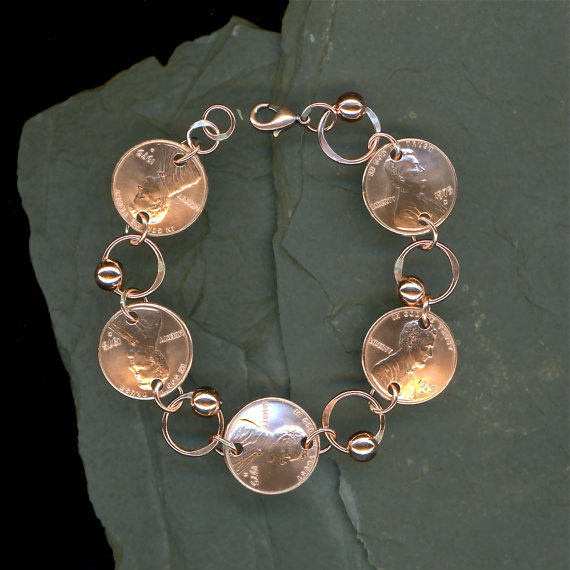 This bracelet contains real pennies/coins of the year of your choice. This can be worn regularly or kept as a collector's item, depending on the choice of the person who received the gift. The entire bracelet is linked together aesthetically with copper wires and hammered links, thereby making it a beautiful piece to own.
29. Eyezone Massager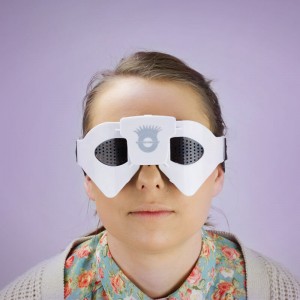 Perfect for soothing tired eyes, this eyezone massager is a total stress reliever. In today's world, when most of our time is spent in front of laptop screens, television screens and smartphone screens, it is our eyes that need the relaxation the most. What better than this eyezone massager to soothe your senses!
30. Women's Luxury Silk Pajama Set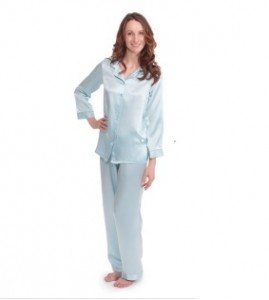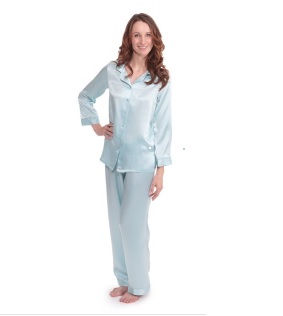 Women love soft fabrics. Indulge her with this soft luxury silk pajama set. This will leave her feeling and looking beautiful! Available in many pastel shades, you could pick up the color of her choice.
31. Italian Leather Brown Weekender Travel Bag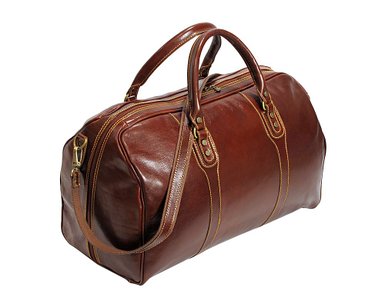 Perfect for a weekend trip, this classy and chic bag is sure to make heads turn when you carry it to your destination. Spacious and soft, this leather bag is just right for your short trips. Gifting this bag will be most appreciated as this is sure to be of good use to everyone.
32. 40th Birthday T-Shirt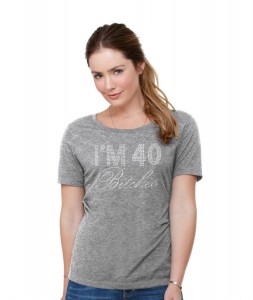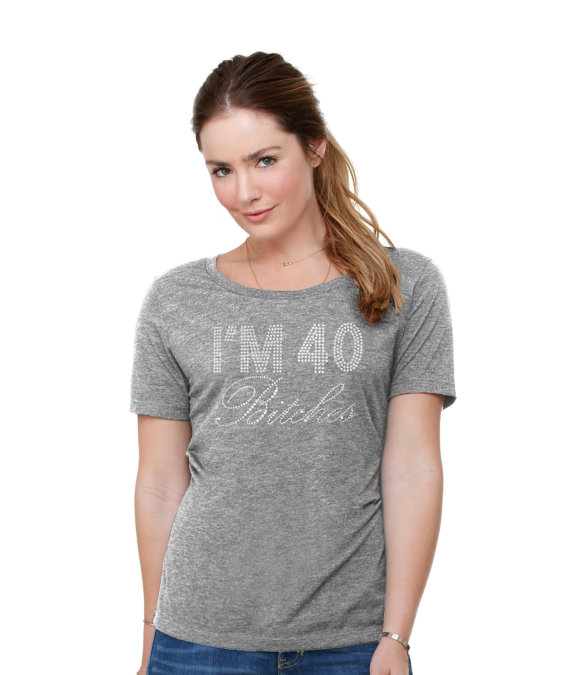 Its one of the most common and best gift ideas for 40th birthday females.T-shirts for your loved one announcing to the world their age! Proud to be forty is what the mantra is and flaunting it in style was never easier than these range of T-shirts, all with different messages. Choose one that suits the personality of the person you are gifting it to.
33. Personalized Clutch Bag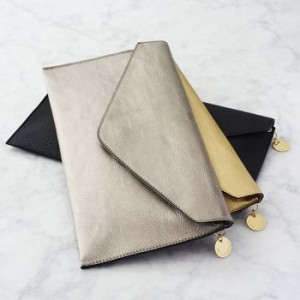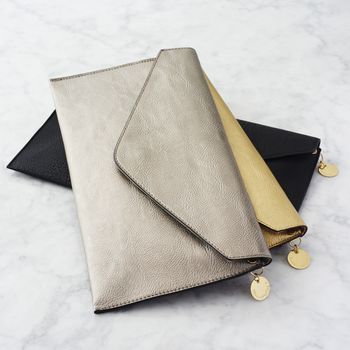 Clutch bags are all time favorites of all women. Gift her a personalized one with a gold disc embedded with her initials and she is sure to love it. It can be teamed up with an LBD as well as a pair of jeans, so utility is just not a concern.
34. Large Paper Clip Bookmark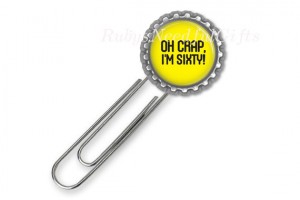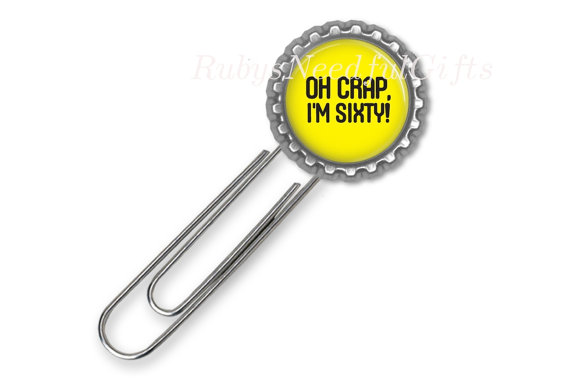 A bookmark with your age on it, symbolic of the many years of experience and maturity, Perfect for the book lover, perfect for the non-book lover too as it can be used as a souvenir too.
35. Yoga Retreat or A Cruise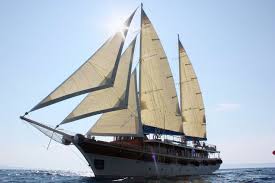 Celebrate the 40th birthday in style by gifting your loved one a yoga retreat in a luxurious resort or a romantic cruise on a ship. The trip and the memories of the trip will surely mark an awesome beginning to her forties.
You may choose any of the above options of gifts on her 40th birthday that you like the best, but remember to pack it with a lot of love, care, and compassion. This is what will make your gift priceless!