Last updated on June 4th, 2022 at 11:13 pm
Whether it's the first time you try party food planning or the 10th time you try to plan a party menu, you'll quickly discover that food planning combines a bit of science, math, and art… all three neatly on one platter.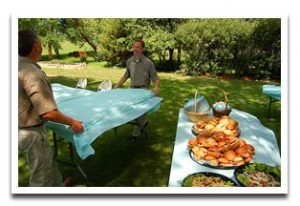 The saying goes that we eat with our eyes. But the truth is, we eat with all our senses! So the perfect party food menu has to appeal to your guests' every sense: with flavors, textures, scents, and your overall beautiful presentation of the food. How you make that all come together is where the alchemy begins!
This page will talk about lots of different elements of party food planning, from how much food to make for a party to how to present what you've made.
7 Birthday Party Food Planning Tips
1. Get an Early Start
Second, give yourself plenty of time. Party food planning isn't something that should be rushed. Not to mention the fact that you want to enjoy your party, not spend all your time rushing around!
Generally speaking you'll want at least 6-8 weeks to think through your party menu planning and ideas. Begin with your party's theme and menu. That way you can shop for bargains. Make a complete list of what you need and start buying those things for which you have space. And get started early.
2. Choose Make Ahead Recipes
Another element of good party food planning is smart food preparation. If you can make things ahead and preserve them, then all you'll need to do is defrost and warm. Or make things that can be stored for a few days before eating.
Some of my favorite party food recipes that can be made ahead of time are:
Blue Cheese and Caramelized Shallot Dip
Deviled Eggs
Ensalata Caprese Skewers
Apricots with Amaretto Cream and Walnuts
Cold Crab Dips
Baked Bries (just assemble ahead and bake at the party)
Marinated Goat Cheese
Spanish Salpicon
Make Ahead Desserts. Plus, any cupcakes or cakes can generally be made a day or so ahead. Even pies can be cooked a day or two before your party and re-warmed before serving. A fussy dessert is the last thing you want to be messing with at your party. Smart party food planning should help you prevent that.
3. Get the Quantities Straight
First, since recipes often have metric portions, always have a good conversion chart handy when preparing party food for your guests. It will take a lot of frustration out of the whole affair and you won't wonder if you're off the mark. Note: there is a difference between fluid measure conversions and dry – make sure to use the right chart!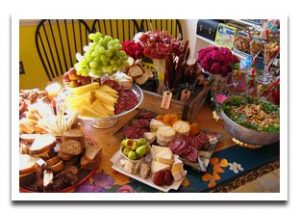 4. Keep 'Em Entertained
The best way to ensure that your party is a success no matter how you go about your party food planning? Keep your guests happy and entertained. If you have quite a few guests that don't know each other –or even if they do know each other!– plan some party games! Put together some:
Fun Icebreakers for a Party (coming soon!)
Party Mixer Games
Fun Drinking Games
Teen Party Game (coming soon)!)
Party games are a great way to keep everybody occupied. that way, you can focus on getting things ready without having to worry whether or not your guests are happy. Because they are!
5. Employ Extra Hands
If several guests want to help with food, decorations, or even napkins, by all means let them! It makes the party feel more special when folks feel involved (this also adds to the excitement). The best way to go about this? Have any guests that want to help commit themselves to a dish or task ahead of time. That way, you know what you have to make and do yourself… and what you don't.
6. Plan Your Table Settings and Decorations
Another important part of party food planning is how everything looks! Decide ahead of time not only how you want to decorate for your party, but also how you want to decorate your table. Unless you're planning a sit down dinner party, you'll probably opt for a buffet. Plan your party food table decorations areoun your party and your theme! Or just make them look nice by being a bit creative and keeping organized. You'll find some great ideas for decorating a party buffet table at:
Buffet Table Setting Tips
Creative Buffet Table Ideas and Photos
Dinner Party Centerpiece Ideas (coming soon!)
Inexpensive Table Centerpieces (coming soon!)
Buffet Table Decoration Ideas (coming soon!)
7. Establish a Cleaning-Up Plan
One thing most people don't give much thought to when doing their party food planning? Ongoing clean-up. But it's important!
When tables are covered with half filled or empty glasses, snack plates, etc. it's a recipe for disaster. Have a plan for maintaining an uncluttered look. Take a moment every 40 minutes or so to do a spot check and remove items that could make a mess and ruin someone's outfit.
If you're having a large party you may even want to find a few people to act as bus-people or the clean up crew. (Remember to give them something for their time and effort– even if it's just a gift that shows how grateful you are. This will go a long way to getting help again in the future!)
Birthday Party Food Quantities and Portioning
One of the most important parts of party food planning is making sure you have enough for everyone– but that you don't go too far overboard. Here are some basics to go by when determining how much food to make for your party guests:
Amount of Appetizers and Hors d'oeuvres for a Party: 5-6 hors d'oeuvres per person for a three hour event; 8 per person for a 4 hour event. Note that if you are having a meal later in the party, you can decrease this.
Amount of Bowl Snacks for a Party: 1 pound of snacks, such as chips, snack mixes, etc., per person. You can allot less if they'll be followed by a meal.
Size of Main Dishes for a Party or Dinner: 1 1/2 to 2 pounds of food per person for the main meal. Make a bit less if you have appetizers and / or snacks before the main dish.
Amount of Fondues or Other Dips for a Party: 1/3 loaf of French or Italian bread, 6 ounces of meat, fish, cheese, or vegetables. 2 ounces of dip per person.
Amount of Pizza for a Party: Depending on other fare, you'll want to allot about 2 slices per person. If pizza is the only offering, up that amount to 3-4 slices.
Amount of Punch and Drinks for a Party: In general, about one gallon of punch will cover about 10 people
Amount of Cocktails for a Party: During a four hour event most people will have three to four drinks. This also includes wine
Amount of Ice for a Party: Pick up one pound per person. Add more if you're having an outdoor gathering, more still if the weather is hot, and more still if it's the only method you're using to keep party drinks cold.
Birthday Party Menu Planning and Preparation
Party food planning is all about being prepared! Sometimes you can stick to a plan and sometimes you need flexibility. No matter what, innovation is a great helpmate. If you give yourself enough time, portion your food properly, create fun icebreakers, and generally come up with a great menu people will be raving about the event for weeks to come.