Last updated on June 2nd, 2022 at 10:03 pm
Ideas for Retirement Parties: Planning a Fun Retirement Party
Coming up with fun ideas for retirement parties can be difficult. You don't always have close relationships with the co-workers involved (ones where you actually know their tastes, friends, history etc.), so can have a hard time planning a retirement party they'll appreciate.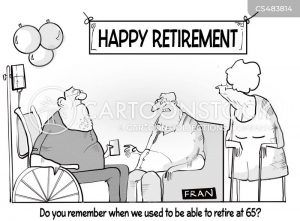 Even if you do know them well, these days the budget for retirement parties is very limited. How can you find budget-friendly retirement party ideas that will also create a good memory for the retiree?
Planning a Retirement Party in 6 Simple Steps
Fortunately, if you go about it the right way, coming up with smart ideas for retirement parties isn't all that hard. All you got to do? Take it step by step, and let things come together naturally. Want some tips? Read on
Step 1: Retirement Party Guest List and Invitations
When it comes to planning a retirement party, you'll want to be sure to include everybody. This is an important time in your retiree's life… so be sure that everybody who should be there IS there. Try to assemble a list of friends, family and co-workers (past and present) and get those invitations out early– and to as many people as you can budget for. This should be a celebratory moment!
Offer a Gift Option. On the invitation, don't forget the option of making donations to the retiree's favorite charity! For many people, this can be the most thoughtful retirement gift you can offer.
If you're looking for some ideas for retirement party invitations, Minted.com has some nice and very elegant-looking ones.
Don't make it a late party. As far as timing goes, try to be considerate to the guest of honor. By the time people retire, they do not necessarily want to party till the cows come home. Make sure your invitation indicates what food (if any) will be served and how long the party runs. Also indicate if there's convenient parking, if there's a specific theme or dress code, and what gifts if any are suggested.
Step 2: Choose a Retirement Party Theme
Of course, the one thing that will guide all of your retirement party planning is your theme. But coming up with a creative retirement party theme can be difficult. Some good ideas for retirement party themes are:
His or Her Hire Year. You can often find a retirement theme idea in the year the person was hired. Go to HR and tell them the basic plan if you don't know the year (or check with other staff who have been there a while). You can plug that year into a search engine and get all kinds of information from clothing styles and popular movies to cars and news worthy events. Note that these details could become the foundation of a fun icebreaker.
His or Her Career Path. Know the retiree very well? Then you might want to build your theme around the different roles and positions he or she has held at the company. Everybody can dress/act as a different role, from Mail Boy to President. Or you can simply put up photos of the retiree in all of his or her different roles at the company.
Company in Mourning. Another fun idea for a retirement party theme is the "funeral." The company is so sad to see the retiree go that everybody will dress in black! If somebody high up in the company is there, get him/her to play along. Have the attendees go up to that person to "pay their respects" for losing such an important employee.
Permanent Vacation. If you're looking for more casual ideas for retirement parties, this one is one of my favorites! Make it a luau-style party, where everybody will wear Hawaiian shirts and drink tropical drinks. After all, the retiree is going on permanent vacation… so this retirement party theme is just perfect!
Step 3: Plan Some Retirement Party Activities and Games
After you've decided on your retirement party theme, your next step is coming up with activities. These should somehow tie into your theme and the overall interests of the retiree. Additionally the activities should somehow reflect the lifestyle change that retirement represents.
Clock-Themed Games. A good example of a "change of lifestyle" game or activity is to take an old watch or clock and bash it to pieces and use it as a prop. After all, they don't have to watch the clock or worry about being on time any more!
Career Trivia. This is one of my favorite activity ideas for retirement parties! Consider creating a trivia game based on the retiree's career. You can work up a whole history and have everyone try to guess the right answers. The person who gets the most questions right wins a prize.
Future Retirees. Another fun activity for a retirement party is "what do you want to do when?". To play this game, simply ask the retiree's co-workers what they're looking forward to when they get to retire. Then let the retiree share their plans for their future.
Roast 'Em. One of those ideas that's great for a retiree with a good sense of humor? A retiree roast! Have a list of specific questions for people who want to participate. Examples would be, "the funniest thing I remember about X is" or "the greatest moment in X's career was…" or other things along those lines. Be sure to video tape it… because it can be a lot of fun.
Icebreakers and Other Games. If there will be a lot of people present who don't know each other well, you may also want to consider some fun icebreakers to play. Most standard party games are simple to adapt to any theme. You can find lots of ideas for party games to play at a retirement party right here.
Step 4: Your Retirement Party Decorations
Of course, when you're coming up with ideas for retirement parties, it's the decorations that will have the most "oomph." Fortunately, coming up with retirement party decoration ideas might just be the easiest portion of retirement party planning. Just go along with your theme, or do a search for retirement decorations at your favorite party planning store. (BuyCostumes.com has a lot of wonderful ones.) Some great ideas for retirement parties decorating are:
Make Your Retiree the Decoration. Want to make your retirement party decorations thoughtful and personal? Have co-workers supply a bunch of photos of the retiree. Put them up on walls, or even have an automated PowerPoint presentation rolling with some music from each era in the background (BTW– this makes a great and inexpensive retirement gift, too).
Decorate from His or Her Life. Another fun idea for retirement party decorations? You can decorate different parts of the room, or various tables, so they reflect various aspect of the retiree's life. It's fun to make a game out of this. Have the people in each area or each table guess what the decorations represent, then let the retiree share the memories and stories. Be sure to put a cheerful banner like this one up in the background.
Go Black. Black plates, balloons, and other decorations are the perfect thing for a "mourning" themed retirement party. Plus, black decorations are elegant and easy to coordinate.
Step 5: Retirement Party Food and Drinks
Now it's time to do your party food planning! While some fun ideas for retirement parties can include a sit-down dinner, buffet style retirement parties are the easiest to handle– whether you set your party at a restaurant, at the office, or at somebody's home. You can have food pre-prepared, have co-workers make dishes, or even get delivery. And don't forget the snacks. A buffet also gives guests more flexibility in their schedule if they can't be there when the party starts.
You'll find lots of buffet recipes and suggestions for setting up a party buffet right here.
If your guests are going to be milling around, the easiest foods to eat are generally appetizers and finger foods. If it needs a knife and fork, be sure there are tables and chairs where guests can sit and eat. You can find some good appetizer and finger food ideas at:
Buffet and Finger Food Recipes
Easy Party Appetizers
Make Ahead Appetizers
Cold Appetizer Recipes
Step 6: Record it All
Pick out music, and have a camera ready to record the event. Do you know somebody with a video camera who would be willing to walk around and record it all? Ask him to do so. Even better, assign somebody to walk around and ask each guest to say a thing or two about the retiree. This is one of those ideas for retirement parties that not only makes the experience more fun, but –once edited– will make a great retirement gift, too. And be sure to give a full set of pictures to the retiree!
Getting it All Done! One of the most important ideas for retirement parties is to simply to give yourself enough time to put things together! On average you'll want about 6 weeks and the cooperation of various family and co-workers to make your retirement party planning really successful.