Last updated on July 14th, 2022 at 05:25 am
If you've been tasked with planning your friend's bachelor party, you've got a lot of responsibility on your shoulders. What can you do to make this party a suitably memorable "last hurrah?" Whether you're dreaming of flying everyone to Vegas for a weekend of gambling and debauchery, or you want something more low-key (like a co-ed trivia night), you'll be sure to find proper inspiration with our bachelor party tips.
Planning and Creating the Perfect Bachelor Party
A bachelor party for the groom can mark the end of a single, independent lifestyle and the start of the transition into married life. While bachelor parties are usually accompanied by a reputation of drinking and debauchery, there are plenty of new and creative takes on the bachelor party tradition. No matter what happens, the main theme and feeling of the event should be camaraderie and celebration. There are many traditions and different elements to consider when planning the perfect bachelor party.
The best man traditionally plans the bachelor party, while the other groomsmen may contribute as well. There are no set rules for what the party should entail. Whether it's a one-night blowout or a calm weekend retreat, you can be as creative as you want. It's a good idea to pick a location and activities that best represent the groom and his personality. For instance, an exotic dancer would be a bad choice for a religious man, while a party animal may loathe a tame afternoon at the country club playing golf.
The attendees for the bachelor party should include the groomsmen, but the father of the bride, father of the groom, brothers, and good male friends of the groom can also be invited. However, remember that any guest invited to the bachelor party should also be invited to the wedding. Having guests at the bachelor party who aren't invited to the wedding could create confusion or an awkward situation later.
The groom should not have to pay for anything for the party or surrounding preparations, and, in fact, most grooms are typically kept in the dark about the plans as a surprise. Surprises aren't always practical with work schedules or when traveling is involved, but try to keep some elements of mystery, even if it's a detail as minor as where you are going to dinner or the guest list. Be mindful of every attendee's budget in order to plan a celebration that everyone can afford.
Another thing to keep in mind when scheduling the party is to host it well in advance of the wedding. While the night before the wedding may be the traditional date for the bachelor party, everyone will want to look their best and be well rested for the big day and activities ahead—especially the groom. After a late night, especially one involving alcohol, everyone will probably not be at 100%. If your event does involve alcohol, be sure to make arrangements for a taxi or a designated driver.
If the best man or groomsmen want to plan a celebration different from the typical beer and stripper-involved shindig, there are many creative options available:
– Getting everyone together to attend a sporting event for a favorite team of the groom
– Hosting a poker night or hiring a casino dealer for a game night
– A scenic camping trip
– Whiskey or tequila tastings
– A road trip to a fun or quirky destination
– A cruise to an exotic location
– A cigar rolling demonstration
– A guided hunting or fishing trip
– Skydiving or another extreme sport
These are all examples of fun, male-bonding activities that don't involve strippers or a heinous hangover.
Many modern couples have started a new trend of co-ed bachelor and bachelorette parties where the entire wedding party can be involved. Celebrating together can be something fun and crazy to do before getting bogged down with wedding planning. Some guys choose to skip the party altogether to save money, time and energy before the wedding. It's all a matter of personal preference. Never force the groom to do something that makes him feel uncomfortable.
While it may seem like a fun and silly tradition, it is still important to put time and planning into a bachelor party in order to make it the best possible experience for the groom. Take the time to research options, organize attendees, and make reservations so that all will go smoothly. It is also a perfect time for the members of wedding party, friends, and family of the groom to show their appreciation for him and to bond before the wedding. These helpful hints and ideas should make for a wonderful celebration.
Alternative Bachelor(ette) Party Ideas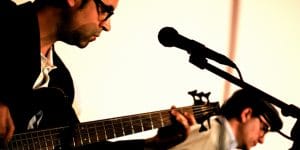 While Vegas seems to be synonymous with bachelor and bachelorette parties in recent years, why not break the mold with some alternative plans instead?  If you're in charge of planning your best friend's/brother's/sister's/cousin's bachelor or bachelorette party, it's time do some serious thinking about what you think they'd like to do.  It's also not a bad idea to check in with them first to see if there's anything they simply must do on this momentous occasion or something they'd like to avoid altogether.  No matter how well you know them, their answers might surprise you, so make sure you're prepared for virtually any answer.
Whether you want to help cross a few items off their bucket lists, or want to take them back to a different time altogether with some fun activities from their youth, find a few alternative bachelor and bachelorette party ideas below.
1.Face the Music
Maybe there's a band that epitomizes the bride's or the groom's angst-riddled teenage years. Maybe there's a band that they used to tour with—or at least that they wish they had. Maybe it's a band so stellar that its reunion quaked their very existence.  If you're determined to get them to the show, make sure to get tickets early, especially if they're in high demand, and do your very best to get backstage passes.  You can't often buy full-access passes, so make sure to tap into your network early if you think you might know someone who can get them for you.
2.Break Stuff
There's just something about huge sprays of mud, the roar of engines, and the very real possibility of a fire breaking out at any moment to get the blood pumping.  Take the bride or groom to a monster truck rally or demolition derby for a heavy dose of crunching metal, more horsepower than they can handle, and possibly lingering tinnitus.
3.Death-Defying Escapes
For those who laugh in the face of danger, consider a bungee jumping or skydiving trip.  Make sure to find a reputable vendor in your area and then get ready to "take the plunge."  If you must, as your bride or groom heads out, go ahead and say it, "You're about to jump out of a perfectly good plane, (insert bride or groom's name here)! How do you feel about that?!"
4.Game On
Whether the bride or groom would be more at home in a laser tag arena, plugged into a multi-player game of Halo, or would prefer a game of Scattergories, bring out attendees' competitive edge with a fun game night.  Include fun prizes and wacky trophies for winners to ensure guests bring their "A" games.
5.Take It Outside
A camping trip may be just what the doctor ordered.  Whether you want to "rough it" by hiking to a secluded, out-of-the-way spot, or you feel more comfortable with nearby plumbing available, a little fresh air never hurt anybody.  Take advantage of your natural terrain by camping out on a beach, in the mountains, or—if it's the best your area offers—in a friend's backyard.  Pack foods you can cook over an open flame and don't forget the chocolate, marshmallows, and graham crackers—no one's too old or too cool for s'mores.
6.Bat a Thousand
If you've got a sports fan on your hands, consider taking your bride or groom to watch their favorite team play.  Looking to get out of town for a few days?  Take a trip to a rival's city to watch your home team in action on the road.  If possible, try to get some autographed memorabilia.  Professional teams will often have planned autograph sessions, so make sure to keep your eyes open.
7.An Old Dog
Whether it's a bartending class, a cooking class, or something more risqué, everyone can stand to learn a little something.  If you know your groom wants to learn how to cook more than just boxed mac and cheese for the new bride, or that the bride wouldn't know how to make a dry martini if you paid her, a little classroom time might be the perfect fit.
8.Host a Roast
Everyone can do with a little joshing from time to time; just make sure guests know the difference between a friendly poke and an outright insult.  If your bride or groom has the skin and the sense of humor for it, invite friends and family over for a nice dinner and a lot of laughs.  If you don't think you have what it takes to emcee, choose someone you know will rise to the occasion.
These ideas can be a great way to offer your bachelor or bachelorette a little something different.  Break the mold entirely by combining the two and hosting a joint bachelor/bachelorette party if your bride and groom are up for it.
As you celebrate this bittersweet occasion, whether you use one of these ideas or all of them, the most important thing is to make it memorable.  Usher your bride or groom off to marital bliss with a celebration they're sure to love.
Handling Last-Minute Mishaps at the Bachelor/Bachelorette Party
After months, weeks, or even just a few days of planning, the bachelor or bachelorette party has finally arrived. While you may be excited to get the party started, no matter how well—or not—you've planned the perfect event, hiccups can and do occur. Reservations get lost, venues close, and, occasionally, natural disasters strike.
When these things happen, don't lose your head.  What is done is done, and instead of getting angry, accusatory, or unreasonable, it's time to get creative, proactive, and resourceful.  Getting hysterical won't accomplish anything, and can only serve to upset the bride or groom or make alternate plans harder to secure.  You can catch more flies with honey than with vinegar, so getting huffy will only make the concierge, front desk person, or other vendor that much more likely to shrug their shoulders and dismiss you completely.  Keep a cool head and do what you have to do to salvage the moment.
This can be the perfect time to enlist the help of one or two willing and able fellow attendees.  You'll want to choose people who know the bride or groom well and are not easily shaken.  Having more than one person on-task gets that many more people on the phone to try to figure out alternate arrangements. It can help prevent you from getting frustrated as easily, and, at the very least, it can give you an extra someone or two to vent to if needed.
During a bump in the road of an otherwise-fabulous bachelor or bachelorette party, do your best not to alarm the bride or groom.  Come up with an alternate activity for them while you get things figured out.  It's up to you whether you'd like to let them know that you've hit a snag, but a little distraction can be enough to avert the issue entirely.  Pull attendees aside to let them know what is happening and have them take your bride or groom on a fun outing to keep them occupied. Consider having them hit up the mountain of your snowy locale for a bit of boarding, skiing, or tubing. Take in a little sun on the beach of your exotic location. Book an impromptu spa treatment, or subtly encourage a little retail therapy nearby.  You may have to shuffle around the rest of the event schedule a bit to accommodate, but it can be well worth it to avoid upsetting the bride or groom unnecessarily.
Once you've carved out a window for yourself, it's time to get down to business.  Depending on the hole you have to fill in your event's schedule, utilize the well-laid groundwork you've established with local vendors to establish some alternate plans.  If you're celebrating out of town, no one will know the area better than the people who live and/or work there.  Talk to the valets, concierge, or front desk people at your hotel to find good nearby restaurants, bars, clubs, spas, or whatever gap you have to fill.  Not only will they know which ones to avoid and which ones have promise for your particular group, they may also be able to make reservations for you or can even get you special deals.  Hotel personnel often have special arrangements with select local vendors to get out-of-town visitors to fill their venues, or have the necessary "ins" that can get you into otherwise exclusive areas.
While these last-minute hiccups are often difficult to foresee and even more difficult to plan for, remaining thorough and persistent throughout the planning process is often the best safeguard against possible problems.
Before you've even begun the task of organizing the event, talk to the bride or groom about what they'd like to do at their bachelor or bachelorette party or any particular places they'd like to visit.  You probably know their temperament and personality best, but they may surprise you.  Someone who seems to know about every party being hosted in a three-month window may want a quiet weekend snowed in at their favorite mountain resort, while someone who can usually be found playing board games on random Saturday nights might want to celebrate with a weekend stay at a swanky hotel in Las Vegas.  While you don't want to give too much away, an ill-planned bachelor or bachelorette party will be talked about for just as long as a successful one, but not nearly as fondly.
If possible, you'll also want a physical confirmation of your planned activities and accommodations. If something does go wrong, prior printage can help prevent poor performance.  A phone call or two also goes a long way to ensure that everyone is still on the same page.  If you've made your reservations online, give each venue on your list a call to make sure it was received properly, as well as another in the days leading up to the event.  A lot can happen, even in a matter of a few days:  a bar can close its doors for renovations, a hotel can sometimes overbook, but a quick phone call can help to put your mind at ease or give the location a chance to rectify the situation if possible.
No matter what happens, chances are, by remaining calm in moments of chaos, you can ensure a wonderful celebration.  In the end, your bride or groom will be surrounded by people that care about them and even if you have to "wing it" a little bit, they may not know it unless you decide to tell them.  He or she will take their cues from the people around them, so show no fear and you're sure to show them the time of their life.