Last updated on June 2nd, 2022 at 10:40 pm
Animals are one of the best companions you can have for a lifetime. Animal lovers are compassionate, kind, and loving. Those who have pets at home and love animals, these are amongst the choice of best gifts for animal lovers. Frames, decor pieces, animal-themed clothing, crockery items, and more. You have a variety of choices to gift someone who loves animals. Pick from these assorted choices that make for a unique gift item for someone who loves and nurtures animals.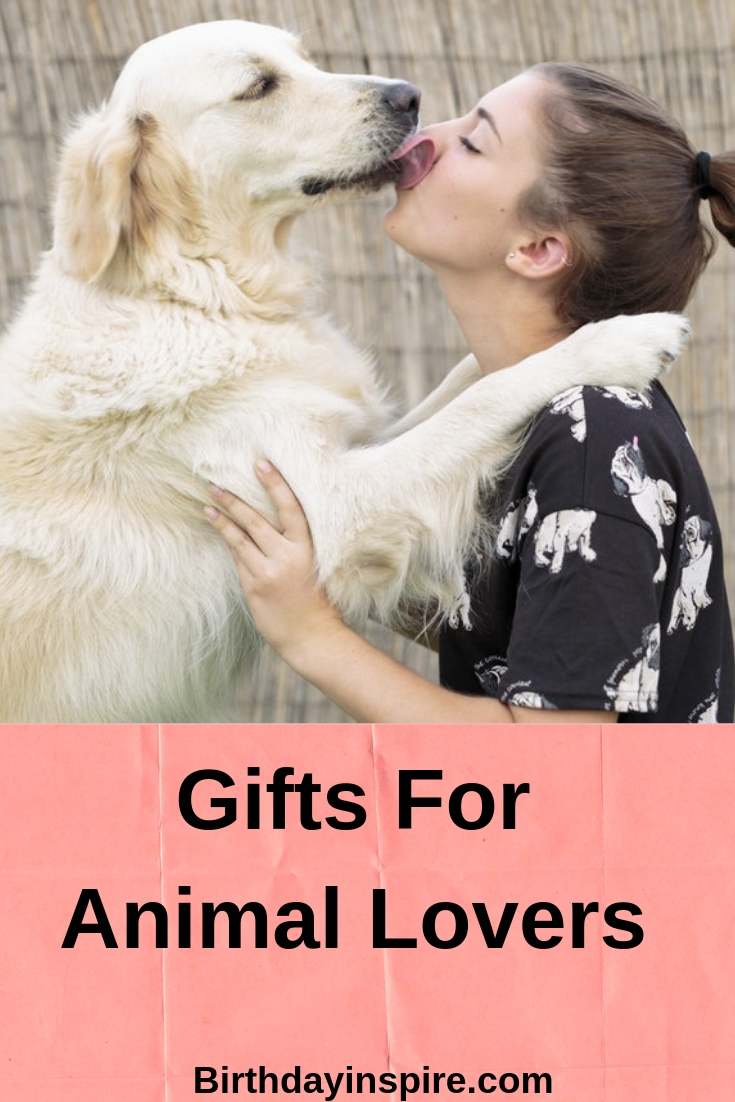 Gifts For Animal Lovers
Drink from this stemless wine glass and toast to the good health and the well being of animals. They are the most innocent, helpless mortals living on their own only looking for love and compassion.
This is one of the good gift ideas for animal lovers who spend their time with animals, playing, nurturing, and making animal videos. For those who have cats or dogs as pets, this is the perfect gift.
Women who love the cuteness and kindness of animals will love these set of animal-themed socks as gifts. It looks cute on most of the casual outfits, is stretchy and comfortable to wear.
Each pair has a different pattern and is fun for girls or women to wear who love animals and stuffed toys. Gift it to your girlfriend, family member, sister, or best friend on her birthday or festivals.
A cute and an adorable hand sculpted figurine in pristine white of an angel holding an animal. This is a perfect gift that you can give someone who loves animals. It depicts love, kindness, compassion, and all goodness in the world.
A nice decor piece for the living room of animal lovers. This is a handmade piece that looks artistic and earthy as a decor item for the interior or the outdoor area. It depicts the friendship between the dog and the angel.
Read about the real-life stories of how unlikely friendships have developed between two animals of different species and how they got closer in real life.
A beautiful gift for the animal lovers is this storybook that has many real-life stories of animals like an elephant being friends with a sheep, friendship between a cat and a bird, and so forth. A wonderful gift for people who love animals and for coffee-table conversations.
Gift this bracelet to people who have dogs as pets or dog lovers. An adjustable wire bracelet with the charms of dog paws, and bone. A cute gift a dog lover will absolutely adore. It is made in metal and can be worn daily without any hassle.
It looks good on most of the formal and casual outfits. Flaunt your love for dogs wearing this bracelet and feel all the love and compassion for these loyal pals for a lifetime. One of the best presents for animals lovers is this paw themed charms bracelet.
Women look lovely and elegant wearing this paw and heart-shaped pendant necklace. A beautiful gift to give a dog lover is this necklace in sterling silver. It looks stylish and goes well with most of the outfits making you look chic and adorable.
It has a beautiful design that is suitable for women of all age groups who love dogs and animals. It is hypoallergenic and can be worn every day. Feel pleased wearing this tarnish-free necklace that has a paw shaped pendant.
Gift this book to those who own and love cats. It has many funny insights and poems about cats. You will have a fun time reading it along with your cat.
t also explains cat behavior and what their erratic and unpredictable moods mean making it easy for the cat owners to interpret their behavior. Get a deeper insight into the psyche of a cat and understand the psychology and emotions of this adorable animal better.
People who are having dogs as pets for the first time, this is a good gift to give. It gives insights about the moods and behavior of dogs. It can help you understand your dog better and have a better relationship with it.
A wonderful gift for dog lovers that instill wisdom and provides information about dogs. You can learn how to train your dogs and rectify their behavior by reading this book. It comes with a list of techniques that you can use on your dogs to train them for various tasks.
A wonderful book about animal life that is inspiring and instills compassion. If you know someone who does not like animals, you can gift it to them too. Reading this book they will get an insight into the animal kingdom and be more animal-friendly.
It gives information about how millions of animals are killed across the world and provides inspiration to save animals and show love towards them. Reading this book you will learn how to create a safe environment for treating and nurturing animals.
Lovely novelty stationery item to give as a gift for dog lovers. They will adore this gift and find joy using these dog and bone shaped paper clips when doing paperwork. These are cute office supplies that are made in metal and are for longer use.
You can use them not only on papers but also notebooks, journals, calendars, and scrapbooks. Gift them to coworkers who love dogs and animals. A quirky and an offbeat gift for those who love dogs and animals.
Cool casual and cotton t-shirt with a funny dog quotes for dog lovers. Gift it to your sister or girlfriend who loves dogs. The t-shirt material is non-shrinkable and durable. Wearing this tee will let people know how much you love your dog.
Get connected with dog lovers wearing this t-shirt. It is also a good conversation starter when you go jogging or running wearing this t-shirt. A simple and a lovely gift for a dog lover is this graphic t-shirt in funny wordings.
This is a fun gift you can give a dog lover who has to deal with all kinds of difficult dog behaviors. The calendar has funny pictures of dog shaming from blogs and websites from the internet.
With the turn of every month, the dog lover will be amused looking at this calendar and love their pets even more. Some of the photos inside this calendar are rib-tickling and give you a good laugh. A cool and a funny gift that goes on the desk or the wall of a dog lover.
A wonderful decor gift for those who own dogs. You can place this pillow on the couch and not let the dog gnaw it. It has funny wordings about a dog's behavior and is made in a soft material. If you know someone who has a dog who rules the house of people, this is the funny gift to give them on any occasion.
It also works as a good and a soft pillow for your dog to sleep on and play with. It is designed with good quality and material and comes with the finest stitch and a hemline.
A lovely gift to give someone who loves their dogs more than anything in the world. The funny wordings on the tote depicts the level of love anyone would have for their dogs.
For the owners who treat dogs like their own children, this is the gift that they will love and be pleased to have. They can carry it for grocery shopping flaunting love for their dog with a lot of pride.
A hilarious book that has an account about how a cat has to deal with worldly things such as, abstinence, politics, post-apocalyptic crisis, and more. For a cat lover, this is a funny gift to give to make them laugh and have many topics to talk to their pets about.
Talk about the world's serious matters with hilarity to your cat and see her purr or meow in wonder. For those who cannot get serious and love animals to the core, get the jokes in this book.
This sloth soft toy is so cute even adults can play with it. A wonderful and a cute gift for animal lovers of any age. Sloths have a unique behavior of hanging upside down and are adorable animals.
Kids love this soft toy as a gift on their birthday. Pick a silly reason to gift someone who loves animals and is also a lazy bum. Reward them with this soft toy and let them bask in the glory of their love for animals, laidback attitude, and celebrated laziness.
Let the cat lovers grow cat grass that their lovely pet would like to relish on and stay healthy. It comes with a cute cat-themed planter and seeds to grow the grass.
This is a special grass for cats that has all the nutrients, minerals, and proteins that keeps the cat healthy and makes them shed less. It prevents hairball to form and keeps your home clean from shedding. A healthy gift that prevents your trips to the cat vet and lets your cat enjoy green lunch.
A cute and funny gift to give animals lovers. They can place it in their garden and add to the decor of it. It gives a mischievous and a funny look to the garden. A gnome with a cat statue is a good gift for daughters, moms, and anyone who loves animals as well as gardening.
Your cat will love interacting with it. You can take funny pictures with this figurine and add some humor to decorating landscape and garden. One of the coolest animal gifts for animal loves that sends laughs and giggles.
A soft and a cute gift for those who love animals is these pair of dog-themed slippers. Wear them around your house and keep your feet warm in cold seasons. It keeps the feet cozy and comfortable.
The sole of these cute slippers has an anti-skid feature that prevents any injuries from wearing them. They can be washed with hands as well as in the machine. Easy to clean and maintain, make your feet look cute and adorable.
A funny gift to give someone who has dogs at home. This is an interesting and funny vintage style welcome board that says only people who are tolerated dogs welcome them.
For those who adoringly love their dogs like family, this is an apt gift to give. The font in wordings is painted on a wooden plank and fits on the walls on the outside of the homes. A different dog sign for homes with dogs because 'beware' signs are passed and out of vogue.
Show love for your pets and animals by wearing this pretty necklace that has the motif of paws and heart. It is made in sterling silver and studded with stones. It has engraved words that depict that pets are so lovable they are engraved in the heart.
A beautiful gift for those who love animals and are compassionate towards them. It makes you look pretty and adorable when you wear this necklace. It looks good on most of the outfits with or without accessories.
A cute tank top that has the print of a kitten is a good gift for girls who love animals and take care of them. It looks good on tights and slim fit pants. A chic top for the animal lover.
It is non-shrinkable and makes you look cute and stylish. It is made in soft fabric and is designed in a body fit. A tank top with a funny kitten motif. You can wear it to the gym, beaches, and all outdoor activities.
For animal lovers and those who have cats, this is an awesome gift to give. It generates laughter reading cat jokes and is a hilarious read about all things related to cats. Read facts, funny lines, and instructions about the cat behavior and moods from this bestseller.
A rib-tickling graphic comic that has a plot about how a cat is trying to kill you. One of the funniest cat comics you can read that also comes with a useful guide about a cat.
An animal themed gifts for cat lovers is this tong that has the shape of the cat paws. You can use it for tossing noodles, pasta, and salad. It is dishwasher safe and looks cool and offbeat in the collection of your kitchen shelf.
A cool product for people who love cats and love rustling up delicious food in the kitchen. Start your day tossing healthy and delicious salads with this tong and feel delighted every day.
Hang your keys on the trunk of these elephants on the key rack. A cool gift to give a jumbo fan and someone who loves and is compassionate towards animals. This is a unique gift to give an animal lover. A key rack with a unique design looks good in the living room or the patio. Reach for your keys easily and keep them organized placing them on this key rack.
Give this gift to someone who has dogs and kids and has immense love for animals. It adds a sense of humor in the kitchen and the dining area when these dog butt magnets are placed on the fridge. A reason for conversation starters that lets you and kids have a lot of fun.
A quirky gift choice for animal lovers who also have a sense of humor. They can be placed on a paper as well as a metal surface. Every time you open the fridge, these funny dog butt magnets can leave a smirk on your face.
One of the cool gifts for animal lovers is this signboard that has wordings about how there is some more room for more dogs. If you know someone who has dogs and loves dogs, this is the perfect gift to give them.
You can hang it on the wall and feel delighted about your love for dogs. It is made in wood and painted in monochromatic words. A super cute sign that can also hang free if not wall mounted for those who adore dogs.