Last updated on June 2nd, 2022 at 10:19 pm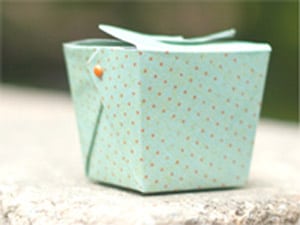 Printable party favors are so much fun to make! If there's one thing we love, it's crafting and a birthday party is a great excuse to make stuff! Printable favors are usually fairly simple DIY projects, and you can keep them on the inexpensive side as well.
What we like most about these favors is that you have complete control over how they look. The colors, designs, styles —they can be customized in any number of ways.
You can also personalize them with each guest's name, or by adding something that reflects the guest of honor.
So what's the best part about printing your own party favors (other than the fun you'll have making them, of course)?
No one will be giving out the exact same party favors as you!
Our Favorite Ideas (So Far) for Printable Party Favors
bookmarks (with a picture, a photo or a favorite quote)
seed packets
favor boxes (check out the free template for the cute Chinese take-out box in the photo above)
labels (for bottles, jars or bags containing your homemade goodies)
refrigerator magnets (with fun quotes or pictures)
CD labels
cello bag toppers
(slip homemade cookies into personalized cello bags you can make with this tutorial)
templates for special recipes
mini booklets of special quotes you've collected to celebrate the occasion
calendars (they can be pocket-sized or larger, with photos or quotes)
(take a look at this free customizable template for making great mini photo calendars)
candy bar wrappers
mint tin labels (the tins could contain mints or anything else)
iron-on transfers (for T-shirts, tea towels, etc.)
(for example, you can make this cheery tea towel with a free downloadable iron-on transfer —a perfect party favor if you're hosting a tea party)
beautiful placecards (they can also serve as favor holders)
Happy party favor crafting!