Last updated on June 3rd, 2022 at 01:42 am
We really need to do lots of brainstorming to figure out what kind of gifts for new parents will impress them. It's a huge responsibility on a couple to look after their newly born baby and they do lots of research and consulting to check out how to deal with the arrival of someone who completes the family. As a parent, one needs to a proper parenting plan to check how the keep household well – prepared when the child comes.
Preparing a proper schedule right from a proper day offs to pick ups and what all activities we need to do in day and night time. Initially parents has to adapt with this change and how to be a good parent for your child.
One of the parents has to wake up in the middle of the night to feed the little munchkin. As a parent, you need to juggle between your life and baby to see everything goes in the right direction avoiding any kind of hurdle. While looking after a baby, one needs to assure that one needs to wash your hands properly as the newborn baby lacks strong immune system.
Children's head and neck should be protected with great care and carry it with the baby upright or lay it correctly down. Babies are very delicate so don't try to shake them, the best way to wake them up is gently tickling on their feet and a blow on cheeks. Don't fasten them with car, stroller or thrown in the air, so strictly avoid these things while handling your child.
This is our list for some remarkable gifts for new parents and how you can make it even more special for them with your presentation and good involvement in them.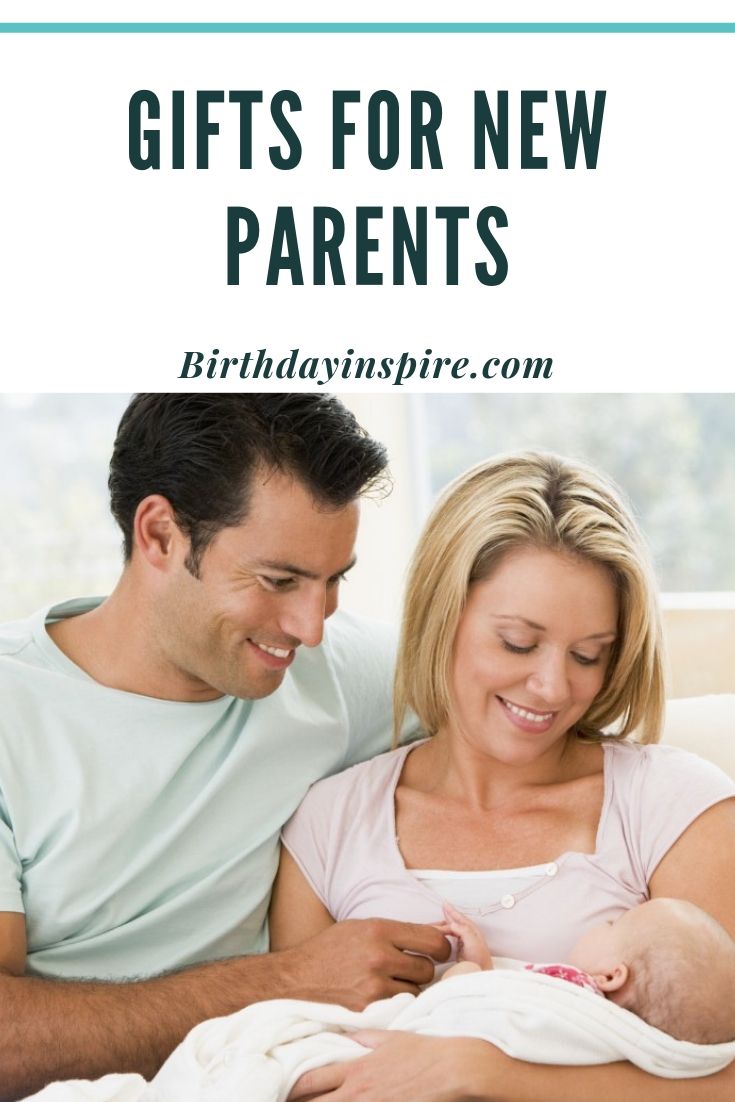 Gifts For New Parents
1. Summer Infant Pacifier Thermometer
Arrival of a newborn baby comes with happiness and so many responsibilities like the food and keeping a close tab on their health likes and dislikes in terms of food and other necessary stuff. Summer Infant understands this and brings to the consumer Summer Infant Pacifier and Thermometer for the new toddler in your household.
The fever alert glow informs about the body temperature and beeps when the reading. The memory feature to monitor a child's progress and protective cover done for clean storage.
2. Luvable Friends Receiving Blankets
Do you want your baby to use a good quality of blanket for bathing and won't compromise on it. Luvable Friends Flannel Receiving Blankets. This comforter is made of cotton and comes with a 6 set and makes vulnerable for machine wash.
Dear parents these blankets can be used during sleeping, stroll cover and nursing cover. Don't worry this won't do anything to your child's skin during bathing and for a safe and gentle skin and makes it a cute present for new parents.
3. Chicco KeyFit 30 Magic Infant Car Seat
Chicco Key 13 Magic Infant Car Seat is one of those best cute cars for the couple to carry their baby during a visit to any park or traveling. Proper installation allows your infant to feel safe and it looks simple and accurately.
We agree that your baby needs a super comfortable car seat for them to enjoy this beautiful world with a great company like parents. The car set has canopy, with zip out, mesh panel to allows gentle air come in and all-weather boot folds.
4. Prince Lionheart Wipe Warmer
If you are carrying baby it is but obvious they can answer nature's call at you anytime or it can be used to wipe tears or any other form of liquid from toddler's face. Prince Lionheart Wipe Warmer is the best thing you can for your babies for diaper changing. The premium wipes Warmer retains moisture and anti-microbial system.
This wipe warmer is meant for baby wipes, moist and free from discoloration. The moisture system is an advanced retention system and an insulated body to keep it perfect at any temperature.
5. Dr.Brown's Original Bottle Newborn Feeding Set
Dr. Brown's Bottles Feeding Set is the best way for mothers to feed their little ones and comes with a unique vent technology. Dr. Brown Bottles have patented 2-piece internal vent system for baby's comfort. This system allows female breastfeeding and without any nipple problem.
Air Vent system prevents milk with formula so oxidation and retaining the essential Vitamins A, C and E. It eliminates air bubbles in the formula or milk, helps to decrease the spit-up, burping or gas making it a vital bottle for toddlers.
6. Munchkin High Speed Bottle Warmer
Munchkin High-Speed Bottle Warmer is the best thing you can gift to a couple who has just welcomed their newborn baby into their beautiful life. We want babies to have good and nutrientous food and we won't compromise on that department and keeping that in mind the steam warming system helps in heating both milk and food simultaneously without any complicitons.
The warmer automatically shuts down when the warming is done and an adapter ring is used in heating up the baby's food.
7. Earth's Best Organic Infant Dry Formula
Earth's Best Organic has been producing baby related products like cereal, snacks, smoothies and diapers and wires since 1985 and given some commendable items for consumers. Earth's Best Organic Diary Infant Powder Formula is the most nutritious diary for toddlers and must be used for a year.
It is made of best quality of carbohydrates, proteins and vitamins with other important acids and is best used for breastfeeding and shown how it can be very important for newborn babies and makes it an essential gift for new parents.
8. BOB Revolution Single Stroller
Well, your friend has been blessed with a baby and it is an occasion to welcome this new member and you are planning to gift something special for the couple. BOB Revolution SE Single Stroller is a very sensible gift for this little one and his parents to enjoy the beautiful parks. Front Wheel permits a high quality of flexibility and to carry anywhere and anytime.
It is extremely lightweight and can be folded without an affordable suspension system ensures to have a convenient and effortless ride.
9. Summer Infant Warming Bathtub
Summer Infant is a brand behind products like monitors, bath, strollers and potty diapering. The company brings to you the beautiful set of bathtub for babies with a warming waterfall along with essential bathing stuff and with rinse cup designed specially for the little one for a wonderful bathing experience.
Oversized washcloth helps in placing on children's chest to avoid chills. This is one most sensible gift for new parents to see this bathing experience goes smoothly and qualifies to the best one for munchkins.
10. Boba Baby Wrap Carrier
The trend of baby carrier has been a huge hit ever since film stars like Angelina Jolie and Aamir Khan have been sported wearing it on a public forum and many parents use this to carry their munchkin anywhere and anytime.
Boba Baby Carrier ensures to use it whenever parents want to go and this carrier helps in that. It wraps to keep parents and baby close to each other and it is very comfortable for both of them and it is made of high quality of cotton and spandex.
11. Instant Pot IP- DUO60
There is a wide range of pressure cooker in the market catering to housewives with their unique design and function making our home cooking a better experience. Instant Pot comes with a programmable cooker, a slight break away from the traditional pressure cookers.
It also has slow cooking, rice cooking and yogurt maker for a wonderful recipe this weekend. The control panel is very easy to use with 14-in built programs to keep food warm and available in large size and prepare food suitable for toddlers.
12. Keruig K-Cafe Single Serve K- Coffee Maker
There are so many different types of coffee for cafe lovers like cappucino and latte catering to a different set of people. Keurig Coffee and Cappuccino Maker brings to you the versatile coffee at your homes and it is very different from the usual coffee maker device.
The "Shot" Button shown in the device makes to prepare a concentrated shot of coffee from K-Cup. Dishwasher safe Frothier makes it the best one for fresh fizzing milk which has almond and coy and the machine very easy to operate.
13. Stojo Silicone Travel Mug Reusable
It's very difficult for any husband to be with his wife after 60 days of his.her baby's birth and have to go to a different city for work purposes. The best way you can melt his heart by providing him Stojo Silicone Reusable Travel Mug is perfect to keep his food to accompany during the hours long train or flight journey.
It comes in different colors and the other materials like Polypropylene has been used in the making of the coffee lid and also it is leak-proof.
14. Black Decker Dustbuster
Arrival of baby also means to do a fresh cleaning of the house and removing all kinds of unnecessary dust which has been lying at rooftop, cupboard, luggage and other important places. Dustbuster as the name suggests helps in removing all kinds of filth has been spoiling our home decor.
Black + Duster's Dustbuster comes wireless and lithium hand vacuum with strong suction and long running time. It can be used according to the capacity of the bowl, for washable and filling up the filter makes it the best present for new parents.
15. Big Dot of Happiness Mommy's Time Out- Wine Bottle Label
This gift will appeal to the mothers and it is basically a chunk of stickers to make her feel special and let her know how you can thank her for role which she will be playing. Big Dot of Happiness brings to you this set of wine bottle stickers and with wine liquor bottle stickers.
Make your favorite beverage bottle according to the room temperature and it has been printed with an adhesive paper for better glassy coating, waterproof and also it is made in USA.
16. Innobaby Bathin Smart Silicone Fish Bath Scrub
We need to consult doctors regarding what kind of stuff won't harm their bodies and apart from soaps we need to zero down what can be used for scrubbing. Innobaby Bath'in Silicone Fish Bath Scrub is the best product you can opt for as it is so gentle for skin and helps in removing stubborn cradle cup and desquamate their dry skin.
Children would find the fish design very cute and due to made of soft silicone it can be used during breastfeeding as well, so not babies women too will love it.
17. Fridababy Nasal Aspirator
In today's scenario when there are so much pollution and people are diagnosed with several illnesses which has taken toll on their health, babies too won't be spared with cough and cold. Fridababy Nosefrida Nasal Aspirator is made in Sweden and one of the best ways to prevents your little munchkin from nose block and cold.
It has been highly recommended and invented by doctors for parents to remove suction safely and clear humid noses. It has sealed with the outside baby's nostrils for effortless snot sucking.
18. The Gardener and the Carpenter by Alison Gopnik
Alison Gopnik, an American professor of Psychology from the University of California, Berkeley. She has pen down several books on topics like theory of mind and a casual learning and some of the popular ones are The Philosophical Baby, The Scientist in the crib which she has co-authored with Andrew N. Meltzoff and Words, Thoughts, Theories again with Meltzoff is back with her independent book The Gardener and The Carpenter which explains the science of parenting and is highly recommended gift for couple with new baby.
19. Baby Tula Explore Baby Carrier
Parenting needs to be done with great responsibilities and conscious to ensure what is good and bad for the infant and keeping that in mind Tula brings to you Baby Carrier for newborn babies and can be carried front and back sufficiently.
Due to the different positions of carrying your infants it can make the best object for you as a parent to carry and with an absolutely innovative body panel with breathable and light-weight cotton and it is very easy to clean and good use in washing.
20. Baby Feeding Monitor
Parenting has become so easy thanks to the inception of so many innovative products in the market which has made it so easy. Bluesmart Baby Feeding Monitor which gives so accurate information about the amount, angle for breastfeeding your babies.
It keeps check optimal feedings and gives you proper detailing when to feed your baby next. These bottles can be paired up with Bluesmart App on your cellphone to know how it operates. This gift helps in reducing home nurses responsibilty a little bit.
21. Medela Sonata Smart Breast Pump
Medela Sonata Double Smart Electric Breast Pump is one of the most important gifts you can think about for your babies and it has 24/7 LC. Some of the key reason why this one is best from the other stuff is that one get instant access to the live lactation supports all day and night.
It is one highly recommended pump by the famous general physicians of the USA. It has been designed with dual phase expression technology and thanks to MyMedela App it helps to track down milk expression.
22. BEABA Babycook Cooker and Blender
There are so many wide ranges of a versatile cooking device made to prepare a sumptuously meal and one such is BEABA Babycook 4 in 1 cooker and steamer. This device is meant for fruit juice, vegetable or for chicken, fish, mutton, turkey and baby food within 15 minutes.
This product is one of the best gifts for a female household for giving so many interesting foods and thanks to auto time it shut off automatically and make sounds once it is done. This gift is best for new mothers.
23. Hatch Baby Rest Sound Machine
Hatch Baby Rest Sound Machine is one of its kind products meant for kids. The device can be used for multiple reasons like it is a sound machine and used particularly in the mind. Color, Sound and volume level are of high standard and it is set according to the family's sleeping schedule.
Programmed to start automatically and adjusting is done through phone or even manually and also Hatch Baby Rest App. The other features which distinguish it from others are giving soft light and whiter noise in midnight.
24. Nanit Smart Baby Monitor and Wall Count Camera HD Audio and Video
Once you have embraced parenthood, you have to keep a close check about how your child functions right from their small to big things such as diapers, food, sleeping habits, toys etc.
Nanit Smart Baby Monitor Camera HD Audio and Video provide an accurate detail about baby and monitors how they function day and night 24 x 7 with crystal clear night vision, zoom in and good quality of live HD streaming and it works without internet connection as well. One doesn't need to give extra effort for set-up.
25. Little Hippo Baby Handprint Baby Picture Frame
We all want to capture the first glimpse of our child, their playing, crawling and dancing in our cellphones or on digicam. Little Hippo Baby presents Baby Handprint Kit to store their hand print and foot print to remember about size of their hands and legs.
This frame is very memorable and comes in different colors like white, pink and blue. A present which they will cherish for the rest of their life and unlike other clay dries on frames, this one set of glasses is of high-standard.
26. Brain Games #1 Lower your Brain Age in Minutes a Day
Brain Games series presents this new book which helps the reader in improving memory, reasoning abilities and creative thinking. These set of puzzles is very enjoyable games and meant for people of various age groups.
This book has been divided into 5 sections of puzzles and every set difficult from the previous one and self-analyzed questions helps in progressing you psychologically. It has Anagrams, Crosswords, Drawing Exercises, Language Puzzles and so on. It is a good pastime game to play and can be played anytime.
27. Deep Breaths : The New Mom's Handbook to Your Baby's First Year
Michael Pearson brings to you the Audio book called Deep Breaths : The New Mom's Handbook to your Baby's first year will help the new moms how to look after babies and what women should do during pregnancy period and the pros as wells of cons of being a mother and managing both your career and personal life.
This book will help mostly the millennial mom and it will remind what all trials and tribulations they had gone through during child's birth and can pass this to other woman as well.
28. Digibuddha First Christmas Procleain
Do you want to gift something extremely special to your friend who has been blessed with a son or a daughter, we have this procelain gift for her and ornament which is very charming and makes it extremely special for women.
Digibuddha Christmas Ornaments are the best gifts and treasured keepsakes for so many years. Digibuddha has produced procleain and this gift will appeal to her in a big way. These white procelain and glossy finish has been used in making of procleain.
29. Greenco Bamboo Foldable Breakfast Table
Breakfast is the most important day of meal and it becomes very difficult for an individual to start a day without having them. Greenco Bamboo Table is one of the best things since it is made of natural bamboo and is very stronger then any regular wood.
One can have breakfast, wines, or for any other office related work. It is good for hand to wash with warm soap water and this tray can be used on any occasion and makes it a fine present for new parents.
30. How Not to Hate Your Husband After Kids by Jance Dunn
Women we understand once you welcome a newborn baby in your life husband's presence takes a backseat and it is always baby high on the priority list. Jance Dunn audiobook How to not Hate Your Husband After Kids is a funny candid account about a woman to bring her after having baby back from the brink with some unique experience.
Since Jance Dunn had a child and doing all kinds of household chores and with her husband were working equally hard on the marriage. This book will appeal to the couple who became parents recently.
This is a list of suggestive items gifts for new parents, a couple who has embrace parenthood and ready for the new innings in life and one can impress the duo in a presentable way.