Last updated on June 3rd, 2022 at 10:32 pm
It is no secret that women enjoy going to different places and actively seeking out some magnificent sights. So, if you're looking to choose a travel gift for a woman, any woman, you're definitely doing it right. It will represent thoughtfulness, maturity and overall your care for her. Good travel equipment can also make all the difference in the world to someone's travel experience. A simple tool can change the day from a total mess too, not even something that is in any way bothersome.
This is why choosing a travel gift is not only important but also very hard. You need to find something that would fit her style of travel. Something that is not too complicated to use and just works regardless of the situation. And also, something that is of high quality and compact.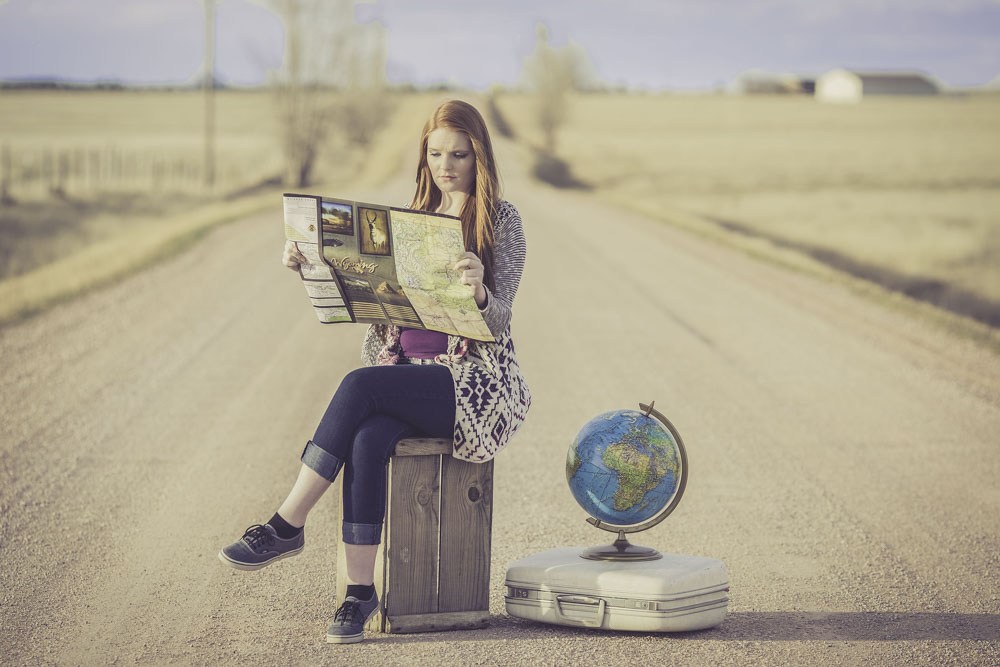 Travel Gifts For Women
Finding a present that meets all these criteria could very well turn into a nightmare which is why we have done the work for you and compiled a list of unique travel gifts for her that will not only enhance her experience on the go but also something that you can give yourself a pat on the back for.
1. Universal Travel Adaptor
One of the biggest headaches while traveling overseas is the charger compatibility. The different standards will surely be a problem if someone plans to stay more than a few hours. So, if your friend is a travel enthusiast or just someone who has a trip planned, this would be a great and thoughtful gift.
It has the ability to plug in and integrate with any standard in the world and also comes with multiple USB ports in addition to your standard 3 pin port to help with charging more than one device at a time.

2. Brita Filtering Water Bottle
This one is a great handy tool to have for every traveler who has a knack for some adventure. Especially if they are likely to go to a remote location or just anywhere where they might find it hard to get hold of proper clean drinking water. This small bottle will do them great service by keeping them healthy and well.
It cleans the water as you drink so there's no waiting period or any kind of complicated process. Just fill it up like a standard bottle and use it, except in addition to quenching the thirst with clean germ-free water, it also gives us some peace of mind knowing that we're taking in only healthy substances.

3. Luggage Packing Cubes
Packing luggage could be a nightmare, especially if you don't know exactly what you're supposed to be doing. These soft little packing cubes will make such a complicated and tedious process pretty simple by providing separate bags for different categories of essential items like foot ware, clothes or accessories.
They will also be able to choose how they compartmentalize it so that when they have to reach out for something, they would know exactly where it is instead of going through the whole stuff. Getting a gift like for someone who loves to travel would certainly make her feel grateful to you forever.

4. Portable Coffee Maker
Pretty much everyone treats coffee as something that is very close to an essential. Sometimes a cup of coffee is what's needed to burn some stress off or get started with a long day ahead. But when they're travelling, they might not always be fortunate enough to be in a place that provides decent coffee.
This compact machine is extremely easy to use with straightforward controls and is capable of making coffee anywhere you can plug it in. It's something everyone should have on their list of essential travel equipment and would make for an amazing gift.

5. 3-D Sleep Mask
Sleep masks have gotten very popular over the past few years thanks to their compact and simple design and providing the benefit of being able to fall asleep pretty much anywhere. This piece of equipment will have a huge impact on the quality of someone's travel.
This product has air ventilation through the interior which makes it a lot more comfortable to use for long hours and prevents any kind of sweating. Perfect for long travel hours where they might have to sleep on a plane or trains. This could be one of the best travel gifts for women.

6. Chin Supporting Travel Pillow
Travel pillows have boomed in popularity over recent times as competitors keep coming up with new and innovative ways of making sleep on the go more comfortable. One of, if not the best of such designs is this travel pillow from Bcozzy.
It has an open neck design that wraps around the head and provides support all around and prevents the chin from falling down. This can be used pretty much anywhere, with or without a backrest and provide great comfortable sleep.

7. Silver Compass Locket
With modern technology, there's pretty much no need for a physical old-style classic compass. But a lot of times, the value of an object has more to do with it feels rather than it's actual use. A compass is one such thing. While having next to no practical use that pretty much any smart phone can fulfill, a necklace with a compass would certainly make for a very attractive piece of jewelry.
This locket has an ornate hinge that can be opened to reveal a fully functional compass. If we're excluding the daily, normal routines, it might even come in handy when they're lost and the cellphone is running out of battery. Either way, it's a very attractive gift for women.

8. Fujifilm Instant Film Camera
For anyone who travels, a decent camera is a must-have. Capturing the amazing moments you're bound to have so that you can relive them later one is a blessing of modern technology and lucky for most people, their smartphone will have a decent camera. But looking at something on an actual physical piece of dedicated material feels a lot better than looking at it on the screen.
This instant film camera will be able to print a real copy of the photo you have taken within seconds so that you can not only keep it safe in one of your physical albums but also let someone else do it. This will make for a great gift and encourages the use of physical materials more.

9. Custom Luggage Tags
A very creative way to mark your luggage instead of simply writing with a marker or using messy labels. These custom tags are well built with high-quality materials and will come with text engraved on them.
You can choose what is printed and the design so you can give them a pleasant surprise with a beautiful wish printed on one side and their details printed on the other so that their luggage will always be taken care of with no hassle.

10. Anti-theft Travel Backpack
It's not easy to always keep a watchful eye on your belongings, especially when you're out traveling to locations with breathtaking monuments and views. You just want to immerse yourself in the beauty without having to worry about your things being potentially stolen.
Here's a chance to get just that with this backpack that has hidden pockets that keep your valuable items safe. It's very durable, water resistant, relatively compact and more than anything removes her need to worry about her belongings.

Relevant Articles
Fabulous travel gifts for men
11. Atlas Obscura
Planning a tour can be quite a tedious process as you will have to make a list of all the places you must visit and plan out the timings and routes so that you won't run into any problems during the tour itself. This explorers guide has a list of the most dazzling places in multiple cities all over the world.
It has information and places that most people might not even find on a quick glance of the internet, making it an invaluable possession of any travel lover. This would be an adorable gift and would make her excited beyond words.

12. Insulated Coffee Mug
Coffee while traveling is a lifesaving companion as it helps get through the stress and fatigue like a champ. But even if you manage to find a good coffee place you might not have the time to stand and enjoy your warm coffee before having to be on the move again.
This coffee mug is insulated and can retain the heat for up to 6 hours, making It perfect for light travel usage where she might have to be on the move quickly and a porcelain or plastic mug will simply no longer cut it.

13. Gadget-Friendly Travel Hoodie
It's never easy to select travel wear as the requirements might vary highly depending on where and what you visit. But something that can always stay relevant is this gadget friendly hoodie that is perfect for travelers.
It will serve well in all kinds of weathers save something too hot and has a lot of pockets specifically created to carry gadgets like cellphones, earphone buds and the like. In addition to that, this is completely pickpocket proof as all the pockets are covered with zip or placed on the interior. It will serve well as something that can support a lot of gadgets as long as you're comfortable with carrying around their weight.

14. Holy Stone Quadcopter
This is something that falls between unusual and unique when it comes to gifts. But it's certainly interesting and very innovative when it comes to it's intended function while traveling. It can be used to explore areas from different angles that she might not be able to physically reach herself and even record it.
This would be a very unique way of replacing your traditional travel camera. It can even be used to take perfect selfies or capture vlogs in a way that you simply cannot with a normal camera. It's also compact enough to fit in a smaller space and is very easy to control even for beginners.

15. Waist Belt
A very useful tool that can be used to carry around your essentials handsfree. Sometimes it's just nice to be able to walk around some awe-inspiring places without anything to drag around. But more often than not, you might have to keep your identification or shopping cards with you.
This waist belt has special pockets which you can use to carry your phone, cards, identification and pretty much anything that size while ensuring their safety. This would come in extra handy especially for women, who might get tired of taking their bag around all the time and looking for a more compact option. In addition to the utility, it's also quit stylish and would make a great addition to your fashion collection.

16. Drawstring Makeup Bag
This is one of the most innovative makeup kits in the market and is specially designed for travelers. It has drawstrings that can be used to open or close the bag and when she lays it out, all of her things are very easily accessible.
It's well compartmentalized but also allows for a very compact and easy to carry around closed design. The pouch itself is made of soft fabric with very attractive designs and is very easy to carry around compared to most makeup kits made of hard materials. It is one of the best travel gift ideas for her.

17. Infinity Travel Scarf
Gifting scarfs are not unusual but this one is more than just a simple well-made scarf and it's guaranteed to surprise her. The infinity scarf is made of very high-quality material and has a hidden pocket with a lot of space that can be used to store pretty much anything from cash or credit cards to even your ear phones.
The scarf itself comes with a great design and looks amazing. It's comfortable not only because of the materials but also the fact that all your important keys and cards can be safely secured close and handy to you at all times.

18. Andyer Travel Foot Rest
A great hassle to everyone who has ever had the unfortunate fate of having to stand in long queues or walk for extended periods of time is having nowhere to properly rest your legs. This small piece of equipment is simple to use, can easily be included into any package size and will remove all that stress built up in your legs after a tiring few hours.
The best thing about this is that it can be used pretty much anywhere including a bus. Whenever she feels sore in her legs, she could just pull this out, attach it to a solid surface and relax. It's sturdy and stays in place for as long as she needs it.

19. Cruise Power Strip with USB Outlets
Power outlets are a very scarce resource once you step out of your home or hotel. But it's not uncommon for you to need one badly for not just one but multiple of your devices. This small power strip plugs into a single outlet on the wall and has room for 3 full prongs outlets and 2 USB outlets giving her the option to connect up to 5 devices at once.
It comes in a rather compact size that can be fit into a very small corner in a backpack and even comes with a 'no surge' protection. It is a must-have essential tool for all travel enthusiasts and would make for a great gift.

20. Foldable Travel Duffel Bag
Carrying around luggage is one of the most undesirable parts of anyone's travel experience, especially when they bought some extra goods abroad and had to stuff them into their limited bags. This is a common problem but this duffel bag offers a very unique solution as it is completely foldable to a point where it will no longer be even considered a bag.
It is very easy to carry around as an extra and once she has something to fill it with, she can simply wrap it open and put things in the highly durable nylon casing. It will function just like a regular bag once it's filled up.

21. LED Book Light
Reading is one of the most common and preferred ways to pass time while traveling. This small stand is equipped with an LED light at the top which will provide sufficient illumination for her to read in the dark without bothering everyone else around.
The stand is completely adjustable in every angle and can be set perfectly to align with her posture, visibility, and comfort. This piece can also be simply clipped to the book so she doesn't have to constantly worry about adjusting it and it even holds the pages intact for her.

22. Lightweight Raincoat
Getting stuck in the rain while traveling could be one of the worst nightmares anyone could face, especially a woman. This extremely lightweight and hooded raincoat, however, makes that experience easy to get through with its waterproof body keeping the user completely dry.
It's very durable, made of lightweight water and windproof fabric, easy to pack and easy to dry. It has two fairly large pockets for storage of essentials and has an adjustable drawstring mechanism to properly secure the hoodie and waist. This would be one of the best travel presents for her.

23. Travel Laundry Bag
Sorting and separating your laundry could get really tiring especially when you're running out of space. This laundry bag is very compact, can be folded to fit into tight spaces so you can easily take it along with you without having to use up too much space and it will hold all your extra laundry which you can secure with a zip tie.
This model of the bag is themed after the world map and is perfect for any travel occasion. It would make for a very thoughtful gift for someone who is about to go on travel or just loves the idea of it.

24. Fire TV Stick
How many times have you been stuck with having to watch something on an iPad or your phone because you've moved away from home? Save her the same hassle by getting this Fire TV stick which can turn any TV that it can connect with into a smart TV.
She can enjoy all her favorite shows from almost all the popular services like Netflix and Hulu while just having to carry an extra thumb drive and a remote. This is very useful to get quality entertainment on the go.

25. Portable Hammock
Hammocks are probably the best type of beds whether you're traveling or at home. Most locations have something that would support a Hammock and having one that she can carry around with her all the time would be simply amazing.
This one can be wrapped up into a compact size and is also very easy to set up even for someone who has never used a Hammock before. It is also made using a soft nylon fabric that is guaranteed to provide her a comfortable nap or just a resting session.

Choosing thoughtful travel gifts for women can never be an easy task and that combined with the fact that you have to look for both utility, value, and reliability, it just takes a very long time to sort out all the junk and find some that actually make good gifts.
Women love when their close ones are thoughtful and it's very important that your travel gift for a woman reflects that since this is a great opportunity to showcase it. A unique travel gift for her has all the chance in the world to make the relationship between you a thousand times sweeter and this list is made to help you achieve just that!