Last updated on June 3rd, 2022 at 10:17 pm
Whiskey has been a great companion for humans for centuries. It has come to a point where brewing and drinking good whiskey has become more of an art than simple beverage consumption. As such, whiskey has gathered many loyal followers over this time and it's very likely you are familiar with one of them. Perhaps a friend or a family member and you might be looking to appease them with a small gift on a special occasion.
But it's not easy to get into the mind of a whiskey lover especially if you're not one yourself. Obviously, you'd want to give something that's related to whiskey or similar beverage but a simple bottle of wine is too common and offers nothing to make you stand out. So, we've done the work for you and after some extensive research, came up with some of the most creative gifts for whiskey lovers.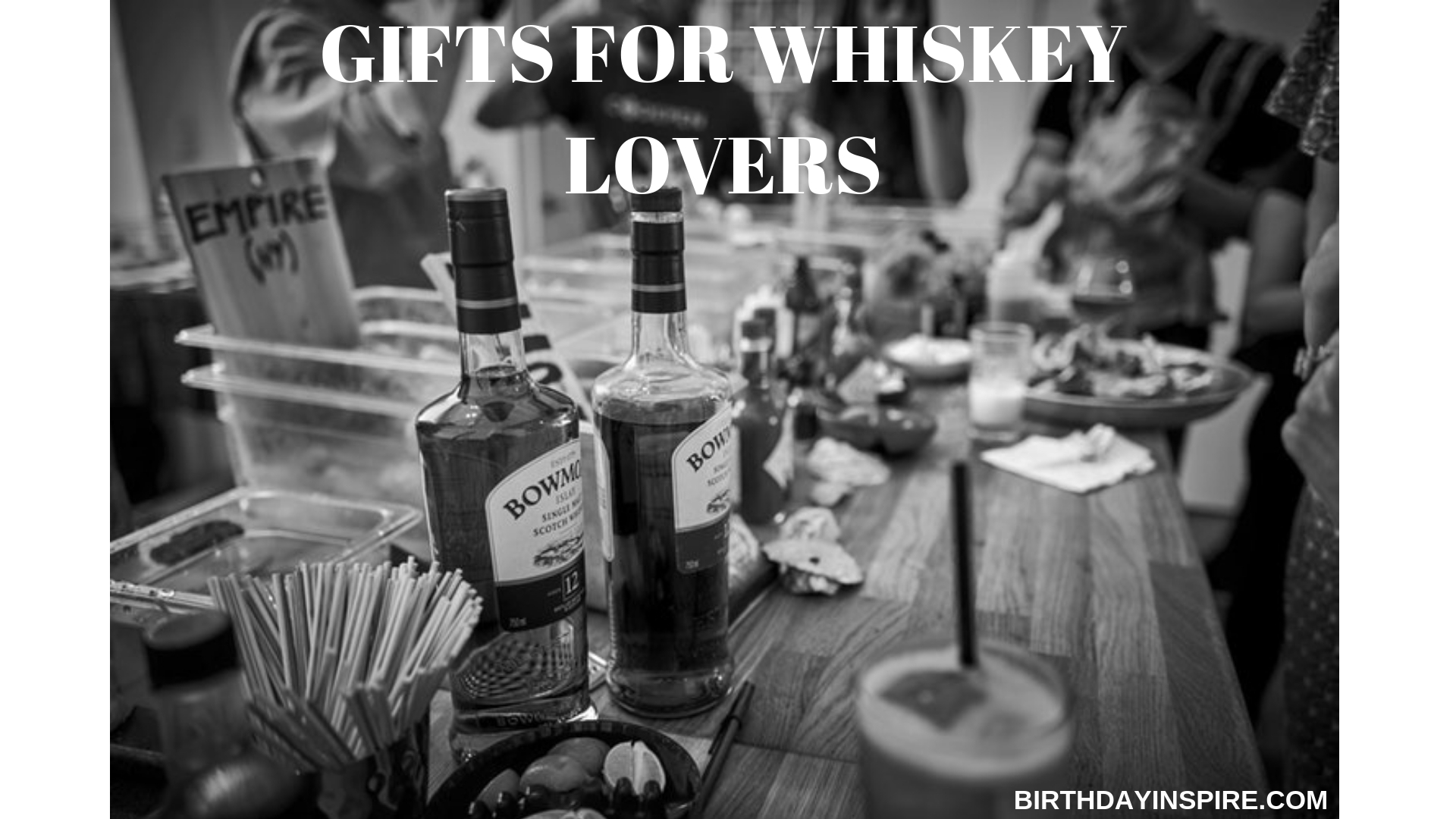 Recommended gifts for whiskey lovers
1. Personalized Whiskey Stones
Whiskey stones are small cubes used to keep the drinks cool for a long time just like ice cubes except these stones are metallic and do not melt whatsoever making them reusable for as long as desired. These stones are preferred instead of ice by some because they do not want to dilute the drink with water when the ice melts. For some it's just the convenience of not having to make the ice cubes.
Whatever the reason, there is no question that any whiskey lover would love to have a set of these stones at their disposal for when they need them. That itself would make this a great gift but to make it even better, you could personalize the stones with your own engravings on them while ordering. These stones also come in a very high-quality wooden box making it a perfect gift for whiskey drinkers.
2. Colored shot glass set

Shot glasses are a classic among drinkers. They are used to pour and consume small amounts of very strong drinks like whiskey, tequila or vodka and can be found at every bar. Even if your friend doesn't own a bar, this set would make for a great addition to their personal whiskey collection. These will serve well especially at drinking parties with friends.
Each of these glasses have color accents at the bottom making them extremely stylish and pleasant to look at the same time. they are made of lead-free glass making them washable even in dishwashers, which means not only do they add great value to their whiskey hobbies but also do so with little to no maintenance effort. That is a gift any one would absolutely adore
3. Custom Oak Barrel
As we have talked about before, whiskey has been around for a very long time and in the old days, especially on ships it is stored in wooden barrels so that it can age well. If you know a whiskey lover, they are probably familiar with this and seen such barrels on TV or read about them in some books. How about a surprise that actually makes their dream come true?
This Oak barrel is made to represent the traditional barrels used in the 19th century including a wooden pump for pouring out the drink. In addition, it also lets you add a personalized text on the front of the barrel that will be engraved in a way that it perfectly matches the wooden theme of the barrel itself. Weather you choose to put your friends name on it or their favorite saying, this would be a great surprise that they are never likely to forget.
4. 3-D Skull Ice mold Tray
Ice cubes in drinks in the modern day are more about giving it a classic feel than actually cooling the drinks. As such, it might be a great idea to move away from the traditional ice cubes and give them a more creative look. This Ice mold tray gives that option in style as it lets you create ice in the shape of perfect skulls.
The detail in the ice after being molded is phenomenal as every edge and curve is neatly formed from the box and it fits well into a medium glass of any beverage. This gives a very interesting look especially when used in parties or when meeting with some colleagues. Overall this is one of the best gift ideas for whiskey lovers.
5. Bartender Mixer Kit
Mixing beverages is a skill that does not come easy to most people. It requires quite a bit of time to master and even longer to master it with style. A bartender usually has years of practice for all the flipping and tossing of drinks they do. If you're friend loves beverages, it's very likely they would love to be able to do that as well.
Give them the opportunity to learn that by gifting them this high-quality set of mixer kit that will act not only as a great practice tool but will also be a great addition to their own personal bar. Even if they don't have one, these are some handy tools to have at your disposal for making a variety of drinks.
6. Whiskey Globe Decanter
Dedicated decanters are a much better way of storing whiskey or similar drinks than normal bottles. So, a good decanter will always be a good present for whiskey lovers. However, this decanter makes it even better by acting as a great visually pleasing show piece that could easily fit on any desk in addition to acting as a decanter.
It is made in the shape of a globe which also contains a glass ship inside. The whole decanter is then mounted on a wooden stand that holds it at a slight tilt giving it a very premium feel. It fits perfectly as a show piece with or without whiskey in it and is one of the most fitting gifts for whiskey lovers.
7. The Ultimate Bar Book
Weather your whiskey loving friend is a reader or not, this is a book that will capture their attention without fail. When you have a deep admiration for something, simply buying and experiencing it wouldn't always satisfy you. Sometimes you have to delve deeper and peel open the hidden secrets of the things that captivate you so much.
This book lets them do just that by giving a detailed explanation and tips on making over 1000 different cocktails on their own. It's something worth learning and experimenting hence making this book a very worthy and pleasing gift for bourbon enthusiasts.
8. Men's Pocket Flask
Men in particular love having a bit of whiskey handy at all times. Not because it's necessary but because it's just something nice to have around for a variety of reasons, primarily being it helps greatly with stabilizing their mood should they run into some unexpected troubles. While they could easily carry some around in a bottle in their backpack, it's rather inconvenient when it comes to packing.
This pocket flask does a fantastic job of eliminating that problem because of its small size. It can be put either in the backpack or even their pockets. The bottle itself is metallic but the exterior is covered with leather making it very comfortable and easy to hold while also adding some extra style points. This is a perfect whiskey gift for him.
9. Tasting Whiskey Guide
Whiskey lover's fascination doesn't always end with the taste of their favorite beverage. They are often also interested in knowing when and how exactly such a wonderful drink came into existence and how it is perceived and made across the different parts of both the ancient and modern world.
This amazing book covers the history whiskey right from its birth to the different versions of it created across the world over the centuries even explaining the small but unique flavors that exists across the globe. This book not only contains everything they'd want to know about whiskey but also some very cool facts that they would never have expected to be true.
10. 100 cocktail scratch off list poster
With whiskey almost being universal and strongly embraced by almost every culture across the globe, it's only natural that there are so many unique variations of it created over such a long time. A true whiskey lover would obviously want to try all of them given the chance but it's rather hard to find a good place to start.
This scratch off list gives them a list of 100 of the best cocktails from across the world that they can not only try but keep track of their progress while they are on their quest to finish tasting all of them. The further they go, the more satisfaction it gives them as they get a sense of fulfillment and it also works as a great wall poster behind their desk that they can show off to their friends once all the drinks on the list are scratched off.
11. Jilmo Whiskey Decanter Set
This is one of the best decanter set's available in the public market that is great especially for parties or for a drinking session with a group of friends. This set is made to represent a very old wooden barrel decanters used in the old days except this is made of glass mounted on a wooden stand. Giving it a very elegant blend of both a classic and modern look at the same time.
This decanter set can be set anywhere and it's an easy refill for anyone who wants an extra drink with just a slight flick of the tap. The decanter also has a glass ship inside it that is amazing to look at when the decanter is filled with whiskey and the submerged ship is clearly visible. It's an excellent artistic gift for bourbon lovers.
12. Ice Bucket Set
For many whiskey lovers the experience is not quite complete without having some good ice to go with their whiskey. But this could be a problem especially when they are travelling or on a trip as you might not always have a freezer handy. Those are the kind of situations this ice bucket set comes in really handy.
The bucket has a double layer of insulation so all the contents will be cold for a very long time even in moderately hot climates. The set also comes with a pair of nylon tongs which makes moving the ice cubes from the bucket into the drink an absolute breeze. The bucket also has a special tray reserved for other garnishing products so that all the essentials for their drinks is available in one place.
13. Time and oak whiskey elements
This is one of the greatest modern inventions for whiskey. These oak elements have some unique properties which help not only smooth en the whiskey but also age it with some unique flavors that are usually only found in whiskey that is aged in proper wooden barrels.
It's extremely simple to use as the stick simply needs to be dropped in the bottle of whiskey and once the time is up, the whiskey is completely ready for use with a much better taste and form. These work perfectly fine with most types of beverages from bourbon to Irish whiskey and scotch. It's a perfect gift for scotch lovers.
14. Liquor bottle lock
Whiskey lovers don't always hide their collection as they want people to see and admire it. However, this also opens rooms for problems like people randomly taking the liberty to open up a bottle and use it without bothering to ask. And there's not much to say about that afterwards because it would be rude but this bottle lock could help prevent that from happening at all.
It automatically fits most standard bottles and completely locks the top opening. This means no one can open the bottle without the key. This helps prevent unwanted usage of their wine, especially if it's something they're trying to save for a special occasion. It's a very thoughtful gift for bourbon lovers.
15. Whiskey themed insulated travel mug

Whiskey lovers are a group of individuals who consider themselves to be part of a rather proud community. So, whenever they get a chance to show off their love for their favorite beverage, they do not want to miss it. This travel mug has a very well accented "this is probably the whiskey" line printed on it which makes it the perfect cup for any whiskey lover.
The mug itself can be used to carry any type of beverage from coffee to whiskey. It will keep the hot liquids hot and cold liquids cold for extended periods of time which means this is very useful when they are busy with some work and do not want to drink all of it at once. It is also perfectly shaped to fit in most cup holders including in vehicles and the lid prevents any leakage.
16. Varieties of whiskey poster
As a product that has not only lasted for centuries but also been constantly worked on and improved the whole time, whiskey has many forms and methods of creation depending on where and who it's made by. This chart uses a very creative way to represent the different types of whiskey across the globe and also denote how they are related to each other and where they come from.
This poster is a great decorative item for a whiskey lover's room which they can glance at any time they're free to learn something new about their favorite drink. It's very pleasing to look at even for someone who has no idea what it is and the design makes it very simple to point and explain if they choose to do so. This is a fantastic gift idea for whiskey lovers.
17. Great Whiskeys: 500 of the best from around the world
Looking for the best whiskey at your local bar is one thing but when you're in a different country and have no idea about their culture or what kind of whiskey is popular there, it could be quite a challenge even for the most passionate of whiskey lovers to go about finding everything there is to know.
This book however will be their perfect companion when it comes to choosing and knowing about a particular whiskey no matter where they are in the world. It acts as a guide for anyone who is looking for some great local recommendations at a place they don't know. It has resources from over 22 countries of different kinds of drinks with a total of over 500 drinks from all over the world making this book the perfect travel buddy for a whiskey lover.
18. Whiskey Bottle Table Lamp
It's shouldn't really come as a surprise if I say that a true whiskey lover wouldn't mind one bit if everything they had is whiskey themed. It might seem a bit absurd to the outsider but for them, it's just a pleasant life that closely resembles a very attractive heaven. Help them get one step closer to that with this table lamp that looks exactly like a whiskey bottle.
This bottle is themed after the very famous maker's mark brand. It has a similar wax dipped top which is where the lamp is fitted along with the shade. The light also illuminates the bottle making it look even better during night. It would make for a perfect bed side lamp for them and is a gift that they will always thank you for.
Whiskey lovers are without doubt some of the most passionate group of people we can ever find. Their love for these beverages extends beyond just a temporary sense of satisfaction that occurs during consumption and extends way deeper into their life. Any gift you decide to give them should also be similar, leaving an impact not only for a few moments during its usage but also something they could cherish for life.
The above list is created by keeping in mind the relation each item has to whiskey and how it can help someone augment their numerous experiences they're going have with it in the future. All of those are amazing gifts for whiskey lovers that you can choose from or use to draw inspiration for your own ideas that you think suit better.