Last updated on June 3rd, 2022 at 10:15 pm
A piano is an instrument that has been somewhat of a revolution in the classical music industry. Even in the modern world piano is one of the most popular music instruments that attract a lot of people. Piano enthusiasts are known to be some of the most driven individuals as it requires a lot of concentration, practice and long-term dedication to master playing the piano.
It's not an easy thing to master but is extremely rewarding when you so which is what gets people into this in the first place. This makes piano a relatively open-ended endeavor as people often come up with their own styles and methods of learning using different creative tricks and tools to make it easier and give them an edge over the competition.
This however can be a great way to show your affection for one of your friends if they happen to be a piano enthusiast as you can choose an appropriate occasion and surprise them with an amazing gift that will not only convey your love for them but also prove greatly useful in their endeavor or even just add more of something they love in their life. Confused how to find such gifts? We've made a list of creative gifts for piano players that are hard to resist.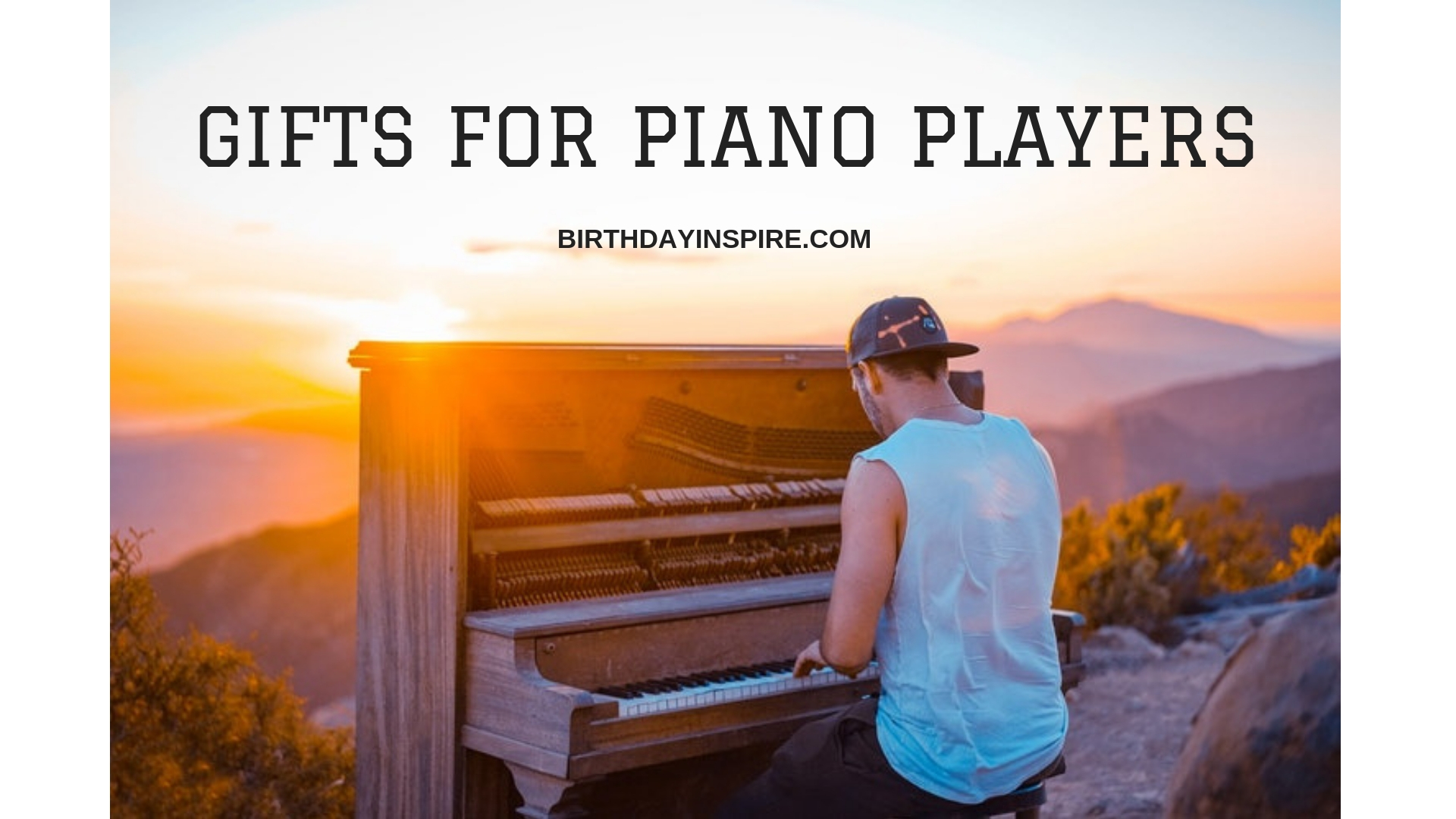 [Aug 2021 Featured piano gift]
Grand Piano Flea Figurine
This Flea Piano Figurine is an amazing piece of metal art! Hand crafted with expert precision, the metal piano figurine makes a unique, one-of-a-kind gift. It features a flea pianist ready to plays his grand piano. Piano Players everywhere will love this distinctive figure. Figurine made by hand from light gauge cold rolled steel. The base is hand cut from premium redwood, then sanded and finished with three coats of clear lacquer.
Recommended gifts for piano player
1.
Adjustable Piano Bench
Practicing piano is often a matter of hours of continuous concentration and focus which is not very comfortable. Especially having to sit straight for such a long time could be physically taxing on the body. But the quality of the piano and its lessons are almost always prioritized more which leads to ignoring the other less important but essential parts of the experience like seating.
Hence this piano bench would make for a great gift as it's not something they would think to spend money on when thinking about piano practice, but having a good seating option will make their entire experience just that much better. This piano bench has a lever that can be used to adjust the height to the desired position and even has a small storage drawer inside it for any music accessories. All of this is in addition to the well-built soft and comfortably padded seat making this one of the best gifts for piano players.
2. Socks with piano key design
Weather going for a concert or just a local presentation, a little more of piano touch to their appearance is something every piano lover would find exciting. These socks are not only made of very high-quality material but also come with a unique design that represents the keys of a piano.
It's visually pleasing but it's even more meaningful and attractive to a piano player as it gives them a feeling of being a bigger part of their craft and embrace it wholeheartedly. The kit comes with 3 different designs but all piano themed in classic black and white colors.
3. The Jazz Piano Book
When it comes to classics, piano is certainly among the top of the music industry but when it comes to the piano classics, this book by Mark Levine is really hard to beat. It gives great insights into how jazz is supposed to be played and uses a guidelines approach instead of strict rules to help students learn thereby keeping the whole learning process a lot more open for interpretation and improvement depending on the individual.
This book is an amazing gift for anyone just beginning to learn jazz or even those who are decently adept with it. It gives the users some theoretical knowledge that can then be interpreted and applied in their own practical ways. It encourages the students to take things slow and methodical and be more creative in their ways which makes this a resource that will always be valuable even after multiple reads.
4. Piano Themed Briefcase
Gifting a piano enthusiast, a good, high-quality bag to carry around their musical instruments would be a really nice idea but this bag makes it even better with its extremely well-designed piano theme it has going without actually compromising on any of the other important factors.
It has separate pockets on the inside for good organization and the piano keyboard theme on the outside will scream 'piano player' to anyone who happens to come across it in action. This is not only a great tool with great utility but can also act as a sense of pride for the piano player.
5. Microphone set
The amazing music that comes from the piano sometimes only feels complete when it's complemented by some equally good lyrics to go with it. While it might not be the utmost priority for a piano lover, you can encourage them to get even better at it with this condenser microphone.
It also comes with a clip and a stand that makes it properly positioning this microphone extremely easy. Whether you want to place it on the surface of the piano itself or closer to the body it does a great job of picking up the voice and isolating any noise that comes from other sources.
6. Piano keys beanie
This beanie comes with black and white markings that perfectly depict the keys of a piano in a circular way. This will be a great way of showcasing one's love for the piano to the entire world without having to compromise on the style or quality.
It's great for kids who love the piano as it not only showcases their talent and passion but also keeps them relatively warm and comfortable. It works as great as a part of outfits for any conventions or local parties with friends. Over all a very creative gift for piano players.
7. Piano themed coat hook
How do you let people know that they're in the house of a piano lover as soon as they get in? A giant piano in the living room? That could easily be passed off as a decorative piece in this day and age as a lot of rich homes have pianos in the main room but they're rarely used.
As an alternative, this piano themed coat hook is certain to at least get them curious as to how passionate one is about the most popular classical instrument. This would make for a nice gift for piano players not just because it's great to look at and use for them but it also gives them a unique and strong way of projecting their passion in their home.
8. LED Orchestra Light Stand
When it comes to music, especially piano, mood and feel are two of the most important things that determine how good you're going to play and how well you grasp in the things you practice during that time. So, being able to play the piano at any time is a big plus for a piano lover but there are a lot of inconveniences that stop them from doing so.
One of the biggest is the lack of proper lighting which makes it harder for them to read the music notes in front of them or even look at the keys. This LED light stand would completely eliminate that problem as it is capable of functioning individually with rechargeable internal batteries and a stand which allows for adjustment in pretty much any angle depending on the comfort of the user.
9. Music Flower Pot
This is one of the most creative and unique instruments/decorative pieces you would ever come across and it makes for an amazing gift for a piano player. You can connect this pot to a Bluetooth speaker or a phone and simply touch one of the leaves of the plant in it to play a pre-programmed piano tune.
The Pot itself has a very attractive design that also lights up in different colors when the tunes are played. The pot itself without any of those extra features looks amazing as a decorative piece and would be a great addition to any desk or room but the extra piano tunes at the touch of a finger are what makes this such a great gift for piano players.
10. Musical Note Tie
Neck ties are as much a classic for men as piano is to music and combining both of those would make for one of the best gifts you could ever come up with for a guy who loves the piano. This tie has a fantastic design that represents musical notes in bright blue color complimented by a black background which blends in perfectly with the theme.
It is an amazing addition to a music lovers' collection and would fit in very well as part of any outfit that they decide to use for a music convention or a music party. It makes them stand out and their skills with the piano will be a much grander showcase as they are no longer a random person but someone with a very unique style of both dressing and music.
11. The Piano: An Inspirational Guide
One of the most important aspects while learning any skill is motivation. It's something a person cannot lose or they risk losing their chance at mastering that skill. And all motivation draws from some inspiration that people find in their lives. This book by John-Paul Williams is a well written representation of the history of piano from the very beginning and how it evolved over the years.
It also mentions some of the most famous composers of the old generation and how despite their much harder struggles when it came to music and it's acceptance, they were able to keep their passion alive and create some true masterpieces. This a great read for just about anyone and for someone who already appreciates and plays the piano it is certain to create some very strong motivation to get better.
12. Piano Keys Magic Mug
If you're looking for something unique and creative but also something that could add meaning to their passion while still being useful in daily life, it doesn't get better than this. This mug while it's cold and not in use is a regular black ceramic mug but when you pour in some hot drink and it starts warming up, it will turn into a design that closely represents a piano keyboard but with slight accents of multiple colors instead of just black and white.
This mug is something that will always grab some attention when it's in use and it will remind them of you whenever they get a compliment over its unique feature. The mug is also very convenient to use as it's no different when it comes to the regular usage and is perfectly compatible even with dishwashers.
13. Music Keyboard Scarf
Scarfs are small things that are usually very personal to most people simply because of the nature of their use and the close proximity they hold to a person most of the time when in use. This is why scarfs are usually said to make excellent meaningful gifts no matter how simple it might seem from the outside.
In our case we take it a step further with this scarf that has a piano keyboard design on it to make it even more personalized and unique. It's a great way to not only give them something meaningful but also something that makes it much easier to represent their passion to the world without having to actually spell it out.
When it comes to selecting gifts, it's easy to get lost in the trends of the most attractive and most expensive while forgetting that the most defining factor of any gift is how meaningful it is to the person receiving it. Sometimes the meaning is derived from its practical use in their life, sometimes from its representation of the relationship you have with them and sometimes as a representation of that person itself in a way that they cannot always express.
The above list contains some very impressive ideas of gifts for piano players that work extremely well on all occasions and are certain to be meaningful, often in more than one way.