Last updated on June 3rd, 2022 at 10:14 pm
Coffee is a widely celebrated drink that is appropriate in most occasions, routine and special ones alike. There is a good reason for the beverage to become so popular and the favorite drink or in some occasions even the lifeline of a lot of people. It's the amazing taste combined with some very effective therapeutic properties making this drink almost irresistible. With such a wide spread and popularity, it's only natural that coffee is going to amass some very loyal and passionate fans along the way. It's not only probably but also very likely that you know one such person who has this unyielding love for coffee.
How do you please such a person? How do you make use of their obvious love for something and turn it into a ball of extra happiness for them? Certainly, a coffee themed gifts for coffee lovers seems to be the best choice but the problem arises when you're going to choose the gift, especially when you're not so well-versed with the coffee terminology. With such rich history, everything related to coffee is extremely refined at this point and it's hard to pinpoint what would make for a good gift and what is just a useless accessory that will rot in the kitchen.
But we've done all the work that needs to be done for you and came up with a list of some very impressive, uniquely beautiful and the best gifts for coffee lovers that will guarantee surprise and satisfaction to whoever is on the receiving end of it.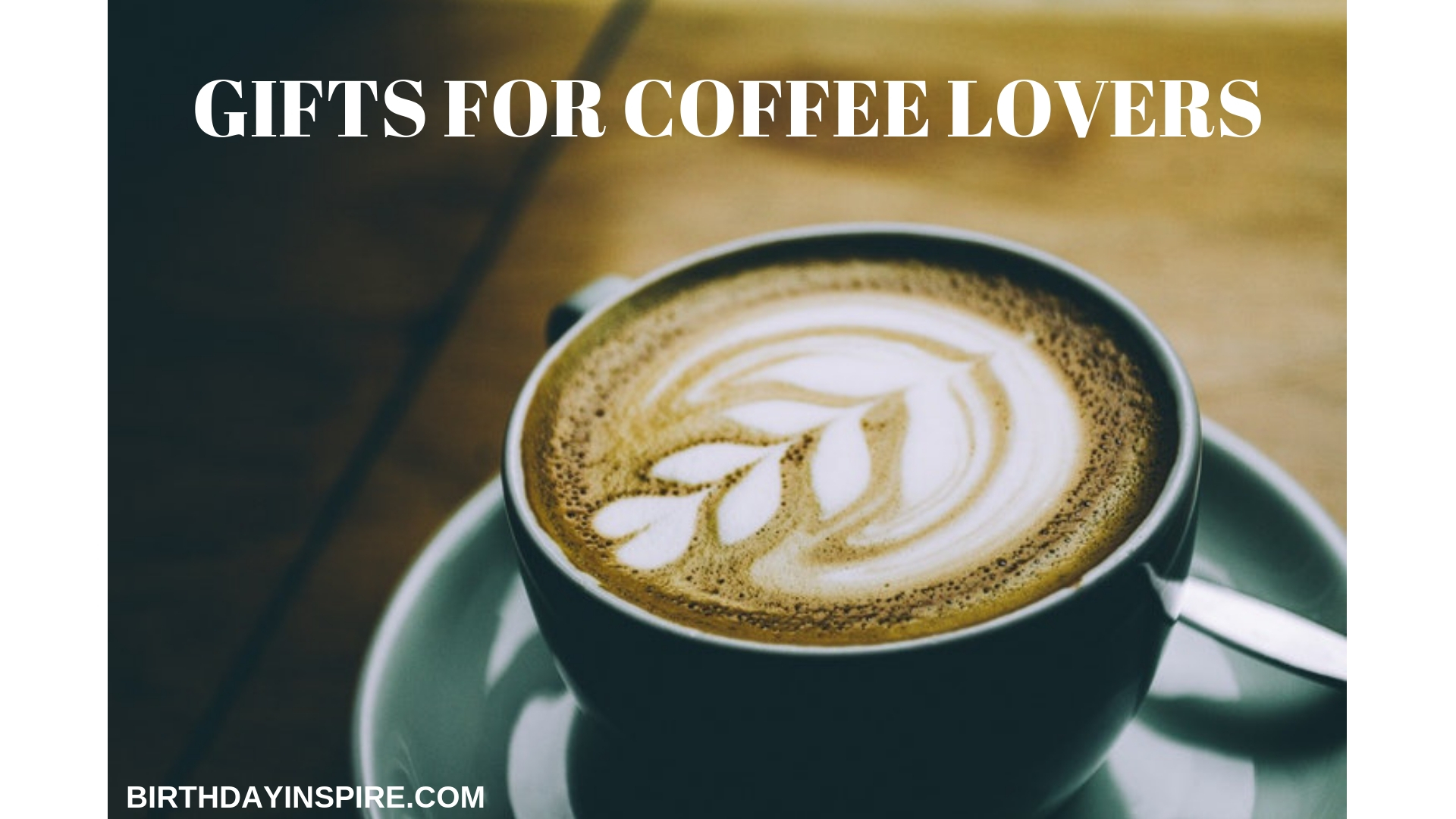 1. Yeti Vacuum Insulated Mug
This is a very high-quality coffee mug made of stainless steel and completely insulated on the sides so that the coffee inside will be warm for an extended period of time even when they have to attend to some other small tasks. In addition, the handle makes it very easy to grip for almost any size hands.
This is a very simple yet elegant gift option. It's almost an essential as a coffee lover usually does not skip their daily dose of their favorite beverage and it can come in extremely handy due to its insulated layers.
2. Manual press espresso maker
It's not uncommon for someone to find themselves in a situation where they are unable to carry the necessary equipment to make some coffee or even if they could they might not be able to fulfill all the requirements to operate it properly.
This is where this espresso maker would be a life safer for any coffee lover. Requiring no additional sources of power, one can easily brew their own special espresso using nothing more their hands and it's also super portable and convenient to use.
3. Coffee Storage Container with scoop
Properly storing coffee is one of the many challenges faced by coffee lovers. Without proper containers and atmospheric conditions, it's very easy for the quality of the coffee seeds to deteriorate over time.
This special container helps prevent that by having a completely air-tight lid which prevents the deterioration process. It also comes with a high-quality scoop for regular use. This would make for a great and very thoughtful gift to any coffee lover as they would absolutely love to keep their coffee seeds fresh from day 1 until the end.
4. Coffee+chocolate gift box
Coffee's amazing flavor isn't only limited to the beverage as it has been found to be used in many types of other drinks and food. However, one of the most prominent one among them is the coffee flavored chocolate which is a huge favorite among kids, adults and especially coffee lovers.
This box takes that experience to the next level by presenting us with 4 different handpicked coffee and chocolate flavors that come along with a clear manual for an exquisite experience of taste. This is a truly special gift and something a coffee lover would certainly appreciate.
5. Digital Goose neck Kettle
A kettle is a very important part of the kitchen of anyone who likes beverages and that is especially the case when someone loves coffee. What separates this kettle from the norm is its ability to heat the liquid exactly to the temperature you need.
The desired temperature is displayed and can be adjusted through a small screen at the bottom and it can even show the amount of time required to reach that temperature. This is a great addition to any coffee lover's arsenal.
6. Coffee Ice Tray
Coffee doesn't always have to be warm and in fact cold coffee is one of the most exquisite drinks you could find across the globe. This coffee ice tray is capable of making ice cubes in the shape of rather large but still accurately depicted coffee beans.
Whether it's for freezing coffee or just water, it adds artistic value to the life of a person who is particularly fond of coffee, making it a great gift idea for coffee lovers.
7. Electric Coffee Mug Warmer
Coffee sure is among one of the best tasting beverages but it's not always consumed for that pleasure alone. Sometimes people have it out of necessity, whether it's to keep themselves awake or to get rid of some annoying headaches as they attend to some important work.
This coffee mug warmer comfortably sits on any table and can keep the coffee warm for as long as needed. This means you don't have to worry about the coffee getting cold while you focus on your work allowing for a slow leisurely drink. Definitely a valuable present for coffee lovers.
8. Building Block Coffee Mug
Coffee is not just a drink. It's been used as a form of expression in many ways over the course of our history since it's invention and this mug would give you just another way to do that. The Lego themed cup comes with a basic design that can then be upgraded with your favorite Lego blocks.
It is once again a very unique way to add an artistic touch to an otherwise routine part of life and make it lively. This is something that makes for a very nice gift for coffee drinkers.
9. The World Atlas of Coffee
Coffee has a very rich history and it goes back a very long time. Since its invention, coffee has changed forms, evolved and in today's world became one of, if not the most popular beverage in the world. This book depicts the journey and evolution of coffee through the ages.
It's a portrayal of the life of something people love and it would mean a lot more to a coffee lover. It's not the practical application of the knowledge but the nostalgia of it that makes this book so great to read.
10. Electric Coffee grinder
Grinding coffee seeds is no easy task and it requires a certain amount of precision that might not always be possible to achieve with hand. That is where this electric coffee grinder comes in handy. It's stainless steel blades and their carefully designed arrangement will result in the production of the finest possible powder.
It's a machine that would make the life of any coffee consumer a lot easier. It saves time, energy and more than anything paves way for a much better coffee. A perfect gift for coffee lovers.
11. Gourmet Coffee Sampler
This sampler set consists of some of the finest and highest quality whole bean coffee seeds. It also comes with dedicated tasting notes and brewing tips helping one make way for a tasting experience that is as close to perfect as it gets.
This might not be a gift that lasts a lifetime but the taste and experience from it are certain to last a lot longer. It's a very unique gift for a coffee lover.
12. Coffee Bean Necklace
One of the best things about having a deep appreciation for something as popular as coffee is that you have a lot of ways to express it simply because of how many people are finding newer ways to do that. This necklace with a coffee bean shaped pendant is one of the most creative ones around.
The necklace is silver toned and completely handmade. It also comes with a gift card with a very nice quote. It's a great gift for any friend of yours who loves coffee.
13. Bamboo Drinking Straws
Drinking coffee with straws is not always the norm but with cold coffee it's a lot more convenient. These set of bamboo straws are made of extremely high-quality wood and are a lot sturdier than glass and plastic straws. They are also a lot more comfortable and 100% eco-friendly.
This is a gift that is certain to serve them for a very long time due to their durable wooden construction and comfort and they would be contributing to nature by avoiding plastic.
14. Craft Coffee: A Manuel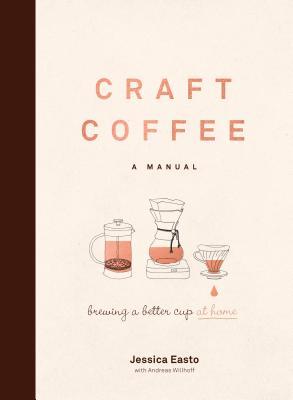 Making good coffee is considered a form of art in itself and with how many different types of coffee there is, it's not an easy thing to master either. This book by Jessica Easto covers many techniques on multiple devices on how to make better coffee.
You don't need to have any kind of prior expertise and it beautifully organizes and demonstrates how, with a few simple techniques one can make a much better coffee. It's the ultimate guide for a coffee lover who wants to get better at making coffee.
15. Arabica Coffee Scrub

This is a very creative combination of coffee with skin and health care. The coffee scrub is made of grounded coffee with various antioxidants and moisturizers to fight off unwanted dirt and germs and keep the skin fresh.
Best of all is that it's coffee flavored, not in taste but in the practical aspect and smell. It takes advantage of the coffee seed's natural exfoliating properties and provides an excellent scrub. When it comes to a coffee lover that is definitely a welcome bonus over a normal scrub.
16. Coffee themed Throw Pillow
This pillow has a great coffee theme going with its choice of art, colors and text. It's an extremely high-quality pillow case that is not only comfortable to use but also easy to wash.
While it acts as a great decorative item for anyone, it would mean a lot more to a coffee lover as they get to express the attachment they share with coffee. This is like a piece of art that represents the soul of the person rather than appearance. Overall a fantastic choice as gift for a coffee lover.
17. Caffeine spoon and spoon rest
A good coffee experience takes more than just good coffee as the convenience of drinking it plays a vital role in how enjoyable it is. This spoon rest is a subtle addition to the coffee set but would make a great difference to the overall experience.
Made of high-quality durable metal this is something that comes in extremely handy while having to mix some extra ingredients into the coffee. It's a small quality of life upgrade but once that is very noticeable and would certainly be appreciated.
18. Coffee Brand Puzzle
There are a lot of fun things to do while having coffee. Not all of them are aimed at being productive but rather small activities that perfectly complements the experience of a good coffee. A great way to do that is through this puzzle consisting of some of the best and most famous coffee brands from across the world.
This is a fantastic game for when a group of coffee enthusiasts comes together as they can use their individual experiences to identify the brands and complete the puzzle. A very unique and fun gift for coffee lovers.
19. Keurig Coffee Maker
To make good coffee you often need to dedicate a significant amount of time and attention. This might not always be possible for a lot of people and that's where this automatic coffee maker comes in handy, almost as a life saver.
It's very easy to operate and can make different types of coffee with varying tastes depending on the users set preference. It's one of the best gifts you could give to a person who drinks coffee on a regular basis.
20. Coffee Mug Holder Tree
If someone loves coffee, they're bound to have at least a few coffee mugs in their home. This tree shaped mug holder combines elegance with utility as it lets you hang multiple cups from it allowing for both storage and showcase.
It's yet another item that serves a useful purpose and acts as a decorative item at the same time. A coffee lover would certainly appreciate this with all their heart.
21. Arabica Coffee Bean Plant
This is a tropical plant that is crucial in the process of making coffee as this is where coffee seeds come from. While it won't produce coffee seeds nowhere near fast enough to fulfill anyone's coffee needs, the plant itself is absolutely stunning.
It's a worthy addition to any home as a décor and is particularly appreciated by coffee lovers. The flowers it produces will have excellent smell and this is a gift that is sure to be appreciated by a coffee lover.
22. Stainless Spoon Set
Spoons are as much of a necessary accessory as cups while drinking coffee. They are crucial for a lot of the process that goes into making and optimizing the taste of the coffee.
This set contains 8 spoons each with its own unique design. They are not only good at fulfilling the role of essential and useful but also look stunning while doing so. It's an adorable gift that perfectly conveys just how much the person means to you.
23. Where to Drink Coffee

This amazing guide by Avidan Ross is a one stop solution for all coffee lovers while traveling. It covers over 600 locations across 50 countries that serves amazing coffee. Places that one might not find on the internet or get lost among the million suggestions.
This book acts as a compact guide and is a perfect gift for coffee lovers. This is not something they would use daily but is definitely an essential every time they step out into a new unknown city.
24. Pour over glass coffee maker
When it comes to coffee makers, the pour over glass model has gained quite a bit of popularity over the years. Not only is it a more natural way of doing it but also gives the user a lot more control over how their coffee is brewed.
This set is made of non-porous glass that will keep the odor of the ingredients from sticking on even after washing. A great coffee gift for him.
25. Belgium Luxury Balance Siphon Coffee Maker
This equipment uses one of the most ancient and creative ways to make coffee. But what makes it stand out even more is its very exclusive look and feel. With its gold accents and high-quality design, it's as good of a decorative piece as it's a coffee maker.
This would make for an amazing gift not just for one person but a whole family as it would look majestic just sitting on a table and would invite the awe of everyone who visits.
26. Wooden Serving Platter
This serving platter is themed with a Portuguese tile design and fits in perfectly with most tables. Its aesthetics are great to look at and the quality of the platter itself is top notch.
Coffee is best enjoyed with some good company and if you're looking for a gift that could enhance someone's experience with coffee then this would be a great option.
27. Roasted Coffee Pods
Most coffee lovers prefer to make their coffee from the ground up as much as possible to avoid anything from messing with their desired taste at the end. But grinding and roasting the coffee seeds could be quite a chore even for them.
These coffee pods contain coffee that is already roasted and fresh so that the taste isn't compromised at all and will save them a lot of time and energy.
28. Coffee themed Bracelet
This bracelet is completely handmade and is a stunning piece of jewelry that looks great on anyone and especially attractive to and on people who admire coffee. It has a pendant with a coffee themed quote that can be customized and a miniature coffee mug hanging from it.
It's a really nice addition to the outfits and looks great for most occasions. It will be a very creative way to show appreciation for the special person in your life.
29. Personalized Coffee Mug
If your coffee loving friend happens to be someone extra special then you might also need your gift to feel just that extra bit personal. This ceramic coffee mug while being of great quality also lets you add 2 of your own images on its sides.
This would be an amazing gift that is a lot closer to their heart than any normal mug. Every time they use it, which they will be doing a lot of, they are reminded of your presence in their life through that picture.
30. Coffee Themed Wall Art
Coffee lovers are usually the kind of people who also tend to very much appreciate some good art. You can combine the best of both worlds and gift them this amazing 4-piece wall painting that would look great and go well with walls of any theme.
This art would be a lot more special because it represents a great taste in art as well as the persons love for coffee at the same time. It would be one of the best gifts they've received in their lifetime and will go up on the wall for a very long time.
31. Milk Frother
This small and extremely easy to use electric tool is capable of making the best froth to add to your coffee. It not only makes it good but also a lot easier as the whole process is automatic and it requires very low power while being completely portable. It also has a stand for storage and is also
easy to clean.
This is a fantastic gift for any coffee lover as it saves a lot of time and energy on a rather small but still tedious task. It's something that will have them thanking you every time it comes in handy.
32. Coffee themed slippers
These slippers are completely covered in wool and are some of the most comfortable pair you can find in the market. In addition to that they are coffee themed and do a very good job of showing that off with the high-quality braiding at the top.
While slippers are not something people pay attention to everyday, there's no denying that they are among the most essential things in daily life and them being coffee themed is just the icing on the cake.
33. Treasure Chest of Coffee
The set consists of multiple flavors of coffee samplers that come neatly assorted in a high-quality wooden chest. Whether it's for a late-night study session or a family get together, this will have a perfect flavor for the occasion.
If there was one ultimate gift for any coffee lover, this is most likely to win the prize. The great chest the samplers come in is also something that just raises the quality of this gift exponentially. Overall, just a gift that will be remembered for a very long time.
34. Turkish Coffee Set
This set of porcelain cups and saucers are designed with a great choice of colors and design. Their classical look is something that is sure to be admired by anyone who admires coffee and it's just a pleasure to savor through it.
Sometimes what makes a gift great is its class rather than its utility and that rings true in this case. If you're looking to get a coffee themed gift that would work as a status symbol, then this is hard to beat.
35. K-cup Carousel
K-cups are cartridges that let you brew some good coffee instantly whenever you feel like it. Extremely convenient but storing them isn't as easy as they are often bought in large groups. This Carousel can not only hold but also display up to 35 cups.
This is a stand with the great utility that also works as a fantastic show piece for coffee enthusiasts. If you know one of them and they don't already own this, it's a no-brainier.
Coffee being such a popular drink means it's relatively easy to find items that run along with the theme and can add a good deal of usefulness at the same time. However, it also means with so many available items, unless you know what you're looking for you would be lost.
This list consisting of the best gifts for coffee lovers is made keeping in mind the general preferences and tastes of people who like coffee and should give you some much needed insight into what would make for a good meaningful gift without breaking your bank.