Last updated on August 31st, 2021 at 01:43 am
The relation between daughter-in-law and mother-in-law is usually bitter-sweet. Lucky are those who find a mother-in-law who is kind and understanding. These are the birthday greetings for daughter-in-law that you can choose from to wish her on her birthday and make her smile on this special occasion.
Sentimental Birthday Messages For Daughter-in-Law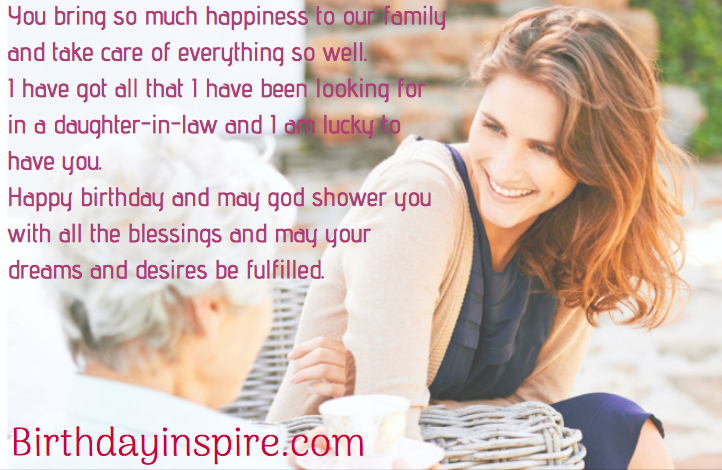 We started off on a bad note but eventually we understood each other. Happy birthday daughter-in-law. I hope and wish you all the happiness in life.
I know I pick at your flaws and mistakes but that is to make you learn not to make you feel bad. Happy birthday. My love for you is intact regardless of our fights and arguments.
You bring so much happiness to our family and take care of everything so well. I have got all that I have been looking for in a daughter-in-law and I am lucky to have you. Happy birthday and may god shower you with all the blessings and may your dreams and desires be fulfilled.
You entered our lives when everything was in chaos. You organised and brought so much stability to our lives. We are lucky and proud to have you as a part of our lives. My blessings and prayers will always be with you. Happy birthday.
When my son brought you home, I was unsure as our ideologies never matched. But having known you I have come to see that you are a wonderful person and my son is lucky to spend his life with you. Happy birthday and may all of your dreams and wishes be fulfilled.
You wit and quirks are annoying as well as entertaining. You are a part of our lives and I have accepted you as you are and hardly feel the need to change anything in you. Happy birthday and enjoy your special day.
You wake up so late and I have to take care of the kids for most of the time. I know your busy schedule and I am adjusted to you. Happy birthday and I hope you spend some more time with the family.
You are a wonderful daughter-in-law. You take care of domestic responsibilities so well and bring us all the joy and happiness. Happy birthday and may all of your life shine brightly like a diamond.
You are the example of a well behaved and ideal daughter-in-law that I love to talk about with pride when I am with my friends. We have had such good times chatting and gossiping, I hardly needed any other company. Happy birthday, god bless you with all the happiness and joy.
I know you get bored watching all the soap operas with me and still you do it so patiently to give me company. You are such a darling. Happy birthday.
You cook so deliciously and make everything so neat and organised. I never had to teach you anything after marriage. Your parents taught you well. I am proud of you. Happy birthday.
You know how to discipline mischievous children and it is because of you our grandson is so well behaved and scores well in exams. You take responsibilities so well. Happy birthday, lifelong I pray that you stay happy and healthy.
You have always planned every birthday and every event so well. Your style and taste are worth lauding. Happy birthday and may god bless you with all the joy and good life.
You have always been our shining star. You have never left our side when we were unwell, during all the crisis you were our greatest support. The most wonderful thing about you is that you never even complain. You are a god's gift to our family. Happy birthday.
We are class and generations apart, but that does not affect the closeness we have always had. We trust each other and that is what makes our bond so strong. Happy birthday to our darling daughter-in-law.
You are so urban in your approach but still you take us on pilgrimages and follow all the family rituals without a frown at them. You are so wise and matured. Happy birthday. May god bless you with many years of progress, riches, and happiness.
You are an ambitious daughter-in-law. But from you we learn so many interesting things. You add spice to our lives and make our dull old age interesting. We feel like kids again when you are around. Happy birthday. My eyes moisten to think how lucky we are to have you in our lives.
You have never ill treated us though we are old,, crippled, and not fashion conscious like you. We love and admire your style and love you for being so down-to-earth and caring. Happy birthday. From the bottom of my heart I pray that you always have good health and all the valuable things that you desire for.
My son was so messy before he met you. You have brought good changes in his life and straighten him for all the good that he is now. Happy birthday. Your firmness and goodness has mended his ways.
You have saved our family from so many crisis, you are heaven sent. We feel blessed to have you in our lives. Your sweetness and love makes us forget all the sorrows. You are more of a daughter than a daughter-in-law. Happy birthday dear, and may you always see good things in life.
Dear daughter-in-law, may sorrows never touch you and may you always see and experience the best things in life. You have made so many sacrifices for the family, you have divinity within you and a lot of endurance. Happy birthday. Words are never enough to send blessings across you.
I pray to god daily and thank him for giving us such a wonderful daughter-in-law who takes care of the family so well and does not whine or crib. Happy birthday and may you never be sad even for a day in your life.
Your put yourself last and give more importance to family every time and in every situations. Today is the day you must put yourself first as it is special for all of us. We want you to sit and relax and enjoy the day. Happy birthday.
When you started to see our son I was skeptical because you look so domineering on the outside. Getting to know you I have understood that you have such a soft heart and are so full of love and compassion. Happy birthday and may you always be blessed with a lot of love and kindness.
Funny Birthday Messages For Daughter-in-Law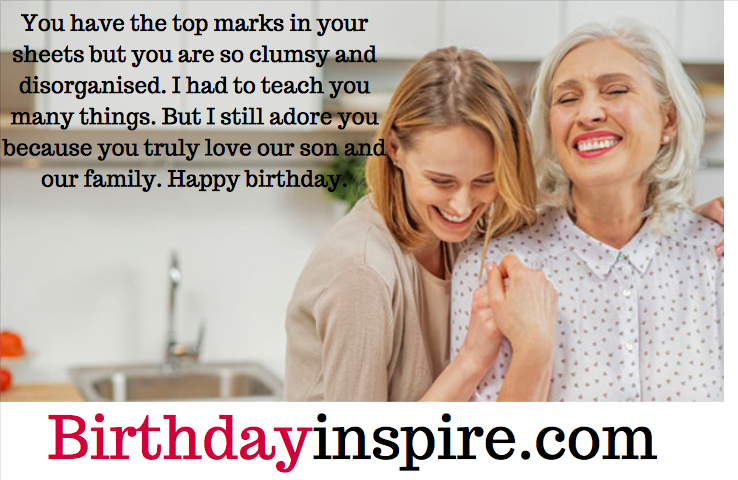 You have the top marks in your sheets but you are so clumsy and disorganised. I had to teach you many things. But I still adore you because you truly love our son and our family. Happy birthday.
You burnt the toast so many times and ruined my morning breakfast and I never let you know because you were newly wed. I was only chuckling because you thought you did a good job. Happy birthday to many more burnt toasts and glasses of champagne.
Like a messy son you misplace car keys and so many other things. But the best thing about you is you never miss to wish us and always take care of us in our bad health. Happy birthday.
Having you in our lives has been a roller-coaster ride. We are not used to dealing with mood swings. But what makes you adorable is how you come out of crisis and go out of your way to help the family and keep a strong bond. Happy birthday. Hope years to come will tone down your moodiness.
Shopping with you is the best experience I have had and is so much fun to do. It is the girl time I have had in old age and reminds me of all the nostalgic things. Happy birthday. You are such an expert in style, clothing and decor. Shine and smile for ever. Happy birthday.
You look good when you wear my old-fashioned clothes on the special family occasions. But I cannot keep up with your cool internet stuff. Happy birthday. You are very dear to us.
I try not to embarrass you on FB by posting comments and control myself even when I just want to write long comments and I settle only for likes. But then there are things that you post on social media that I have to talk to you about. All times with you are good so far. Happy birthday.
It took time to tame your rudeness and make you understand certain values that we go by. You have been a charm in the long run. I hope you maintain the same sweetness. Happy birthday.
Your marriage with our son has been a bumpy ride with you both learning from each other. It has been adorable to watch you both grow through all the good times and bad times. Happy birthday.
These are birthday greetings for daughter-in-law that let you express all that is in your heart and mind on her birthday wishing her well and bringing smile on her face. Every family goes through series of arguments and fights but when love stays in the end, it makes for a worthwhile journey turfing out all the bitterness.