Today i will be sharing some suitable 50th birthday gift ideas for women. This list is for people who are looking up for gifting any woman in their life who is turning 50. She could be mom, wife, sister, friend, etc..
If you imagine a 50 year old woman just a generation back you might think of a frail looking woman with some gray strands of hairs but today it's all different. Today we see passionate, vibrant and vivacious women who even though are in their 50's still are full of energy. They are an intelligent, smart, confident and fashionable group who are ever ready to take on the world no matter what.
So if you have a woman who holds a vital place in your life and is turning 50 soon you need to make the day special for her in every possible way. Every birthday acts as a milestone of any person's life but a 50th birthday is a mark of one's transition from one phase to the next one.
Now finding a gift for a woman who is turning 50 is not easy because most of the middle aged woman, who now are usually working and independent have enough money with them to buy what so ever they need or like. They are also sport enough to take a dive into their passions and buy everything that is of their interest. Their disposable income allows them to rock it and even if they are not working, women know how to save. So shopping for someone who is almost 50 is a tough call yet to show some one that you care it is necessary to get a thoughtful gift and it will definitely be well received.
So, if you are a woman yourself think about the best gift that you have received till now but make sure it is age appropriate if you plan to gift a similar present and if you are a man either consult someone or think of something that you have gifted a 50 plus and was appreciated. Again you too need to make sure if it is apt for a woman. Whatever the way may be, be sure to make it worthwhile and to make it easier for you out we have summed up some of the finest options.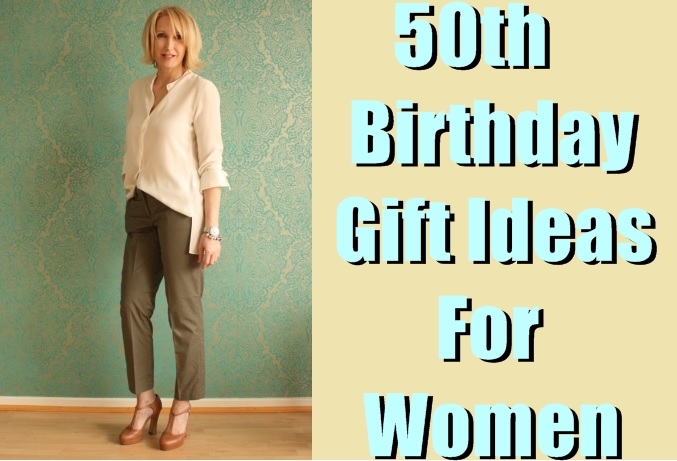 Recommend birthday gift ideas for a woman's 50th birthday
Down below i have listed few gift option you can consider for gifting any lady who is turning 50. These are some gifts i found over different resources, so the are the best shortlisted one. Stay tune and explore these perfect 50th birthday gifts that woman.
A delight to read, it is book which is insightful and yet hysterically funny. It is a quiz book with some funny Q and A's which will leave the reader rolling with laughter on the floors. Gift this book to who so ever who is in distress with getting over with their 40's and see them lighting up with giggles.
A must read book which will not only make the reader think but also smile on the idea of turning 50. It is a collection of writings of 50 authors on the idea of turning 50. It is a beautiful book to read and extremely helpful gift for anyone who is not so happy about turning 50 and for those who are ok with it, it will provide guidance to appreciate it more.
3
Katia Silver and Thread Bracelet by Bloom Boutique
A beautiful piece of jewelry which looks extremely stylish, trendy and can even be personalized if you wish by embossing engraving or hand stamping. It is available in various colors for you to choose as per your desire. A smart piece of accessory to go with whichever smart wear you wish to pair it up with.
4
Personalized Transparent Photo Frame
A refined photo frame to hold the precious memories and allowing you to exhibit them to one and all. It can be personalized by adding the images you wish to put in with a Polaroid effect. Gift it to the woman who holds an important place in your life. She could be your mother or your wife, may be your girl-friend or sister or your best friend, with pictures of you two together to show your gratefulness for the moments that you have spent with her.
5
Personalized make-up bag
A make-up bag with the name of its owner which is spacious enough with its 3 compartments to engulf all your necessary beauty items. The personalized message on the bag can even be longer as wished, up to two lines. A woman who will not love it is definitely hard to find!
An elegant way to celebrate while also participating for a genuine cause to make a difference. Here is a pack of three excellent wines with a perfectly balanced and refreshing taste from Onehope foundation. Gifting it would be the best way to make a birthday special.
7
Tranquil Isle Relaxing Bath and Shower Oil
An extremely concentrated blend of essential oils to dilute the stress of the entire day with their therapeutic fragrance of Lavender, Camomile and so much more. A perfect way to soak away your tensions and relieve yourself from all the hassles of the day. What can make a better 50th birthday gift than the gift of tranquility?
8
1965 Birthday Gift, Lucky Sixpence Necklace
A beautiful and hand-made Sterling silver necklace with a 1965 sixpence set in a Tibetian silver pendent and a chain. It is a unique way of expressing the beauty of antiquity and gifting it is sure to bring back a series of precious memories.
A set of 4 elegant red wine glasses with a topnotch quality of crystal. Coming from Italy these beautifully designed glasses that are strong enough to handle the hands of even the clumsy ones. An absolutely perfect gift material.
10
Blossom scented candle tea lights
Handmade flower shaped tea lights with fragrance of blossom flowers to freshen up any corner of the home. These are so delicately made that you may not even want to light them up but if you do you will find yourself enchanted in the aroma of these magnificent candles.
The popular Italian Prosecco would make a wonderful gift and getting it personalized would add on to the exquisiteness of the occasion. Name as well as the message can be written up to 70 characters.
12
Hot rock massage stones gift set
If one has never experienced the soothing effect of these spa rocks these would make a perfect gift. It would prove to be the best experience for the person giving a calm and serene feeling like they have never felt.
Crafted perfectly from walnut wood in South Carolina this set of book ends will enhance the elegance of the library. A great gift for a book loving person who likes the décor of her library to stay chic and the added lamp gives a soothing amount of light to help the reader without straining the eyes.
14
Vintage Silk Sari Scarf
Picked up from Indian fashion this is a beautiful pink scarf which will go with almost every dress. It is beautifully handcrafted collection of scarves is made of delicate silk saris patched together to create vibrant colors. Beautiful feminine scarves to gratify the grace in a woman.
15
Amethyst Geode necklace
Framed in 14k gold it is a unique necklace made from a slice of Amethyst Geode. Beautifully bright and sparkling piece of jewelry which also acts as a calmer to the senses. A well-designed piece to enhance the elegance of whatever is planned to wear and for any occasion.
16
Personalized key ring locket
Personalized photo key rings which can hold 2 photos of the loved ones will make a great gifting option which can further be more personalized by engraving of names and message.
17
Succulent Living Wall Planter Kit
A garden on your wall to freshen up the living room in a wooden box. It can also be laid down horizontally on the table. Just follow the simplest of instructions which come with the kit and grow a small yet thriving indoor garden.
18
Bill board top hits: 1965
The top rock and roll hits of 1965 like Shirley Ellis, Beach Boys, Barry Mcguire and so on. Get this compilation of groovy music of 1965 for a gift that's sure to rock the most, bringing back the old memories and making the day a lot more special.
19
Lovely by Sarah Jessica Parker
With a musky rich fragrance this perfume has been loved by many women for it feminine and floral scent. It is sure to make a perfect birthday gift option for women with grace and style.
20
Personalized Record Doormat
For a music lover how can this nostalgia not be loved? A floor mat designed as a record which can be personalized with the name of the person and the family, it is being gifted to on the label.
A thoughtful gift will make the bond stronger and will make her feel special and loved at an age of 50 as well. So go ahead and pamper her with whatever you can!
Make her day awesome with these gifts. I hope you enjoyed exploring these gifts from the list. So don't hesitate pick a gift from this perfect list of 50th birthday gift ideas for women.