We are reader-supported. When you buy through links on our site, we may receive an affiliate commission. As an Amazon Associate, we earn from qualifying purchases. Learn More .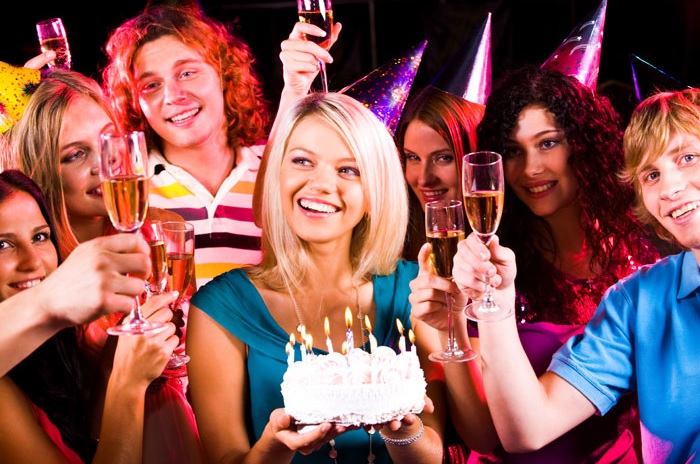 Looking for a few unique birthday ideas for planning a birthday party? You've definitely stumbled across the right little corner of the 'net!
So… you've got special birthday is on the horizon and you've already done all the customary things throughout the years.
One year you threw a fabulous surprise party, another few you did special dinners, and year after year you've increased his or her personal collections (CDs, dragon figurines, whatever) with your birthday gifts. And you've definitely seen more of that same ol' cake than you'd ever want to!
So how on earth do you come up with unique birthday ideas that fit your budget and will please the birthday guy or gal?
The Basics of a Unique Birthday Celebration:
Let's start with the basics! There are four things that typically go into making a birthday party unique. These are:
Location
Theme
Gifts
Guests
I'll go into some unique birthday ideas for each element below.
Unique Birthday Party Location Ideas:
Don't know where to host your party? That's almost a good thing… because starting with creative locations can give you the best unique birthday ideas!
Pick a spot where you've never had a party before. Now, this doesn't mean you have to go in blind. Get recommendations from friends, family, co-workers etc. Whether you want to party down on the top of a tall building with music and candlelight or out in a secluded glade – it doesn't matter. What matters is that your setting reflects the theme of the event or the outcome desired, along with what you know the birthday guy or gal will love.
Public Pool (or rent out an indoor hotel pool!)
The Neighborhood Bar
Art Galleries or Museums
Nearby Farm or Park
A Real Restaurant Kitchen (just call– many allow this!)
Dance Studio
Mini Golf Course
Nearby Orchard (make apple/cherry/peach picking part of the party)
Fancy Hotel Room (no clean-up!)
Historic House or Building
Unique Birthday Theme Ideas:
One of the best things about using themes for your unique birthday ideas? Theme is another way to really set your celebration apart from the throng… and it can also be a good way to make cheap birthday party ideas seem super special.
So ask yourself… what kinds of things really make your the birthday boy or girl's eyes light up? Do they love history? Well pick out an era and have a costume party. Do they crave specific foods? Then have a gathering where their favorite edibles get served.
If you're having trouble determining the best theme think about the movies, books, or hobbies the birthday person enjoys. That's a good starting point. For example, a Sherlock Holmes fan would be tickled pink with a Murder Mystery party. Some fun and unique birthday ideas for themes are:
Zombie, Vampire, etc., Party: make it scary… the further away from Halloween the better!
Four Seasons Party: everyone dresses from any season, different seasonal foods and decorations.
Biker Costume Party: make your home a biker bar for the night!
Color Party Themes: choose a color or combo of colors and have everything follow your color theme!
Karaoke Party: rent a karaoke machine and spend an evening annoying the neighbors.
Fortune Teller Party: fun for kids and adults' parties! Hire a fortune teller for the evening, and plan your party around a mystic theme.
Backyard Campground Party: set up different tents for different activities (like board games, etc.) and roast marshmallows and hot-dogs in the yard.
Trade-It Party Theme: have everybody bring an item to trade. They can either bring all the same item, like shoes, or different ones.
Unique Birthday Gift Ideas
Then we come to birthday gifts! My first suggestion? Even more important than coming up with unique birthday ideas, what you really need is planning…. don't leave ideas for gift-giving to the last minute!
Learn what They Like. The best way to go about it? Start at least four months before the birthday. Set up a file somewhere in your computer where you can put ideas as you come up with them. Throughout that time, write down anything that they comment about, items that they mention in passing, something that a friend has that they drool over, and so forth. For example, one friend loves steampunk – well there are websites dedicated to offering hand made items in this style (and you could even create your invitations to match).
Match Your Theme. You can also choose your birthday gifts to match whatever theme you've chosen for a party. Whether it's Dora the Explorer for a young child or an "I love vodka" theme for a 21-year-old, gifts that follow whatever unique birthday idea you've come up with can make the whole thing seem a little richer.
Go by Year. Another approach to unique gifts is looking up the birthday person's year of birth and seeing what happened. Then give everyone who plans to attend the celebration a list of items that reflect that year. This makes a very cool collection that people can add to as years go on if they wish.
Your Birthday Party Guests
And what about the guests at your birthday party? If you want some really unique birthday ideas, let the guests get in on the fun!
Everyone Brings a Bit. One fun way to let the rest of the guests in on the fun is to coordinate gift-giving. Decide on a gift-giving theme, or on a particular gift that has many parts, and have each guests bring part of the gift.
Everyone Plays a Part. This is one of the best unique birthday ideas to play with your guests! Come up with a bit of drama to surprise the birthday guy or girl, and have everybody play a part in it. See how long it takes him or her to figure out it's all a rouse!
Play a Prank. If the guest of honor has a great sense of humor, play a prank on him or her! Tell him or her that the dress code is formal, and have everybody else come in jeans. Or say it'll be a small gathering and have 100 of his/her closest friend there. Have fun with it!
Invite a Surprise Guest. Here's another way to make for a huge surprise. Bring in a family member from out of town and introduce them as an "old friend". Wait to see how long it is before the birthday celebrant recognizes them! Seriously – this is fun, funny and incredibly touching.
Unique and unusual ideas for birthday party

To make all of this easier for you we have some amazingly exclusive party ideas to throw an exceptional party.
1. Make a booking for a music concert
A good music can evoke some very strong emotions in a person. It can make you laugh and cry at the same time, bring back the forgotten memories, build up new ones and rejuvenating your soul.
If you know your guy/gal to be a music lover a music concert can make their birthday unforgettable. It will be a magical eve especially for those who are too stuck in their everyday routine to enjoy the little things in life.
2. A classy wine tasting night
If you have a group that enjoys the occasional drinking of wines but are not very aware of the details here is an idea for an elegant party where you can enjoy various flavors of different kinds of wines. This can be done in a normal budget as if you look around you will get some really good bottles at a very affordable price.
At the same time if you can spend more you can go for some exotic bottles as well. Before this however, make sure to acquaint yourself with some of the basics of wine tasting. You can find a lot of guide books and information on net regarding different varieties of wines from different regions.
3. Go for an open Bus Road Trip
Now, this is something I am pretty sure you must not have ever considered to go for. Celebrating a birthday in your home, in a hotel, lounge, event halls etc. is quite heard of but a birthday celebration in an open bus road trip is something not so common.
If you know your birthday guy/gal loves to travel them this birthday party will be the one they'll remember all their lives. A road trip birthday celebration is an ideal way to have an exciting, fun-filled and unique birthday party.
4. Celebrate it with nature
To all nature lovers, this kind of birthday will be a treat. A small birthday party at a beautifully scenic location surrounded by the people you love and who love you back is all that can be desired for a perfect celebration.
Set up a small camp and make their day incredibly beautiful. It is something that is not usually done and thus will be an amazing way to give your loved one a happy and relaxed time away from the everyday hubbub of the cities.
5. Make the day count in an NGO
We all wish to celebrate our birthdays with an awesome birthday bash, loud music, lavish food, friends, family and a rocking party but why not do something different this time. Doing something which is a lot more meaningful and which brings happiness to a lot more people rather than just for us.
So, here we are talking about celebrating the birthday at an NGO with those who are lesser privileged than us. An orphanage or an old age home is full of people who are left waiting for even the faintest ray of happiness.
This small deed of kindness will not only light their day but will also bring a lot of joy and peace to you too. Spread the smiles and feel the warmth spreading to your heart.
6. Be a child again
Okay, now this may sound silly but believe me it's going to be a lot of fun. Childhood memories are the favorite ones of everybody's life so why not try to re-live it? As a child we used to start planning our birthday's months before the actual date.
Rekindle that excitement in you and plan and decorate the house just like you did in your early years. Bring back the colorful balloons, ribbons, wallpapers and the rainbow tassels.
Plan up the old games which once were all you loved playing all day long. You can make this as a theme and ask the guests to dress up accordingly.
7. Skydiving for a Change
If you wish to make a birthday absolutely terrific and worth remembering for the rest of your life go for an adventure sport and among all nothing can be as thrilling as sky diving. Feel the rush of blood and the excitement in your body.
Feel the calm and the bliss while you are floating through the sky. Feel every single moment of it and at the same time feel the 'nothingness' in the 'fall'. But then these are such strong emotions which can hardly be bound by words.
Sky diving is an experience that will mark your birthday for the rest of your life and that is exactly what we are aiming for.
8. Nature hike and spend the night out camping
Another exiting way to celebrate a birthday be it yours or of someone dear to is to go on a hiking trip and finally camping down with blazing fire, loads of music, dancing, drinking and having fun in the middle of the wild. Make this outdoor trip an opportunity to reconnect with yourself and the people near to you.
Keep yourself away from the outside world for a day and have your on yourself and your surroundings. Rejuvenate, refresh and revive your old bonds and memories with the people who matter the most.
9. Shopping is what you are missing
Sounds crazy, doesn't it? But actually it's not, especially for women. Common we all love to shop but our busy lives keep us from getting the things we love so often. So, now is the time. This is your day or even if you are planning it for someone else it'll be a great idea.
Go out and ravish the malls, leave nothing that you like behind. You work most of life for money and you do not have the time to spend that on things you love, not fair! Spend on yourself as it is your day and you absolutely deserve it.
10. Go on a booze cruise
Now, here is one for absolute party people. What do you normally do in your parties? Go out to pubs, drink, dance and finally come back. But this is so very 'everyday' thing, let's add a twist to it.
Grab your group or go solo as per your wish, move from one place to the other starting from a light drink in a coffee shop or a restaurant and then go ahead to some pubs and clubs.
Well, my point is you will get to meet a lot of new people and will get a break from your regular mundane lifestyle. In the last you can head back to your home with your gang for a personal time so do not forget to keep your home ready as well.
11. Fulfill your long pending wish
In our super busy lives we often forget to make ourselves our priority. Even the most important things are often left neglected by us. We all have at least one such desire to be fulfilled which has been on our minds since ages.
Let birthday be a chance to fulfill it. For example, you wish to start learning a certain type of activity or have wanted to buy a certain pair of branded shoes but have been unable to do so.
Let this birthday be a chance to fulfill that long pending wish. What other day could be better than this very day to gift yourself what you've wanted for a long time.
12. Throw a blackout sleepover
Now, we come to people who like more of a private setting, without an explosion of music and booze. For those who prefer a much more personal experience a sleepover is a perfect.
To make the setting more comfortable, turn off all the lights and gadgets and bring the room to life with the lighted candles. Do not forget to remove the furniture out of the way to save the guests from tripping over and hurting themselves.
Arrange some mattresses, blankets and pillows on the ground in a circle. Play some light music and enjoy the drinks and snack while conversing and playing some fun games with your friends.
This definitely is a very simple and non-glamorous way of celebrating your birthday but then birthday's are not all about spending loads of bucks on getting high and partying out all night.
It is about spending some quality time together with those who care for you. You will have a great time, enjoying yourself wrapped up in the warmth of your near and dear ones, especially if you plan for it on a weekend so that nobody has to stress out of running to their work the next day. You can wake them up with delicious breakfast for a fantastic finish to an amazing start.
13. Have a 'no work' day
There are some among us who wish to celebrate their birthdays with no one but themselves. It is not that they are depressed or do not like celebrations but once a while everyone needs their own time. A birthday should only be celebrated the way the person wants to.
14. Unusual winning prize Gaming party
This is great idea for those who are in love with video games and I'm sure there are very few men and kids out there who do not enjoy the 'gaming spirit'. All you need to do is invite a bunch of their friends and organize an electrifying tournament of their favorite games.
Make sure to have an interesting reward for the winner, to lift up the level of excitement. Add some age appropriate snacks and drinks and you will become the ultimate party planner.
15. Book a seaside villa
Everybody loves and wishes of having a lavish birthday party and if you are one of those who do not have to worry much about the finances here is a great idea.
Book a villa on a sea side for their birthday and invite their close friends and family to celebrate it in 'king-style'. Let them enjoy the scenic beauty and the fun of an out-door party, all at the same place.
So, if they want to take their day off and be by themselves, that is what should be done. Keep this day for yourself and do absolutely nothing. Say no to work and office on your birthday, relax and breath it's your day and no one gets to tell you what you should do it is something as simple as that. Enjoy