Last updated on June 3rd, 2022 at 10:16 pm
Sports have become extremely popular especially in the past century. They get so much recognition in the modern society that the best players in the world in a lot of sports are celebrities across multiple countries. Sports also unites a lot of people just because of the common love they share for it and it is completely irrespective of their differences like race, religion or nationality.
So, it's very likely that most kids of today's generation are already exposed to a lot of sports and sports personalities who inspire them to grow up to be like them. They make children achieve the same level of skill and hence greatness someday along the line. Such dreams could very well come true as long as they are properly supplemented and backed up with proper encouragement and resources. Even if the kid isn't going to be one of the best players in the world in any sport, there is still no reason to not encourage their love for something so big and beautiful.
So, for the next birthday or Christmas vacation, it might not be a bad idea to give a sports themed gift for a sports lover in your life. Here are some very unique sports gifts for boys that have an unyielding passion to reach great heights.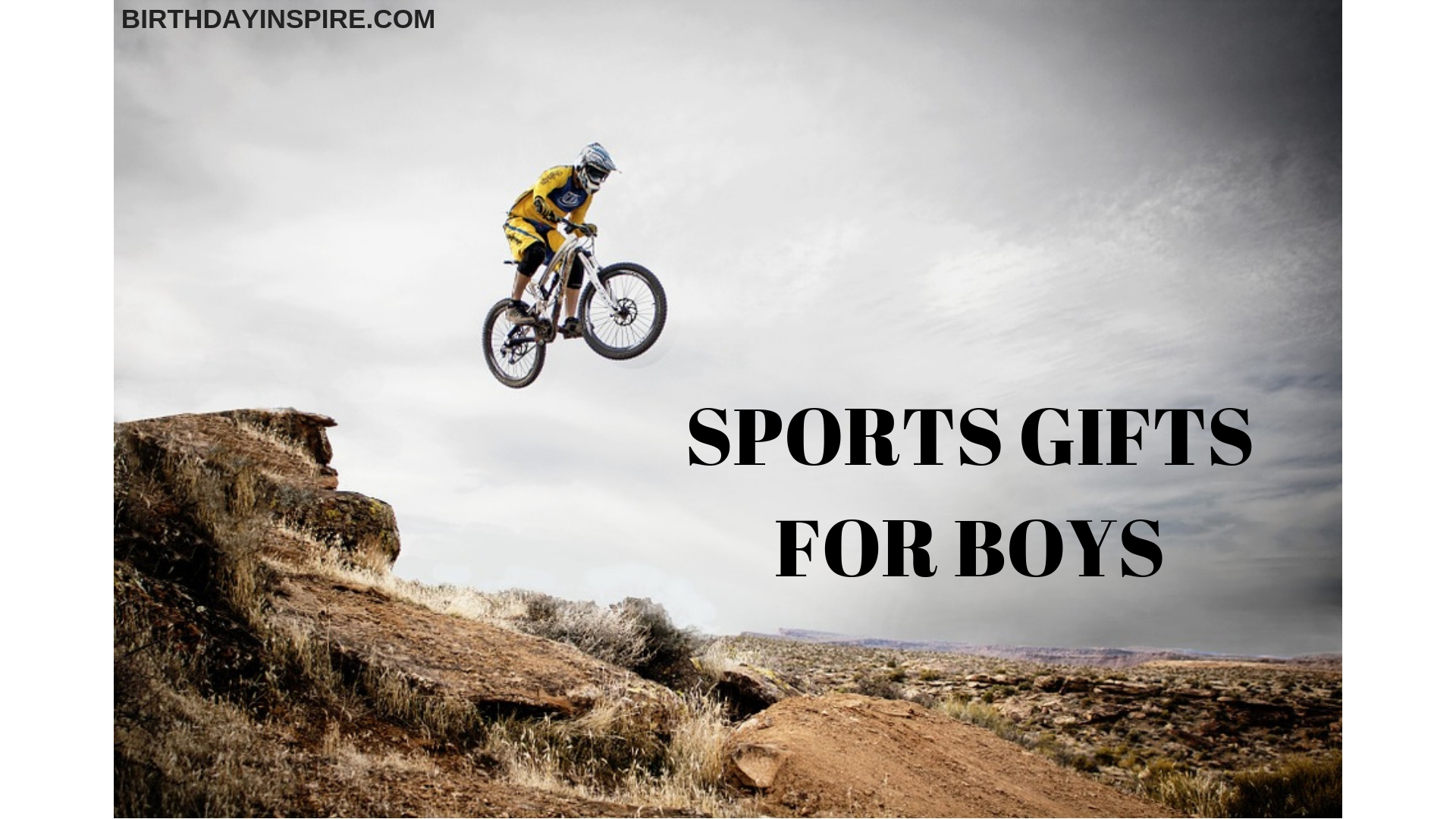 Best Sports gifts for boys
1. EasyScore Basket Ball Set
Basketball is not only one of the most popular sports but it's also an amazing developmental tool for kids as it helps work out the whole body and, in some cases, even help with growth of the body. This mini basketball set comes with an adjustable hoop making it perfect for kids of different heights and ages.
The set also comes with 3 mini basketballs which are light enough for smaller kids to practice with them. The stand itself is relatively light weight and can be used both indoors and outdoors. This is perfect for kids who are just getting into the sport and want to learn right from the basics. It's very easy to set up and handle and puts very little strain on the young bodies of the kids making it a great sports gift.
2. LED Hover Soccer Ball set
This is not only a great set of gifts for kids who love sports but also those who are completely new to them. The set comes with 2 nets, soccer balls, splicers and all the necessary equipment to assemble them yourself. What makes this unique however is the oval shaped soccer ball's ability to float.
That adds a whole other layer of fun to this game as the kids get to kick around a flying soccer ball while also trying to play around the original rules of the game. The soccer ball is capable of floating over most surfaces and takes very little effort to kick long distances even for kids. Overall a great sports gift idea for boys.
3. T-Ball Set
T-ball is a toned-down version of baseball that is primarily targeted around young kids. This sport is more about development than actual competition but it does do the job it was meant to pretty damn well. This set is made of very light weight and non-toxic materials, making it perfectly safe for usage by kids both physically and biologically.
If you're looking for something to help your child develop the basics of sports like hand-eye coordination and focus, this is a perfect way to get started on their training. While it might not give any immediate or apparent real world benefits it gives them a much broader skill-set that can be used across multiple sports.
4. Bow-Arrow set
Archery is an extremely skill reliant sport that is not mainstream but still has a lot of following mostly because of how hard it is to actually master it. This is a sport that might not get someone a lot of popularity but it will leave everyone who knows them in awe of their amazing skill. This bow and arrow set makes for an amazing tool for a kid to not only have a lot of fun but also start learning this amazing and highly respected sport and skill.
The set comes with a bow and 6 arrows for longer fun and even a target board for practice. These are made of soft non-lethal materials and even the tip of the arrows consists of suction cups instead of actual arrow heads so that there is no chance of anyone getting hurt in the process and the kids can play wherever they want with their minds at ease.
5. Tball Batting Helmet
While sports are extremely fun and helpful in improving various aspects of a kids life, there's no denying that there is a certain amount of risk involved in every sport as they are all physical activities. Proper protective gear is always a must especially when it comes to sports like T-ball where there is a considerable risk of the ball hitting the kids.
This batting helmet meets the regular safety standards and has appropriately drilled face guards. It's also relatively light weight which means the kids do not need a lot of effort to carry this over their heads and can focus completely on their game and have fun. The helmet also has enough ventilation through regularly placed spacings making it comfortable even for long sessions of usage.
6. No Tie shoe lace
One of the most frustrating things in sports is the shoe lace. Not only is tying it a tedious experience for kids but if they somehow mess it up, it could take a long time to untie it and set it together again. Not to mention they might be too loose and come untied in the middle of a game making it a little frustrating for everyone involved having to wait for that one kid to tie them again.
These no tie shoe lace are the modern and most creative answer to that age-old problem. These lace work by using a simple button mechanism where you can just drag the lace through the button and lock them in place instead of having to tie them manually. These are suitable for both kids and adults alike. The set also comes with detailed instructions on how to use the lace. This makes for a great quality of life improvement gift for sports fans.
7. 3-D soccer ball lamp
Soccer fans are some of the most dedicated fans in all of sports and they spend a lot of time even outside of games thinking and probing about various soccer related things. So, they would certainly appreciate a soccer themed décor in their own room. Even more so if it's a spectacular glowing hologram.
This soccer ball lamp projects a 3-D image of a soccer ball using a flat acrylic plate. It is indeed an illusion but a very attractive and convincing illusion that any soccer fan would appreciate. This is a great lamp to fall asleep and wake up to everyday and it could even be used in parties and football themed bars if the situation calls for it. It might not be the brightest but it will certainly be the most attractive lamp in the room.
8. Fitness Tracker Smart Watch
The most important thing for any sports professional or even a sports enthusiast for that matter is their body fitness. But achieving and maintaining it is a challenge on its own that is sometimes on par with the challenge of learning the actual skill of a sport. So, it would obviously be of great help to have some kind of help with tracking the progress of their fitness and health so that they can study and adjust their daily routine accordingly.
This smart watch does exactly that by helping them keep track of important details of their essential activities like steps taken and calories burnt. It can also monitor heart rate and sleep cycles making it an extremely useful data collection tool to see how they have improved over time. The watch can also display calls and messages when connected to the smartphone so that the person can work out in peace without being distracted by a phone in their hand all the time.
9. Smart Soccer Ball

Technology and sports both have come a long way over the past few decades and in today's modern world it looks like they have found a sweet spot where they can complement each other. This smart soccer ball is a great example of when sports perfectly mixes with technology. This ball functions like a normal soccer ball but is embedded with multiple sensors to track important data that can be later analyzed to help improve the player.
The sensors collect information such as the point where it is struck, it's velocity, rotational speed and even the trajectory in which the ball travels. This data is extremely useful for beginners, especially kids as it could help them improve a lot faster as the data can be used to pinpoint the mistakes very accurately and suggest better alternate methods.
10. Sports themed kid's bed sheet
If you're looking for a sports gift that is extremely cool but also has a personal feel to it then this sport themed bed sheet would do an amazing job of filling that role. The sheet comes with prints of various balls used in sports with different colored backgrounds that all mesh together amazingly well.
The set comes with a flat sheet, pillow case and a fitted sheet which are all made of high-quality soft materials perfect for kids and are also easily washable. Any kid who has a knack for sports would love a bed sheet like this and the amount of convincing previously needed to get them to bed might now come down to zero.
11. Neoprene Dumbbell set
Often the requirements even for entry into a sport are pretty high. Children's bodies are so fragile that most of them are not quite ready to properly face the full brunt of stress a physical sport puts on the body. This is why it's important to first train the body and make it strong enough to withstand such stress before making the jump to actual sports training.
These Neoprene dumbbells help your kid gain some much-needed arm strength and muscle mass that is necessary for success in a lot of sports. These dumbbells come in 3 different weights and sizes so that they can be adjusted depending on the suggested training regime for the particular kid. These also come in attractive colors so they do not look too bland or boring for the children who would be using these.
12. The Mamba Mentality by Kobe Bryant
Kobe Bryant is one of the most popular basketball superstars in our history and widely agreed upon as one of the most successful as well. After his retirement, Kobe has released this amazing book 'The Mamba Mentality' which talks about his own life, career and how he climbed to the very top of the ladder in one of the most competitive sports in the world.
This is a great read especially for young and aspiring players as they get to delve right into the mind of one of the greatest and most successful players and get not only some amazing tips but also draw inspiration from his own story of relentless handwork and failure that ultimately led to his success. This is a gift that any sports enthusiast would appreciate and even be grateful for once they have read it as it has a lot of valuable information inside it that might very well propel them to the next stage of their career.
13. Basket Ball Trash can Game
We all have our own silly little things that we enjoy for no apparent reason. It could be something as simple as flicking a pen that is just mildly amusing but does the job of filling in time while we wait for something or just does a good job of taking our mind off something stressful.
This creative little game can do the same for a sports lover. It's basically a miniature version of a basketball hoop that can be attached to a dustbin. Whenever they're bored or stressed out, they could just take some junk that needs to be disposed and try to toss it in through the hoop from across the room. While it's not much of an achievement on its own, it does give a strange sense of satisfaction and trying to get it right could just be the kind of distraction they sometimes need to de-stress from their day.
14. Hydro Flask
Hydro flasks are extremely durable bottles that are primarily used in sports to carry beverages. These flasks are insulated and are capable of keeping the beverage inside from losing its original temperature for a long time.
They are extremely useful in carrying vitamin filled liquids as the bottle is completely leak proof and insulated and is extremely light weight despite its metallic composition and is also very easy to hold due to its non-slippery exterior surface.
15. Bluetooth Floating Speaker
The name might be a little deceptive as it doesn't literally float in the air but it is still technically right as this Bluetooth speaker is completely waterproof being able to float in water and due to its shape and build can be suspended from any support including trees.
This makes it perfect for most occasions involving sports sessions with friends where they would prefer to have some music without having to worry about knocking the speaker over or damaging it. It's great quality both in terms of build and music and would make for an amazing sports gift for boys who are just looking to have a fun time with their friends.
16. Ping-Pong Set
Ping-pong has been one of the fastest growing indoor sports simply because of how convenient it is to set up a ping pong table at your home or work place and challenge a friend to a quick game. This portable set lets them do that even easier by giving them the ability to convert any table into a ping pong table.
The set comes with a net and clamps to secure it and OfCourse the paddles and the balls. All these can be easily carried around in the provided compact mesh bag provided or any other backpack. This not only gives them a way to set up a quick game for entertainment pretty much anywhere they could find a usable table but it also gives them more flexibility to practice and hone their own skills.
17. Personalized Golf Balls
Golf is a sport that is not so much in synch with the younger generation but it has its own dedicated band of followers who are usually loyal to the end. And for a golf fan, something more important than utility is the feeling of exclusivity and personalization.
These set of golf balls will let you add that extra layer by giving you the ability to add up to 3 lines of text on each one of them individually. This means you can customize these with their favorite quotes or your own message for them before gifting it which would make the gift incredibly personal add be a great addition to their collection.
18. Sports themed Wall Decor
A sports fan will have no problem showing off his love for the amazing sports that he follows. In fact, they would love to have a new way of doing so every now and then. So, this Sports themed wall decor will give them a perfect opportunity to change their room in a way that it always oozes their passion and love for sports.
The decor set comes with 4 wooden frames each with a painting that represents a certain sport. Each of them can be easily hung on the wall either individually or in a particular order. The paintings are extremely high quality and showcase the glory of sports in a very artistic way. This is a good gift for guys who like sports in general.
19. NFL mini Pennants
NFL is almost like a festival in the western countries and its fans usually range from small kids to even grandparents. Obviously, everyone has their own preferences when it comes to which team they support and they would all like to show their support for those teams in whatever way possible.
These mini pennants set offer a unique way of showcasing that support as the package contains small pennants of all the teams updated to the latest year. These pennants can be hung on various decoration items, stuck to a wall or a desk using glue or just put on their own shirt. They let them bring out their inner competitive spirit and drive in their own unique ways making these a fantastic gift that might serve well for a whole group of friends.
20. Boxing set for kids
Boxing is a sport that is definitely under some controversy but no one can take the credit away from how much skill, both physical and mental is actually involved in boxing. While this is certainly not a sport for everyone, the basics of boxing definitely do good to everyone regardless of age or interests.
The set comes with a punching ball that is mounted on a flexing stand that should be held in place by the foot of the person using it. It's a very creative way to build a boxing set as it helps in working out both the upper and lower part of the body at the same time while also teaching a good form. The height of the stand can be adjusted depending on the size and age of the kid using it. The set also comes with a pair of high-quality boxing gloves making this a complete gift for sports fans.
The above listed sports gifts for boys aren't just toys that can be used to play but rather proper equipment or tools that help augment the learning process of the kids in that particular sport or make their life while learning it a lot more convenient. That multi-purpose is what makes all these gifts a great choice for sports fans.