Last updated on June 2nd, 2022 at 10:19 pm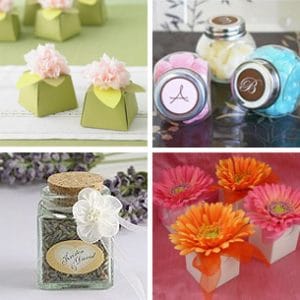 Adult party favors are a fun and often meaningful way to send your guests off after a great party. Who doesn't love getting a cute and thoughtful little gift?
It's hard to think of interesting party favor ideas (umm…not tacky) when you've got so many other party details on your mind. Well, no worries…
we're here to help!
We've wracked our collective brains to bring you ideas for fun, unique, and meaningful adult party favors. All you have to do is the fun part: buying, assembling or making them!
We hope you can use our ideas just as they are or as inspiration to create your own fabulous adult party favors.
Four Ways to Narrow Your Choices
You've probably already seen the vast array of adult party favors out there on the web. Sheesh, who knew? Here's the way we begin to narrow down the choices when we're throwing a birthday party:
decide on the budget for party favors (you may be able to spend more if you're having a small party; if your party will be large, you may want to check out these cheap party favors)
match the favors to the formality of the party (for example, a formal party should have elegant party favors)
consider the hobbies, interests and passions of the guest of honor (the favors will be meaningful if you can relate them to the guest of honor in a fun way)
match the party's theme, if you have one (so, if you're throwing a luau, choose luau party favors)
Now it's time to think specifics. We've all been to parties where the favors are left behind (we know none of you have ever done that…how rude!).
Favors are often forgotten because they have no meaningful connection to the occasion. They're not memorable and let's face it, after a few drinks at a party, it's easy to forget your coat or your purse, let alone a party favor.
The right adult party favor will feel like a sincere gesture of thanks for spending time at your party. It'll go a long way toward making your birthday celebration an event your guests will be talking about for weeks to come!


Vintage thrift store teacups filled with imported candies from England, delicate antique teaspoons tied with pretty ribbon, silk sachets of imported tea, a box of decorated sugar cubes (so cute!), vintage floral patterned china plates with your grandmother's favorite recipe for scones —can you tell we love tea parties?


Favors for milestone birthdays like the 50th can be retro and kitschy like fun, old fashioned toys, favorite candies from the guest of honor's childhood, or have a touch of the thoughtful and sentimental. Creating favors with a dash of the honoree's personality will make your favors extra special!

Printable party favors aren't just for kids anymore. Embellish and laminate your own bookmarks, make favor boxes from pretty patterned cardstock, print your own labels for gift bags, bottles, jars or cd's. The possibilities for printables are endless.


Framed vintage seed packets, flower teas, hand rolled beeswax candles (they smell wonderful!), tiny terra cotta pots planted with herbs or cheerful violets, a homemade book of recipes that use edible flowers…your guests will definitely want to take these party favors home.