Last updated on June 10th, 2022 at 08:59 am
Today i will share with you some of the very helpful little mermaid birthday party ideas. So people who are looking up for some good ideas to plan this beautiful birthday theme party can find some of the very helpful ideas. So Stay connected and explore these ideas.
---
The little mermaid is a beloved character of many young girls. Girls as young as 13 months old fall in love with this sea princess. Therefore, when it comes to planning a birthday party for the girls, the theme of the little mermaid is quite popular. I have myself attended a dozen of the little mermaid undersea parties and have had a blast each and every one of them.
However, organizing a little mermaid party requires a little bit of planning and hard work. It is very important that you set the mood of the party right, so that as soon as the guests enter the party venue, they should instantly get a feel of being under the sea and in the kingdom of the little mermaid.
From little mermaid decorations to food suitable for these birthday parties, each and everything at a little mermaid birthday party needs to be carefully planned and well thought out.
Being someone who has attended quite a few little mermaid birthday parties, I have a fair bit of knowledge for planning a perfect little mermaid birthday party. Below are some ideas which can help you in planning the fanciest, fun and dazzling little mermaid birthday party.
1. Color Scheme for the Party
Unlike us, the little mermaid does not live on land but rules the under the sea world. Therefore, when choosing colors for decorations at this party or even the color of the cake, or the dress of the birthday girl, it is very important that the entire color scheme, for everything at the party, should be ocean inspired.
While the colors, blue and green would dominate the entire party decorations, you can use other bright colors like red, orange, etc. as well, to give the party a vibrant and cheerful appearance. Contrary to what many people think, the underwater world is made up of many different colors and happens to be extremely pretty and mesmerizing.
2. Mermaid Party Decorations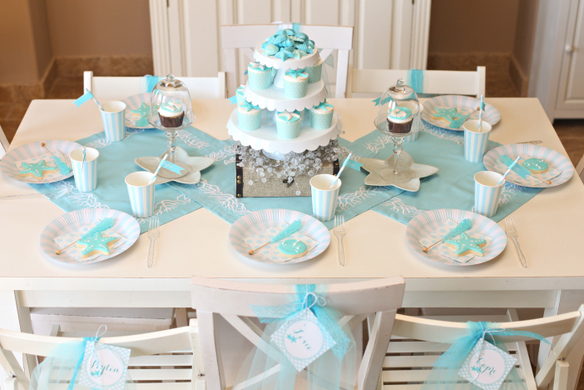 The idea is to create an under the sea experience. Think Disney Little Mermaid. Think Turquoise Ocean Blue!
There are many different party supplies which are available in the market on this theme and you can easily use those items for the decorative purposes. There are centerpieces and place settings, which have the images of Ariel, Flounder and Sebastian swimming and these can be placed on every table at the party and pearl garlands can be tied to each table to make them appear like tables that do truly belong to the sea world.
Similarly, little cutouts of the little mermaid and other characters can be pinned to the chairs and some cut outs of underwater plants and flowers can also be used for the decoration of these chairs.
Bubbles. At the entrance of the house, run a bubble machine. Play themed music like songs from the Disney Little Mermaid Soundtrack.
Sea and Ocean colors. Decorate the room using colors of aqua, blue and green.
Seaweed. Hang green and blue streamers from the ceiling like sea weed.
Bubbles. Hang pearl balloons in clusters from the ceiling like bubbles.
Fish and Sea Animals. Make Paper fish out of cardboard or paper and hang them on different heights. A great activity for kids is to let them color a picture of a fish and let them hang their fish from the ceiling. When they are ready to go home, they can take their art work home.
Fish net and Decor. Drape a fishnet over the party table and decorate with starfish, shells, large jewels, gold coins, and sparkle confetti.
Table Centerpiece. Use a large themed centerpiece like a Sea Shell cake, blue glass bowl with fish, or Little Mermaid Cake.
Mermaid Napkin Rings. Create Shell Napkin Rings for your Mermaid Party Table.
Picture Props. Get large giant Sea Shells and fill with pearl strands, beads and glitter confetti. Use as a picture prop for taking pictures or on a party table as decor. A glittery backdrop made of blue turquoise fabric will provide an instant ocean backdrop. For an extra touch use a large palm trees or octupus standee props.
3. Party Invitations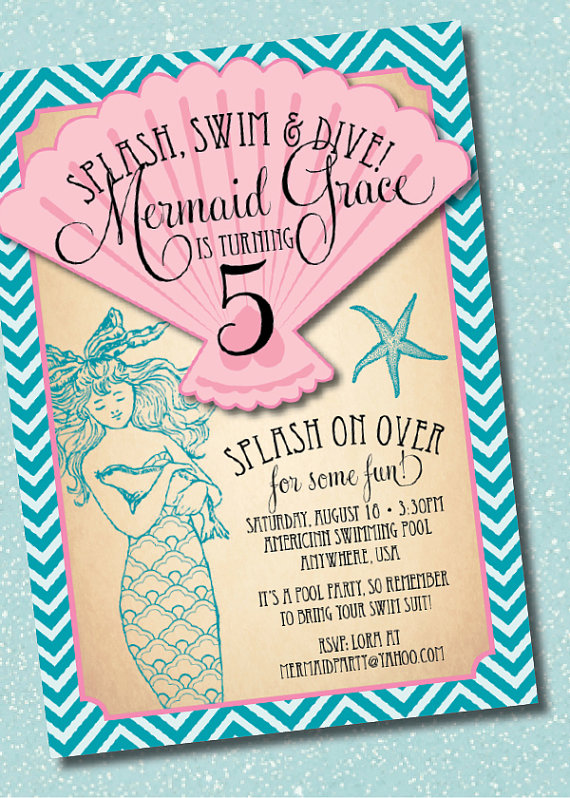 Send out personalized Invitations to your guests. This theme is pretty versatile so you can send out any beach, shell, mermaid themed invitations that suits your needs and taste, or that fits with the theme of your party.
It's an underwater theme party and therefore, your party invites should let the guests know about the same and also expect a lot of fun at the same time. One invitation idea that you can explore in this regard is to send the invites in bottles.
Inside the bottle, you can put some sand, sprinkled with blue glitter and sea shells to let the guests know what the theme of your party is going to be.
4. Fishy Themed Food

Just because it is an underwater theme birthday party, it does not mean that you have to serve fish and other sea animals as food at the party. You can stick to your regular and popular dishes like pizzas, sandwiches, etc.,
Just make sure to give each food item the shape of a fish or any other sea animal. The food needs to look like it belongs to the sea, but at the same time, it tastes should be as per the liking of the guests at the party.
5. Use Typical Sea Items For Decorations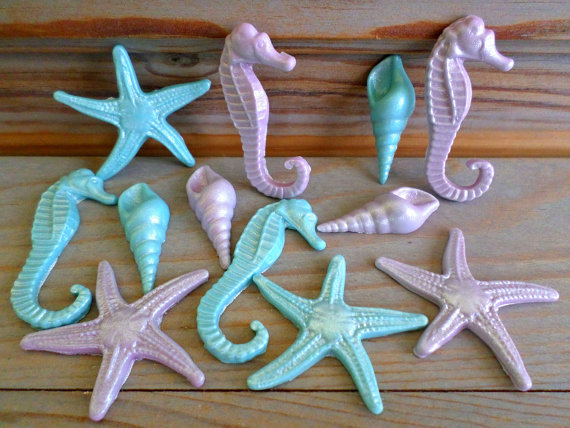 There are many things that immediately remind you of the sea or the ocean like sea shells, fishing nets, etc. Make extensive use of these items for decorating the party venue, and giving it a genuine seaside or under the sea feel.
6. Make The Place Look Royal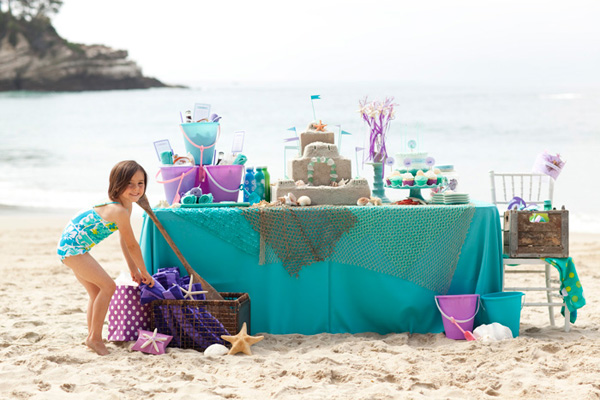 The little Mermaid is not just any ordinary fish, she is a princess and therefore, when planning a party around a princess, you need to make sure that the decorations have a royal feel to them. Use candlesticks, long pearl necklaces and glitter for the decorations, which would add that sparkle to the entire venue, making it appear like a palace.
7. Crockery For Serving Food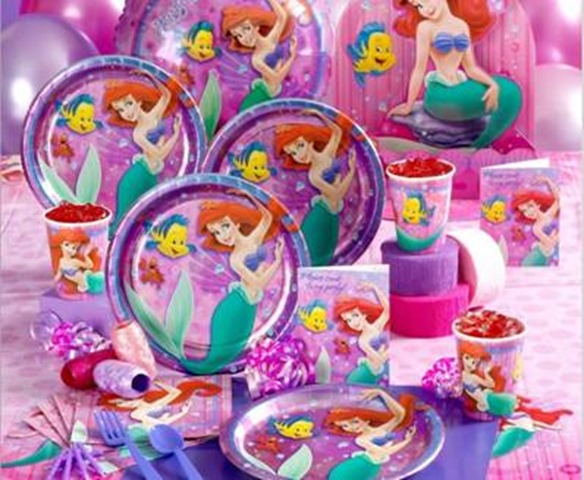 There are two options that you can consider for cutlery for this party. The first is that you take out your good silverware so as to make all the guests feel like they are having food and partying in a palace.
However, if you do not have enough silverware, and you do not want to spend money on buying or renting this silverware, then you can go in for the little mermaid plates, spoons, bowls and other crockery items which are available in the market at very reasonable prices. Both the options are pretty good, and you can pick any as per your budget and convenience.
8. Origami Jelly Fish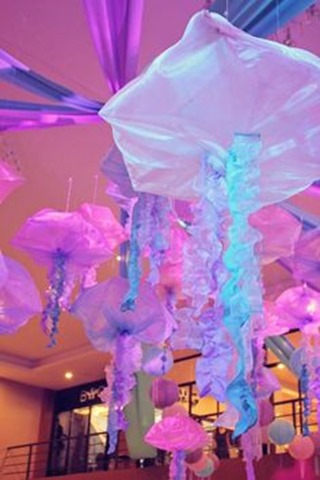 Jellyfishes, made out of colored paper and hanging from the ceiling help in giving the entire party a perfect feel of the sea and at the same time make the entire decorations look almost surreal. These jellyfishes made from origami are available in the market, and if you are creative enough, you can even easily make them on your own at home as well.
These jellyfishes hanging from the ceiling are an almost must have for a little mermaid party. Along with these jelly fishes, you can even create other fishes and sea creatures from paper and use them for decoration purposes as well.
9. Naming The food Is Important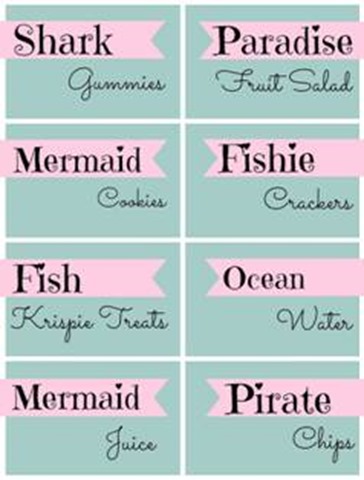 I have already mentioned above, that the food can be pretty regular, but needs to be given a shape which is appropriate for the theme of the party.
On the same lines, instead of serving just meat and peanut butter sandwiches at the party, why don't you name these sandwiches as Sebastian sandwiches and automatically capture the attention of the guests.
Similarly, you can serve Goldfish and Whale crackers, Clam cookies, Shellfish pasta, etc. Just make sure that the name and the appearance of the dishes match each other.
10. Give Out Bracelets And Tiaras To All The Guests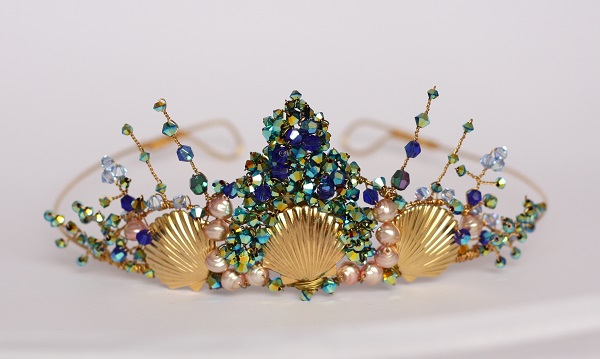 Giving the little girls coming for the party little trinkets like a princess tiara, pearl bracelets, etc., would not only make these little girls extremely happy, but they would immediately get the feeling of being a part of the Little Mermaid's world, and hence enjoy the party more.
You can either give away these trinkets right at the entrance of the party to everyone, or you can arrange for a game of treasure hunt, where everyone has to find these items hidden all over the party venue and once found they get to wear and keep them.
11. Sea Drinks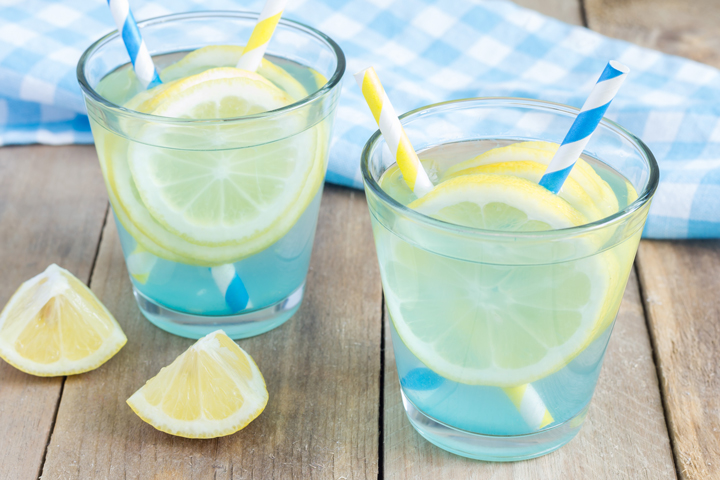 Do not serve the regular cold drinks and juices that are served at all the parties. Instead, ask your caterer, or look up on the internet and find recipes for some cool and blue drinks, which look similar to the ocean water and serve these water reminding, but tasty, drinks to all your guests.
Make sure that your beverages have a refreshing taste to them since one thing that you associate with the sea is breeziness and therefore, your drinks need to light and refreshing.
12. Arrange For Big Fans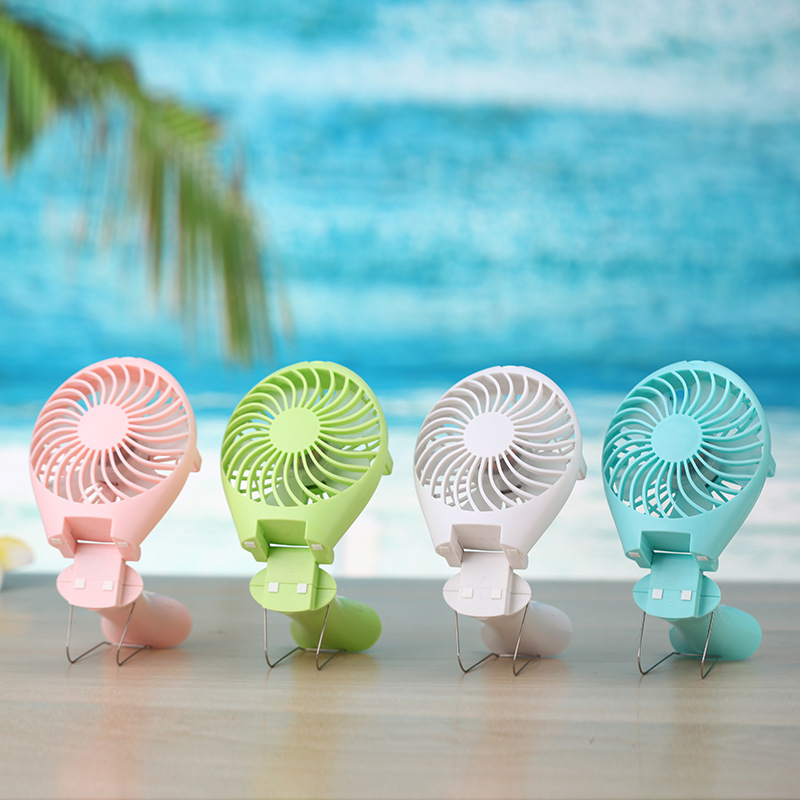 A Little Mermaid can be recognized by the glittering crown resting on her head and the wind sweeping through her long and silky hair. The cool breeze is a big part of the little mermaid story and therefore if nature is not helping you out on this front, you need to arrange for your own wind.
Hire some big fans and put in all corners of the party venue and let the air from these fans sweep atop the head of all the guests and make their hair dance in the wind.
13. Mermaid Games And Activities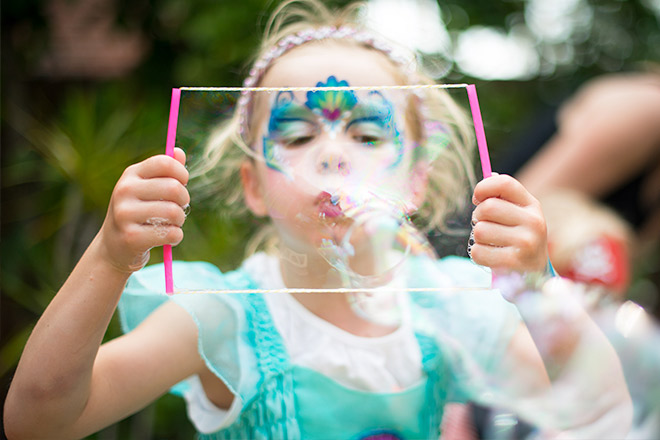 There are tons of games which you can plan around the theme of the little mermaid. You can make the guests dance to the tunes of the little mermaid, you make them play games of tagging and treasure hunting, which revolve around the Little Mermaid, etc. You can have a special area designated where the guests can paint and color characters from the little mermaid.
Similarly, there are many other games and activities which you can plan around this party theme. One of the most adorable features of the little mermaid is the fun and games that she enjoys with her sea friends, and therefore, make sure that the games and activities you plan for this party are fun and thrilling for the guests as well.
Make it "rain" over an umbrella. Stick a big beach or table umbrella in the ground or in its stand. Attach a garden hose to the top of the pole, turn it on, then stand back and watch the kids squirm and giggle with delight!
Play a game of water-balloon baseball or water-balloon toss. Give each team one point for every balloon its players break. The outfielders won't field many balls, but they can tag the runners before they get to base.
Hook up some special sprinklers. Get inexpensive sprinklers that spray water in wild ways such as whirling towers, flowers, fountains, and colorful tubes.
Diving for Treasures. Fill a mini blow-up pool with water. Drop various gems, pearls, necklaces, plastic toys and inexpensive favors into the pool. Blind fold guest one by one and let the find their treasures to fill their treasure chest.
Play Silent Charades. Give a necklace similar to The Little Mermaid's to one guest. This guest is now "Ariel" and will loose their voice. "Ariel" picks a card out of a pile of pre-made index cards. On each card there is a word or picture of a sea-themed object like fish, star fish, shells, sand, beach ball, etc. "Ariel the mermaid" will have to try to describe the object using hand motions to the rest of her mer-friends. Others try to guess what the object is. Once someone guesses correct, the person who is "it" gets their voice back and passes necklace on to the next person.
14. Click Guests As Little Mermaid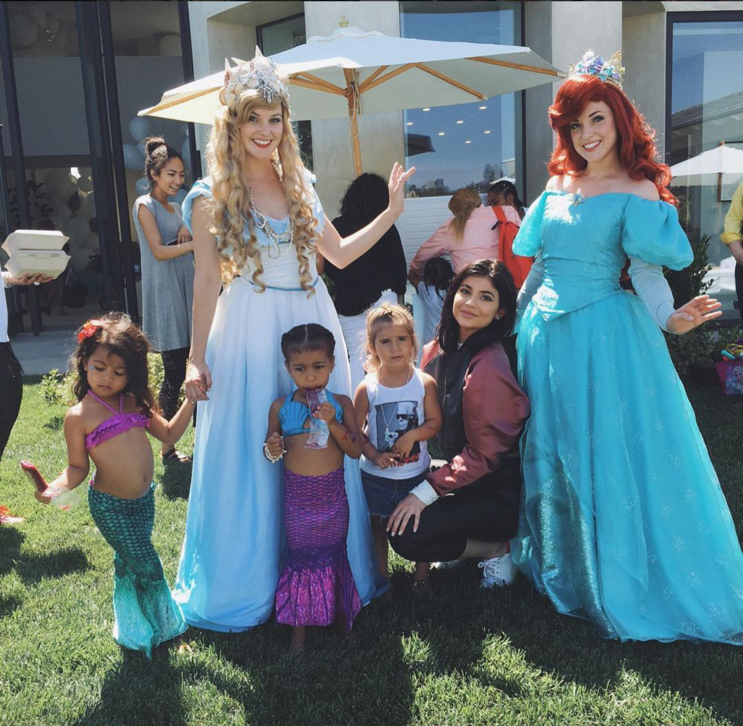 Every girl would love to get her picture clicked as the little mermaid. Arrange for some clothes and accessories, similar to the outfit of the little mermaid and the guests can actually drape these clothes and accessories around them and get their pictures clicked as the little mermaid.
If you think this is a little tedious for the guests, you can arrange for life size cut out of the little mermaid, without the face, and the guests can step inside these cut outs and get their pictures clicked as the little mermaid. This little photo-op would definitely be a big hit at your party.
15. Party Favors From The Little Mermaid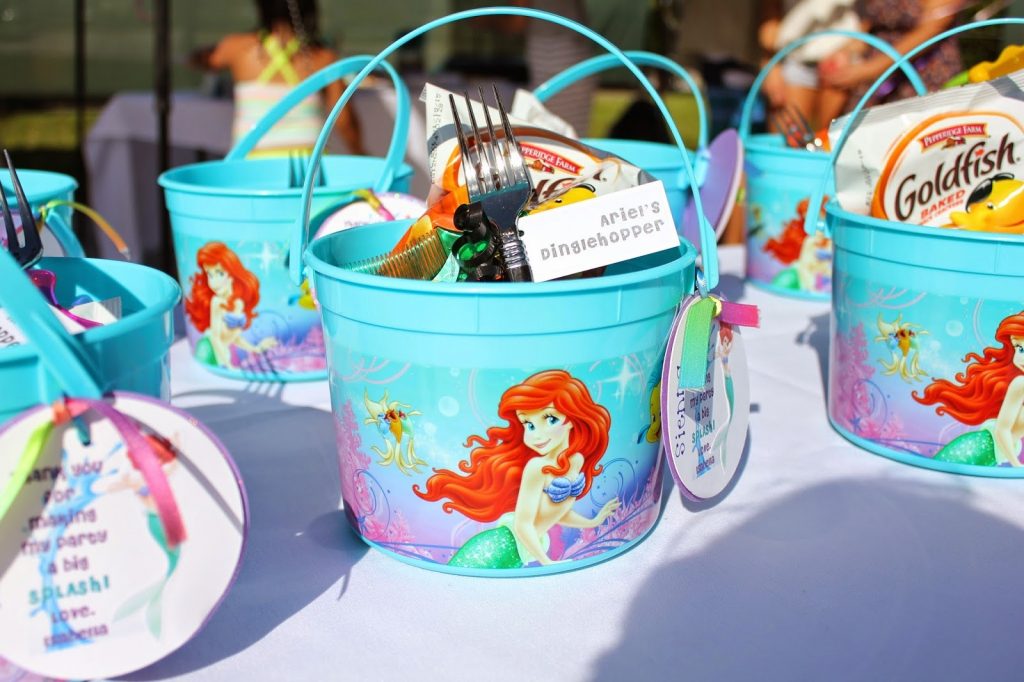 Everything at this party has been planned around the sea or the ocean, the home of the little mermaid, therefore, even the party favor ideas should also be inspired from the same as well. You can actually make headbands for the guests with seashell decorations. Besides the headbands, you can also make many other accessories like a wristband, necklace, etc.
You even gift the guests with underwater-themed sticker snow globes. Besides this, you can place many little small items related to the little mermaid story, like little mermaid stickers, candies, mermaid pencils, etc. in a little mermaid goody bag and write the name of each guest on these bags to make the favor special and personal for all the guests.
16. Give the Guests Mermaid Tail
The little mermaid is known for her eternal beauty. But, the most striking feature of the little mermaid is not her face but her tail. So why not help all the guests experience what it is like to have a tail, just like the little mermaid.
All you need to do is use some green, shiny and silky cloth for making tails, which can be tied around the waist of the girls. When putting these tails around the guests, you would see them all giggling and enjoying their tails to the fullest.
In fact, they would be so fascinated by these tails, that they might not need any other activity to make the party fun for them. Remember to make a special tail for the birthday girl, just to make her stand out in the crowd and know that it is her special day and she is the princess of this party.
17. Mermaid Cake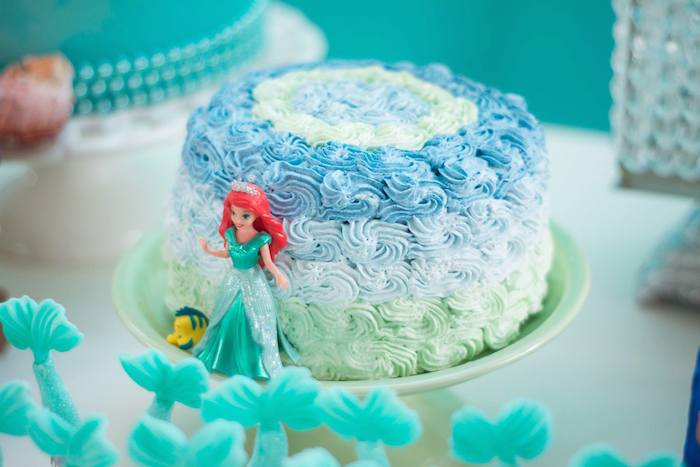 No birthday party is complete without a birthday cake. There are numerous cake designs, based on the theme of the little mermaid which you can select from for the party.
You can either pick a design which replicates the entire sea life of the mermaid, you can simply pick a design which shows the little mermaid in her full beauty and glory. Also, make sure that the flavor of the cake is one which is loved by all the guests in general.
18.Mermaid Party Favors
Picture Frame Favors. Use the picture frames created in the above craft. Print out pictures of each child with the Birthday child. Give this as a favor and a great memento of the Mermaid party.
Mermaid Party Favors. Other popular Mermaid favors include bubbles, Little Mermaid stickers, lip gloss, necklaces, body glitter, bracelet and punch balloons.
19.Mermaid Party Crafts
Treasure Box. A fun craft is to have kids decorate a treasure box. This is a great craft for boys and girls alike, especially if you will be using it as part of a treasure hunt later during the party. During the treasure hunt, kids can fill their treasure box with little "treasures" they find along the way.
Mermaid Necklace and Boy Shell necklaces. Make mermaid necklaces using shells, pretty aqua beads, glass beads, and shell-shaped pendants.
Sand Candy. Make sand candy art with various shaped bottles. Make Sandy Candy necklaces.
Beach Pail. Decorate a beach pail with stickers, gems, and lettering. Use the pail to fill candy from a pinata or to collect favors later on during the mermaid party.
Picture Frame Favor. Decorate a picture frame with gems, stickers and glitter glue. Take pictures of the kids in costume for a great party favor.
Right from the time your guests enter the party, till the time they leave the party, and even after they have reached home, make sure that they are completely taken over by the sea world and the little mermaid world created by you. The above mermaid birthday party ideas would help you in planning all the big and small details of this little mermaid birthday party to perfection, and ensure that your little mermaid party is remembered for a very, very long time.